12th June 2015. Ceremony at St Moling's Chapel, Carlow followed by Step House Hotel, Co. Carlow
Photos by Derek O'Rourke from Memento Photography
From the relaxed photos to the handmade touches and jam jars of wild flowers – this wedding radiates a rustic-shabby chic vibe
The couple
These two outdoor enthusiasts met though a mutual love of caving. "We met when the caving clubs we are members of had a joint trip," Thelma begins, "months later when our clubs went canyoning in Spain, by the end of the trip we kissed and started dating. Within three months we were in love and moved in together. It's fair to say we knew pretty quickly that we were for one another."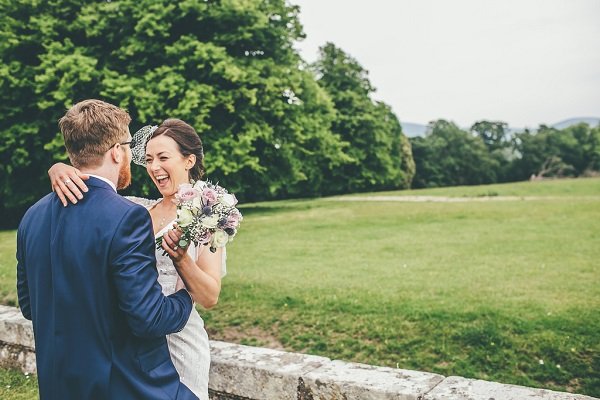 The proposal
David popped the question during a kayaking weekend in Copper Coast, Waterford, in September 2014. "We were having an exciting paddle on the water and when it was time for lunch, David brought us to a secluded beech only accessible by kayak," Thelma recalls. "David kneeled down by the kayak to get what I thought was kayaking equipment but instead moments later he turned around, still on one knee and he asked me to marry him! David proposed with an Alan Ardiff 'from the heart' necklace. Needless to say I love the necklace and wear it every day. We picked the engagement ring together a few weeks later."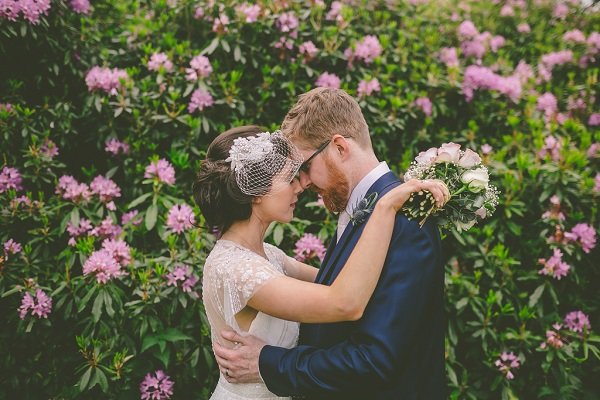 Venue
Thelma and David wanted a church and venue that were close to one another so that their guests didn't have to travel a large distance between the two locations. "It was important to us that we got to spend time with our friends and family and so having the wedding venue close to the church allowed for this," Thelma explains. "The decision to go with the Step House Hotel was very easy. It had everything we wanted; the location was amazing, it had an enclosed garden to allow our guests to mingle all day and night, and most importantly allowed us to have our informal barbeque style wedding."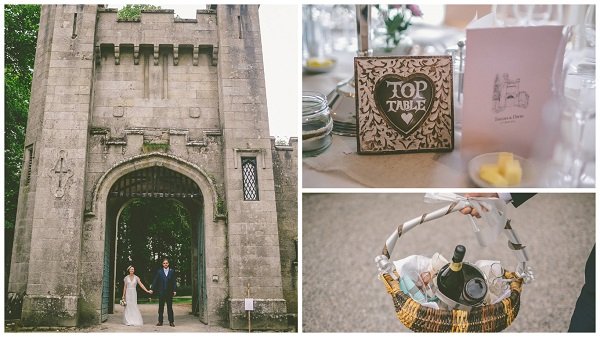 Theme
The couple opted for a grey and rusty pink colour scheme. "We went with greyish/silvery dresses as we didn't want the dresses to be loud but instead elegant," Thelma explains. "The overall style had a rustic-shabby chic vibe. We didn't want things to be perfect, we wanted a natural look; for example the invitations and wedding booklets had a rough and ready feel with brown card used. We did a lot of D.I.Y. for the wedding from the invitations to the booklets to the seating chart to the jars of flowers or fabric used on the table. All these little touch gave the day a personal touch."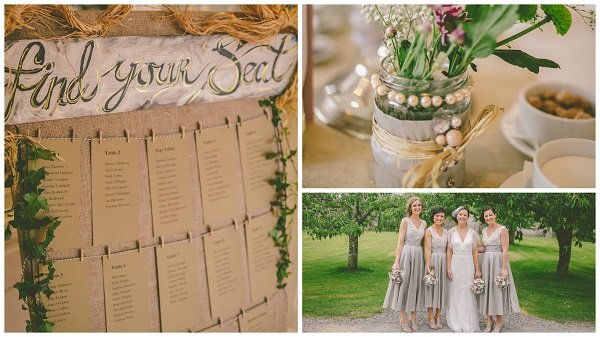 Wedding dress
Thelma's Ronald Joyce wedding dress was bought from Ciara Bridal, Powerscourt Townhouse, Dublin. "I was very practical about the wedding dress. I wanted to keep it within a tight budget, I wanted capped sleeves and a V-neck and after that I wasn't particular fussed," Thelma says.  "My matter-of-fact approach meant that it wasn't until the wedding day until I realised I loved the dress and became emotional about it."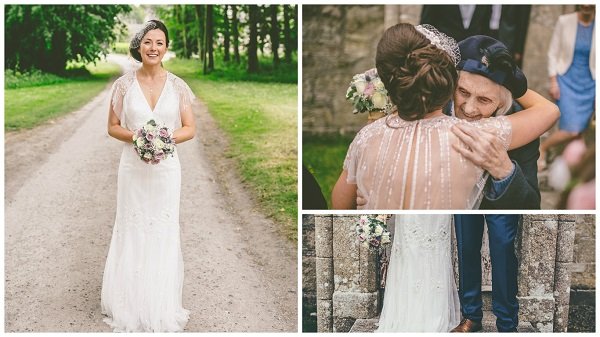 Grooms wear
The groom's suit was from Louis Copland.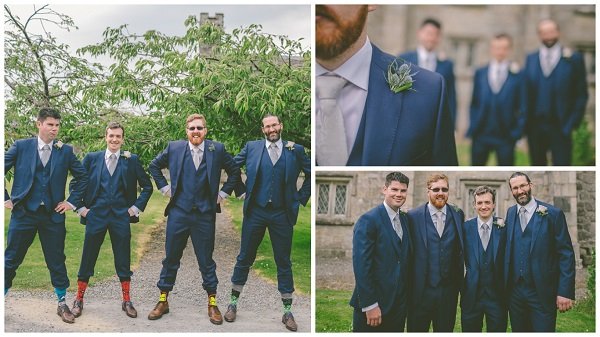 The bridesmaids
The bridesmaids' dresses were from My Dress in Carrick-on-Suir, Tipperary. "They wore a greyish/silvery ballerina length dress with the upper part in ivory lace," Thelma says. "Finding the dresses was an accident – the Maid of Honour saw an image of the dress on Facebook and I fell in love with it. They were the only dresses that were tried on by the girls but we knew they were the ones."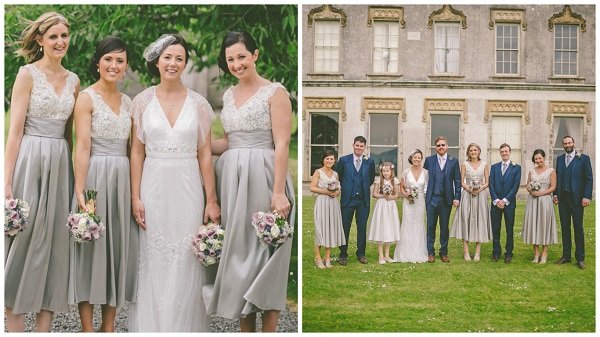 Wedding Flowers
Helen Lucas, a Kilkenny-based florist created the wedding flower arrangements. "Helen was amazing and fulfilled the brief perfectly. David is not one for flowers so we went with a thistle for him. The church flowers had a more wild and free look while the bouquet was a bit more formal with all the colours I love," Thelma says.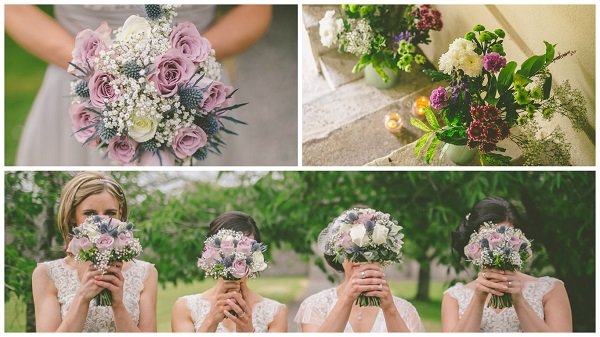 Wedding cake
The Chocolate Garden and Thelma's mother made the wedding cakes in four different flavours.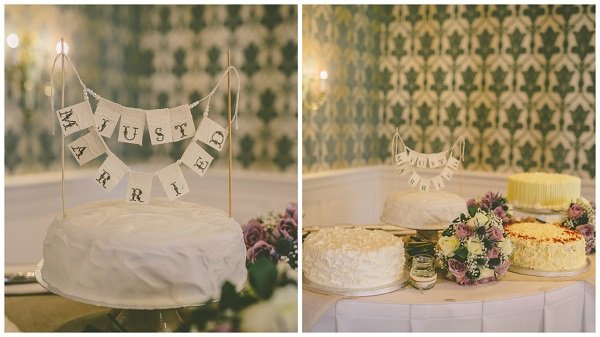 Top Tip
David: "While your wedding day will actually be enjoyable; there are few opportunities to sit quietly and catch up with your new wife so seize the chance if it presents. Just before and immediately after the meal are the best opportunities."
Thelma: "The two most important things to get right from the start is your venue and photographer. Your venue is where your memories will be made and where your guests will be kept happy. After your wedding the only thing you will have to remember the day by is your photos so it is important to pick a photographer that suits your style and how you want the day captured."