1st November 2014. Ceremony at St. Patrick's Church, Killygordon, followed by a reception at The Villa Rose Hotel & Spa, Co. Donegal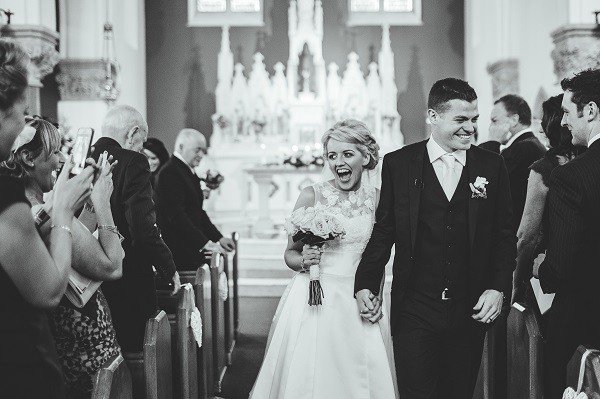 Photos by Epic Love Photography
The couple
"We first saw each other when we were representing Ireland at a shinty/hurling competition in November 2006," Declan begins. "Less than a week later we both attended the GPA Awards ceremony ball in The Citywest Hotel. As luck would have it, neither of us brought a date and we instantly recognised each other. After a smile and a shy wave from Ciara, I knew it was my chance to finally find out who she was. What happened was one of the most fun and memorable first dates, which even included meeting both sets of family and friends that same night we met!"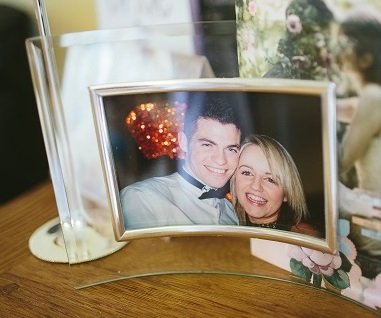 The proposal
"We had planned a cinema date and had got as far as the car when Declan said he had to run back to get a jumper," Ciara recalls. "Ten minutes of me waiting impatiently in the car, a faked injury, a trail of notes and a room full of tea lights later, I found Declan down on one knee in our apartment where he proposed with a beautiful engagement ring."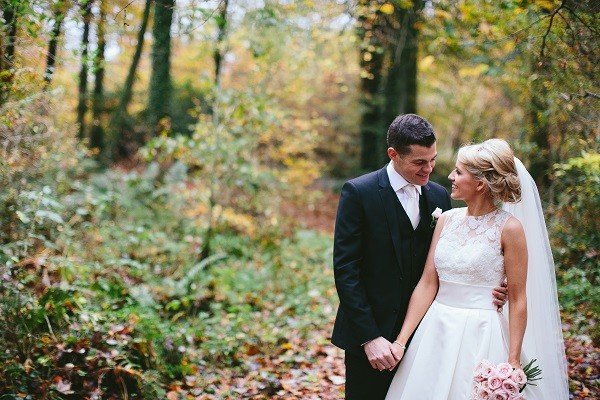 The reception venue
The couple were attracted to Villa Rose Hotel & Spa by its reputation for excellent service and beautiful ballroom.
Wedding theme
As illustrated by their photos Ciara and Declan chose 'fun, love and laughter' as their wedding theme. "We had family and friends travelling from different parts of Ireland and around the world so we wanted to make sure they had a fun, memorable day," Ciara explains. "While the band were playing we gave out lots of inflatable instruments. We had a surprise silent disco; watching our family and friends, young and old, dancing and singing different songs at the same time while wearing headphones was definitively one of the funniest parts of our day."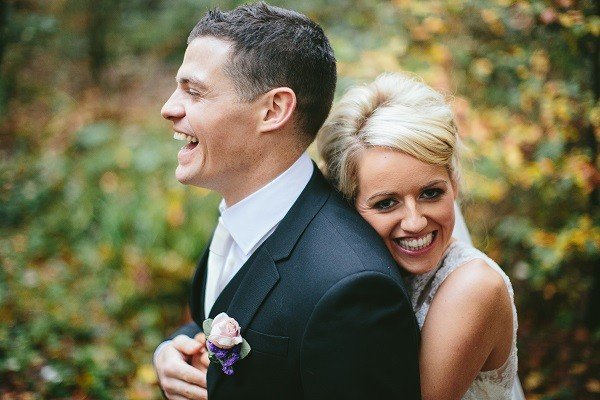 Wedding dress
Ciara's wore a stunning Dalia dress by Pronovias from Kathy De Stafford, Dublin. "The dress had everything I wanted," Ciara smiles, "a full skirt, a beautiful embroidered lace bodice and a plain sash to accentuate the waistline. I felt amazing in it, as soon as I tried it on I was able to picture it on my wedding day so I knew it was the right choice."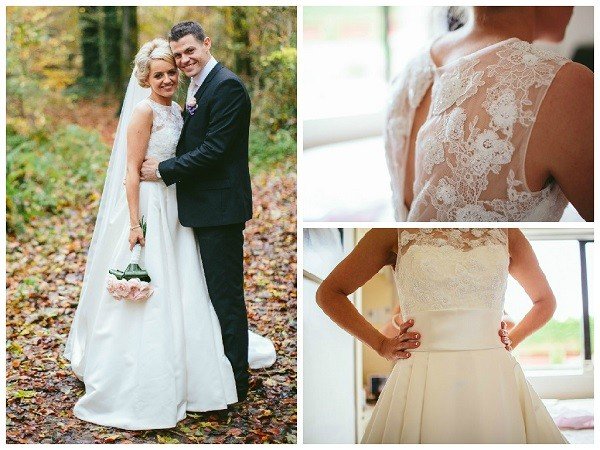 Groomswear
The suits were from River Island. "The boys all wanted something modern and it was nice gift for them to keep," Declan says.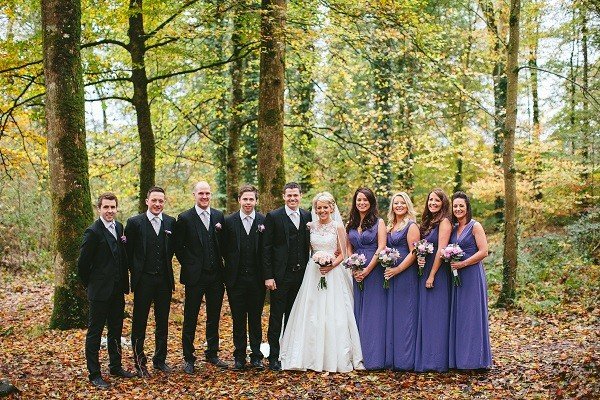 Bridesmaids
The bridesmaids wore amethyst lux chiffon dresses with draped V-neck and a shirred detail skirt by Dressy Collection.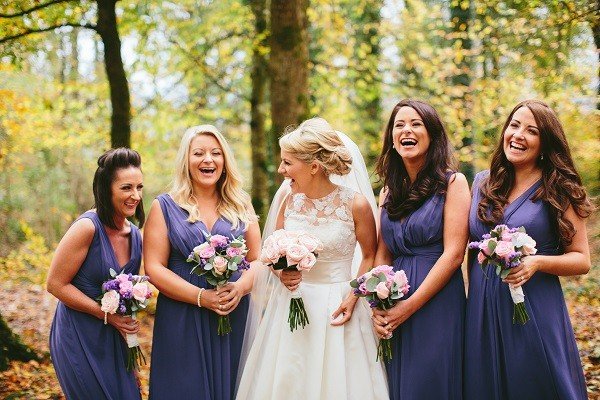 The stationery
Ciara's "very talented mother-in-law" gave the couple a helping hand to design the invitations and mass booklets. "We went for a photo booth style photo strip, with signs of our wedding date and a handmade label with the ceremony and reception details," Ciara explains.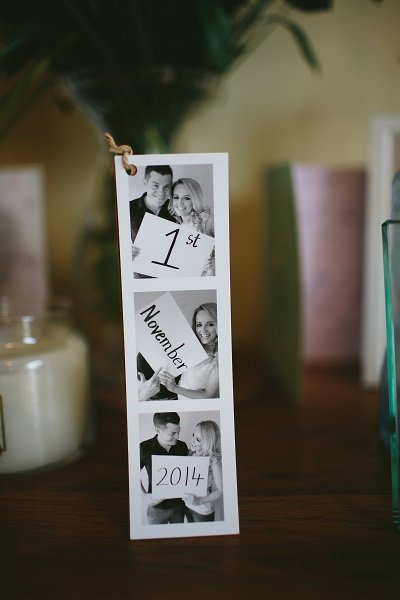 Wedding flowers
Ciara carried a bouquet of baby pink sweet avalanche roses from Funky Flowers, Letterkenny. The bridesmaids' bouquets contained purple and pink cool water roses with lavender status, sweet avalanche roses and eucalyptus to bring out the amethyst colour of the dresses. The flower girls had little wands with a pink rose attached.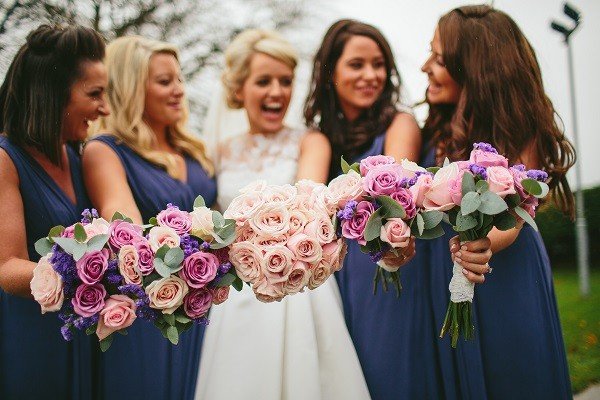 Wedding cake
"Again we wanted to incorporate a personal, fun touch with the wedding cake which was designed and made by Claire McGlinchy," Ciara says. "Our cake topper was a bride and groom dressed in the jerseys of our two home clubs in Armagh and Donegal. The cakes were made up of three layers; chocolate biscuit, carrot and fruit cake."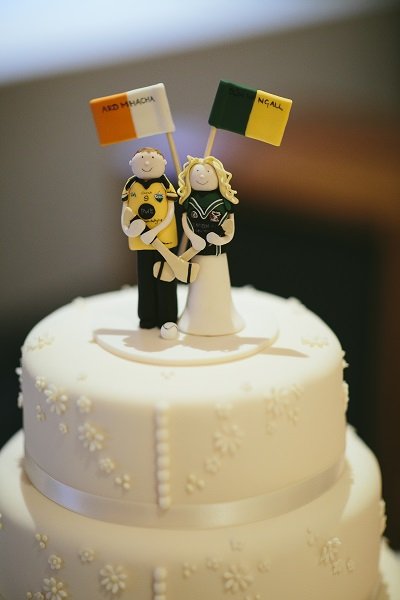 Favourite moment
Declan: Getting a sneak peak of Ciara as she walked up the aisle. I tried to imagine how I was going to feel but nothing prepared me for the real thing.
Ciara: It might sound predictable but holding hands on the altar and saying our vows surrounded by our family and friends was the single most overwhelming, yet amazing feeling I have ever had and will always treasure.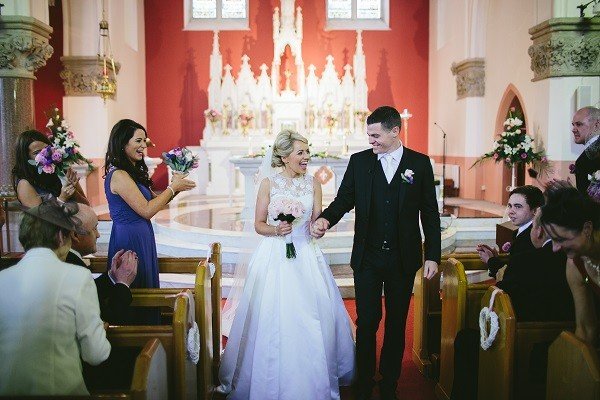 Top tip
Declan: Having the speeches before the meal meant we could relax and really enjoy our meal.
Ciara: Don't worry too much about the little things and just enjoy every minute!