20th March 2015. Ceremony at St Michael's Church, Manister, followed by reception at The Castle Oaks House Hotel, Co. Limerick.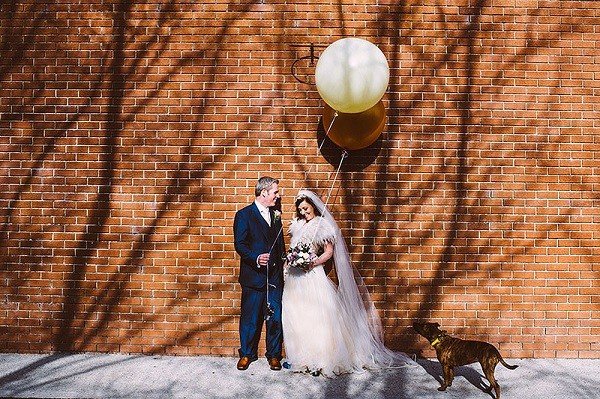 Photography by Savo Wedding Photography
The couple
"It's a very romantic story!" Susan laughs. "One of Brian's friends stopped my friend and I outside Burger King on our way home after a night out. Brian joined in the chat, he was so charming and insisted I gave him my number. We met for a date a week later and immediately hit it off. We even named one of our tables Burger King after this romantic moment."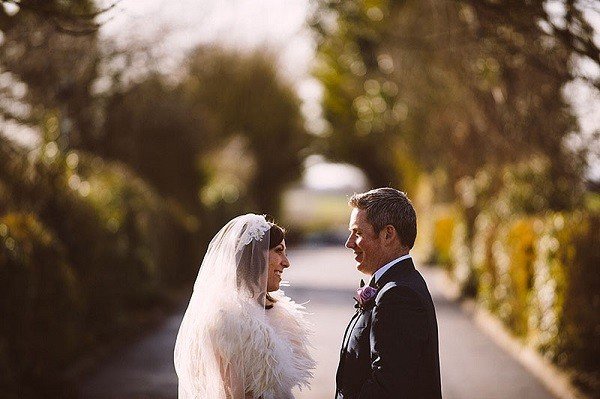 The proposal
Susan and Brian are huge dog lovers, so Brian was keen to involve a four legged friend in the proposal. "Brian brought me down to the Animal Heaven dog shelter in Kerry to collect our surprise new dog," Susan recalls. "On our way home we pulled over to a viewpoint where he explained that Holly was my 'engagement dog' and then proposed – it does make Holly just a little bit extra special now!"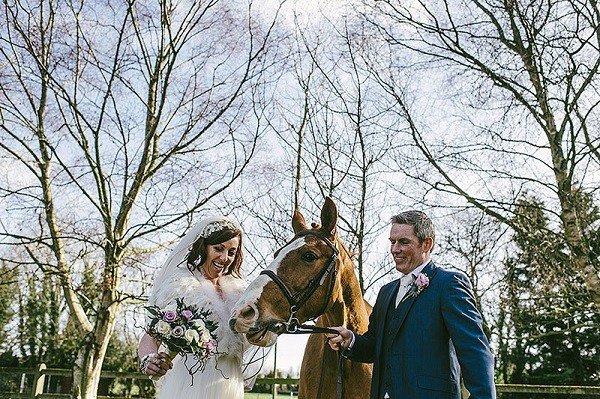 The venue
The couple chose The Castle Oaks House Hotel, Limerick as their wedding venue. "It is just so beautiful," Susan enthuses. "The grounds were perfect for photos and I also loved that we had exclusive access to the main house for the night. We has a weekend long wedding and the hotel organised a function room and barbeque the following day. The holiday homes and apartments were perfect for an extended stay for our guests and there was a real 'holiday feel' to the weekend."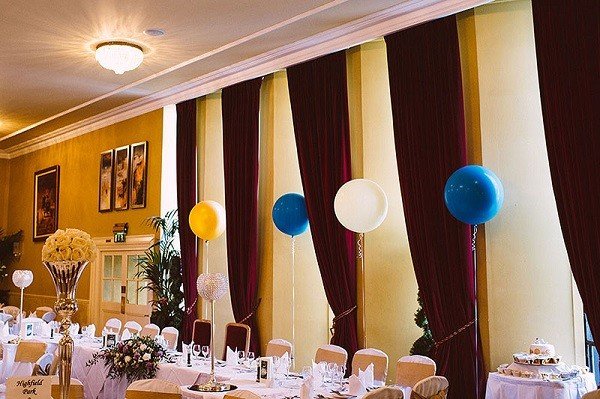 Wedding theme
"I didn't really have a set theme but I did want the wedding to be modern and romantic," Susan explains. "Our ceremony was really relaxed and informal with lots of joking and laughing. The wedding colours, teal and gold, were reflected throughout the day in different ways. Dogs also made it onto our invitations and our order of events poster, and our own dogs and other animals featured heavily in our wedding photos."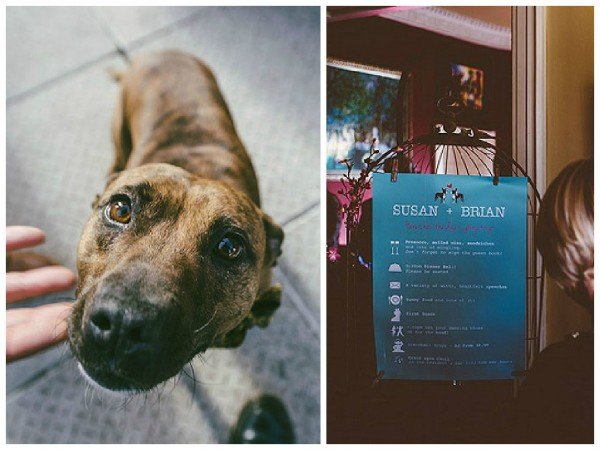 Wedding dress
Susan's stunning satin wedding dress was by David Fielden. "I loved the colour and felt it was unique to the other dresses I had tried on," Susan recalls. "I knew I loved a full skirt but found many other similar dresses very heavy. When I tried on the David Fielden I felt like it was 'really me' and fell in love with it immediately.
"As it was a simple dress I was able to wear more dramatic accessories. My feather shrug was from Biba, my headpiece was a custom designed piece by Klaire Van Elton, and my bracelet was also custom made by Clare at Fiorella Jewellery. My bracelet was actually made from a variety of vintage pieces. One of my favourite things in the planning of the wedding was working with these vendors to create my own unique jewellery for the day and I would definitely recommend doing this."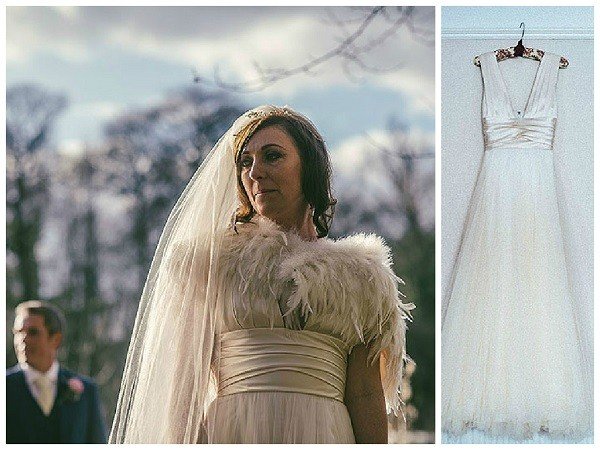 Grooms wear
Brian wore a bright navy-blue suit with a champagne tie and tan shoes. "He was just so handsome!" Susan smiles.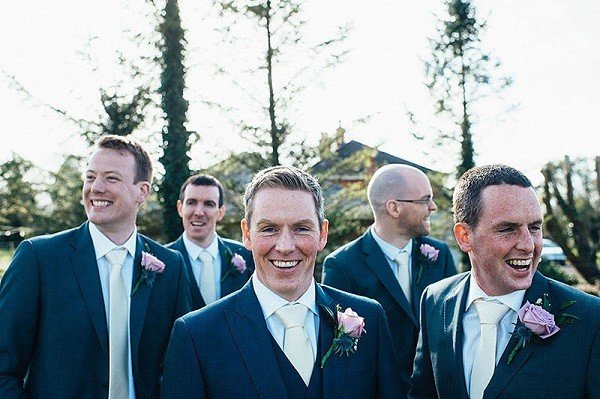 Bridesmaids
Susan wanted her bridesmaids' dresses to suit the individual styles of her maids, and suit the needs of a pregnant bridesmaid. "The dresses were by Dresscode and they can be adjusted in many different ways," Susan explains. "The girls chose to wear their dresses as they preferred – adjusting them to accommodate growing bumps, cover tattoos, and most importantly to feel comfortable on the day."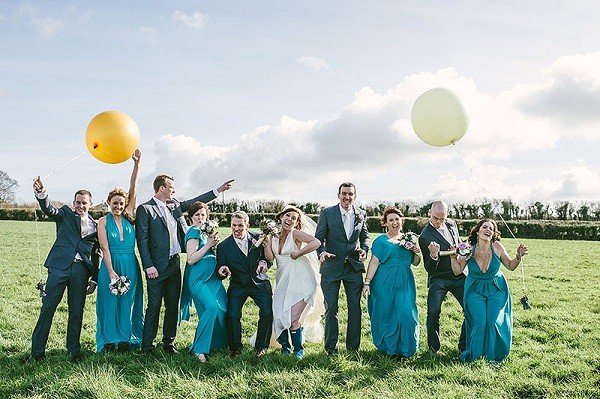 Wedding flowers
The bridal flowers were provided by florist Kay O'Connell. "Kay was wonderful. She really listened to what I wanted, gave me sound advice and my flowers were genuinely even more beautiful that I imagined. I loved the way the bluish leaves and thistles in the bouquets complimented the teal in the bridesmaids' dresses. I also really liked the woodland effect of willow and incorporated it with tall bunches on the pew ends with gold ribbons, around the base of my own bouquet and around the venue."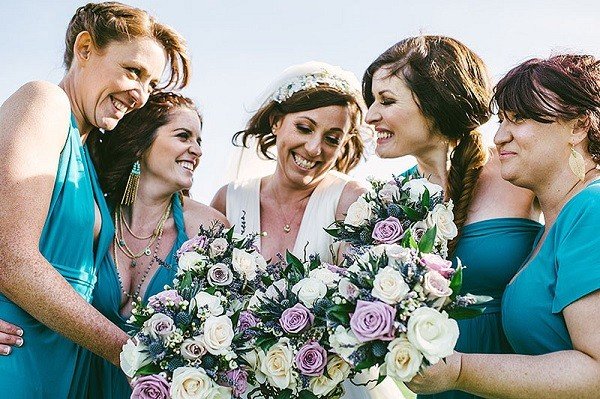 Wedding cake
Susan's talented mum made the wedding cake and cupcakes. The laser cut and gold cupcake holders were from Etsy.com.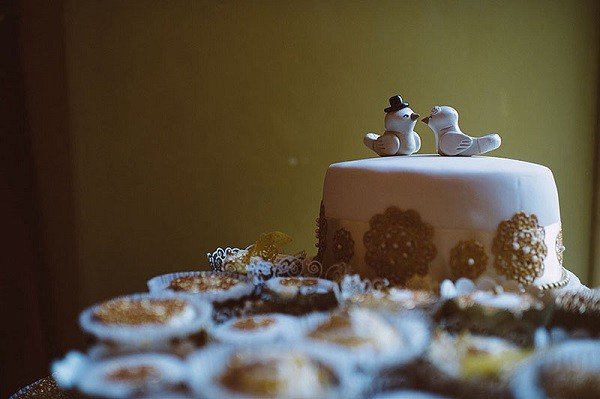 Favourite moment
Brian: "The speeches; they were really funny and heartfelt. The photo booth was also a huge success."
Susan: "When we were announced as Mr and Mrs Quain and entered the function room before dinner. One of my favourite songs, 'The Greatest Day' by Take That was playing, all our guests were standing and a hotel staff member led us through our friends and family who were smiling and dancing. It was a really overwhelming and magical moment for me."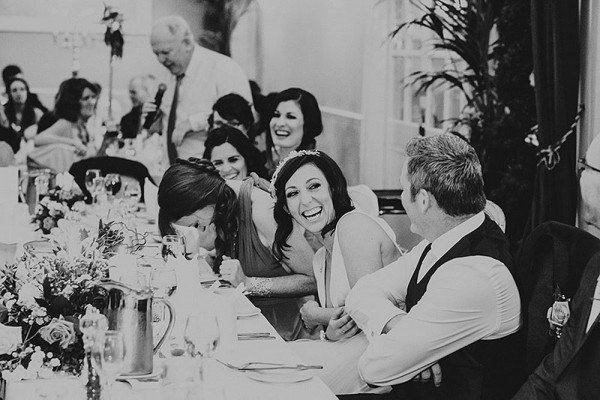 Other details
"Our wedding photographer, Eric Savoie, was amazing," Susan praises. "The photos speak for themselves and he was also so friendly and relaxed on the day. I cannot recommend him highly enough."