HOW THEY MET
Over the years, we've heard so many 'meet-cutes' and childhood stories here at WJ, but this is love story is a first…and we love it!
It all started when Claire was learning how to drive, little did she know it, but Mark was also practising for his trailer test with the same driving instructor. 'Our instructor thought we would be well suited, so she passed on my number,' giggles Claire. 'After texting one another we decided to meet up, so you could say our first date was a blind date. We continued to see each other for around 6 months but things never really developed so we thought it was best to go our separate ways, but we always stayed in contact as friends.'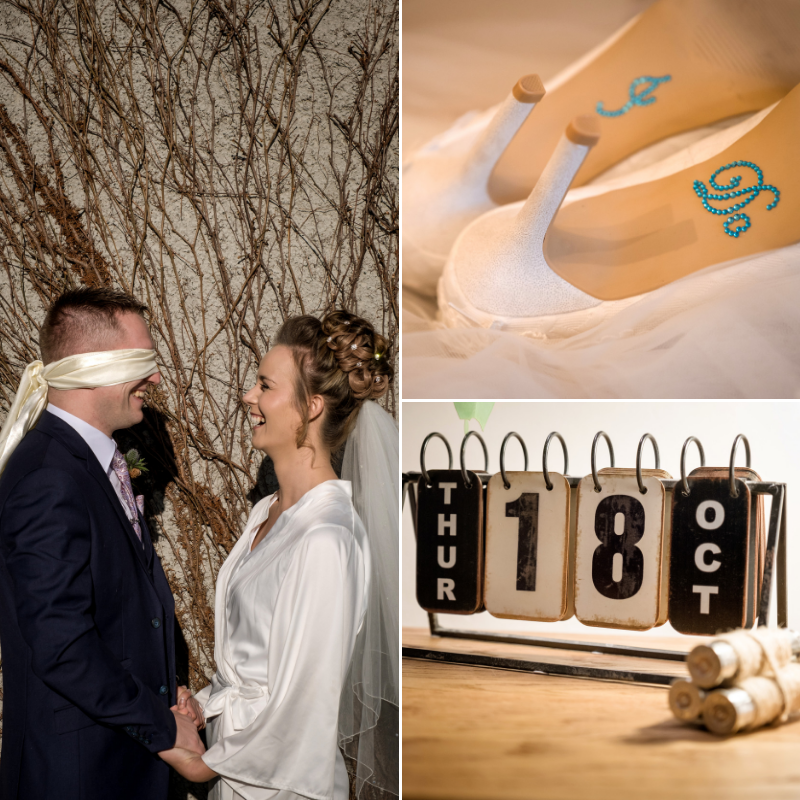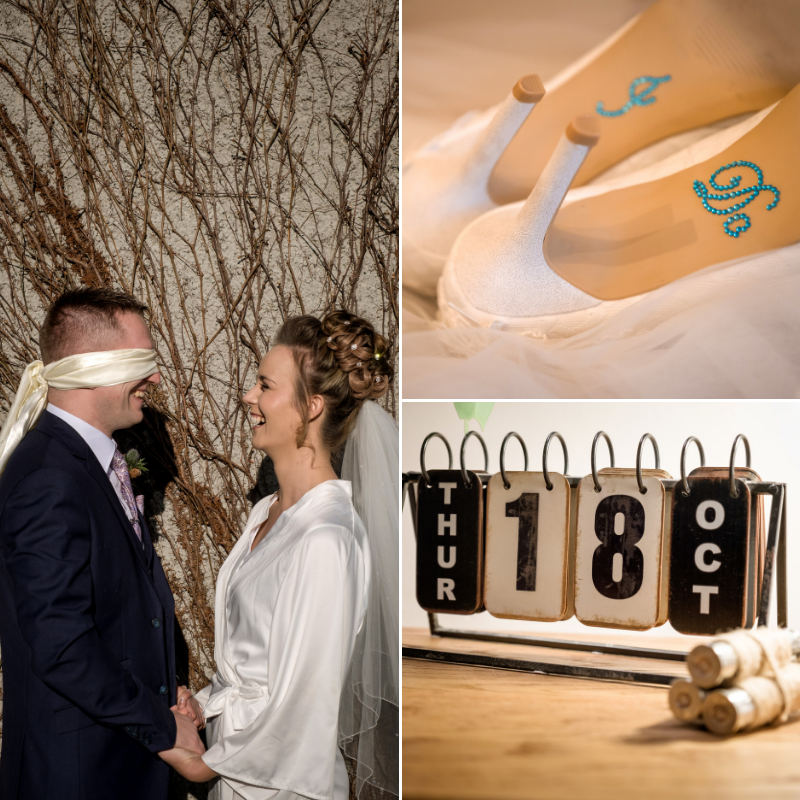 'Skipping forward seven years, we met up and we both decided to give it another go. This time things seemed a lot different as we both enjoyed each other's company and with the Lord in the centre of our relationship things really started to fall into place very quickly and we realised we both wanted to spend the rest of are lives together.'
THE PROPOSAL
After returning home from a two week holiday with her sister, Claire wanted to spend some much-needed one on one time with Mark; so they visited the North Coast. 'Mark had originally planned to take me to the Carrick -a- Rede rope bridge, but due to the wind Mark decided Mussenden Temple would be a better option. He explained to me later he had visions of the ring falling from the top of the bridge into the water below.'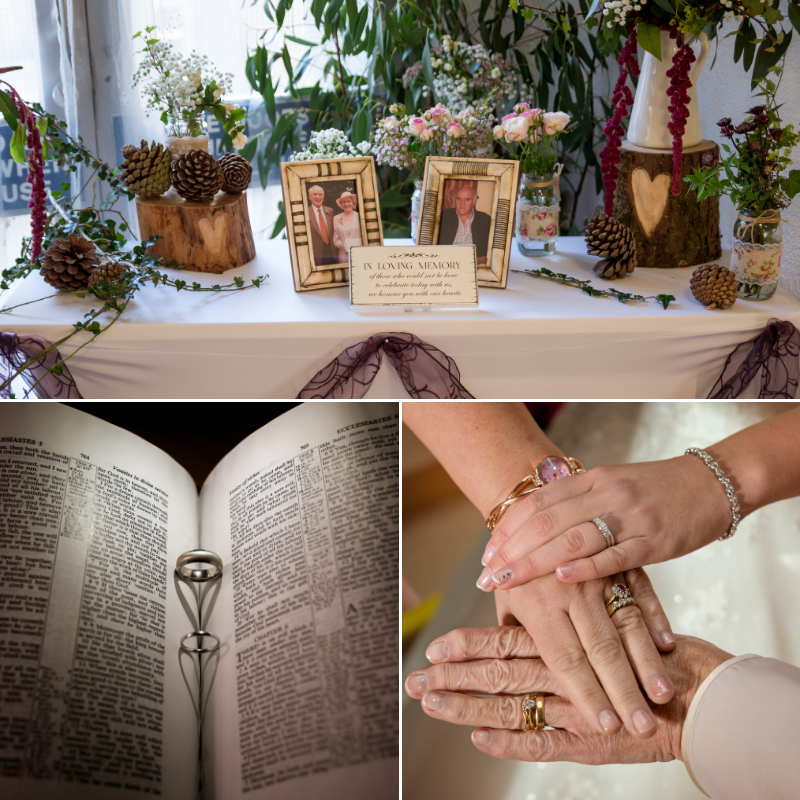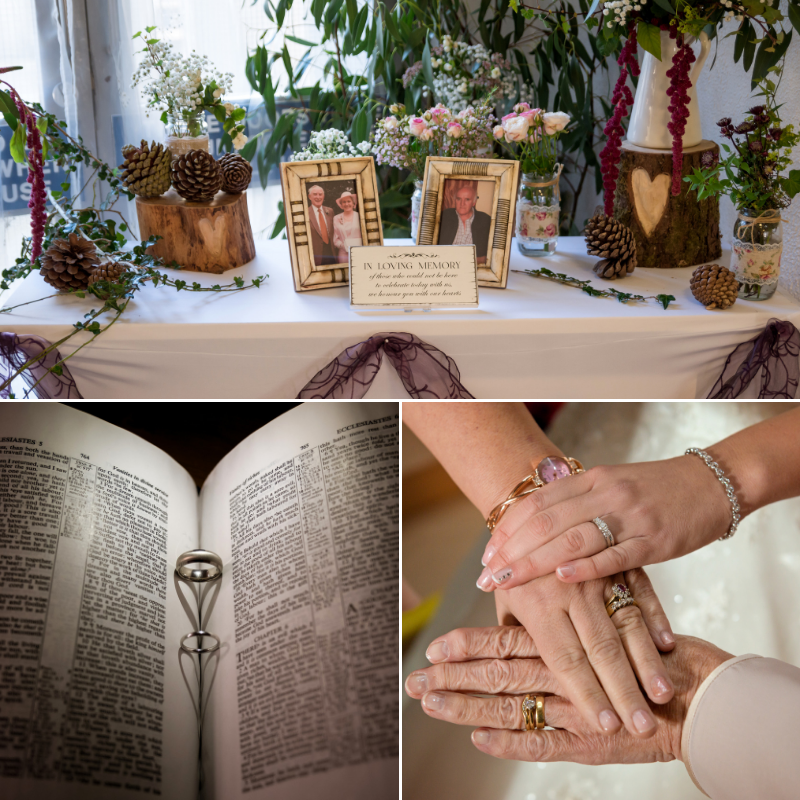 'When we arrived at the beautiful Temple, Mark got down on one knee and asked me to marry him.' Mark jokes that he hadn't quite get the question out before Claire was screaming yes!'
THE RECEPTION & DÉCOR
Claire and Mark chose The Royal Hotel in Cookstown for their autumnal inspired reception. 'We received a very warm welcome for all the staff and from Tanya. Tanya spent a lengthy time discussing everything and showing us around. We returned at a later date to enjoy a lovely meal given to us as a complimentary gift from Tanya and with the service and food that made our minds up it had to be the Royal Hotel. Tanya was always up to meeting our requirements and nothing was too much trouble.'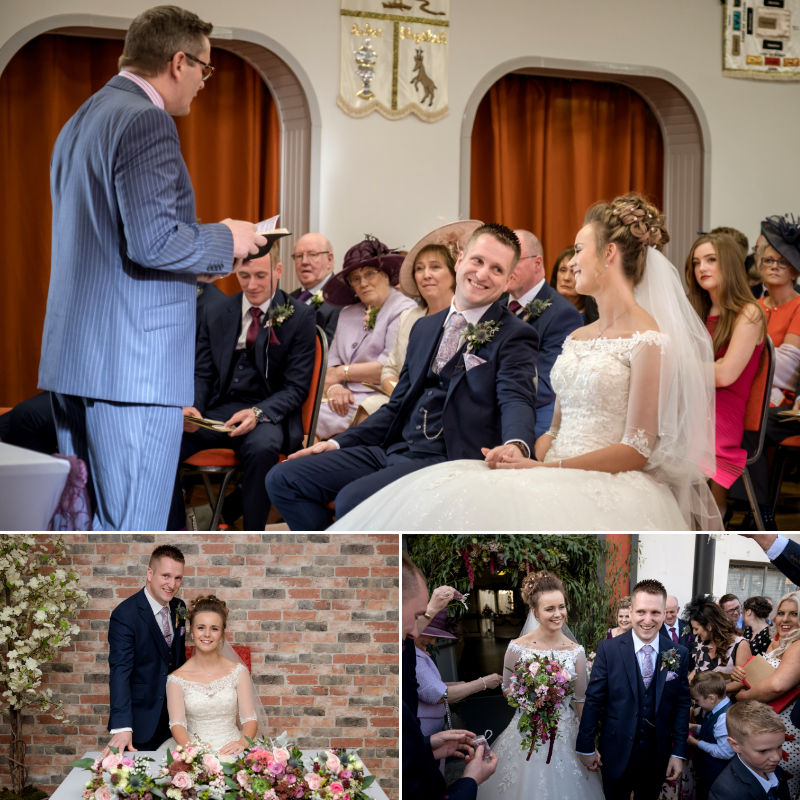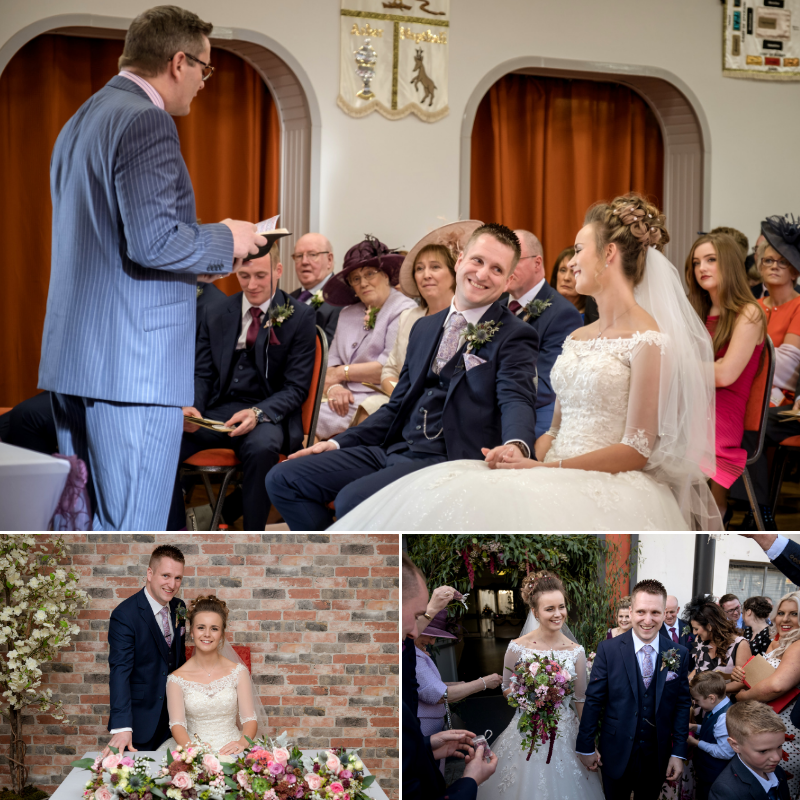 'We went with a rustic look, with wood, pine cones, sticks and chestnuts sprinkled across the space. We both love the outdoors and living in the country, we spent the beginnings of our relationship going for walking dates.' The fact that Claire's father is a tree surgeon worked perfectly.
When it came to choosing flowers Mark left this to Claire, as he admits he has't a clue about flowers. 'I knew straight away who I would ask, this was a good friend of my family Sharon Hull, she was delighted, we also had a little help from my aunt Lyn. When my flowers arrived, there was more than expected and all the colours looked fantastic together.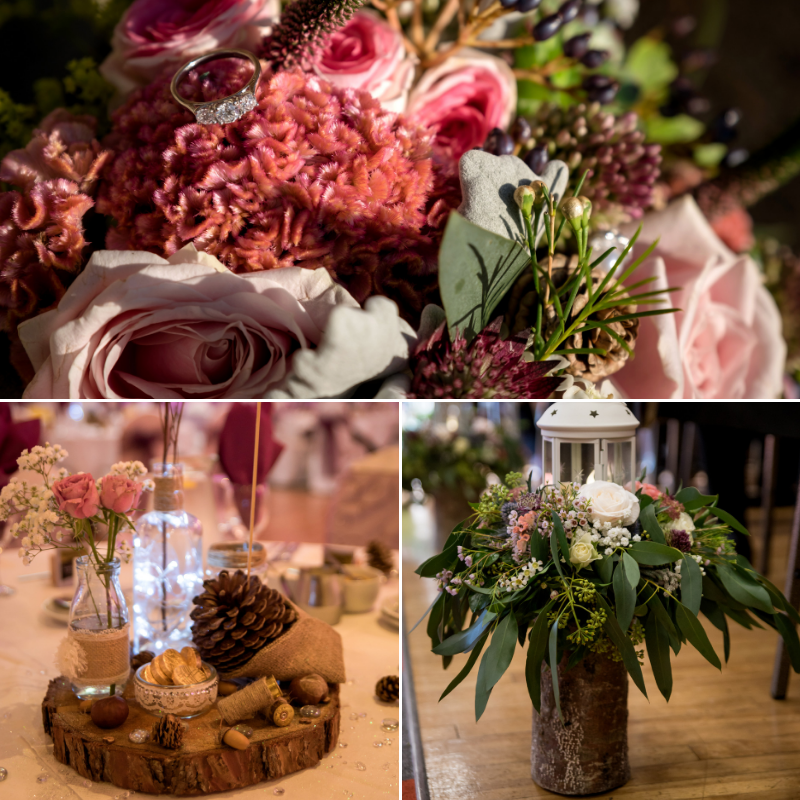 My bouquet was a mixture of rich shades of purple and pink flowers with steel berry's foliage's pinecones and diamante, this was to bring out the autumn colours and to tone in with the girl's dresses. The bridesmaids had softer shades of colours pinks & purples with creams and ivory going through them to tone in with my dress. For the men's buttonholes we decided to go for something a little different, I had a cluster of thistles, herbs, berries and one tiny pine cone. To finish it off the end of a gun cartridge with cord was wrapped around the stem.'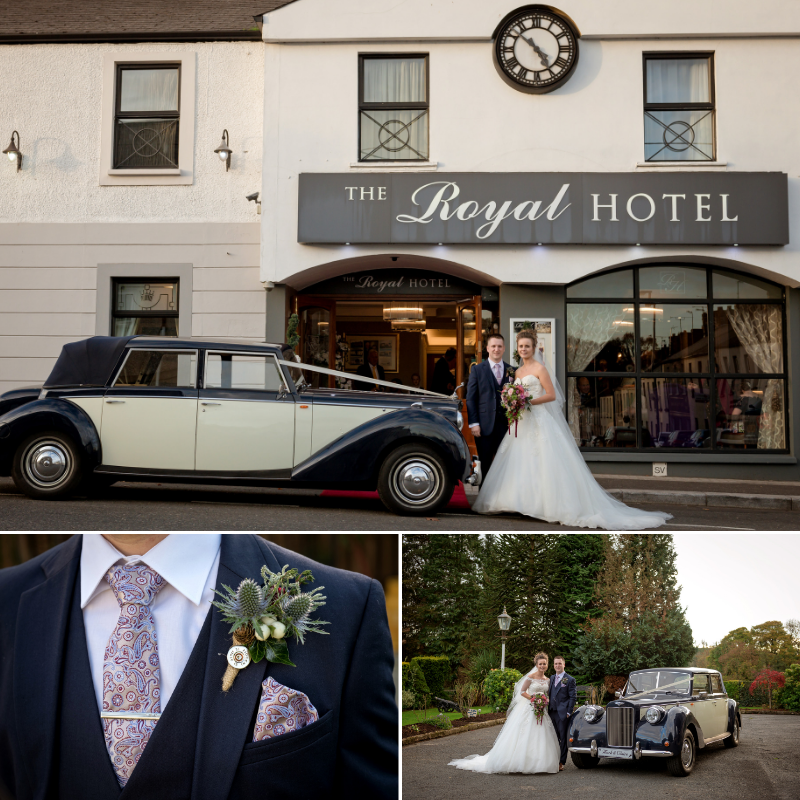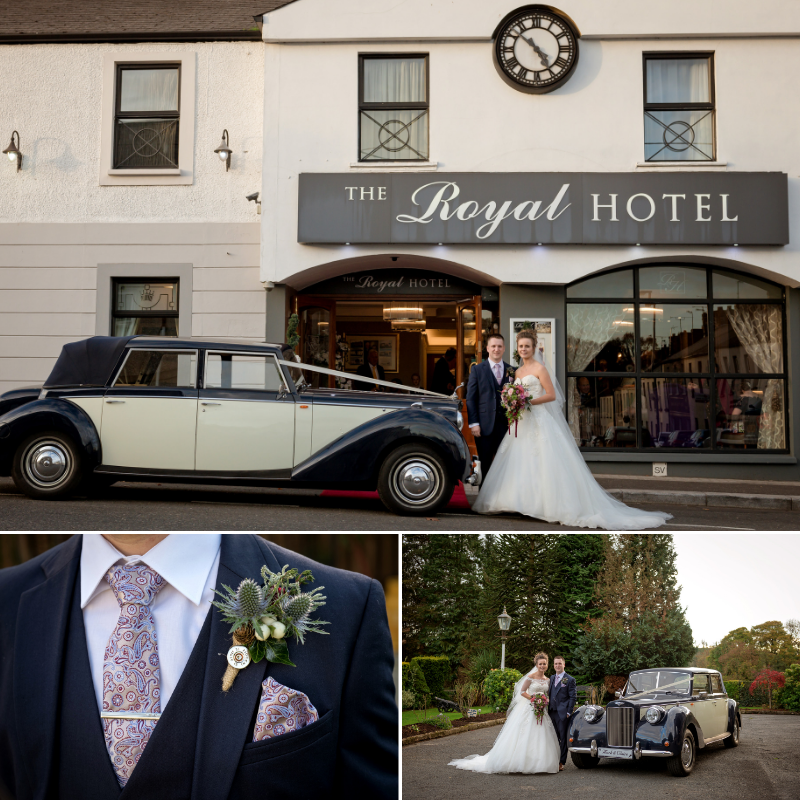 'We included items like a ladder, apple crates and miniature pallets stating pick a seat not a side, you're loved by both groom and bride. With a personal touch for my Dad I added a mirror saying, Dad Of all the walks we have taken together this one I will remember love always Claire. We decided on a memory table with photos of are loved ones that where longer with us this made the wedding feel complete.
'We named our tables after trees to keep with the Autumn theme this was all set on a wooden slice and to finish off some glitter and diamonds to add a little sparkle, place settings were small pine cones with each guest's name hanging on it. For wedding favours, we had breakfast jams and marmalade, with a selection of Thompsons Tea bags to go with our surname (Thompson) so that each guest could enjoy breakfast the next morning while thinking of our day.'
WHAT THE BRIDE WORE & THE REST…
Claire always knew she wanted a princess look for her wedding day, but where did she find her dream dress?
'I went to many bridal shops with my mum and bridesmaids. It was tough, I had to choose whether to go for a slim fitting dress or stick to my dream princess gown. The decision was tough, I finally made up my mind and settled on the princess look which was a Justin alexander (Sincerity) in the Orchid Studio in Portadown.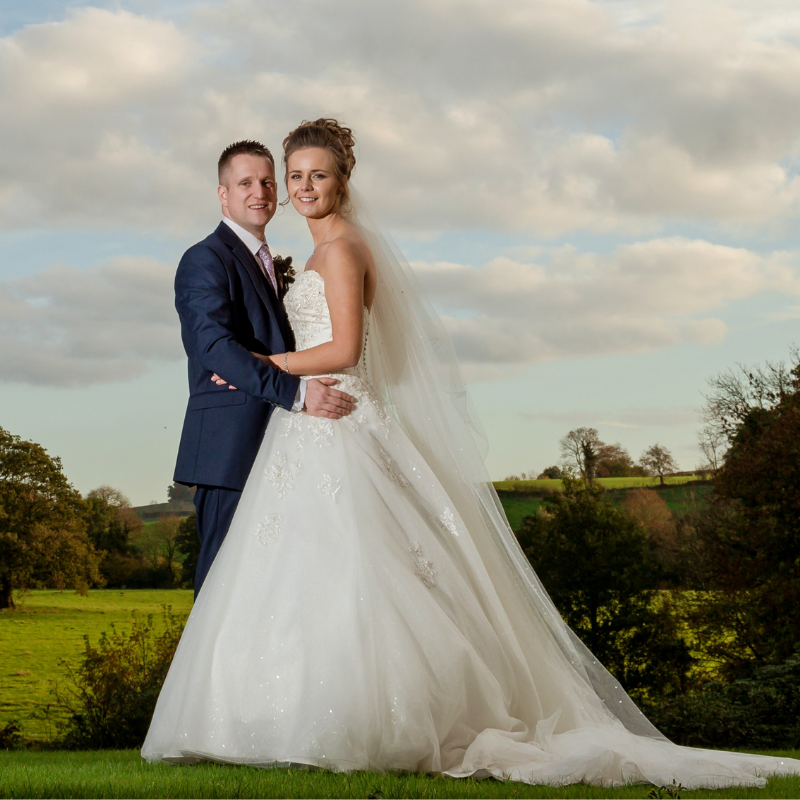 I fell in love with the detail in the dress, but thought it could do with a little more, so with a lot of research from my mum we found the fabric which I needed to give the dress so more sparkle. This was added underneath the first layer on my dress, we also added more buttons down the dress with every 4th button being a diamante one. I also had a long cathedral veil with diamantes just to add a little more sparkle that run to the edge on my dress.'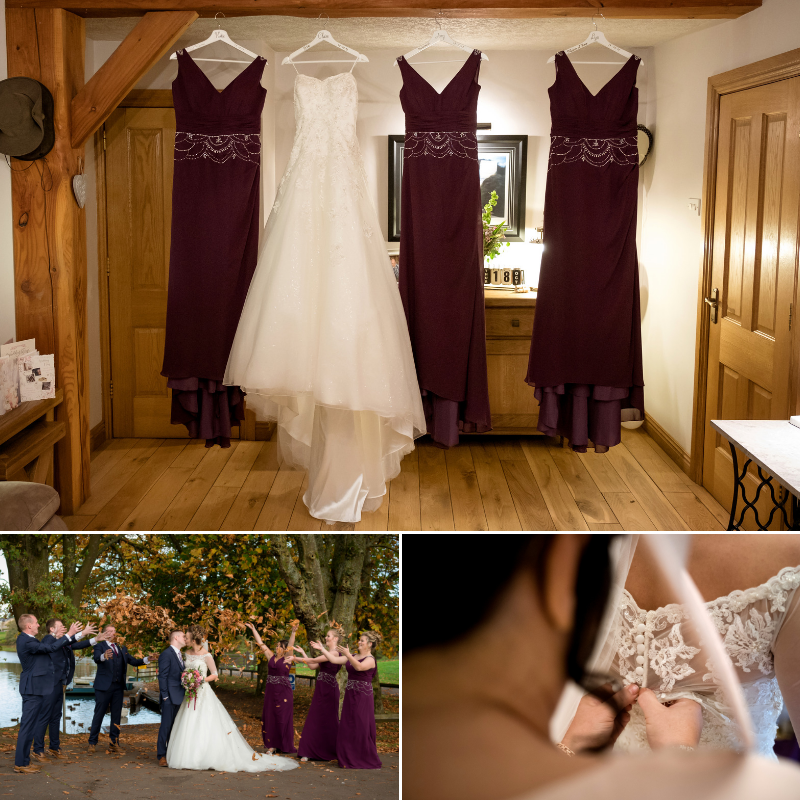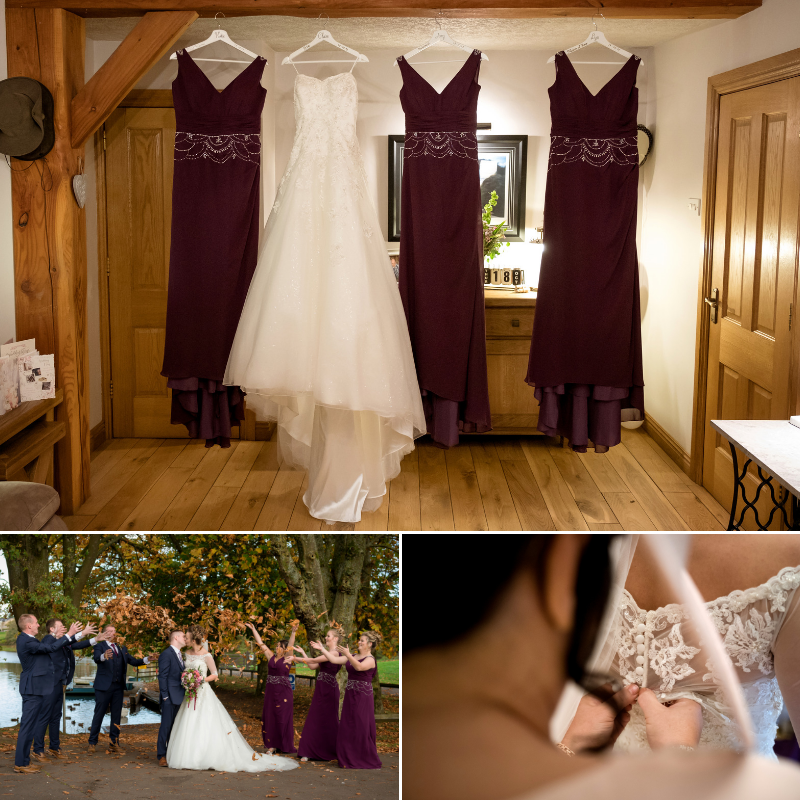 'After looking through a lot of bridal magazines I knew I want something for my girls from True Bride. I wanted a vibrant solid colour with detail, their dresses were aubergine colour with diamante and pearls around the waist band and a crawl to the back of the dress, I also added a diamante button to the back of the dress to match mine. I purchased their dresses at Reflections Bridal Studio in Lisburn'
EATING & DRINKING
The Royal Hotel gave us a great menu to cater all our guests, we had the choice of a set menu or a carvery and we decided to go for a carvery. It was a great option as each guest had the option to choose from a wide range of starter mains and desserts. The evening carvery was fantastic there was plenty of food and no one went home hungry, weeks after the wedding our guests continue to comment hat they'd never been to a reception like it.'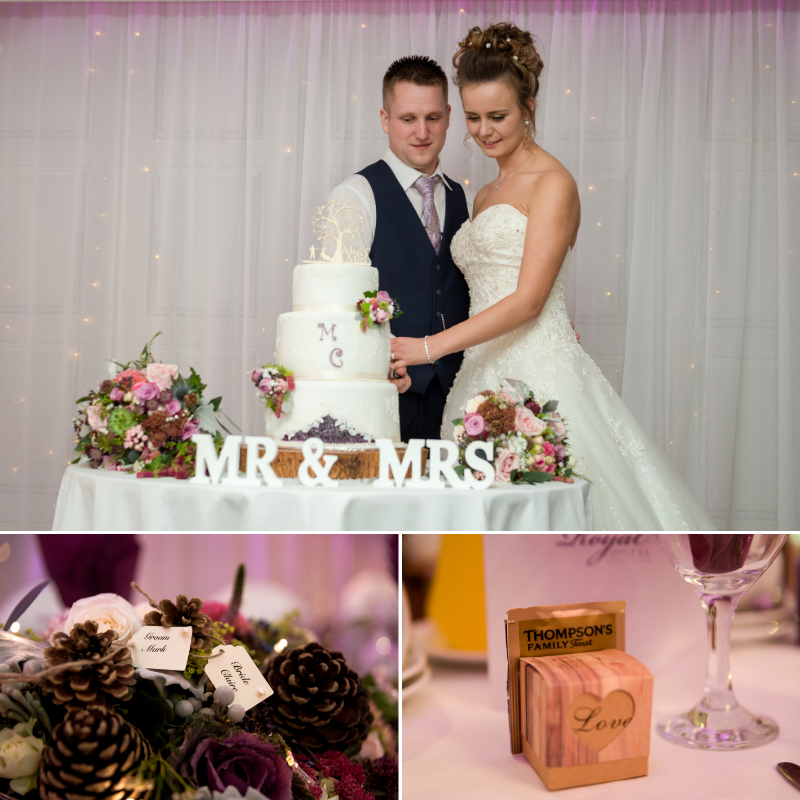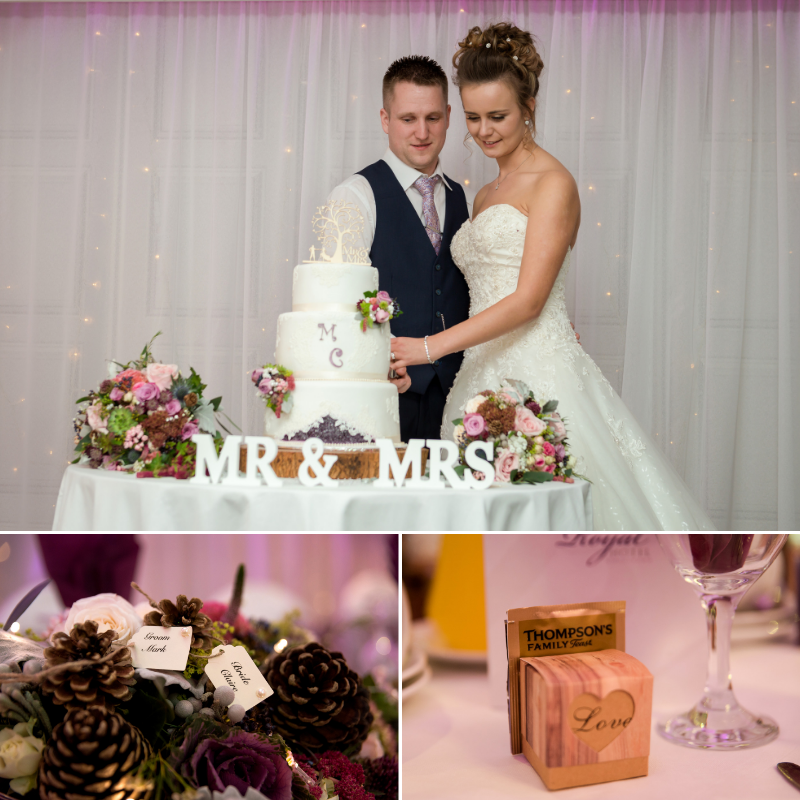 Claire and Mark visited The Wee Cake Shop in Banbridge, to sample and design their wedding cake. 'We went for a three-tier ivory cake, decorated with lace and purple sparkle.  The middle tier had M & C for Mark and Claire.  The flavours of the cakes where chocolate orange, lemon and jam and cream. On the top tier we had a wooden tree topper with Mr and Mrs engraved, my florist decorated each layer with flowers draping down the side theses complement the rest of the flowers throughout the day. It was delicious.'
CAPTURING THE MOMENTS
Mark and I really struggled to find a photographer. We had some ideas of the kind of photos we were looking and the style of photographer to take them. We met up with different photographers and either we didn't click or they didn't seem that keen on our ideas. We found Leigh of Leigh Park Photography on Facebook through him taking engagement photos of our friend, so we decided to book an appointment. Off to Kilkeel we went and from the very start Leigh was really friendly and professional, we just got on really well with him.'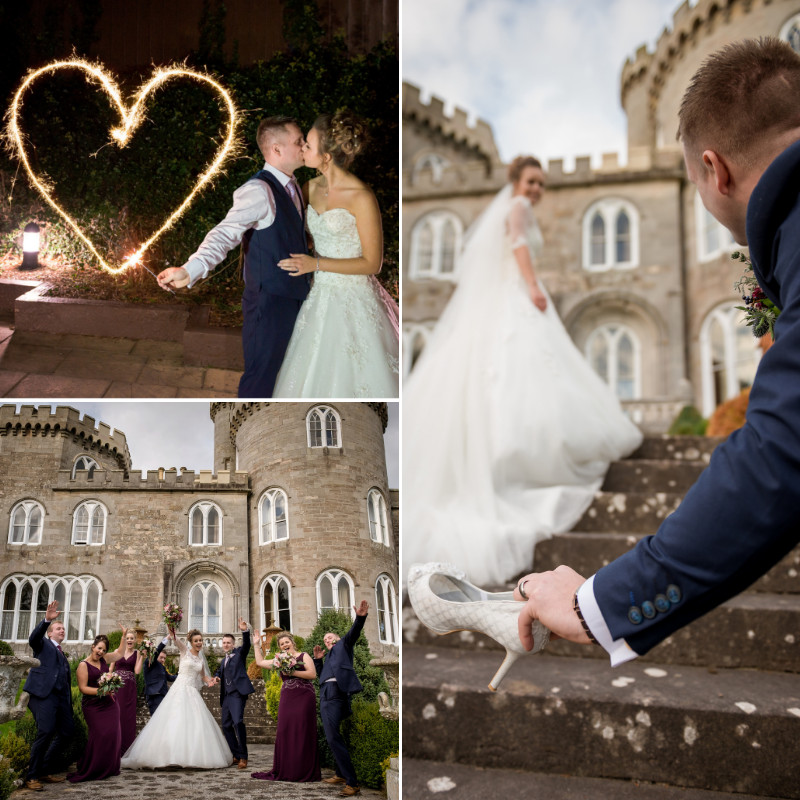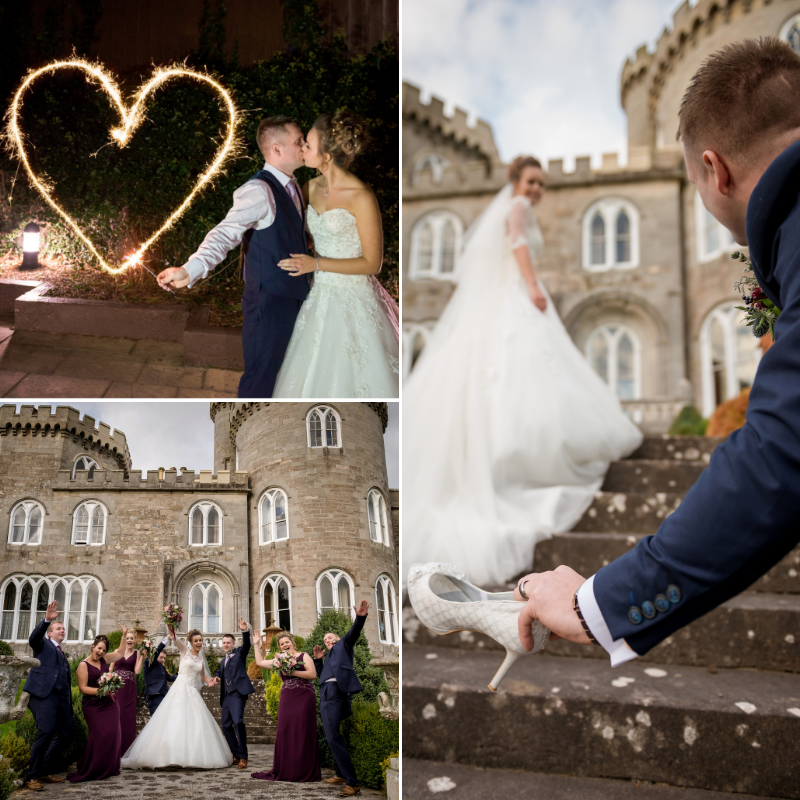 We told Leigh about our ideas his reaction was different from the others as his eyes lit up with excitement and was looking forward to what we had in mind, it was at this point we knew Leigh was the photographer for us. We were delighted with how the photographs turned out.  On the day Leigh and Bethany was fantastic, so hard, Bethany helped myself and the girls into our dresses. They were fantastic, we would highly recommend.'
FAVOURITE MOMENT
Mark's favourite moment is very sweet. 'There were so many moments that was special to me like saying our vows as they are very important to us. The message that our Pastor Ken brought demonstrated marriage as three cords, Jesus being in the centre of our marriage.  But the moment Claire walked in through the doors of the church was another very special moment for me, she was stunning. I knew that at that moment I was the luckiest man alive.'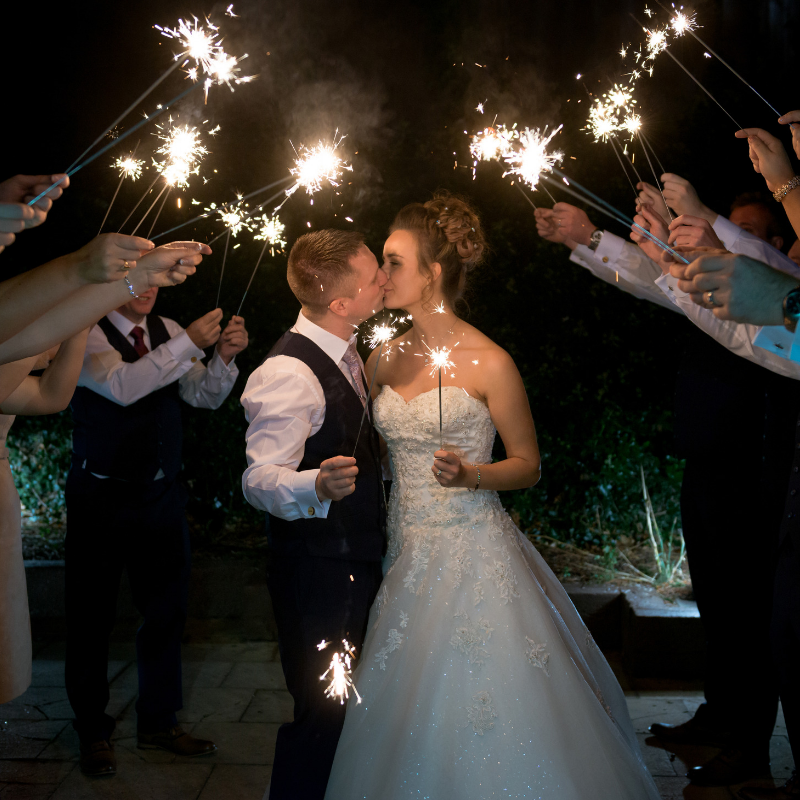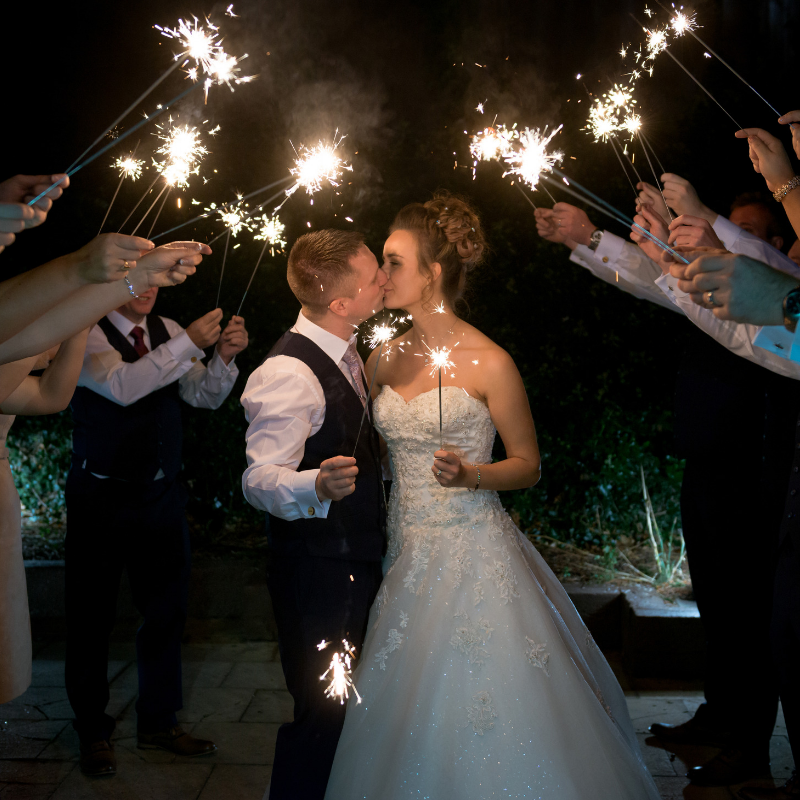 Claire had a list of highlights, she couldn't pin point just one. 'There were many lovely moments during the day such as the service and how God was mentioned throughout the day.  I also really enjoyed the evening reception and catching up with everyone. The revealing of the dress and seeing everyone's reactions. The lead up to the wedding, a lot of people were trying to guess the dress. Many thought I was going to be in a slim fitted dress, and then when Mark spotted me it was even better, as he never dreamt I would be in a large dress. I also loved the moment where Mark called at my home before going to the church but it was one sided as I seen Mark. Mark wore a blind fold as he wanted to wait until I arrived at the church to see me. The entire day was simply magical!
Claire & Mark's Dream Wedding Team
Venue – The Royal Hotel, Cookstown
Wedding Dress – Orchid Studio, Portadown
Bridesmaid Dresses – Reflections Bridal Studio, Lisburn
Wedding Cake – The Wee Cake Shop, Banbridge