How They Met
Melissa and Ronan first met when they were both studying in Dundalk IT in 2009.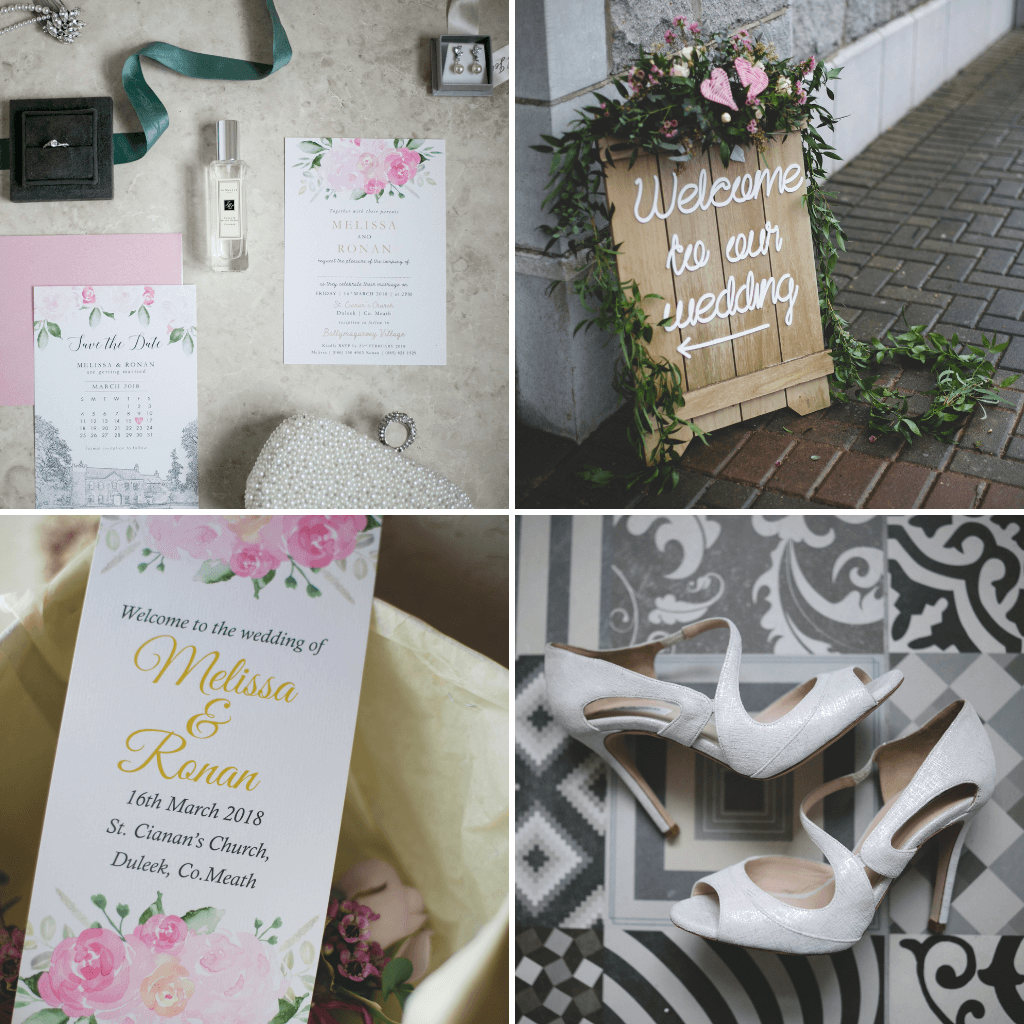 Being too shy to approach Melissa on a night out, Ronan chose to message her privately on Facebook the next day. After a few days of messaging they went on a date to the cinema. Ronan joked in his wedding speech 'the moment Melissa said she didn't want any of my popcorn or Malteasers, I knew she was the one for me!'
The Proposal
Ronan knew he wanted to pop the question with a trip to Dublin back in April 2016, so he convinced Melissa they were going on a work do.
On the way he told they were staying at The Marker Hotel, causing the unsuspecting Melissa to freak out; 'they had valet parking and my car was filthy!'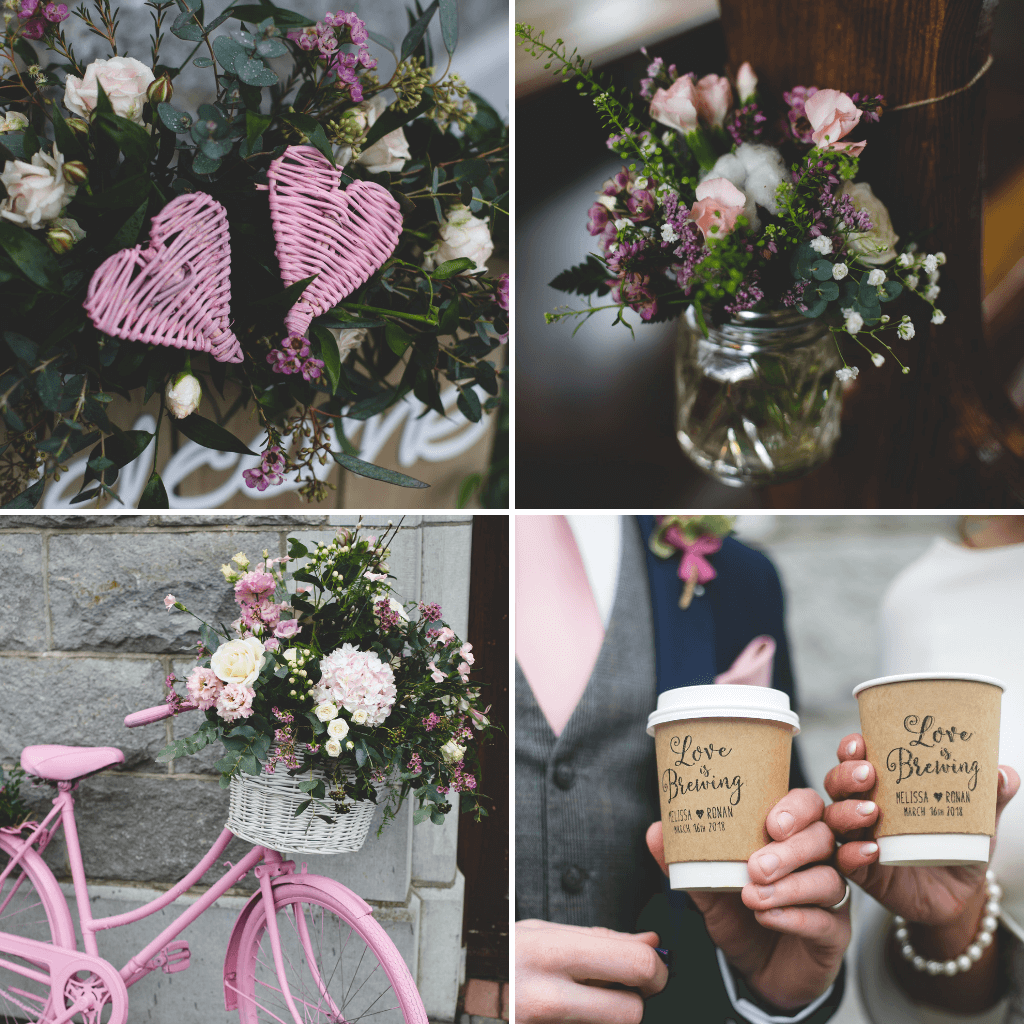 Still unaware of the real reason behind their trip, Melissa was looking forward to relaxing after checking in.
Little did she know, their room was secretly adorned with rose petals! After opening the door to this romantic scene, Ronan swiftly got down on one knee and asked Melissa to be his wife.
Wanting to bask and celebrate such a special moment, the happy couple took to the rooftop bar and terrace to let in all sink in, before heading to The Rustic Stone for a celebratory dinner.
The Reception
The couple chose the stunning Ballymagarvey Village for their spring wedding.
Melissa and Ronan wanted a relaxed wedding so their theme for the was simple and rustic, not forgetting romantic!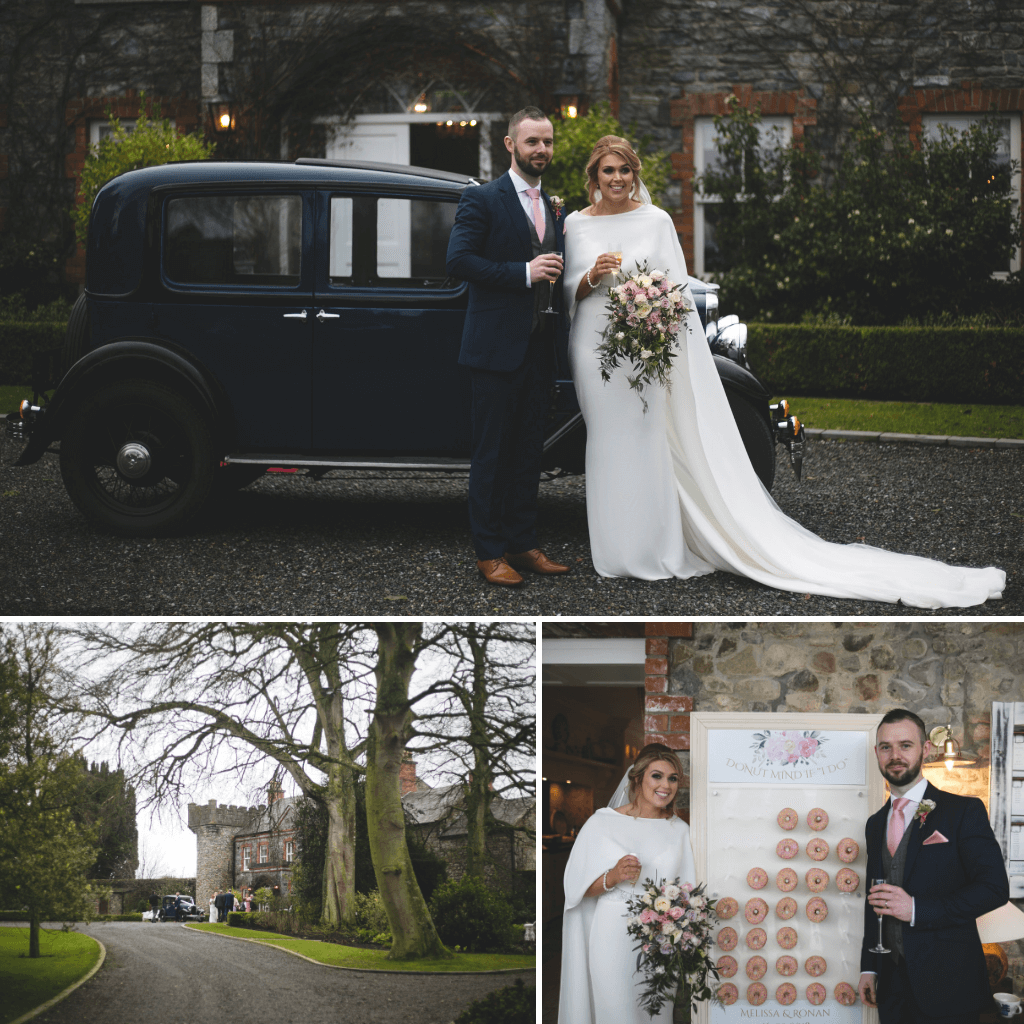 To go with the theme, they chose Caroline McNally of Wild Things Wed as their photographer, they immediately clicked with her as soon as they met; the young couple knew Caroline would fit in well with their guests and keep everything simple.'We loved how candid her photos are; we hate staged photographs, so we knew her style was exactly what we were looking for.'
Being an event planner herself, Melissa was in her element as she planned her wedding. 'I enjoyed the process so much and it never felt like a chore! I would do it all again in the morning,' she reflects.
What The Bride Wore 
Melissa didn't want to rush into buying a dress, she visited a host of boutiques over three days, but found herself calling back to the first boutique she visited on day one.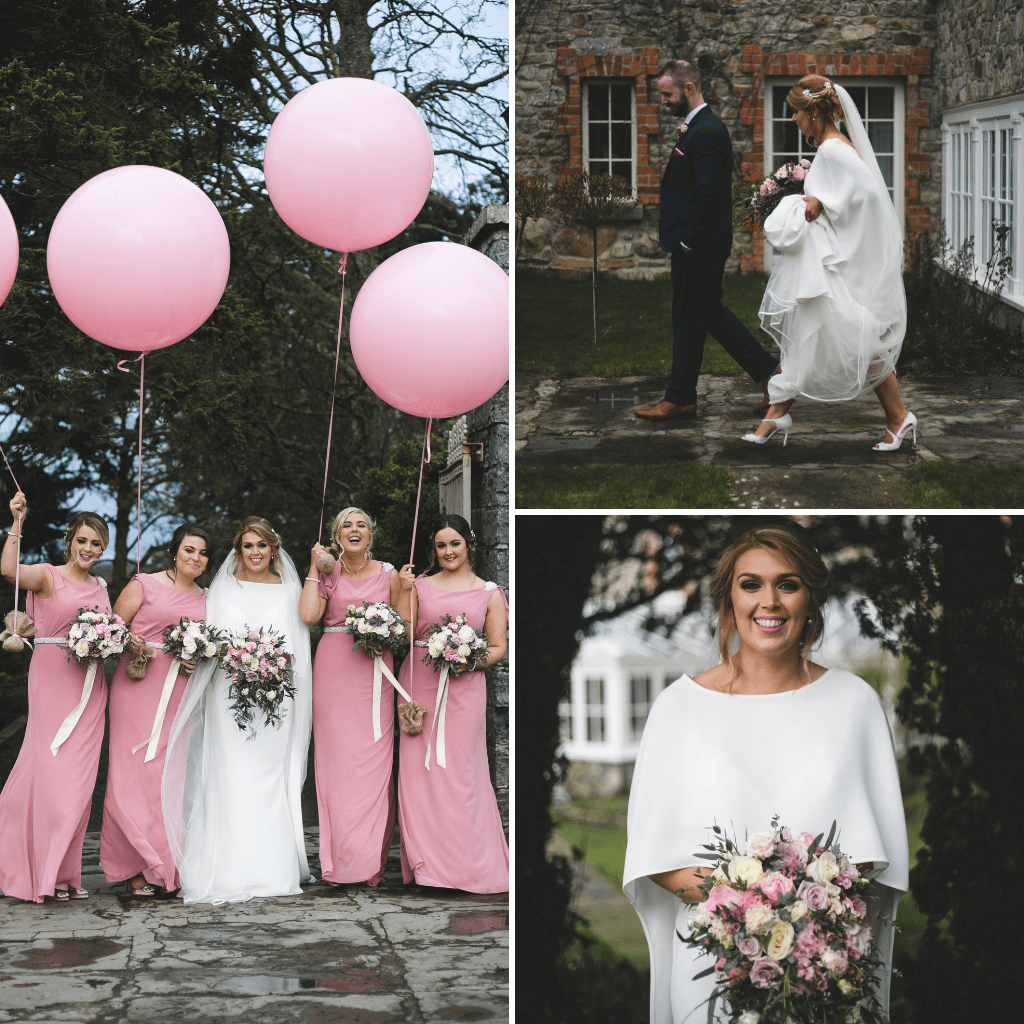 After visiting Alice May Bridal in Kilternan, Melissa found her dream dress. A beautiful backless dress, with flowing A-Line skirt, lace bodice and v-neckline. Melissa commented that 'the girls at Alice May were so lovely, helpful and made me feel so relaxed.'
A cape was added last minute due to the infamous snow storm at the start of March. It was designed by Sarah Foy Couture on a very quick turnaround that Melissa was very grateful for! 'The cape got so many comments as it was something a little different but very practical' she adds.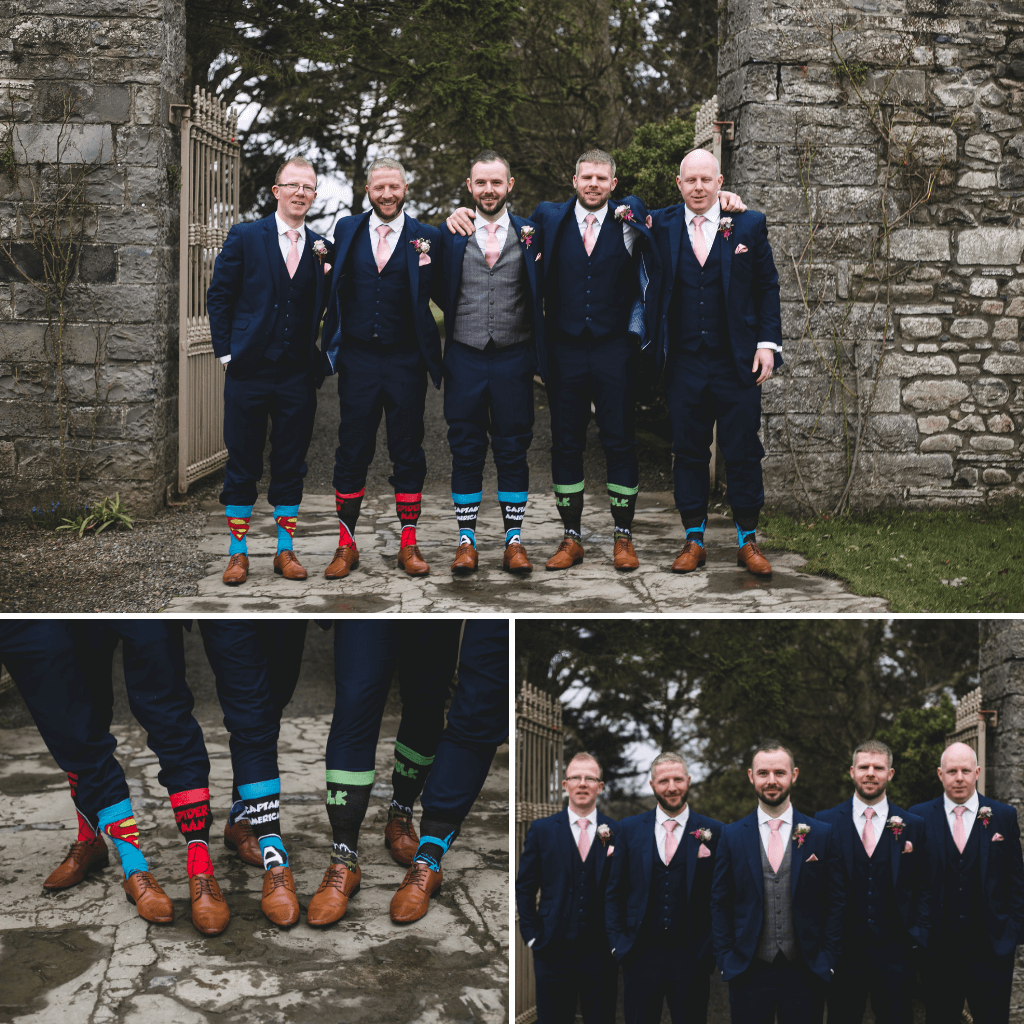 The bridesmaids wore True bridesmaids gowns from Bella Mariee Bridal in Athboy. Melissa picked out romantic rose coloured chiffon dress with cowl backs, each accessorised with a pearls and crystals on the waistband and shoulders.
Decor
The flowers were designed by Emer McKenna Bespoke Weddings Florist.
Outside the church, there stood a beautiful floral arch adorned with foliage, pink and white roses. Beside it sat a pink vintage bike, a DIY project by the couple, finished off with Emer's personal touch.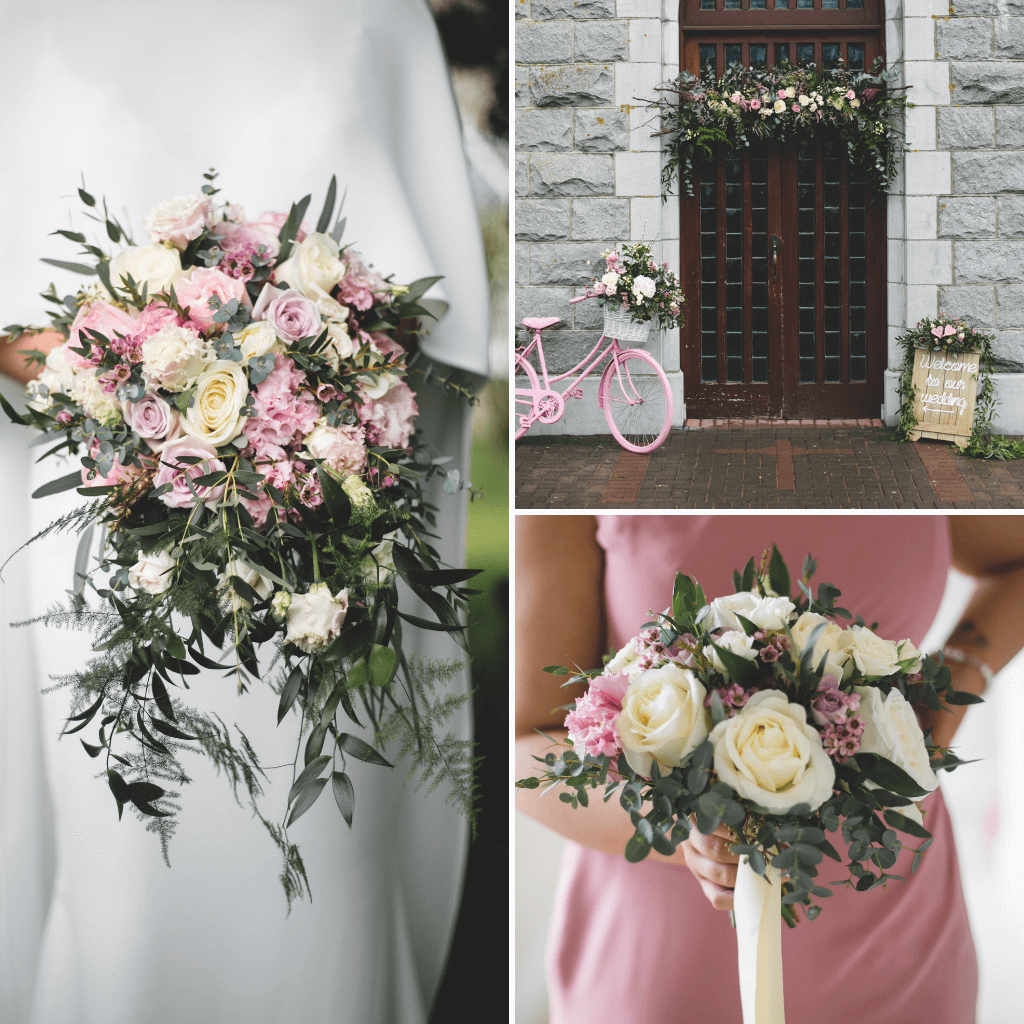 Inside the church Emer crafted a large floral arrangement, with miniature bottles on each pew, replicas of the bridal party's gorgeous bouquets.
Sticking with the rustic theme, Ballymagarvey was the perfect venue for their day! To decorate their reception room, Emer provided extra flowers, again matching the bridal parties bouquets. Melissa chose cherry blossom centre pieces, with sweetie-filled jam-jars as table favours.
Melissa and Ronan designed and handmade their table number frames; 'they definitely took up some time to construct, but looking back through our photos, it was worth every minute, the room tied together perfectly' added the pair.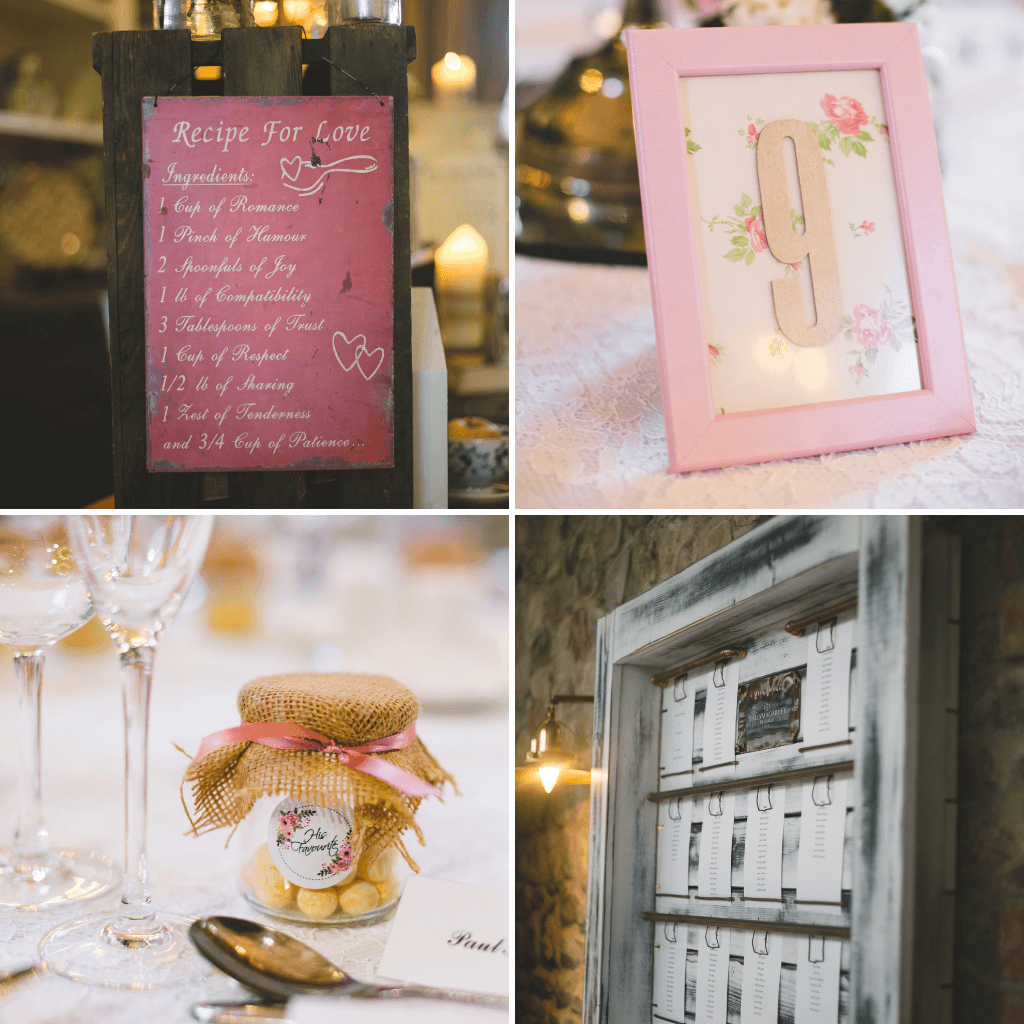 Bride to Bee were the couple's stationery provider. Melissa confesses she loves stationery and thinks it 'sets the tone for the big day'. Working alongside Aoife was so much fun, her designs tied our overall theme for the day together.
Food
The couple chose a traditional menu perfect for St Patrick's weekend!
Guests enjoyed warm Ballymagarvey Braised Beef and Guinness Pie, Duchess Potato and a Guinness Jus or Butternut Squash and Lemongrass Soup, accompanied by a Selection of Rustic Breads.
The main course consisted of Prime Peppered Hereford Sirloin of Beef or Pan Seared Hake.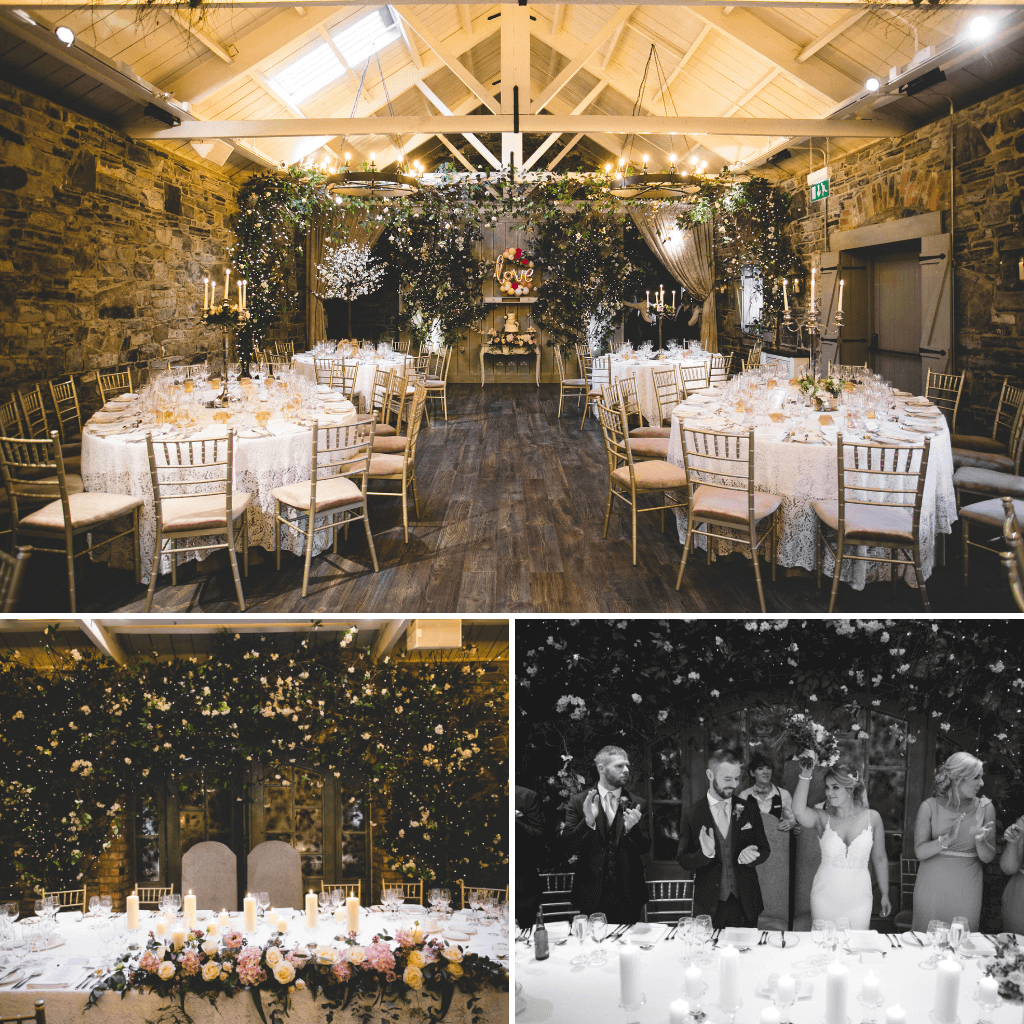 Then for dessert, the couple chose the ever-popular Sticky Toffee Pudding with Butterscotch Sauce and Vanilla Ice-Cream.
'The food in Ballymagarvey was amazing and we had so many comments from our guests on the food,' beamed the newlyweds.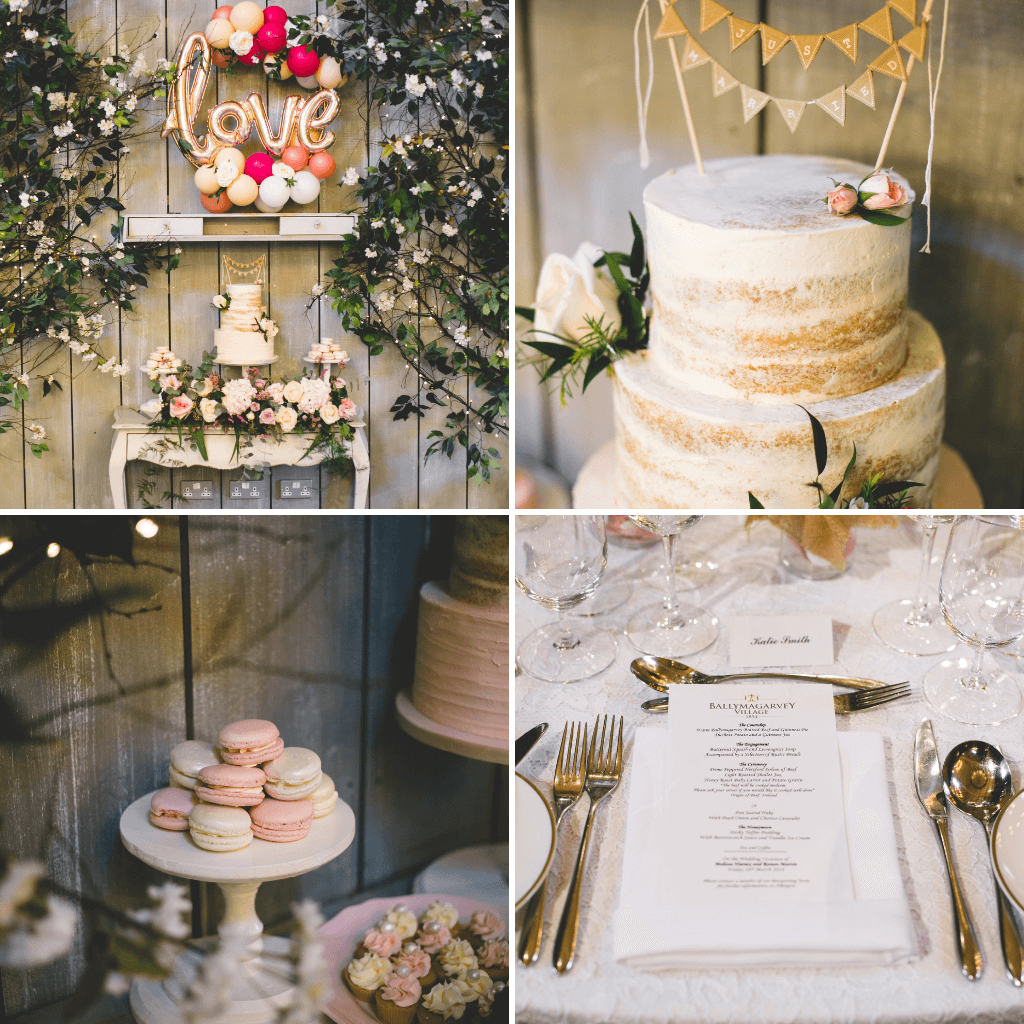 The wedding cake was baked by Primrose Lane Bakery. Unsure of what she initially wanted, Melissa took to Pinterest for some additional inspiration, she spotted one she liked the look of so sent to Helen to see what she could do.
'I am sure Helen thought I was crazy when I sent her an image of two halves of two different cakes!' she laughs. The end product was between a 'naked' cake and a butter cream finish.
'It tasted so good, everyone loved it,  I think we were eating cake for a week afterwards.'
Favourite Moments
Ronan's favourite moment was just before he and Melissa entered the Banquet Hall to Calvin Harris' song 'Feel So Close.'
'As the arched doors slid back, we could see we our friends and family standing, clapping and cheering for us as we were introduced as Mr & Mrs. Martin for the first time.'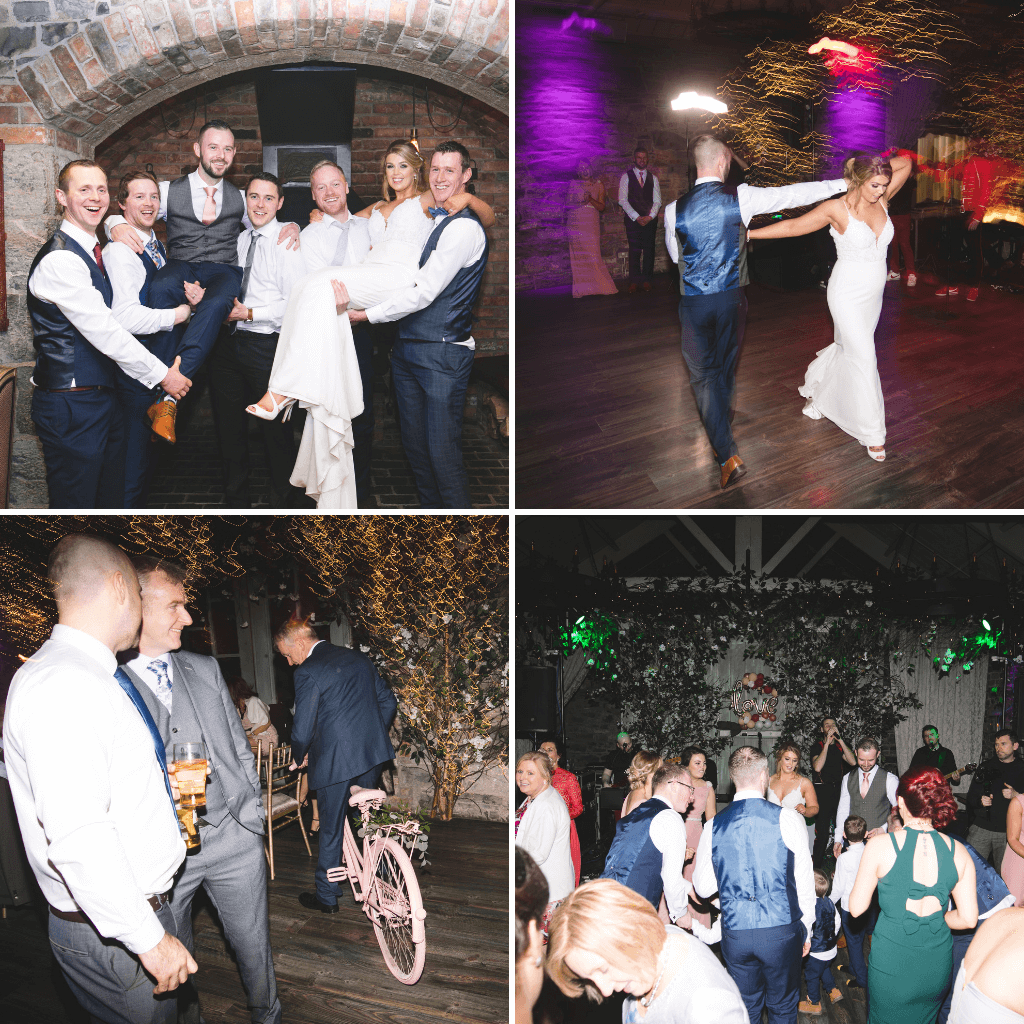 Melissa's favourite moment was the DJ and Sax player that had been kept as a total surprise after their band.
'Our guests reaction was amazing, I'll never forget it. It was so lovely to be in the middle of a dance floor surrounded by those we love most, with everyone dancing away without a care in the world. I don't think I left the dance floor all night and everything time I think back it makes me smile.'