Mags and Gerard tied the knot 2nd October 2016 with a ceremony and reception at Cabra Castle, Co. Cavan
Photography by Ross Waldron.
The Couple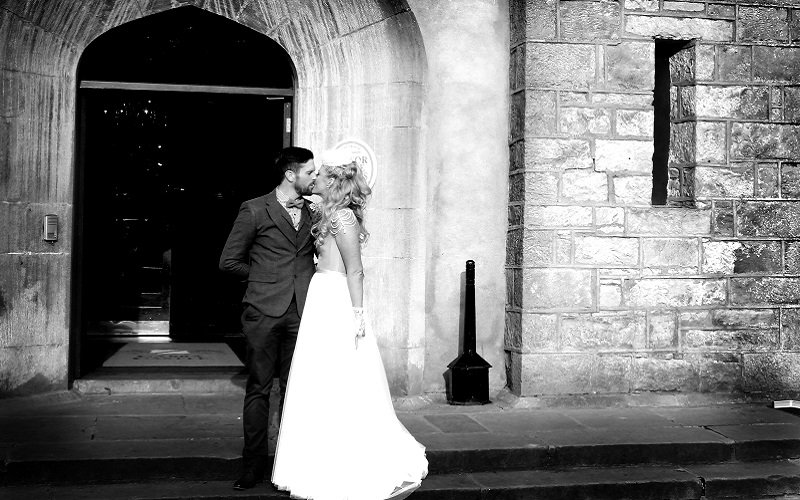 Mags met her knight in shining armour in 2009, in a nightclub, when Gerard stepped in to protect her from the advances of a very drunk club goer. Being the gent he is, Gerard even made sure Mags and her friend got home safely. The couple exchanged numbers but waited two years before going on their first date.
The Proposal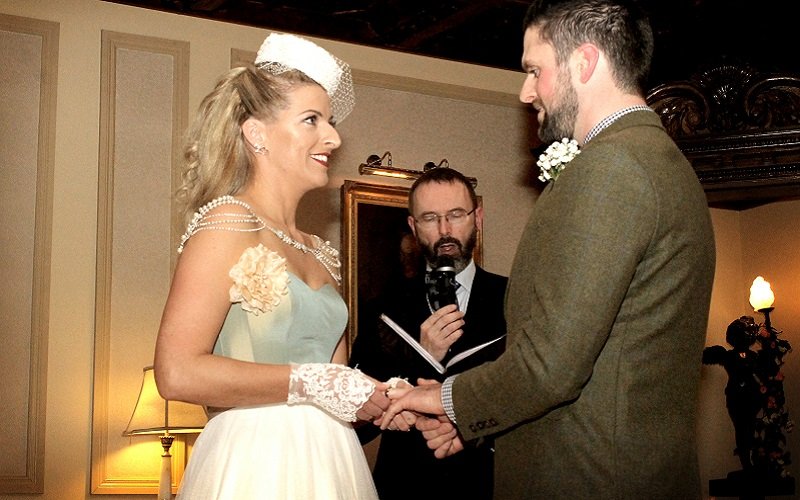 Gerard popped the question in February 2015 when Mags was pregnant with their son Oli. On Mags' birthday the couple enjoyed a visit to the hospital for a scan followed by a lovely lunch. Gerard was insistent on taking a walk around the National Botanic Gardens, an area that is special to him. When they reached the Tropical House, Gerard got down on bended knee and produced a beautiful solitaire. 'I cried so much,' recalls Mags. 'When we were driving home I rang my Mam three times to tell her, but each time I was crying so much that I couldn't talk and had to hang up.'
Venue
The couple chose Cabra Castle as their wedding venue due to the fantastic food and comfortable surroundings. 'The room was large enough for the size of wedding we wanted and we were particularly impressed that Cabra Castle has a separate entrance for weddings making it entirely private from the rest of the hotel,' says Mags. 'On the day the staff were incredible – it's a cliché but we were treated like a king and queen.'
Theme
The couple planned the wedding themselves in between work, football and babies. 'We didn't have a theme as such,' says Mags. 'The important thing for us is that we were surrounded by family and that we got a chance to demonstrate to them what they mean to us. I have many nieces and nephews and we were able to incorporate them into our intimate and personal ceremony. We also had a sand ceremony were we selected people from different groups of our live to stand up with us.'
Photographer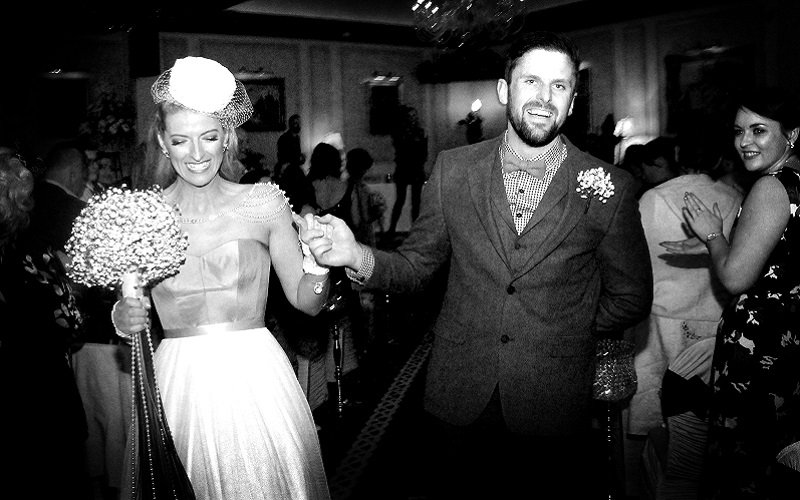 The couple had good friend Ross Waldron as their wedding photographer on the day. 'Ross had an unbelievable eye for detail and we didn't even consider anyone else!' says Mags. 'Ross is the type of man who can take an amazing shot mid conversation without breaking a sweat. We were delighted with our photographs.'
Wedding Dress
Mags knew she didn't want a traditional wedding dress and found a beautiful tulle skirt by Watters Couture in Myrtle Ivory. The bride commissioned a green corset to go with the skirt from a seamstress but three weeks before the wedding the lady let her down. 'I rang Myrtle Ivory and they told me to come in straight away. Luckily designer Stephanie Allin agreed to fast track a corset in the exact colour I wanted and it arrived within a week.' Mags finished off her look with a handmade shoulder piece and lace gloves. 'My Mam passed me down a pillbox hat she had worn on her wedding day that was 49 years old. We recovered it and added a bird cage veil.'
Groomswear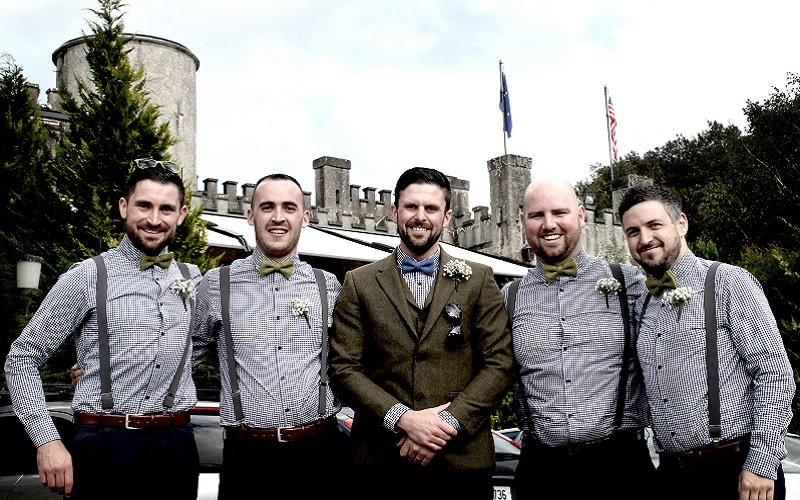 Gerard chose a more informal look of a blazer, waistcoat and bright blue dickie bow. The blazer and waistcoat were from House of Fraser and the chinos and shirt were from Best Menswear.
Bridesmaids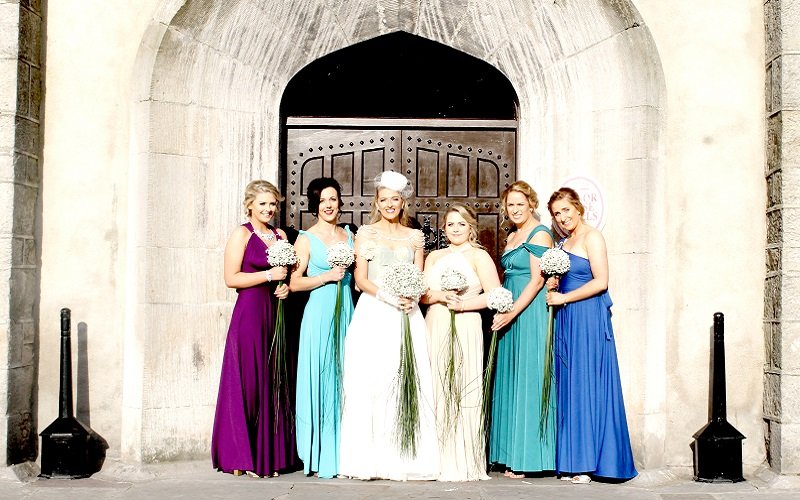 The bridesmaids looked sensational in mismatched dresses from riostyled.ie. 'Each of the girls chose their own colour of dress and they all wore exactly what they wanted adding to the excitement on the morning of the wedding,' says Mags. 'I think the happier the bridesmaids are the easier life is for the bride!'
Wedding Flowers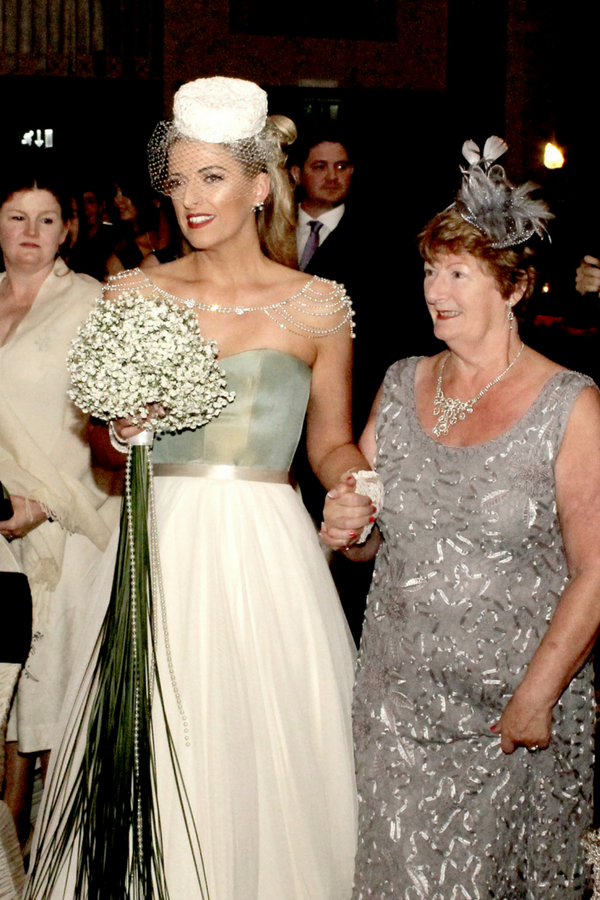 The wedding flowers were from Rebecca at Boutique Blooms. 'I knew exactly what I wanted and all I had to do was send a few pictures and they were delivered on the morning of the wedding with zero hassle.'
Stationery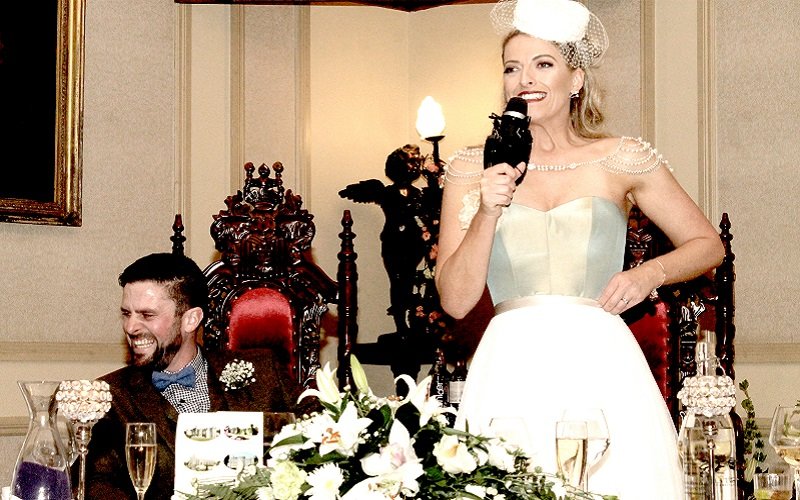 The couple wanted their wedding stationery to show who they were as a couple. 'We sent some pictures of us, our sons, and our dog to Karen at Parlour Press and she put a collage together to create our invites. They were absolutely perfect!'
Cake
The wedding cake was a chocolate biscuit cake made by Karen's Cakes. 'We worked through some ideas and the peacock colours of the bridesmaids' dresses were reflected in the finished design. The cake looked and tasted fantastic!'
Favourite Moment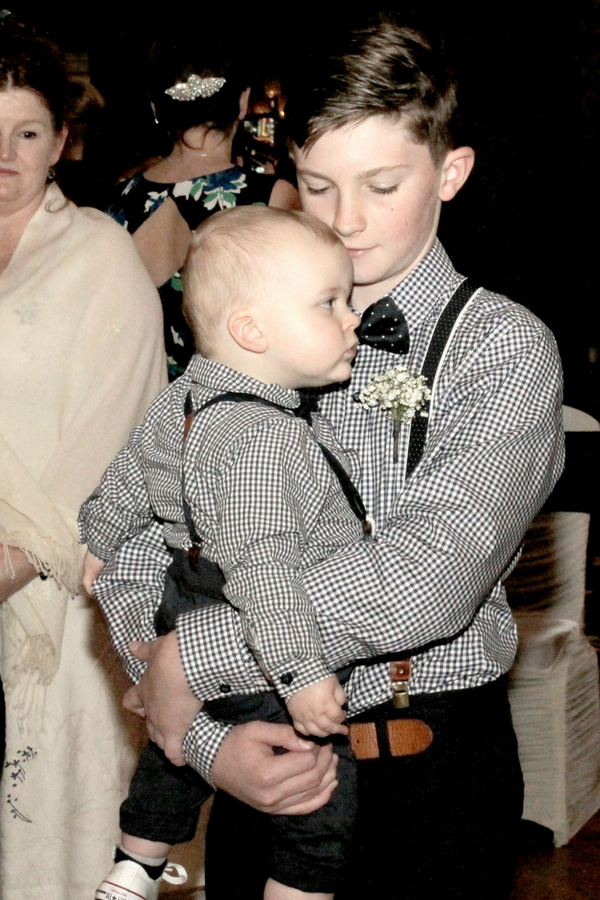 Mags and Gerard found it difficult to pick a favourite moment but both agree that seeing each other at the end of the aisle and walking back through their family and friends was the highlight of their day.
Top Tip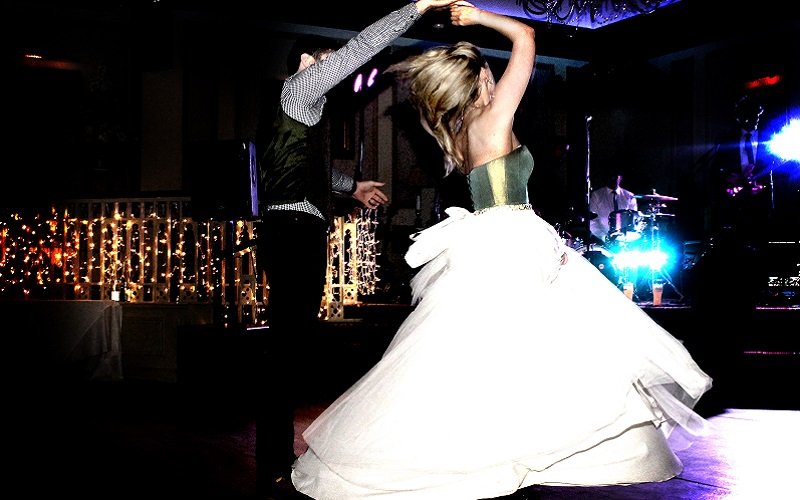 Their advice to other couples is, 'Not to sweat the small stuff! On the day personalised robes or glasses mean nothing so don't stress yourself out over the little things. There are no rules to follow as long as you are both happy, that is the main thing. '
If you're getting married and are looking for a stunning dress design, take a look at our brand-new directory. We only recommend the highest quality Wedding dress & Bridal Shops in Co. Limerick.