How They Met
It was August 2014 and Amy Thompson was visiting Portstewart, Co. Londonderry, with her friends and the weather was just what you would expect – cold and rainy. Taking refuge in her car outside the café Morelli's, she saw someone who knew her friends approaching.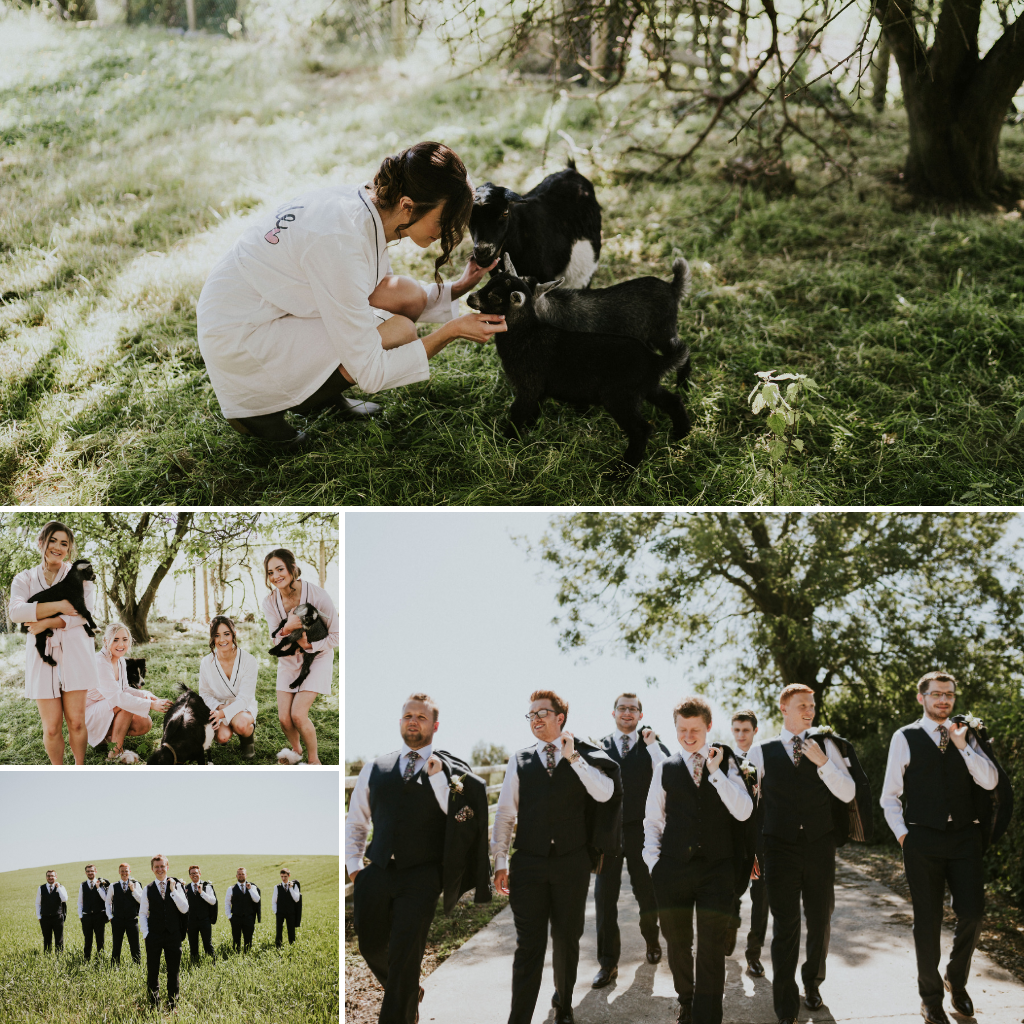 She got to talking to Stephen Andrews that evening but he picked up where they left off by sending her a message the next day. It wasn't long before they realised that not only did they get on really well, but shared the same Christian faith. The rest is history!
The Proposal
Fast forward three years to 17th June 2017 and Stephen and Amy are enjoying a sunny Saturday afternoon on Lower Lough Erne on Stephen's boat. They parked the car, boarded the boat and set sail in the direction of Enniskillen Castle, headed onto the broad lough, circled Goat Island and finally settled at the jetty of Devenish Island.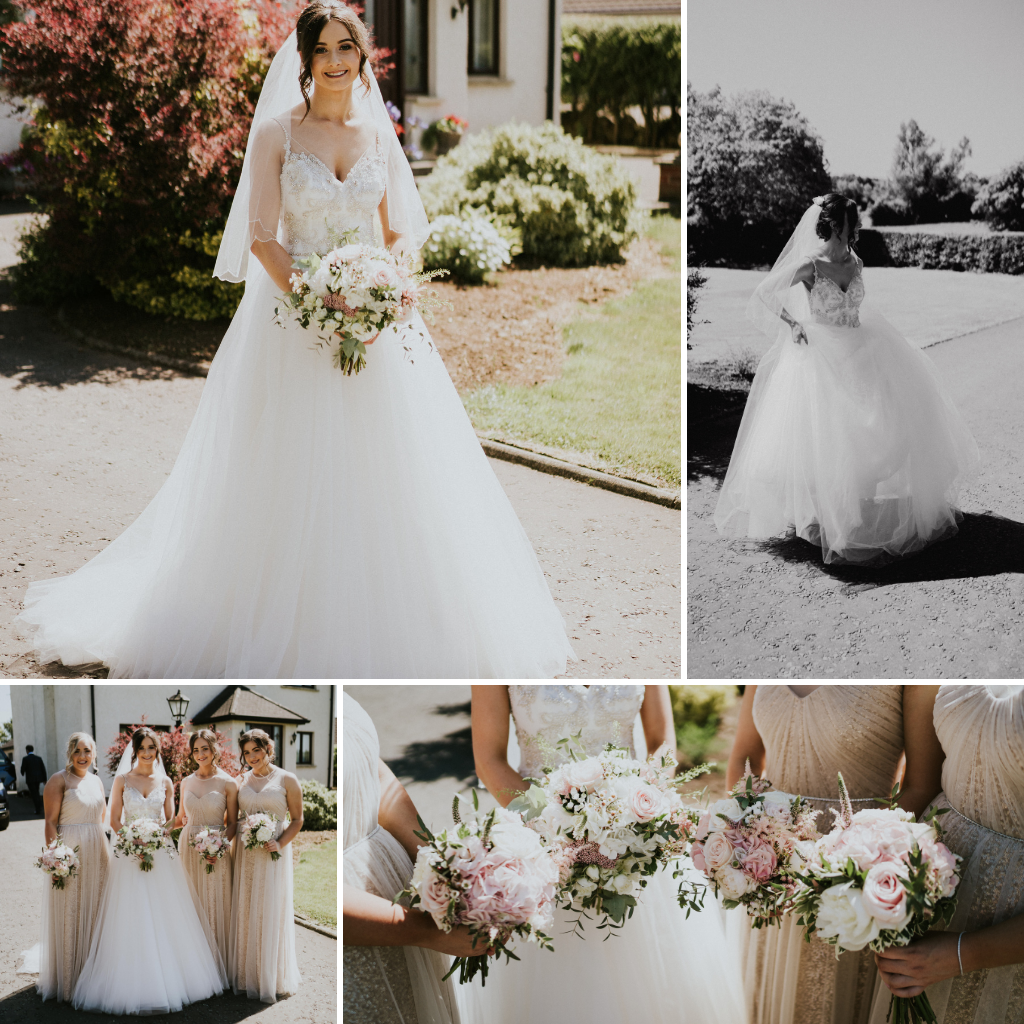 They took a walk around the old island filled with monastic ruins and stopped at the old church ruins. Here Stephen got down on one knee and popped the question. 'We were ecstatic,' comments Amy.
The Day
Stephen and Amy celebrated their day at Lough Erne Resort and their theme was a threefold of Amy's favourite things: food, animals and all things sparkly!
Keeping their guests fed was a priority and the couple did not disappoint! After the ceremony, guests enjoyed milkshakes and doughballs to keep them going until they got to the venue, where they dined on canapes.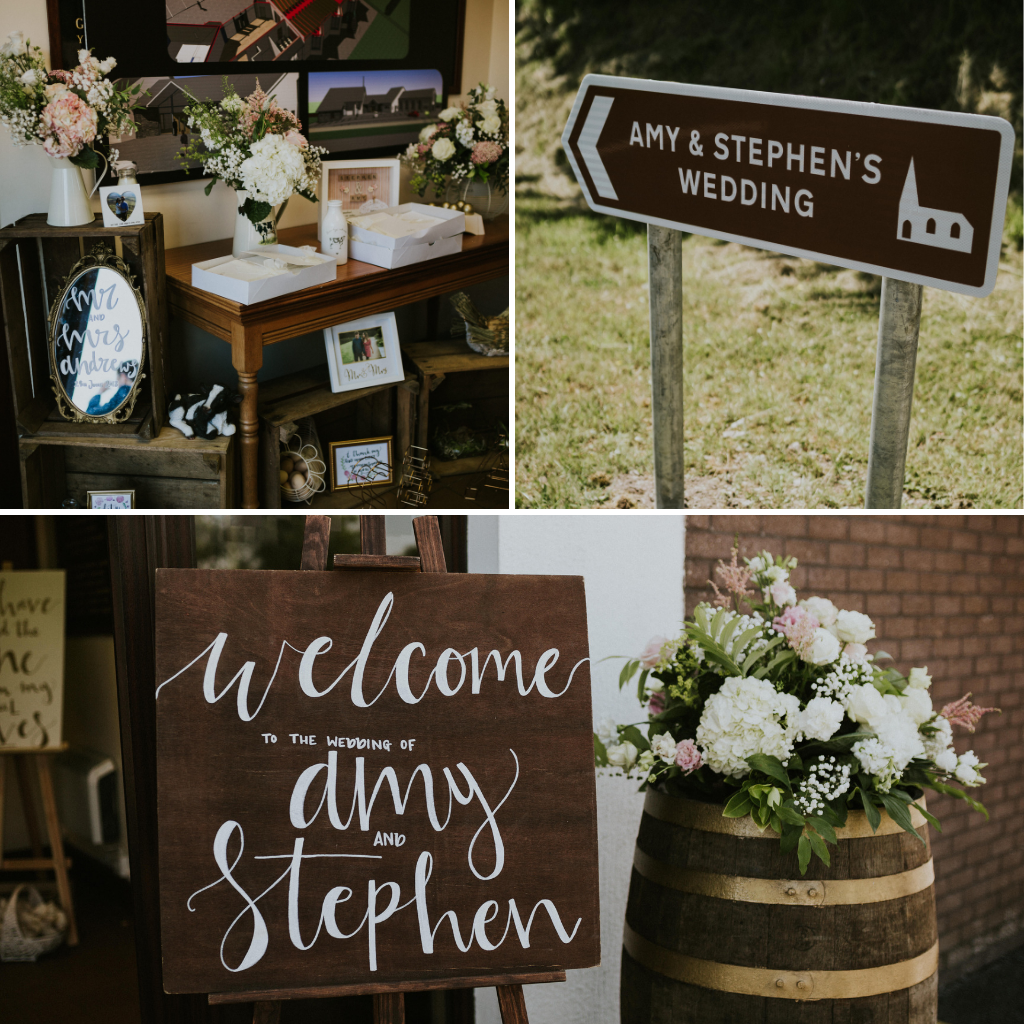 For dinner, they were treated to a sit down five-course meal and enjoyed a banquet of mini burgers and chips for their supper. Their stationery was inspired by goats, hens and cows and this followed in the decoration for the church. To finish off their theme, there were gold bridesmaids, fireworks and of course, sparklers!
What The Bride Wore And The Rest
Amy had always loved her mum's sparkly fitted bodice that she wore on her wedding day and knew she wanted that element to follow her own. She also knew the style she wanted; a princess style-tulle skirt. Amy visited an impressive eight boutiques before find the one.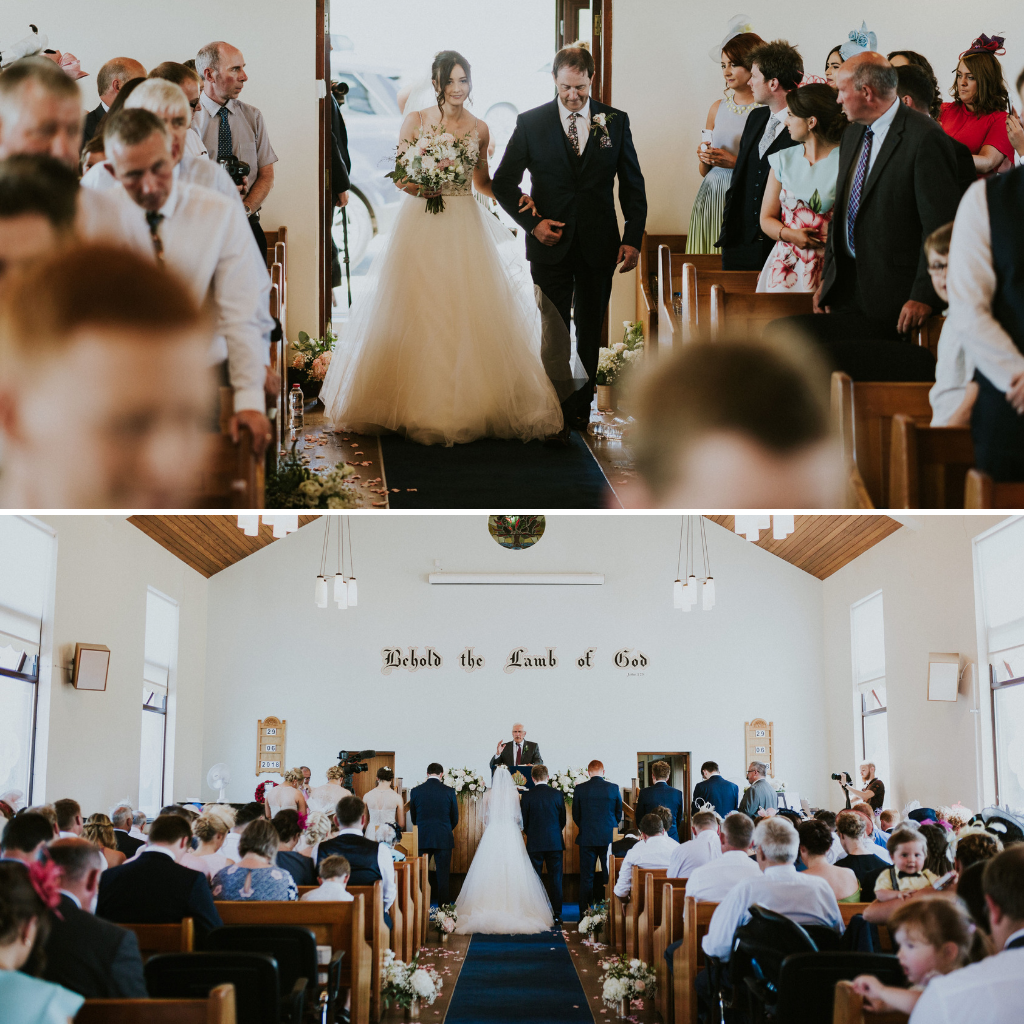 'All the staff were brilliant and so honest with me about what I suited,' she remarks. Amy found her perfect dress at LA Bridal in Carrickfergus, one that combined all the elements she had dreamed off since she was a little girl.
Long before she even got engaged, Amy knew she wanted gold and sparkly bridesmaids' dresses. When she told her mum this, she immediately started searching online and found beautiful Sorella Vita gowns. However, they stilled looked around but struggled to find exactly what they were looking for.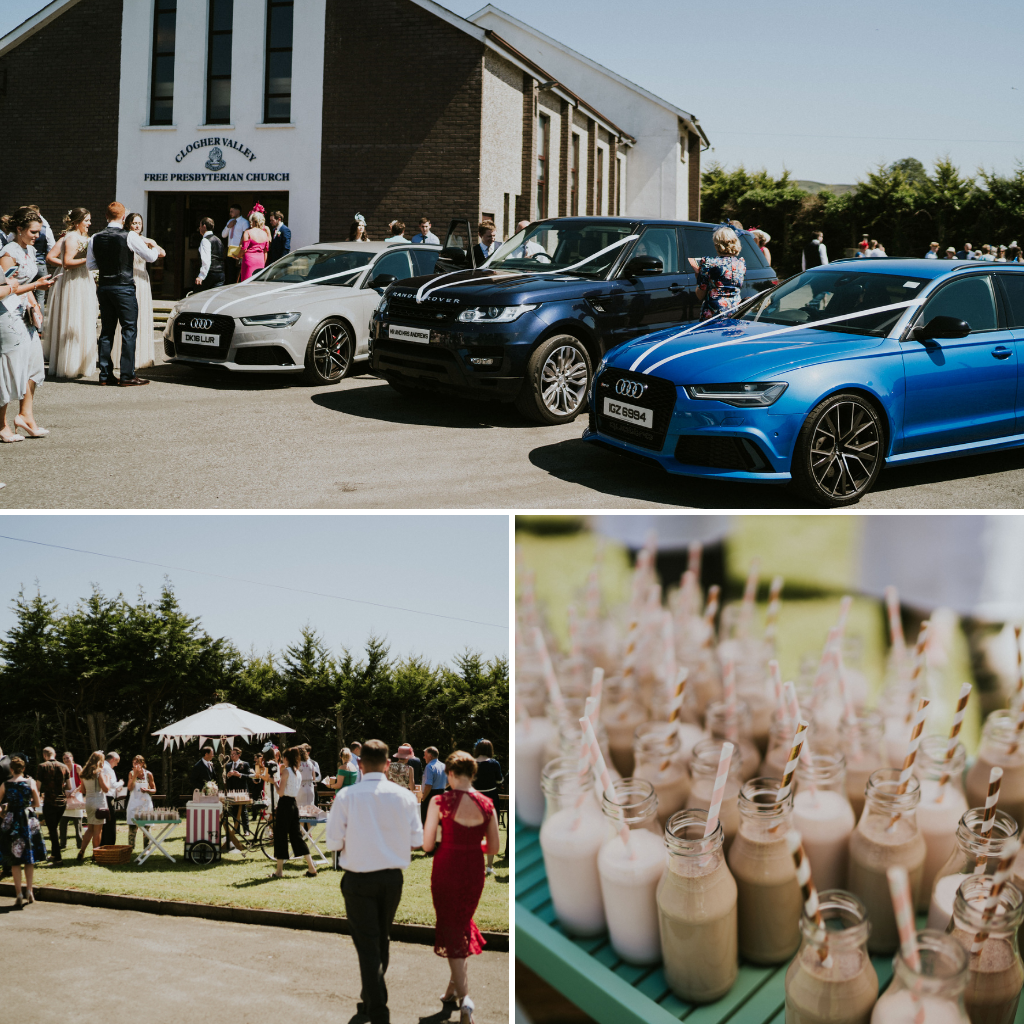 But the night Amy found her dress, she discovered that LA Bridal stocked Sorella Vita dresses and the one she first loved were there! 'We all loved them,' she comments, 'They tied in with my dress, with the tulle overlay and added diamante belts.'
Photographer
The couple got a shock when they realised just how many wedding photographers there are in Northern Ireland alone! They did a lot of research and heard recommendations from friends and eventually found their dream photographer; Paul Quinn from Signature Photography.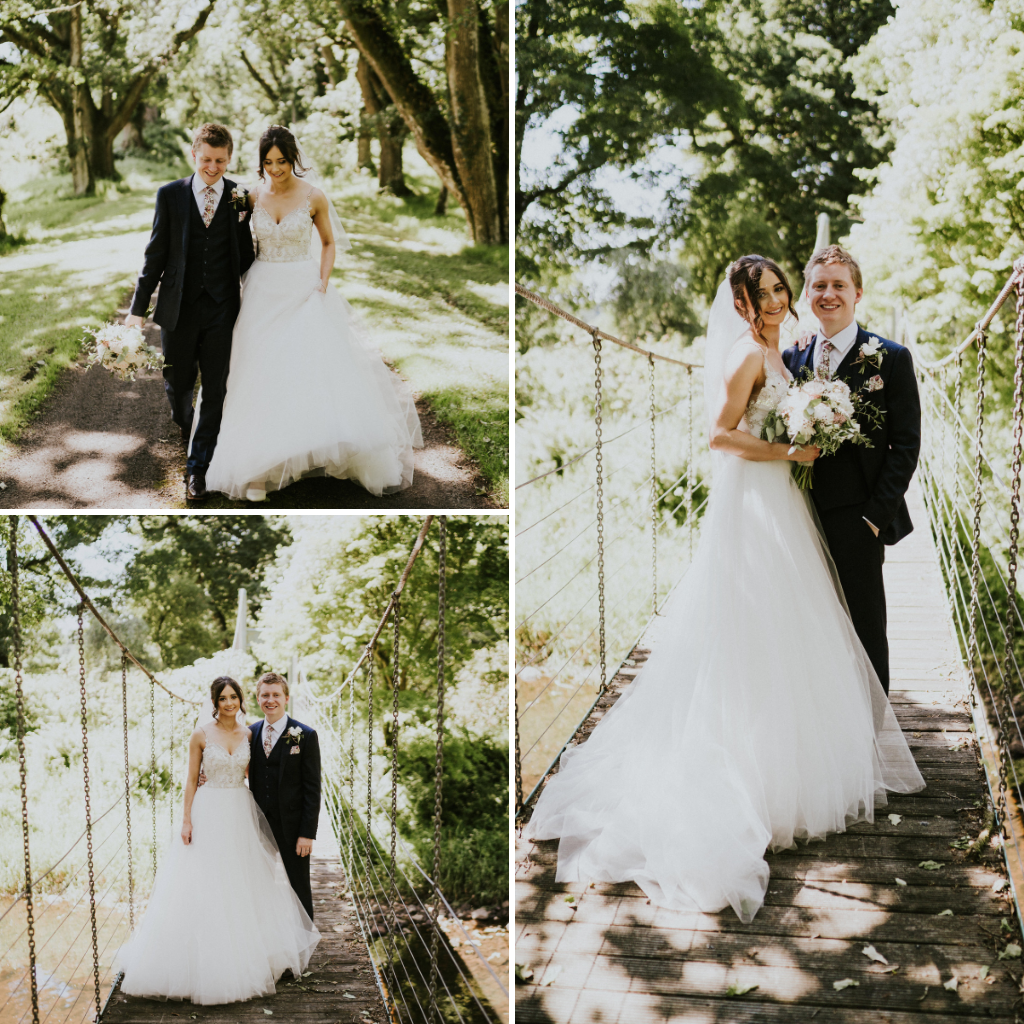 'We really liked his style and quality of pictures from his previous weddings and we were so delighted when we heard he was available on our wedding date!'
Décor
Amy found her florist after her two cousins recommended Jacquie Hamilton Flowers from Broughshane, Co. Antrim. 'She was fantastic,' Amy remarks, 'She drove all the way from Broughshane to Fermangh and kept the flowers hydrated in that scorching heat! I was so pleased with how the flowers turned out.'
The table inside the hall of the church was used to represent both Stephen and Amy's families. As Stephen grew up on a poultry farm, there was an egg basket filled with flowers, gold painted eggs and hens, the other side focussed on Amy's childhood on a dairy farm with milk jug flowers, milk bottles and a calf.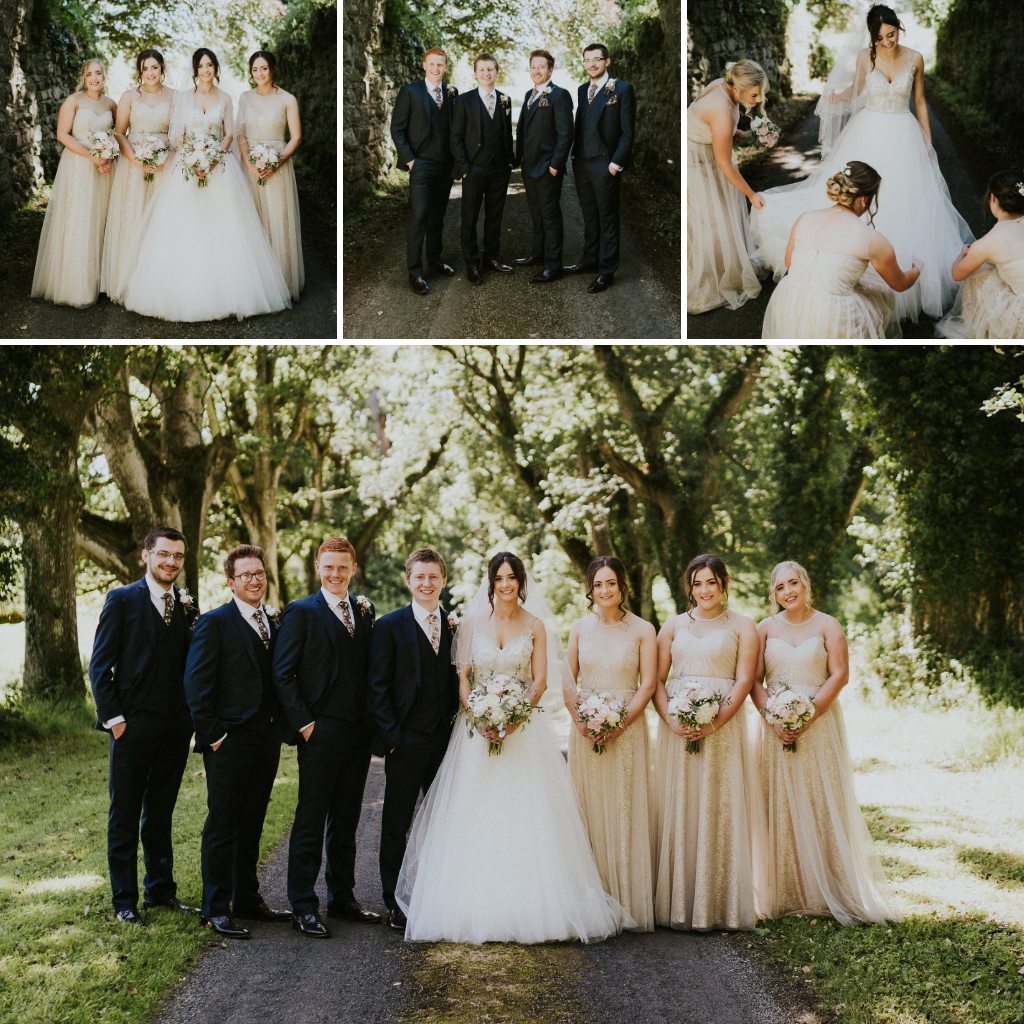 Amy wanted something different for the aisles in the church. So to draw people's attention to the centre of the aisle, Amy put flowers in gold painted pear tins and sprinkled rose petals down the aisle.
Having a fiancé who is a Civil Engineer came in handy too! Stephen designed his own road signs for the wedding, and they were used to direct guests to the vicinity of the church and reception.
The only thing Amy wanted in the reception room were little wooden animals spread over the tables. Goats and hens were the priority; to represent Amy's love for her pet pygmy goats and hens for Stephen's job as a poultry farmer.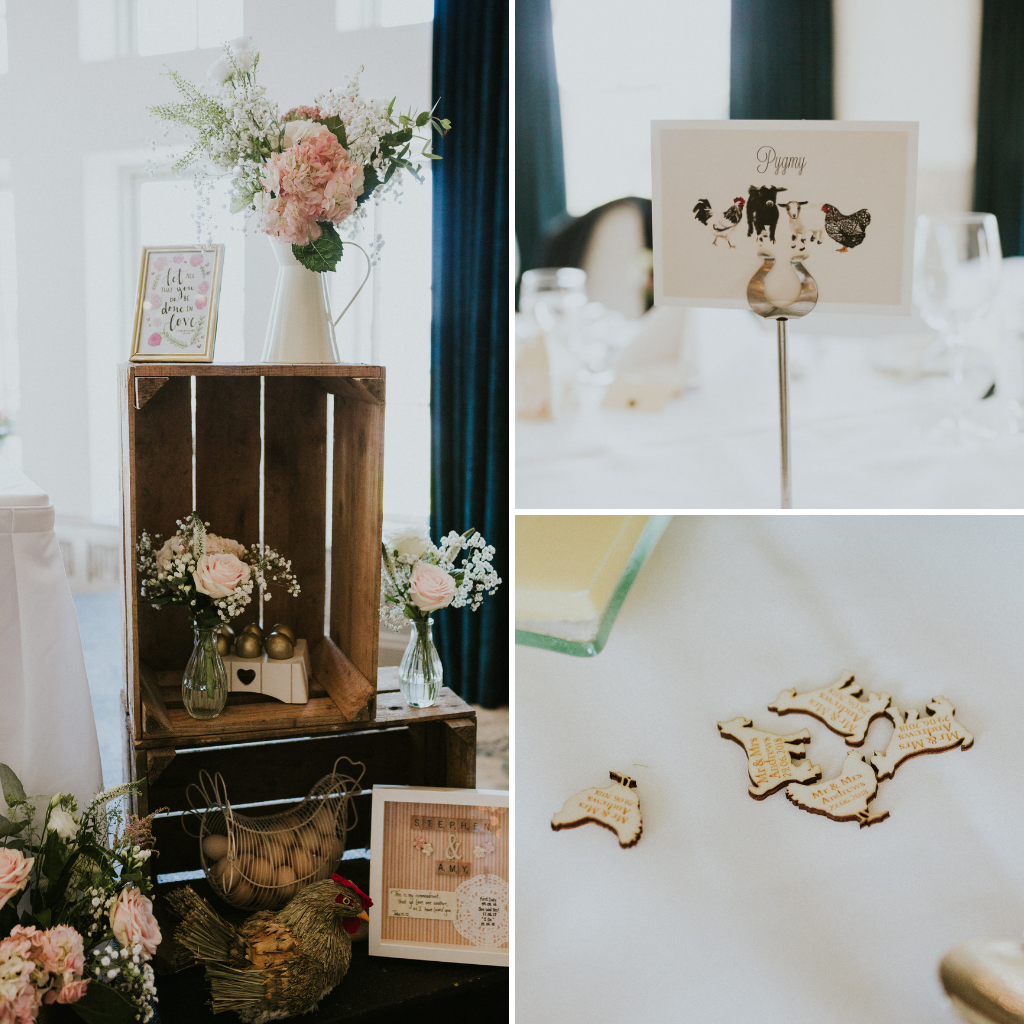 Guest were treated to homemade mini cupcakes for the adults and a personalised boxes complete with an activity packs, pencils, sweets and personalised balloon from the Balloonairy for the children. When it came to where the flowers showed go, Amy trusted her florist and the staff of the hotel to place them wherever they thought best, and was so pleased with the results!
After doing a thorough research on Pinterest, Amy knew exactly what she wanted for her stationery. She drew the design on paper and took it to her cousin Rebecca at Blanco Canvas. She then sketched the design on the computer, even making it the order of the day! However, Amy still needed someone to sketch the design of the hotel for the envelope liners and put everything together, and there was only weeks to go until the invites needed to go out!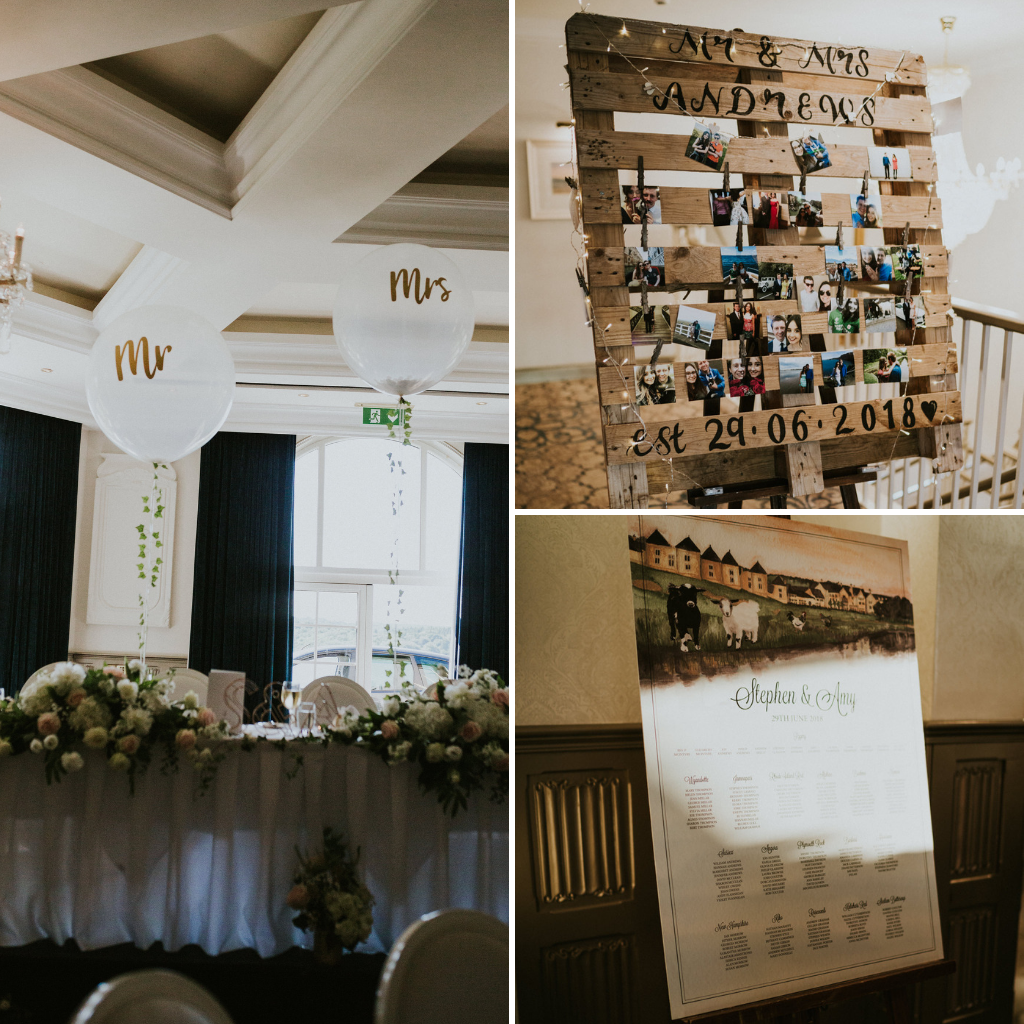 She approached Linda from Farm House Paper Co, who designed the evening invites, orders of service and the seating plan. She even included sketches of Amy's pygmy goats and Stephen's hens standing in front of Lough Erne.
'Linda was extremely helpful and I was delighted with the outcome,' comments Amy, 'And Stephen's contribution was sticking down the envelopes!'
Food
With having a food related degree up her sleeve, Amy knew good food was the most important thing when it came to choosing her venue! For their starter guests enjoyed warm Fermangh Chicken and Leek Puff Pastry Case, followed by Cream of Vegetable soup.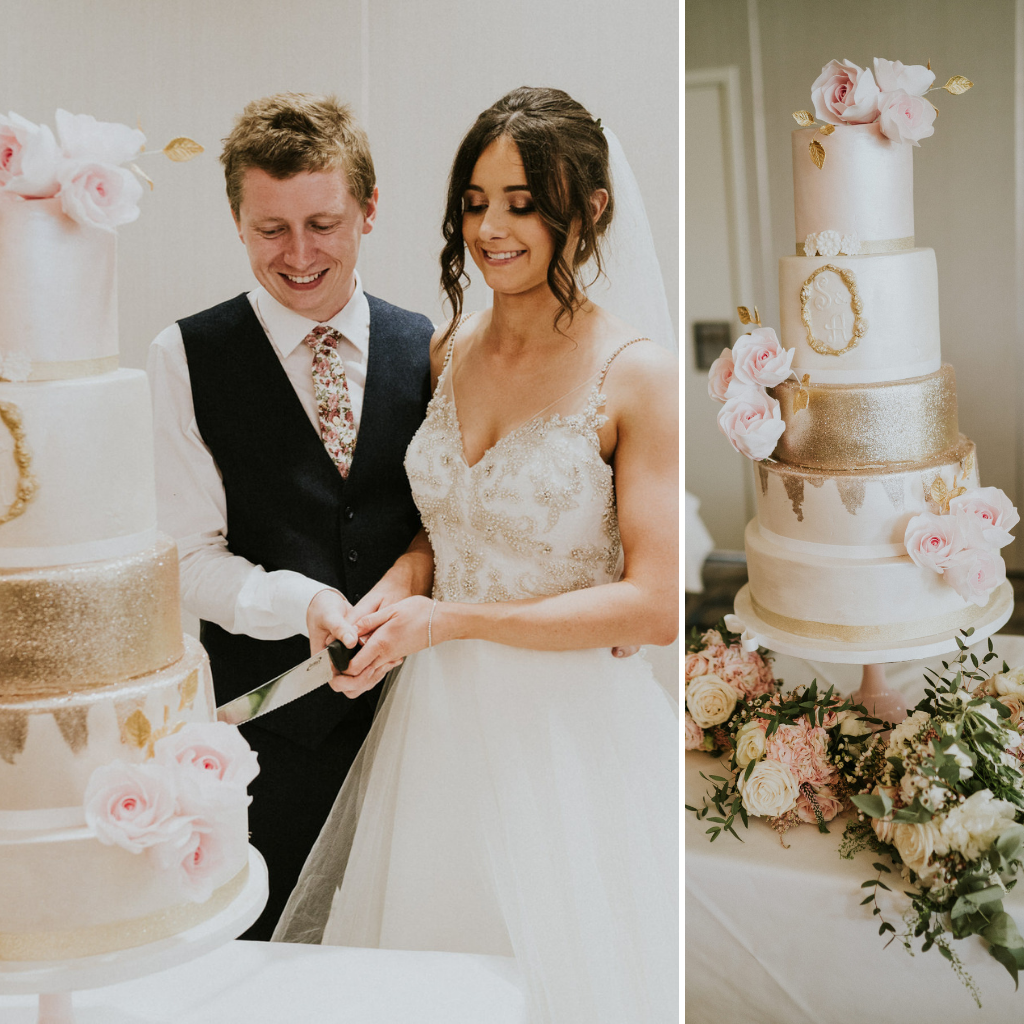 The main gave guests a choice of Turkey and Ham or Sirloin Steak and were kept sweet with a selection of miniature desserts; Chocolate Delice, Lemon Tart, Raspberry Mousse and Honeycomb Ice Cream. Homemade Truffles from the resort were served with tea and coffee.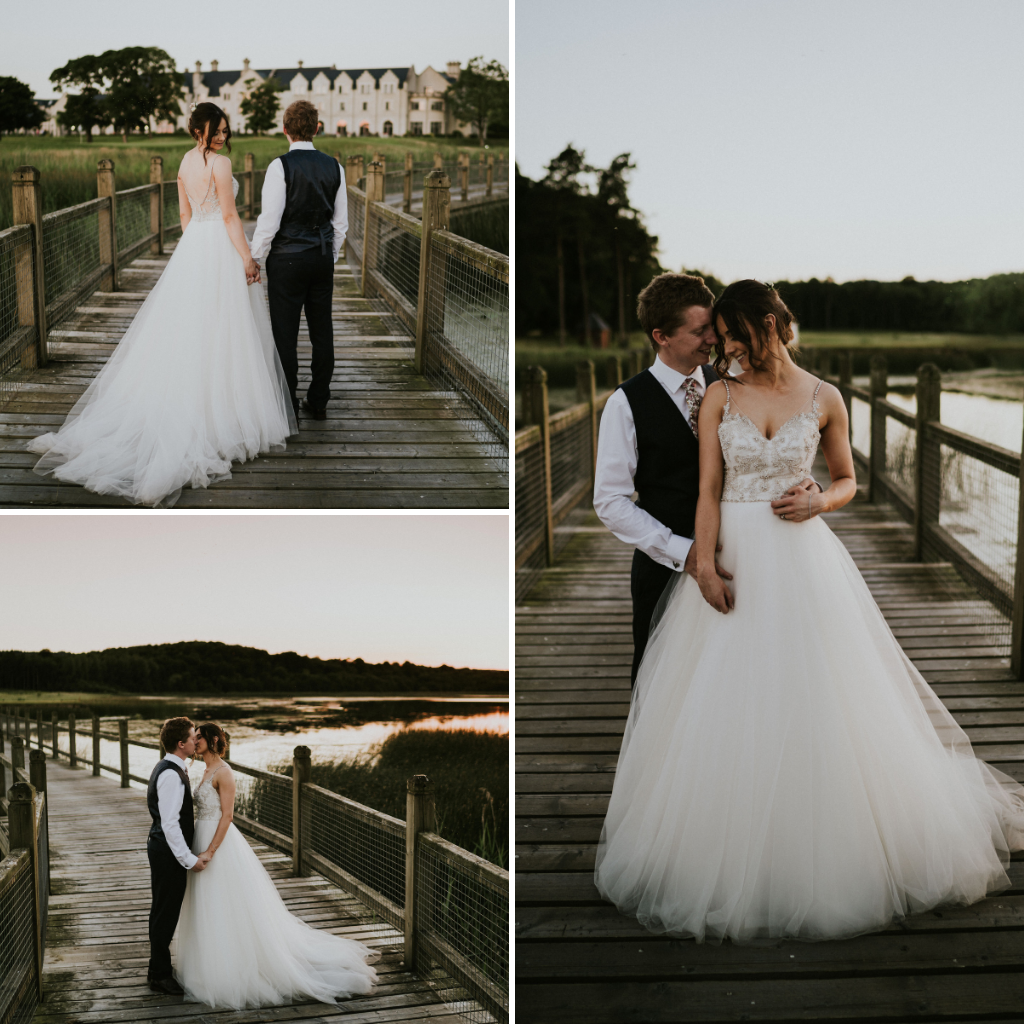 'The cake is one of my favourite things about a wedding!' Cakes by Annika made Amy and Stephen's delicious cake. Amy comments how it was exactly how she had envisioned it. It was decorated with handcrafted flowers and featured a glittery gold tier; the bride confesses the inspiration came from Cotton and Crumbs Instagram! It came with lots of flavours too; Nutella, Cookies and Cream, Raspberry and White Chocolate, Lemon and Chocolate Caramel.
Favourite Moments
Stephen, 'There are so many to choose from, but I think my favourite moment had to be at the end of the day when we had all our guests outside enjoying the firework display we had organised over the Fermanagh sunset.'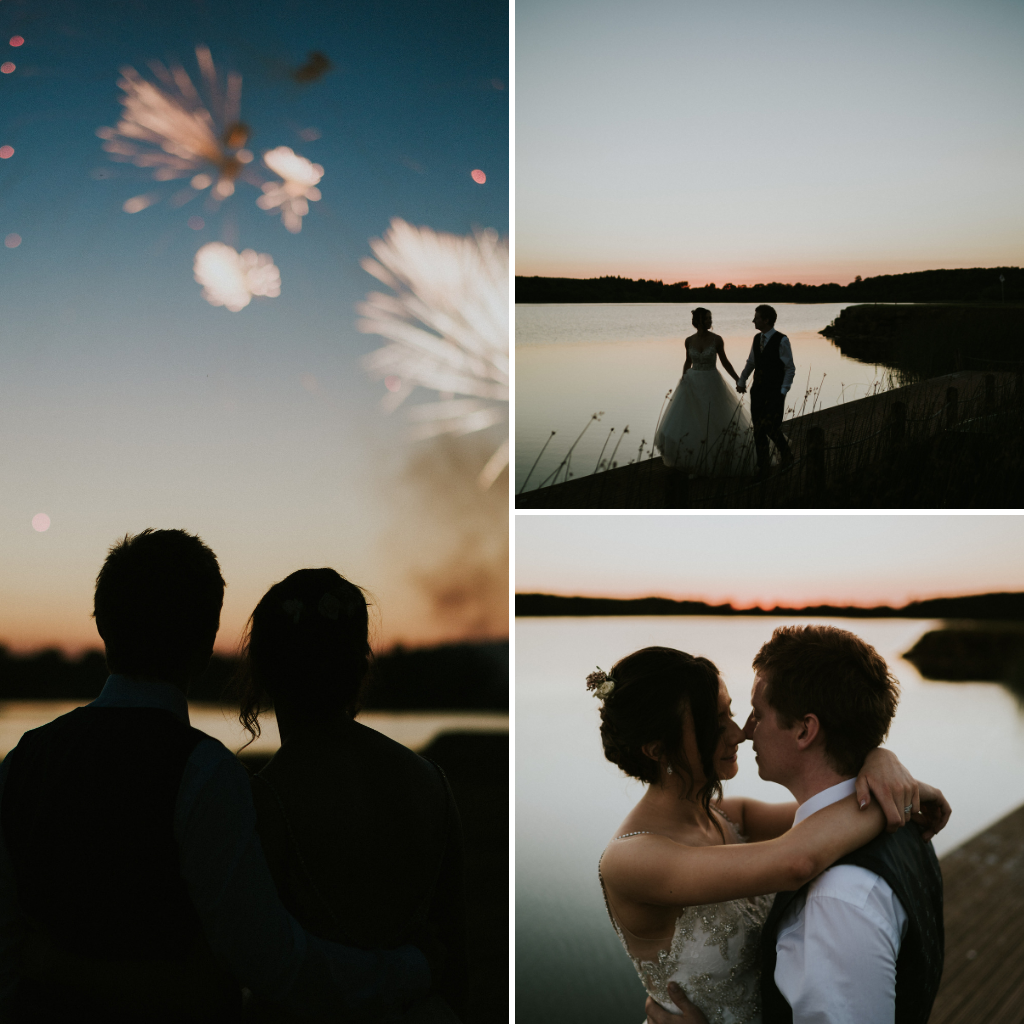 Amy, 'I honestly can't choose a favourite part – I loved every moment.'