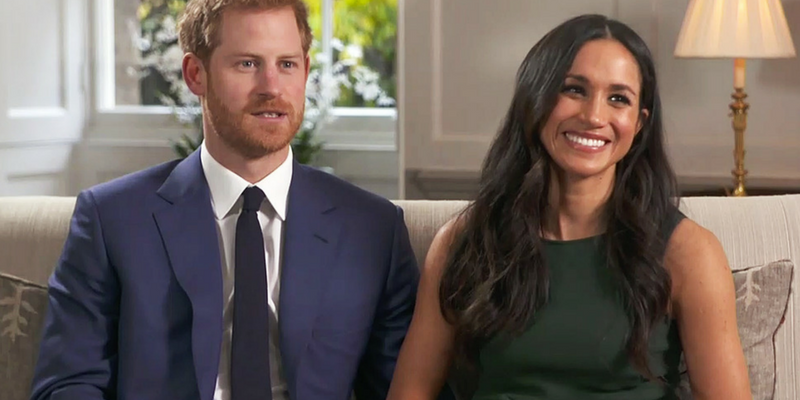 The Royal Engagement: The First Interview
Prince Harry and Meghan Markle are officially engaged and we couldn't be more excited!
Following an engagement announcement by Kensington Palace on Monday morning, the couple greeted press to share their exciting news with the world. The loved-up couple beamed from ear to ear and looked absolutely besotted with one another as they answered questions from reporters.
Meghan proudly showed off her INCREDIBLE engagement ring, which had two of Princess Diana's diamonds from her personal collection, a touching tribute to Prince Harry's late mother. They looked the picture of happiness, but remained relatively tight lipped about engagement details until their exclusive interview on national TV that evening.
Speaking at Kensington Palace, Harry revealed that the couple were first introduced after being set up on a blind date by mutual friends and that he fell in love with her the moment that they met…
Their Love
Harry shared that only four weeks after they met, he persuaded the actress to join him on a five-day break to Botswana. He said "we camped out under the stars… which was absolutely fantastic", it was here that the two fell in love and decided to embark on a long-distance relationship seeing each other every two weeks.
Meghan and Harry looked blissfully happy as they shared intimate details of their engagement and relationship with the world. Harry adorably revealed:
 "The fact that I fell in love with Meghan so incredibly quickly was confirmation to me that all the stars were aligned… this beautiful woman- just sort of literally tripped and fell into my life, I fell into her life".
Meghan went on to say "we're a fantastic team; we know we are, and we hope over time to have as much impact on all the things we care about as possible".
The Proposal
Harry revealed that he popped the question whilst down on one knee earlier this month whilst they were cooking roast chicken at his cottage during a cosy night in!  In what was a romantic and intimate proposal, Meghan revealed that she barely let Harry finish proposing before immediately saying 'yes' to his "sweet, natural and very romantic" proposal.
 Princess Diana
Speaking about his late mother, Princess Diana, Prince Harry said he was sure she would have been 'jumping up and down' with excitement at the news of the engagement, and that Meghan and his mother would have been "best friends".
The Queen
Harry revealed that Meghan has met The Queen on numerous occasions, and that she had become a firm favourite of the corgis! Harry joked "I've spent the last 33 years being barked at- this one walks in, absolutely nothing… just wagging tails". Miss Markle said of meeting the queen "It's incredible, I think, you know, to be able to meet her through his lens, not just with his honour and respect for her as the monarch, but the love that he has for her as his grandmother".
The Future
The prince revealed that he and his bride-to-be plan to get married in the spring of 2018, and plan to start a family of their own "in the near future".  They will live in Nottingham Cottage in Kensington Palace, next door to William, Kate, George and Charlotte.  We can't wait for more royal babies to join the clan!
Watch the full interview here:
Set Featured Image Credit: BBC