Sligo has come up with the best ever Valentine's Day event – guaranteed to get your engine roaring and pulse racing on the most romantic day of the year
Sligo has come up with the best ever Valentine's Day event; the Valentine's Tractor Run. Loved up couples are invited to participate in the tractor run on Sunday 14th February with fantastic prizes on offer for the most romantic pair.
The North Sligo Agricultural Show announced the outing with a Facebook event page stating:
North Sligo Agricultural Show is holding a Valentine's Day tractor run 14th February @1pm. Starting and finishing at Gilroy's yard. Prizes for the most romantic couple❤️ and the best dressed farmer. So come along for a great day out with your loved one. Refreshments afterwards in Moran's Bar Grange."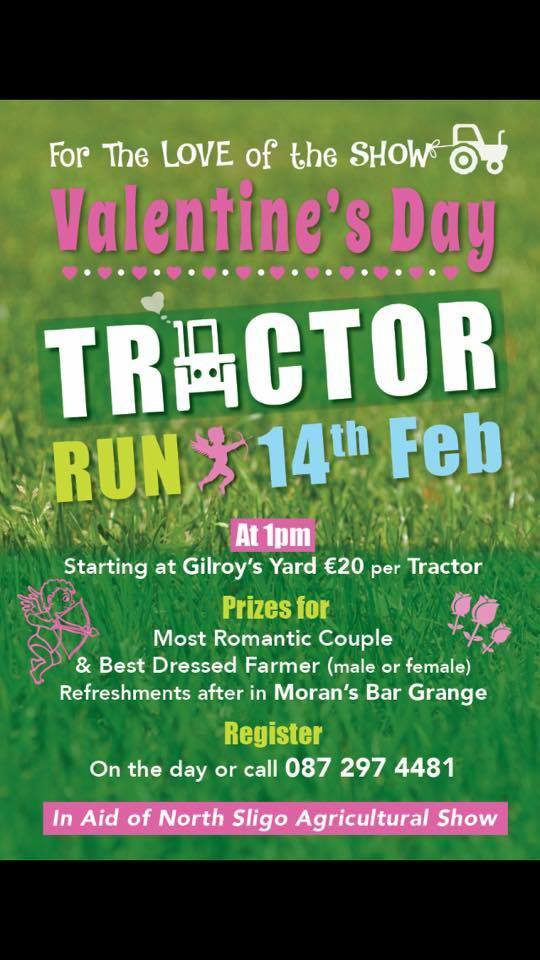 Couples are invited to meet in Gilroy's Yard, Sligo with their other half before travelling in a convoy towards Ballintrellick and back through Newtownward.
The cost to participate is €20 per tractor and all proceeds raised will go to the North Sligo Agricultural Show.
And remember ladies, it's a leap year – so if your other half surprises you by whisking you off on a romantic Valentine's Day Tractor Run, you could surprise him too… with a leap year proposal.