Eager to throw an out-of-this-world wedding not fit for life on earth? Its to infinity and beyond with this intergalactic wedding inspiration, perfect for any Star Wars fans.
With the new Stars Wars flick hitting the big screen next month we can hardly walk through the shops without seeing space-themed memorabilia around every corner. The iconic film series is one of the world's most cherished cinema masterpieces and has developed a cult following parallel to none. As a result, its return has prompted an influx of spacey stuff we can't help but fall in love with.
If you are a big fan of the futuristic, then this intergalactic wedding inspiration may just send you over the moon…
The Dress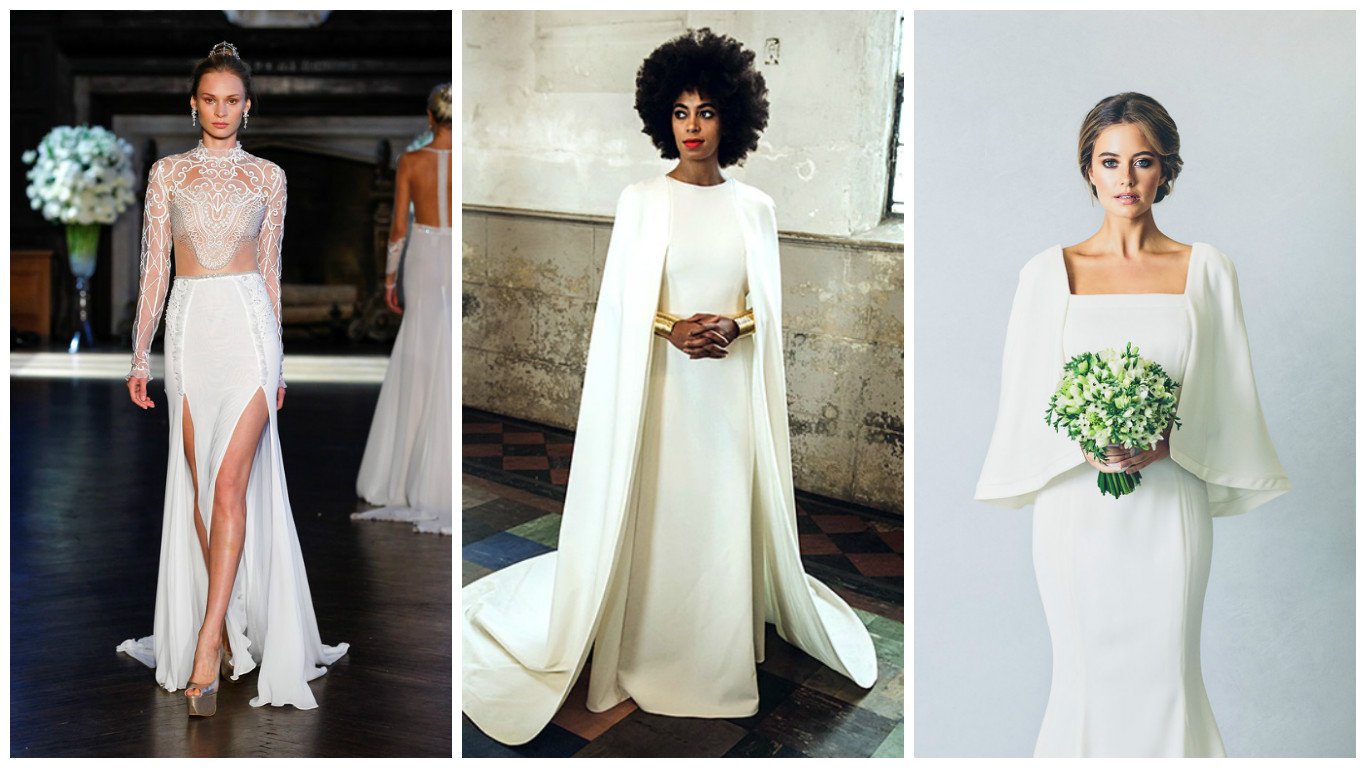 When you are thinking about a futuristic wedding dress, you need to think sparkles, capes and fabric. Dresses to suit this original theme can range from the sexy and seductive, to the matronly depending on the look you want to achieve. Opt for a draped, shapeless dress for a look reminiscent of Princess Leia, or go for a tight-fitted sparkly number for an astrological feel.
Colour Scheme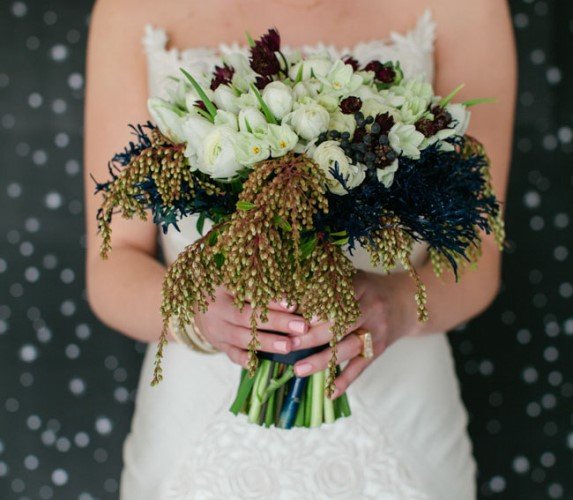 Stick to shades of gold, silver, navy or burgundy for a intergalactic wedding, and add in a hint of black and white for contrast. Metallics are the best option for achieving the futuristic look and can be incorporated into every decor aspect- ranging from your tablecentres to your groomswear (gold, sparkly ties anyone?).
Wedding Cake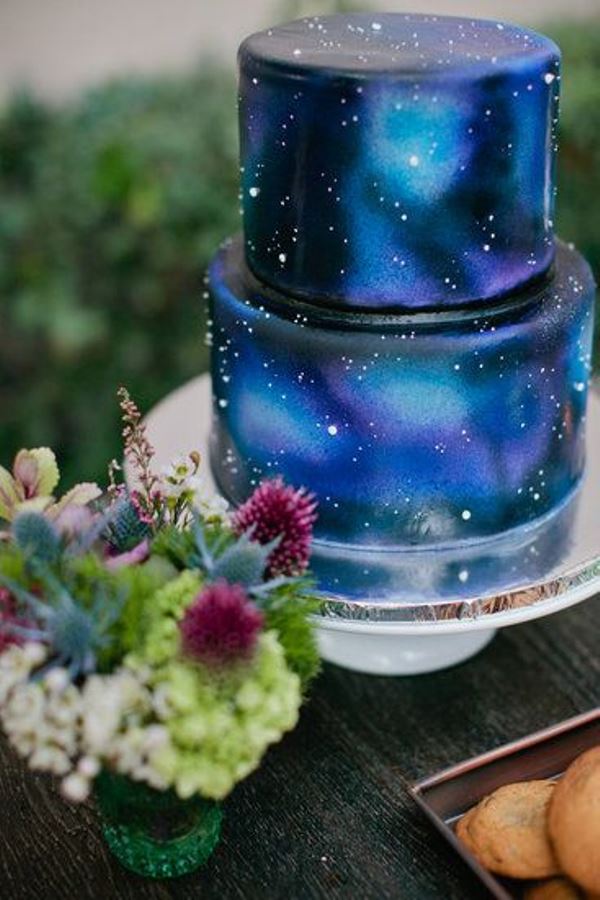 Cake art is still having its moment with bakers morphing into 'Cake Designers' before our eyes. With airbrushed cakes on trend for 2016, we love the idea of utilising this modern still for a futuristic big day and turning your cake into the galaxy itself. If this ambitious creation is too new-age, adding a metallic layer between traditional cream is a great way to modernise a wedding cake without going over the top.
Stationary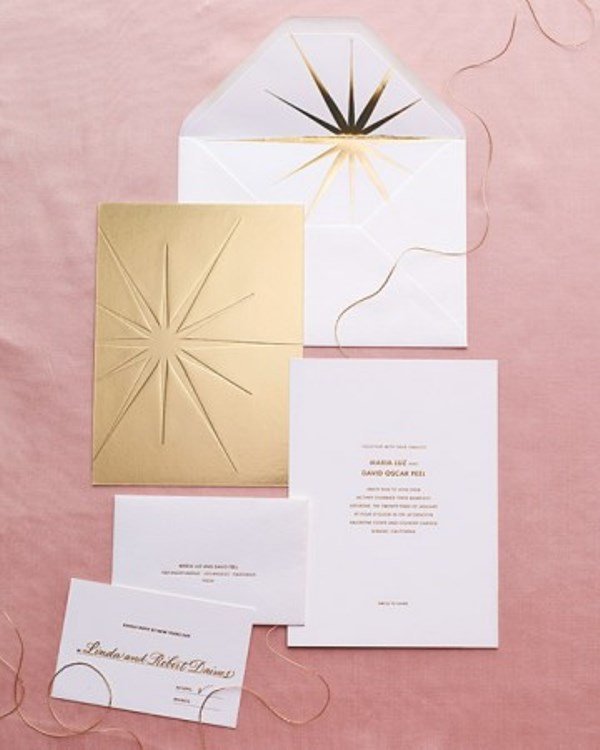 Crisp, clear and simple stationary for this sort of wedding is our advice- save the 'WOW' factor for the day itself! Again, metallics on white is a great way to introduce the theme to your guests in a sophisticated way. If you're more keen on the drama- then altered movie posters, glittery star effects and 3D invites are also great ways to get the theme rolling from the very beginning.
Hair & Beauty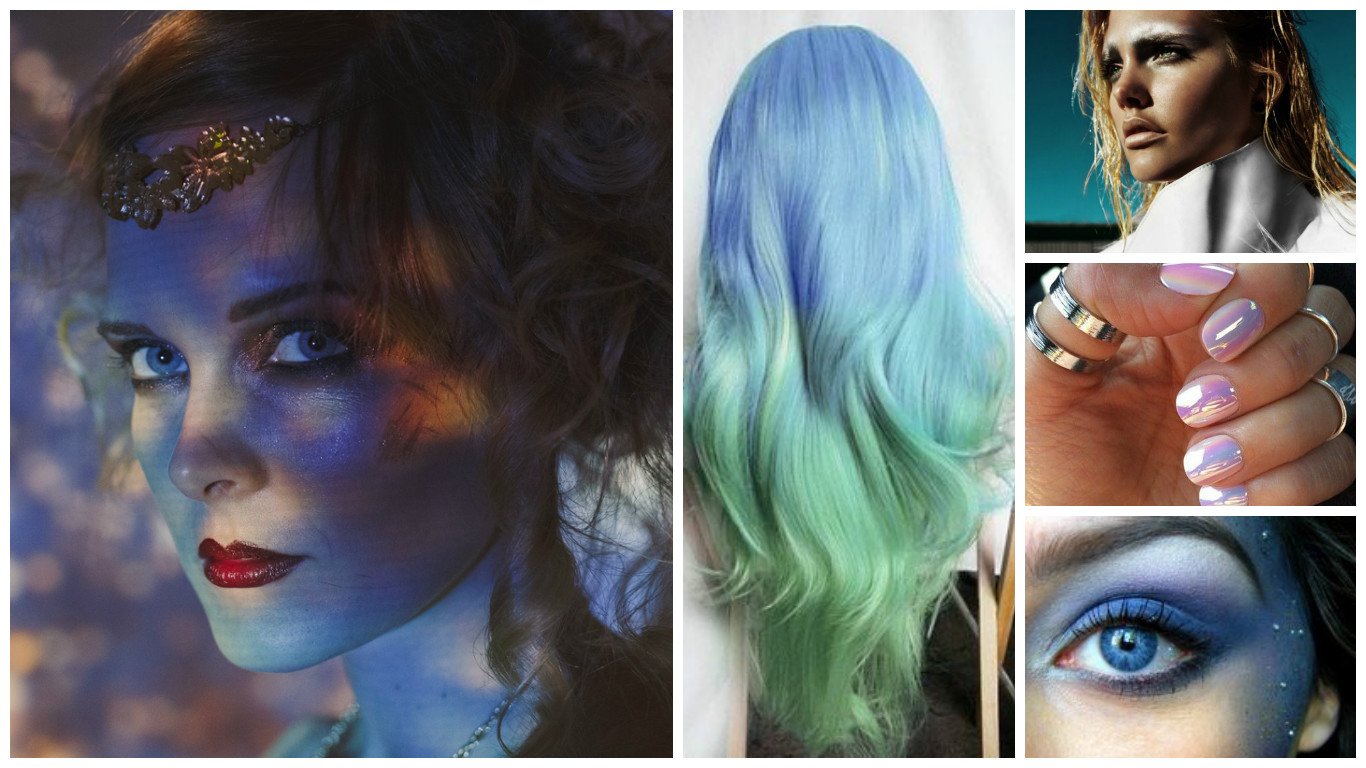 This is your chance to be theatrical with your look so go with it! Bright, bold colours and creative hair are your best way to make an impact and will provide a stark contrast to a white wedding dress. Bold lips add to the drama, or even silver for a truly alien-esque vibe. Whatever you decide intergalactic makeup is something we are loving at the moment!
Props & Atmosphere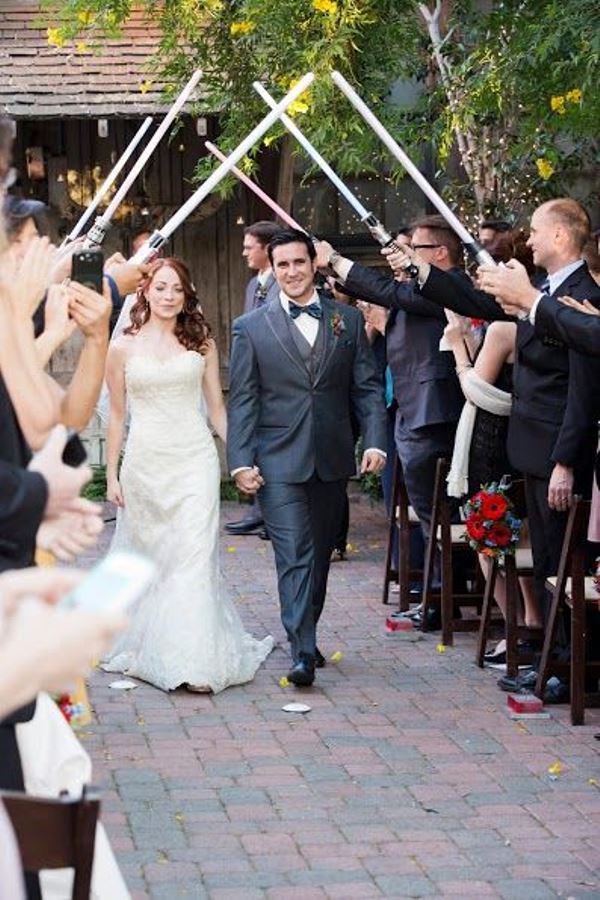 Having a themed wedding means nothing if your guests don't get involved. Props and signs are helpful ways to remind them that this theme is something you really do want to incorporate into your wedding day and encourage them to pay their part. Even small hints of costume can go a long way! At the end of the day you wouldn't throw a wedding you didn't want to have and as long as your guests are aware of what the theme means to you, they should want to do their part.
Backdrop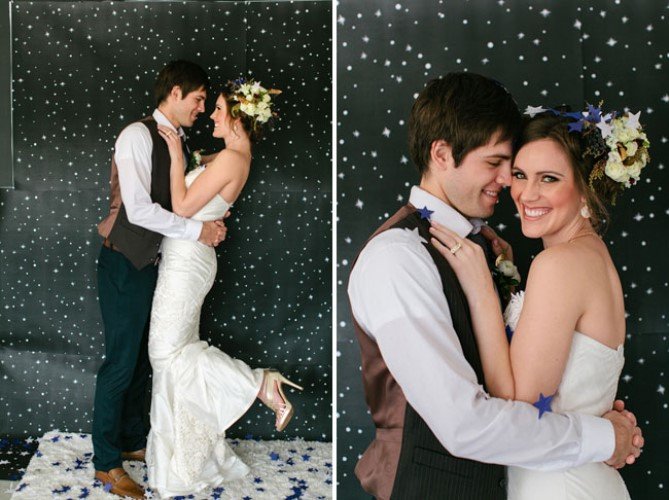 Perhaps the easiest way to give your venue a spacey feel is to put up a star-clothed backdrop.This simple addition provides a night-time feel in a crowded reception room and is a great back-drop for pictures, dance shots and general atmosphere!
The new Star Wars Epsiode VII: The Force Awakens is out on December 18th 2015… do you think it may feature a secret wedding?