On the dramatic background of the Mourne Mountains and held in the gorgeous Slieve Donard Resort, this magical wedding was a dream come true…
Fiona Moore and Dermott Austin met on the train one day in 2011 on their way to Queens in Belfast, where they were both about to begin a second degree in medicine. Despite having been in the same year at Queens since 2008, they hadn't met and it took a chance encounter for them to pay attention to one another. They started seeing each other shortly after, and soon got engaged.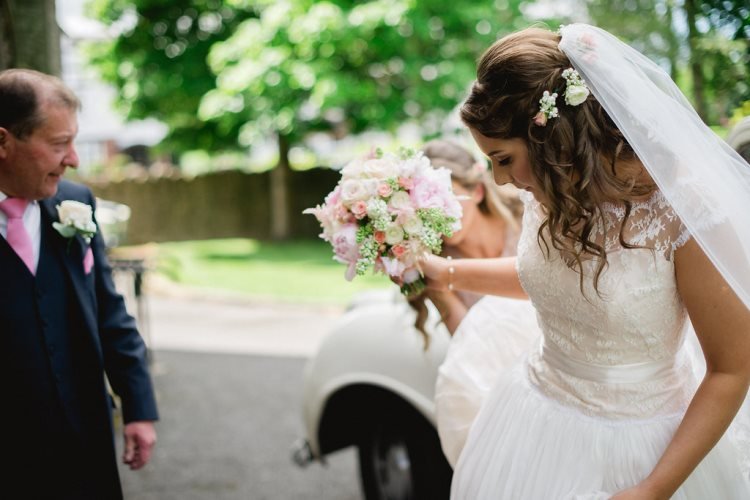 On June 22nd 2015 they tied the knot in a beautiful summer's wedding in the heart of Newcastle, Northern Ireland, and Wedding Journal chatted to Fiona about the build up to the wedding, what happened on the day itself, and why she decided the iconic Slieve Donard Resort was the only place she wanted to tie the knot.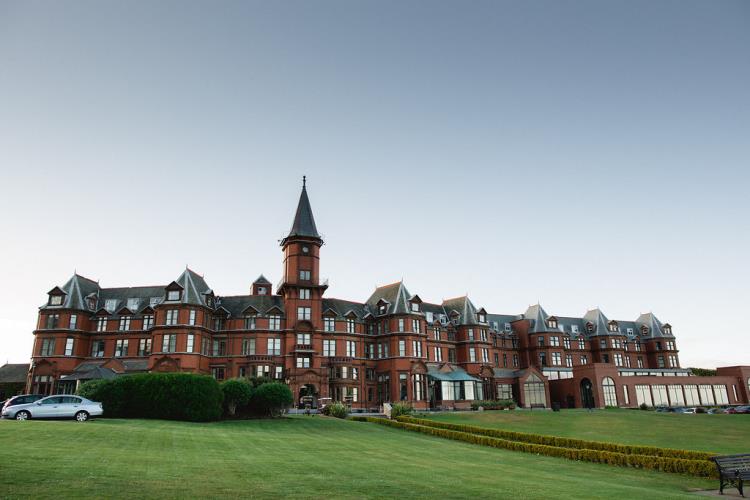 Congratulations on being a newlywed! How did Dermott propose?
Dermott knows that I get embarrassed being the centre of attention so there was no bending down on one knee or massive proposal in front of a crowd. We actually had the Slieve Donard Hotel booked before we had even picked my ring! We went to Jack Murphy Jewellers in Newry to pick my ring together and I immediately fell in love with a sapphire ring- every time I look at it I can't believe its mine…
The Slieve Donard in Newcastle is a beautiful choice for a wedding reception. What made you pick it?
The Slieve Donard was the only place we had ever considered picking for our wedding. As a young girl I had always wanted to stay in the hotel and for our first year 'anniversary' we stayed there. I completely fell in love with the hotel- the staff have always been amazing, the surroundings are absolutely beautiful and the hotel is gorgeous.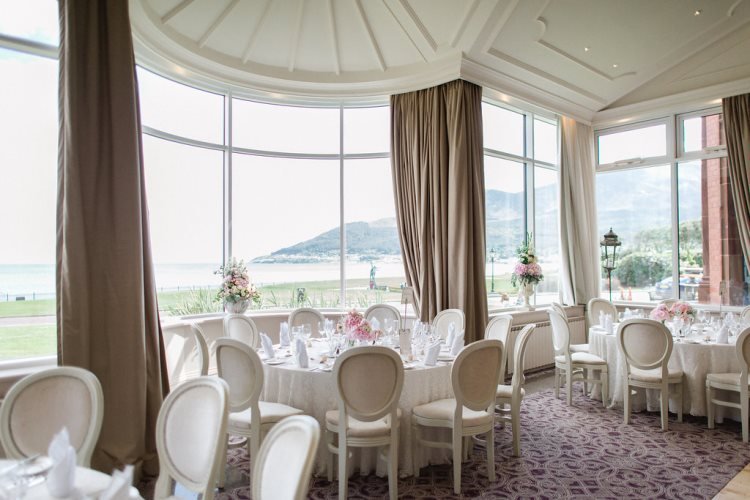 We agree! What theme did you decide to go for?
Traditional but pretty is the only way I can describe it! We sourced cream lace table cloths, cream chairs and a cream fairy light back drop from SBD Events. The invitations, menu choice and order of service were floral and the table names were flower names like Jasmine and Lilly. The Chandelier room at the Slieve Donard Hotel is also a stunning room- huge chandeliers and amazing views overlooking the sea. I wanted flowers to be a big part of the day and our florist Elaine Waterworth completely transformed the church and the reception room. We had three flower arrangements on each table, all at different heights and sizes, as well as a stunning top table arrangement and candles all over the tables and room. It was so beautiful.
Did you have any help planning the wedding?
I planned the whole wedding myself as well as studying for my 4th year exams. We did source the tablecloths and a backdrop from SBD Events in Banbridge and I have a real aversion to chairs with covers on them so I ordered proper chairs from them as well- they were called Catherine Chairs.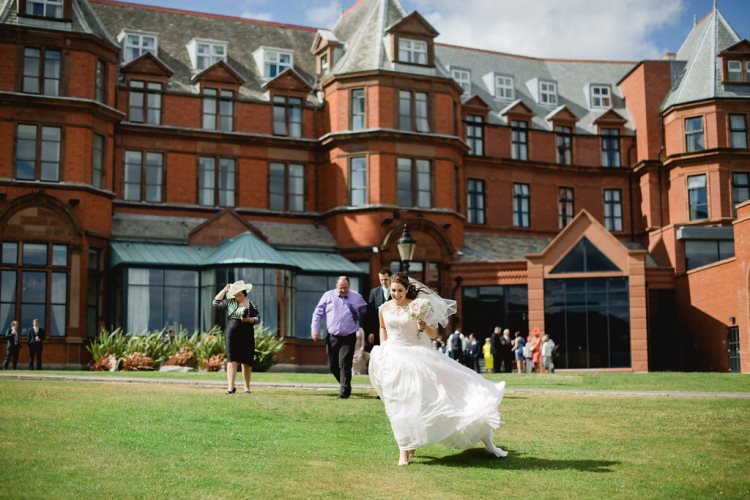 That's quite the undertaking! Tell us about your dress…
My dress was made by Naomi Neoh. I found the dress at Ivory and Pearl in Comber from Kate. She was having a Naomi Neoh designer weekend so I tried on one called Lily from her secret garden collection and fell in love with it immediately. It had a lace top with button back. The top half had a proper lace up corset and the bottom half was like a soft cloud- so flowing and soft. I chose it in the palest of pink shades which was absolutely stunning.
And we can't forget about the groom's wardrobe!
He wore a navy suit from Debonair in Portadown with a cream lace tie and brown shoes. Dermott loves Guinness so it was no surprise that he bought himself and his dad Guinness Toucan cufflinks to wear on the day! We both decided on no tails on the suits as we thought it looked too old!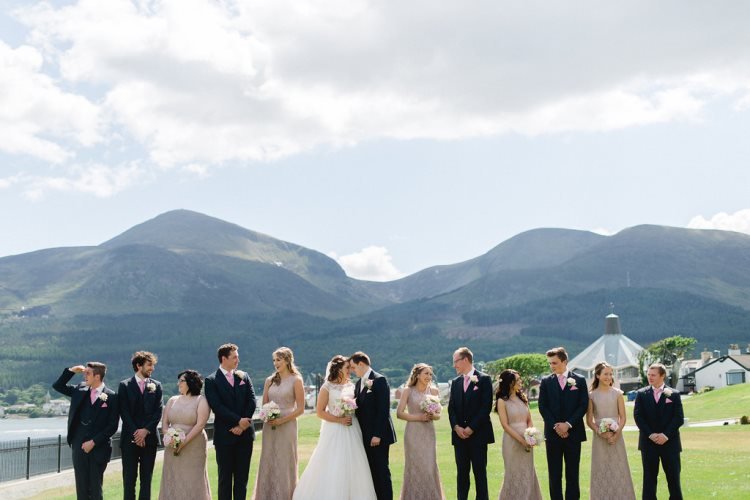 What did you dress your bridesmaids in?
They wore gorgeous lace pink dresses from La Boda Bridal in Banbridge (designed by Watters). We actually had a deposit paid on other dresses until I came across these ones online and knew that we had to make the change. Thankfully we received our full deposit back from the other retailer!
Flowers were obviously a huge part of your big day! Who made them and what was your inspiration?
They were by far the most gorgeous looking flowers I had ever seen. They were by Elaine Waterworth (from Quay Scents). I had ideas and cut outs from magazines for her but she elevated it to another level. They were a mixture of roses, sweat pea, hydrangeas and other pastel coloured flowers. The theme was soft and flowing. The bouquets were tied loosely to give more of a soft feel.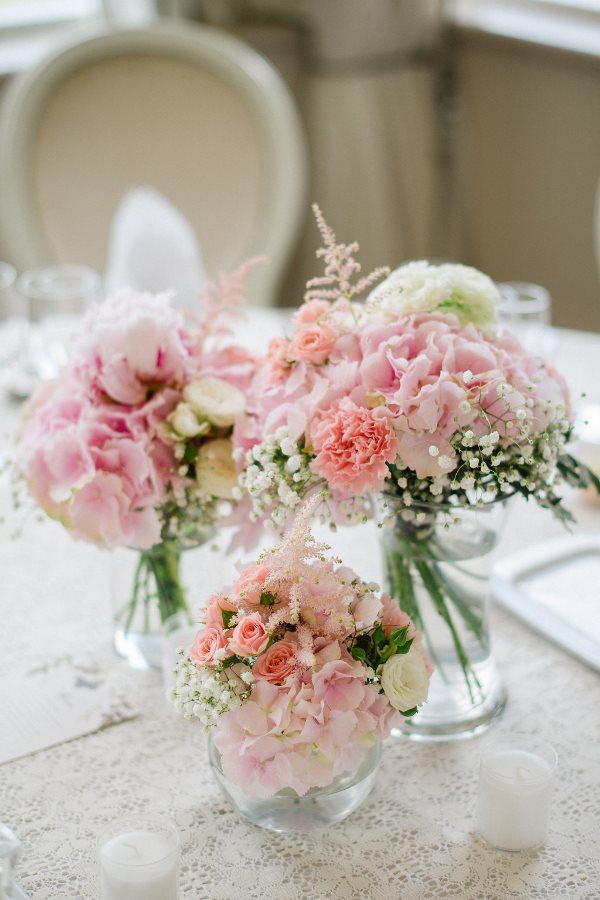 Who designed your wedding stationary?
The stationary was buy a lady called Zoe from Dottie Creations in Cambridge. I saw her stationary in a wedding magazine and emailed her and we took it from there. Our guests thought the invitations were so beautiful that we had some of them wanting to keep the RSVPs for themselves! They were pastel coloured flowers in an envelope style invite. The theme continued on for the order of service booklets, menus, table names and place names. For our table plan we decided on having a gold ornate mirror with flowers around the edge. Our guests names were written in gold.
And we can't forget about the cake!
The wedding cake and favours were by The Little Cupcakery NI (a lady called Gillian). We had spotted her at a wedding fair and booked her 2 years before the wedding! We decided on our favourite cake flavours- 3 different tiers red velvet (by far my favourite), chocolate cola and plain vanilla cake. It was all decorated in butter cream icing. The bottom tier was covered in pink buttercream roses and the top 2 tiers were cream smooth buttercream icing. The wedding favours were mini cupcakes with roses and lace patterns on them- which turned out to be a favourite with everyone.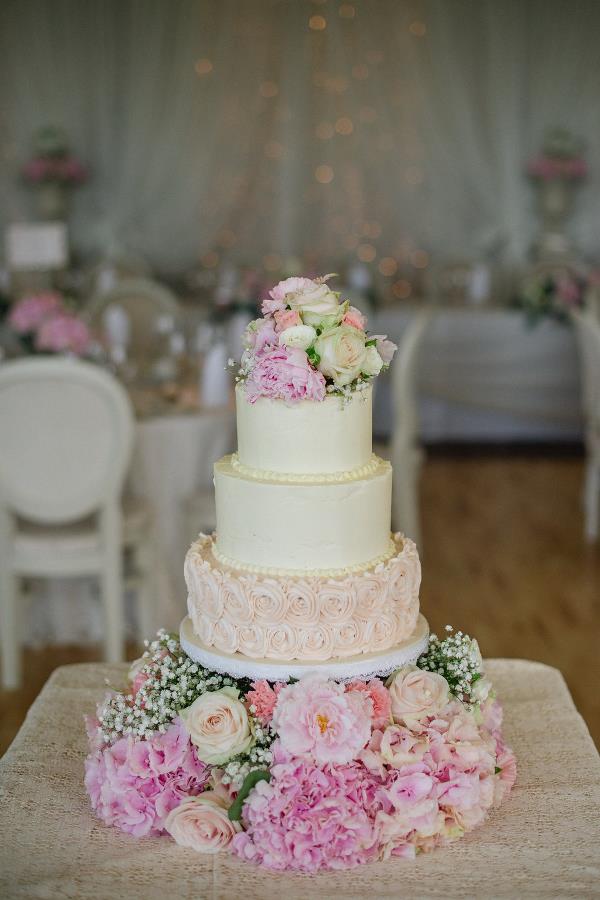 What was your favourite moment of your wedding day?
For the Groom: After the speeches were finished- I truly got to relax and enjoy chatting with the guests.
For the Bride: When we were on our own with the photographer on the beach (out the front of the Slieve Donard). I love the sea and it was the first proper time Dermott and I got to really spend time on our own and chat.
Finally, do you have any Top Tips for couples planning their weddings?
Groom's Advice: Really keep on top of everything- it's easy to forget when you've booked all the appointments!
Bride's Advice: Things will go wrong on the day but no matter what happens the whole day will still be perfect. The little things that didn't go to plan you will look back on and smile.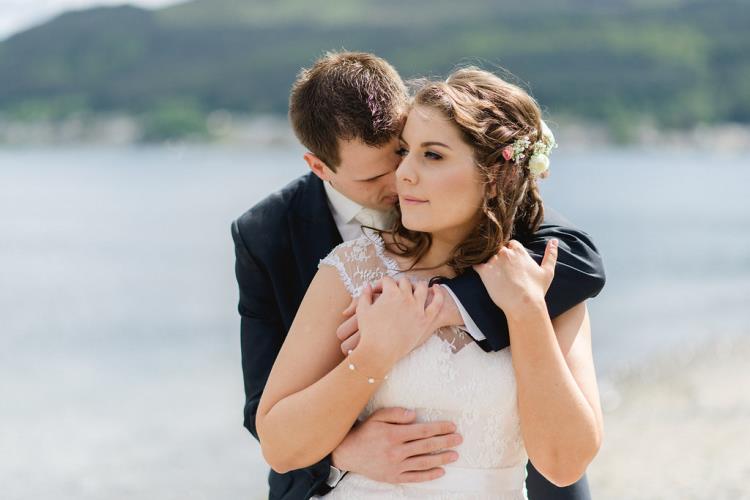 Photography by Ester Irvine Photography.
For more information on weddings at the Slieve Donard Resort & Spa, please click here  or contact their Wedding Coordinator at 028 4372 1011 to book a viewing.