Due to phenomenal demand you can have the hilarious Dave Young The Wedding Comedian perform at your wedding. Refreshing,  hilarious and totally different. Make your wedding a day that no one will forget with this award winning comedian and you'll laugh all the way to the altar and beyond!
Dave Young makes your big day extra special by bringing your guests together with side splitting laughter, and hilarious audience participation. Watch out, you might see the best man or groomsmen performing and participating in some crazy routines as well. This is the best decision you will ever make. Your guests will have something to laugh about and you'll definitely be the Couple of the Year!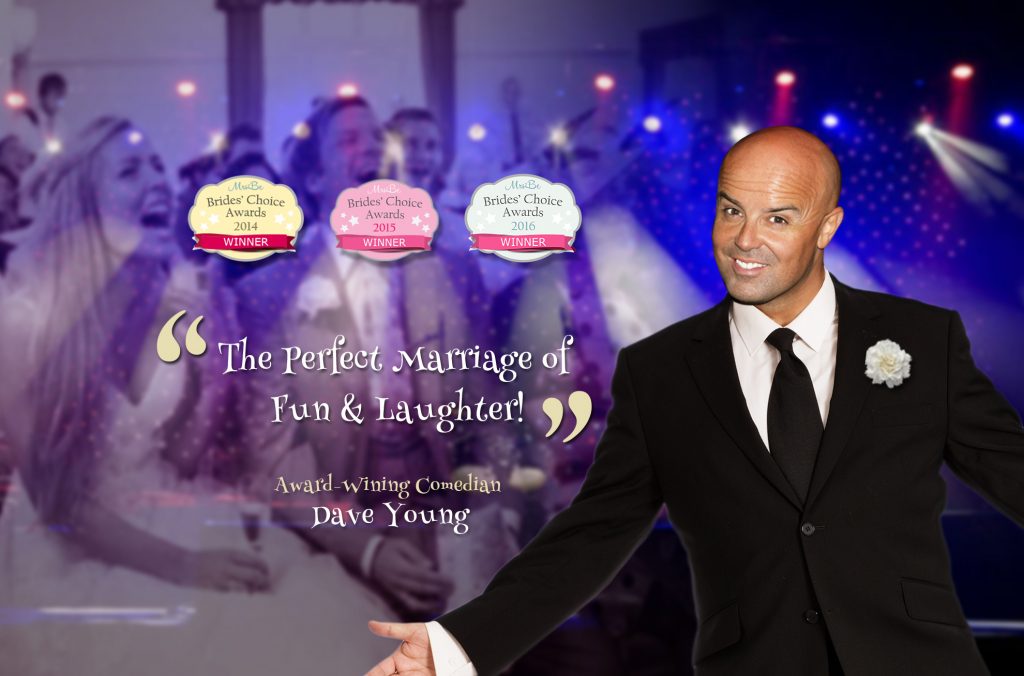 Dave Young's live show will have both sides of the family laughing together as one and that's what it's all about, love & laughter?
Dave Young's numerous television credits include: Weddings by Franc, The Late Late Show, The Saturday Night Show, The Miriam Show, The Morning Show, Celebrity ICA Boot Camp, The Voice of Ireland, Dave Young's Young at Heart TV Show & more.
Here's what they are saying about The Wedding Comedian…
"There is only one guy I know that's able to deliver & add that extra bit of fun to any wedding time and time again… that's Dave Young – The Wedding Comedian!" – Franc – Weddings by Franc, Host of the TV show "Say Yes To The Dress"
"From the time I spoke to Dave on the phone to day of the performance he had me in stitches! A down to earth gent that has our Irish humour down to a T and knows how to entertain any crowd. I seen full grown men cry with laughter, he truly is the best comedian of his time. Made our wedding far from ordinary"  – Barry & Imelda Kershaw
"Great to have Dave on the show, he always delivers!" – RTE's Brendan O Connor
"Dave Young is simply Tour De Force!"- RTE's Pat Kenny
"The funniest comedian I have ever seen, Dave had us laughing all night, he made our show"  – RTE's Miriam O Callaghan
Book today 0872616317 or visit www.theweddingcomedian.ie