Wedding Journal Online interviews Stormont Hotel event manager about weddings prior to their Wedding Show 8th January 2017.
How are viewings of the Stormont Hotel? Do I need to book?
Simply call one of our dedicated Wedding Co-ordinators, who will arrange a suitable date and time for you to meet. We try to offer appointments to suit the busy lives of couples, offering the flexibility of evening and weekend appointments, as well as day appointments.  They can give you a wealth of advice and relevant information to help make your. Your viewing will include a tour of the hotel facilities, function and bridal suites available as well as meet our team and seeing their passion and energy first hand.  Our Wedding Co-ordinators will be delighted to go through our wedding packages we have to offer or discuss a bespoke package for the couple.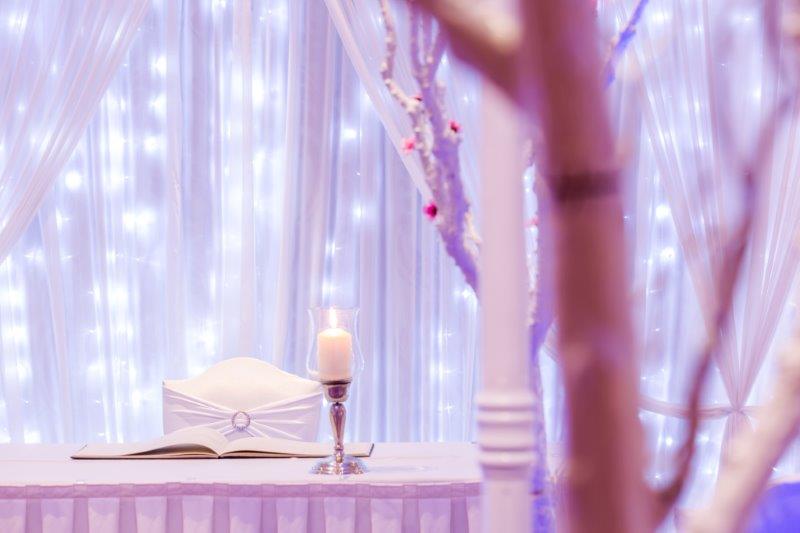 What is the minimum/maximum number of guests that you can cater for?
We cater for all sizes of weddings, from a small, intimate ceremony to a larger affair catering for up to 250 guests. A range of beautifully decorated banqueting suites are available, from the Thornhill Suite and Barnett Suite for numbers up to 60 guests or our Dunmisk Suite which caters for up to 80 guests with views overlooking Stormont Estate or our Famous Ballroom with views of Stormont Estate.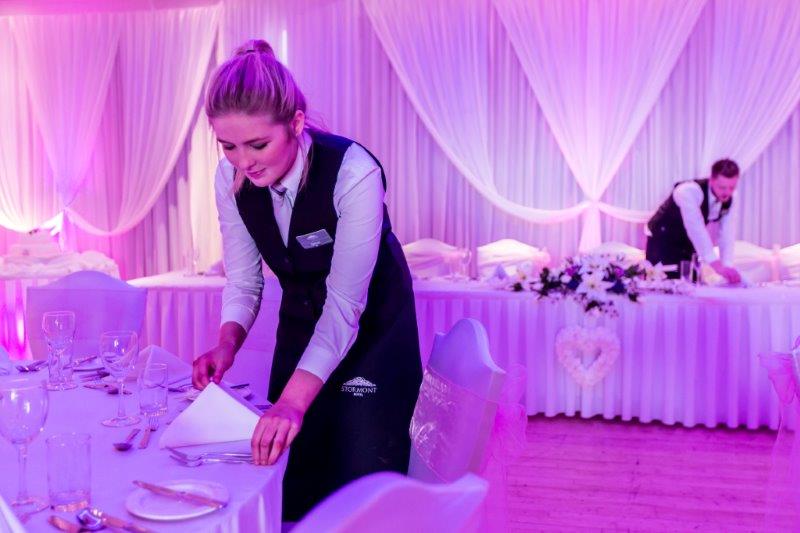 If you had some words of advice for newly engaged couples starting out on their planning what would they be?
Enjoy every minute of your special journey as you plan the most special day of your lives.  Everyone's experience is different. Begin your plans by confirming the essentials; date available for your wedding venue, ceremony availability on this particular date, once you have arranged this base plan, you have a very good platform to arrange everything else from.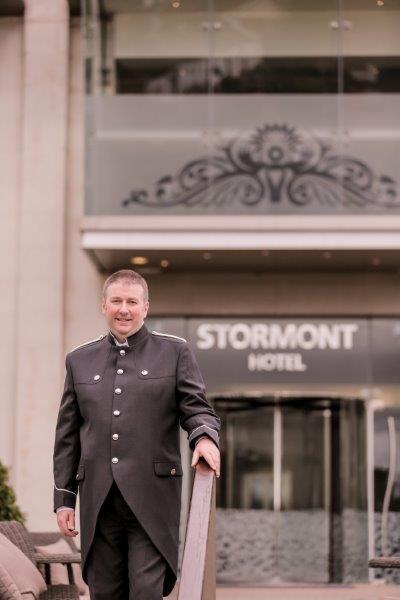 What are the most common questions you get asked? What do couples worry about the most?
We often get asked whether we can provide for specialist dietary requirements and children. Couples like to be reassured that all their guests can be catered to. Another common question is what time can we have dinner served and the simple answer is when it suits you.  Every wedding is different and we can only determine the time of the meal when we take each step from the time of the wedding ceremony or blessing.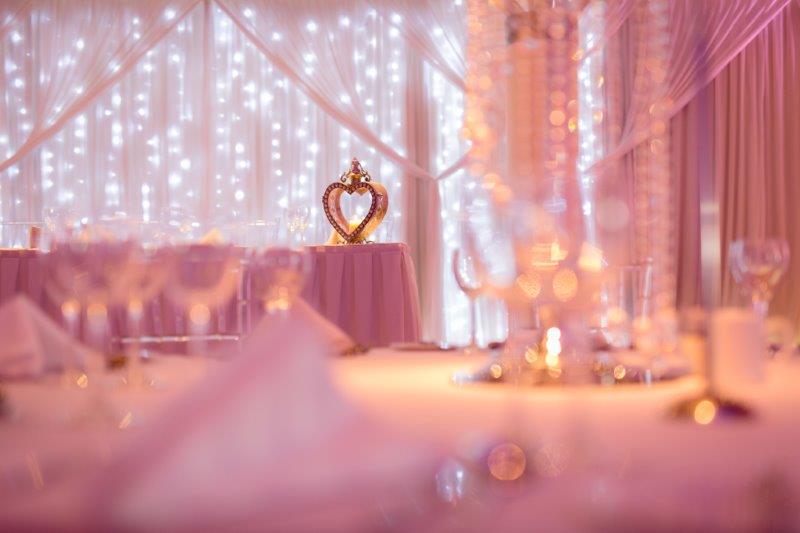 You are working with brides and grooms every day. What were your favourite wedding trends so far of 2016?
Over the past 10 years the wedding industry has hugely expanded and there are so many possibilities of services and suppliers to offer unique wedding ideas and themes to make each wedding individual. Vintage lace and rustic hessian themes have been popular in 2016, as well as sweet tables, photobooths and LED enhanced dancefloors.  We are also seeing a new trend emerging were a lot of our brides and grooms are looking for more neutral room dressings, fairylight backdrops and starting to move away from chair covers to seating such as Catherine and chivari chairs. We are also seeing a new focus and enthusiasm for items to upgrade menu options such as canapés, sorbet courses, cheese platters and so on.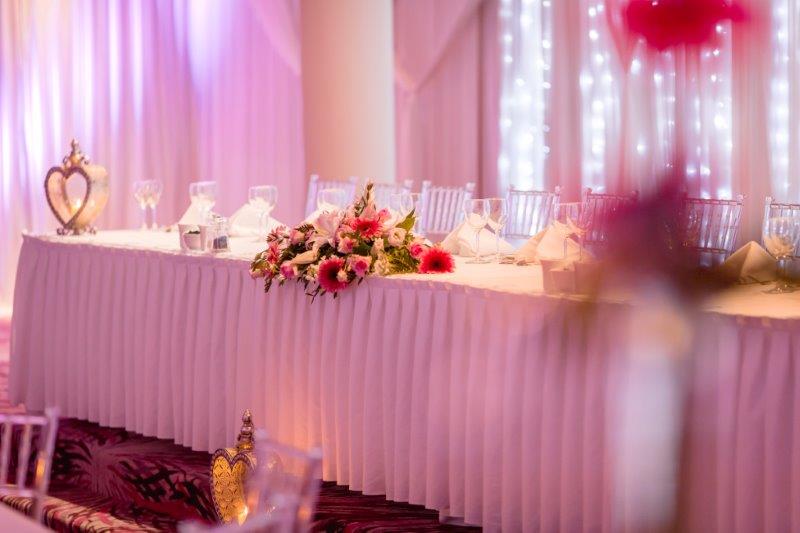 The day of a wedding must be so busy and exciting after months of planning with the couples, what does a typical wedding day look like for you?
There is no typical wedding day at The Stormont Hotel.  Each day is unique and that is the way we wish to view and care for each and very booking placed with us.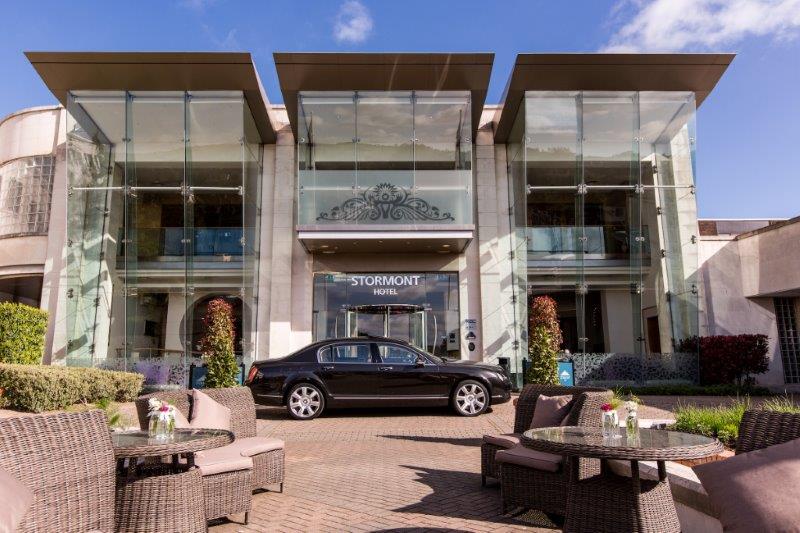 You have probably seen a lot of nervous brides and grooms on their wedding day! What is a good way for them to keep calm and collected?
Good planning and communication with your venue in the lead up to the wedding day allows you to build confidence in what we offer and allows us to provide you with a fantastic experience. We are available at every step of the process and will ensure that we have everything prepared in advance. The wedding co-ordinator is the initial contact at the hotel and from around eight weeks prior the conference and banqueting manager will meet the couple to discuss the finer details. The conference and banqueting manager will be the main contact on the day of the wedding so it is nice to have a relationship prior to the big day.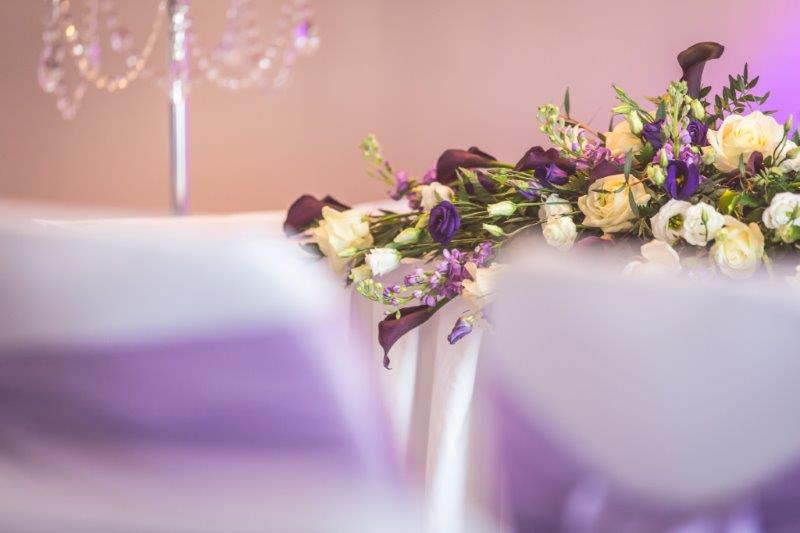 What do couples love most about the Stormont Hotel?
From the minute you walk through our front door you have a warm welcome. We recently had a major refurbishment of our lounge and bar area which changed the whole look and feel of the lounge. Couples always comment on how there is so much space for their guests to relax and mingle during the day. They are content that the guests have a nice area to sit while they are away for photographs. The team at the Stormont Hotel always make a couple feel welcome. From the initial show round couples feel like they have known that particular staff member for a long time. Couples feel at ease with the member of our team and know we are only a phone call away should they need to ask anything. The fact that we offer a complimentary menu tasting 8-10 weeks prior gives the couple confidence in the food we are serving to them and their guests. We are passionate about the service we offer to our couples and understand that making every couple feel special on the wedding day is all part of the service.
The Stormont Hotel will be opening doors to brides and grooms to be for a Wedding Show in conjunction with Perfect Bliss 1-4pm 8th January 2017. Our full team of experts and wedding specialists will be on hand to give you advice and tips on how to create your dream wedding. Entry is free.
To contact the wedding team for an appointment, telephone: 028 9065 1066 or email: conf1@stor.hastingshotels.com