Step up, step in – to the Step House Hotel!
The Step House Hotel has been creating wonderful memories since opening its doors in 2007. This stunning Hotel has been specifically designed to host the most romantic and personal weddings. They have just released their NEW packages outlined below, that might be ideal for your big day.
It's the Full Package – with extra style and elegance guaranteed
Contact the Step House Hotel for step-by-step guide on their new excellent, elegant Bespoke Package.
Ease, elegance, with an added dash of excellence
Bespoke is the ideal way to go in the 2020's – in fact, it's the only way to go. You will know exactly what's included from the get-go, the actual cost. All in all, it allows for smooth, straightforward, uncomplicated planning – so you can focus on making YOUR day extra special.
Your wish is our command
It is YOUR day after all. At the Step House, your wish is our command – and the exemplary staff and culinary team will go the extra mile so you and your guests get to sit back and smile – taking in the beautiful surroundings, while savouring those magical moments.
The emphasis is always on elegance and style – yet there's that homely warmth to make sure all your guests feel comfortable, included and cared for.
Unique boutique
As a unique, boutique hotel located at the foot of Carlow's Blackstairs and Leinster mountains, and nestled into the heart of Borris, the Step House is the full package both inside and out.
The beautiful landscaped gardens are ideal for photography, with the gentle rural backdrop rising to meet the mountains beyond. Inside and out, the setting is guaranteed to charm your guests, while making them feel completely at ease, without compromising on little luxuries.
Bursting with character and charm
This idyllic country village setting with its relaxed yet elegant Garden Suite, exceptional cuisine and traditional hospitality will leave friends and family with memories to treasure forever.
With special features like the carefully crafted arched French doors leading to the garden, the Step House combines the character and charm of the Georgian era with contemporary, impeccable style.
Specifically designed
The Step House Hotel has been specifically designed to host the most romantic and personal weddings. The Garden Suite has been luxuriously tailored to facilitate weddings to accommodate up to 200 guests. The Cellar Restaurant & Cocktail Bar can also cater for small intimate weddings up to 60 Guests.
It's also the perfect setting for wedding and civil ceremonies on site – meaning the Step House can now provide the entire wedding and civil ceremony package. Just imagine the joy and intimacy of sealing your vows in manicured walled garden, with your proud friends and family looking on!
Your Red Carpet moment
The Bespoke Package begins on the red carpet, and ends with you dancing the night away – everything in between is taken care of.
There are generous discounts available for mid-week and off-peak season.
This wonderful package includes an elegant afternoon tea on arrival with macaroons, canapes & even a choice of shellfish, followed by a five course gourmet meal curated by one of Ireland's top chefs (as featured in the Bridgestone Guide). This package includes not only our specially selected wine but premium offerings from the restaurant wine cellar. Add the evening reception buffet and you have an all inclusive price for a minimum of 100 guests.
Enhancements
We may not be able to give you the Heavens' Embroidered Cloths, but we can guarantee we will put our heart and soul in to making your special day the best that it can be. That's our solemn vow to you.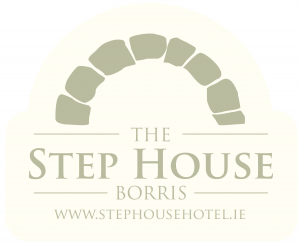 Now let's get this party started! We should meet – contact the Step House Tel:00353599773209 to arrange.
Step House Hotel, Borris, Co. Carlow, Ireland
Email: weddings@thestephousehotel.ie