General Info & FAQs
The Wedding Journal Show is Ireland's biggest bridal show…and this year is going to be even bigger and even better than ever!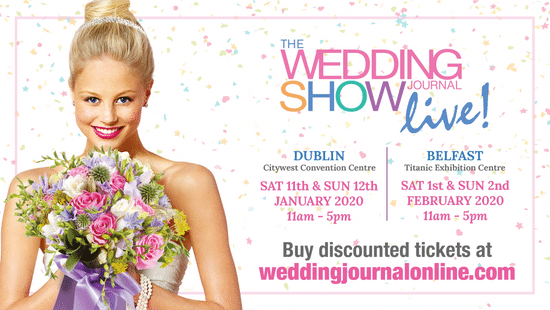 QUESTIONS WE ARE FREQUENTLY ASKED….
Can I Still Buy Tickets At The Door?
Of course! We close our online ticket site at noon on the Friday before each Show, but you can always buy tickets at the front door! Ticket price at the door is £12/€13.
Do Children Go Free?
Children under the age of 12 can go free, and anyone between the ages of 13 and 16 are half price. We welcome families of all ages and sizes!
Is There Parking Nearby?
Yes, parking is available and free at Citywest Convention Centre, Dublin. There is parking available just opposite the TEC Belfast and there is a charge.
Who Is Exhibiting At The Show?
We have an extensive list of exhibitors attending The Wedding Journal Show Dublin and The Wedding Journal Show Belfast – check them out HERE!
Where Can I Find The Dresses On The Catwalk?
Our unmissable Bridal Catwalk showcases the looks from international designers and the various bridal boutiques from across Ireland exhibiting at the show. You can find a comprehensive guide to all our catwalk suppliers in our Show Guide, available to purchase at the front door of the venue, for £1.50/€2.

What Time Are The Catwalk Shows?
Our Bridal Catwalk Shows run at 12pm, 2pm, 4pm daily. You can't miss the music and lights!
What Acts Are Performing on Stage?
We have live performances and on stage demonstrations for you to enjoy too – a full running order will be available soon.
What Is Included In The VIP Ticket?
Pre-booking an online VIP ticket to the show online gets you fast track entry, a luxury goodie bag, free access to the exclusive VIP lounge, reserved front row seating at the bridal catwalk, a glass of prosecco with sweet treats, plus a free copy of Ireland's Wedding Journal magazine. For those who didn't get a VIP ticket online upgrades cost £6/€6 and can be purchased on arrival he day, however do be aware there is NO Goodie Bag with upgrades on the day.
How Do You Register For The Win A Wedding Competition?
Everyone who booked their tickets online will be automatically entered. There will also be an opportunity to fill in a quick entry form and enter at the front door of the show. If you are lucky enough to be one of the finalists selected you must be free to attend the live final on Sunday afternoon of The Wedding Journal Show Dublin or The Wedding Journal Show Belfast.