Wedding Journal takes a look at the best first dance clips we've seen recently, from the bride and groom putting on a show, to the bridal party getting involved.
It's been revealed that Mark Wright and Michelle Keegan performed a surprise choreographed dance at their May wedding reception and we wouldn't expect anything less from a former Strictly Come Dancing winner! The couple are said to have danced the iconic scene from the hit movie Dirty Dancing which was so emotional to everyone involved that even the Groom shed a tear!
We imagine it looked something like this: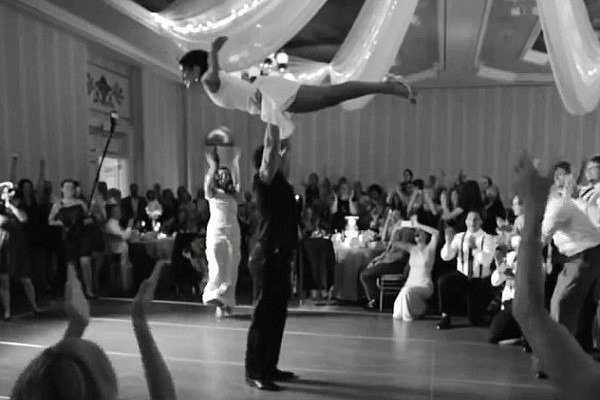 Lots of brides stay away from a choreographed first dance for fear of being embarrassed but the great thing about weddings is; you're among friends! Choreographed first dance routines inject a sense of fun, get everyone in the party spirit and you can guarantee your guests will remember it forever!
If we haven't already convinced you, most brides choose to change into a whole new outfit in order to shimmy around the dance floor, and what bride can resist the call of two wedding dresses?
Take a look at five of the best first dance videos we could find!
Wedding Journal Online's Top 5 First Dance Videos
Nobody puts baby in the corner!
Follow in the glamorous footsteps of the King and Queen of Essex and treat your guests to the ultimate choreographed first dance! Romantic and intimate, this choice of song will have everyone reaching for the tissues.
Surprise Ending
Lull your guests into a false sense of security with a traditional beginning before breaking out the real dance moves!
Swing from the chandeliers 
Strictly has us all captivated every Saturday when it's on and we know there's a little part of everyone just dying to have a go at a properly choreographed dance! Grab a dance teacher and spend date nights popping your hips in preparation for the big finale!
https://www.youtube.com/watch?v=frvSP2caCeo
Involve the bridal party
If you're a little bit nervous about a public performance there's always safety in numbers! If your bridal party are bundles of fun enlist their help to put on a show that will get everyone raring to hit the dance floor.
Flash Mob
Choreographed dances are always better when they're a surprise. This groom enlisted the help of everyone at the wedding to form a flash mob and take the bride unawares. For the ultimate first dance, plan something elaborate that will help the guests feel like they were an important part of your big day.