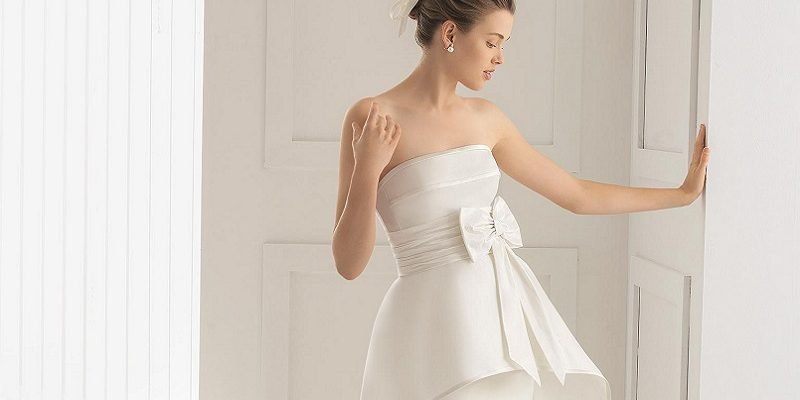 Top Ten Pretty Peplum Wedding Dresses to Flatter Your Figure
We are massive fans of the flattering and versatile peplum silhouette here at WJ. To that end,  we've rounded up the top ten peplum wedding dress styles to suit your shape, marry in with your chosen theme, and to make an impact on your special day.
1. Jovani Peplum Dress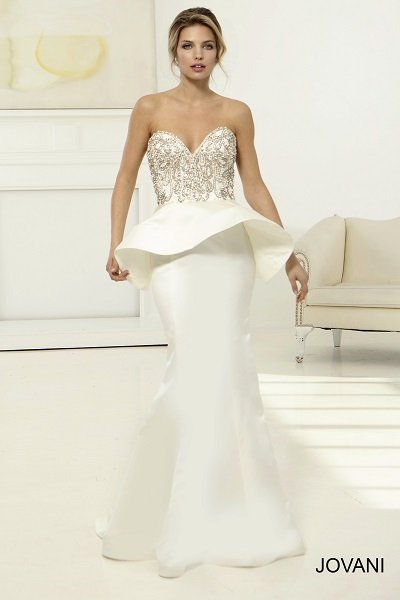 Peplum styles are undoubtedly one of the most flattering shapes pear-shaped brides could go for. Typically, pear shaped ladies are thinner on the top half and tend to carry any weight gain around the tummy, bottom or hip area. This can lead to a headache when choosing the right gown, but the peplum silhouette could be the answer to this problem.
Pears rejoice; the peplum is made to flatter your figure! This clever silhouette will cinch you in at the waist while the extra piece of material gently skims over and minimises slightly larger hips, tummy or bottom. You can of course use this to your advantage to accessorise the gown with an equally flattering headpiece to draw the eye upwards, or even adapt your bouquet to compliment the shape of the peplum itself – a cascade bouquet might cover the waist area further, or a small posy or nosegay style might suit better held above the peplum, to make it more of a dramatic feature.
2. Tony Ward, Wedding Inspirati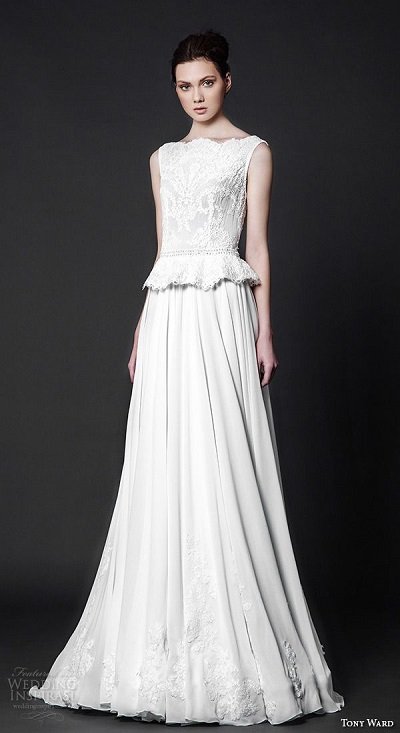 The peplum shape isn't just for our pear shaped ladies, it is such a versatile silhouette that it flatters many body shapes. Peplum wedding dresses can look quite fantastic on curvy hourglass shaped ladies, because they emphasise the waist and highlight your best attributes, your bust and hips. Kim Kardashian, who knows how to make the most of her hourglass figure, often opts for the peplum style with many of her red carpet looks, so if you're blessed enough to have this body shape, it might be worth opting for this silhouette. Be careful not to have too many frills or filling with a peplum in this instance, as it can add too much bulk to an already wonderfully full figure.
3. Theia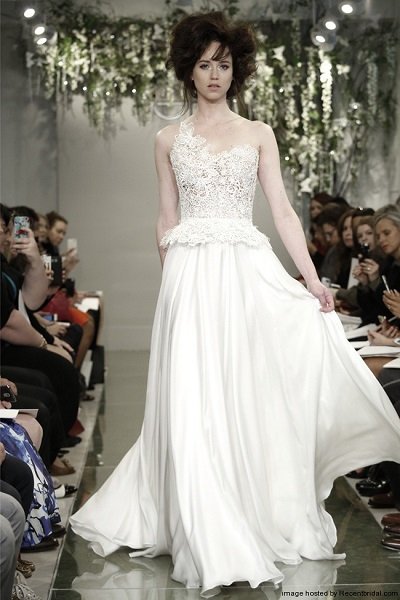 If you have an athletic or boyish build, a gathered peplum can create the illusion of having a tiny waist, and curvy hips by add fullness around the hip area.If you feel your figure has a straightness to it, a peplum can offer more definition to your shape, creating a helpful distinction between your torso and hips. This will offer  slightly more shape and curve to your silhouette, giving your overall look more proportion and definition.
4. Alon Livne White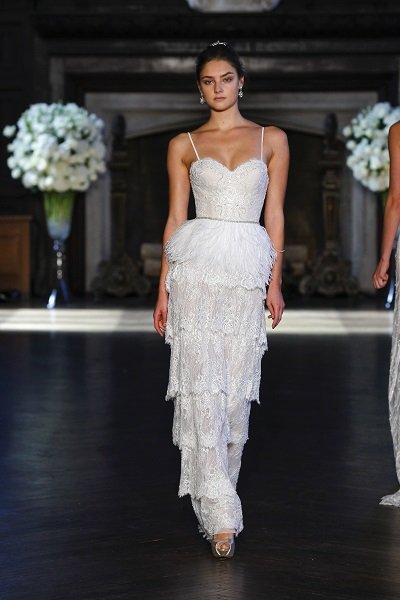 Apple shapes who tend to lack waist definition, carrying all of their weight around their middle area can find a solution in the peplum as well. Apples should opt for soft layers, slightly overlapping or pleated peplum as this can minimise the appearance of a rounded tummy. The benefit of this peplum style is that it offers an extremely soft, princess-like feminine look – popular with brides who want to opt for a fairytale theme. This look would be complemented beautifully by a pomander shaped bouquet, gently hanging from the wrist and accentuating this delicate and feathery style.
5. Zuhair Murad, on Pinterest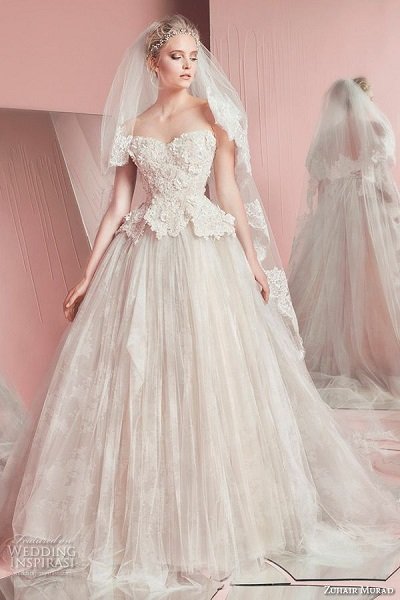 This asymmetrical peplum is the most versatile shape that works for all body shapes, depending where the hem falls. Styles that are shorter at the sides and longer at the front and back work well on curvy brides. Peplums that are longer at the hips and shorter at the front and back are ideal for those with narrow hips. This unusual, striking outline creates a modern twist on a vintage look, especially if you're a cutting edge, fashionable bride who wants a touch of the 40s class, coupled with the latest design.
6. Alberta Ferretti Forever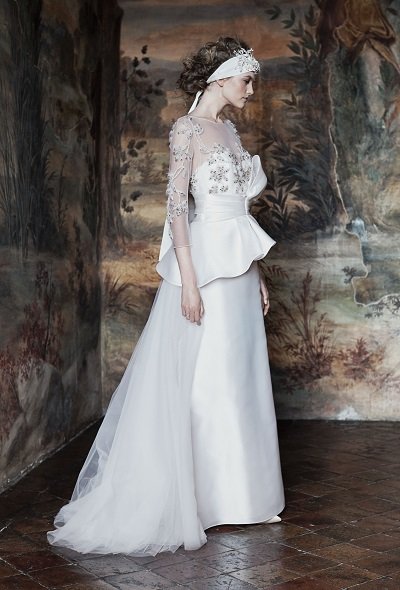 For some women, their midriff is their best feature. You lucky ladies who want to show off their waist, can always opt for a part-peplum such as this style by Impression Bridal. It demonstrates a hint of the peplum style, while emphasising the waist and stomach. If you want a hint of sexy with a little fun, then this style could be perfect for you.
7. Impression Bridal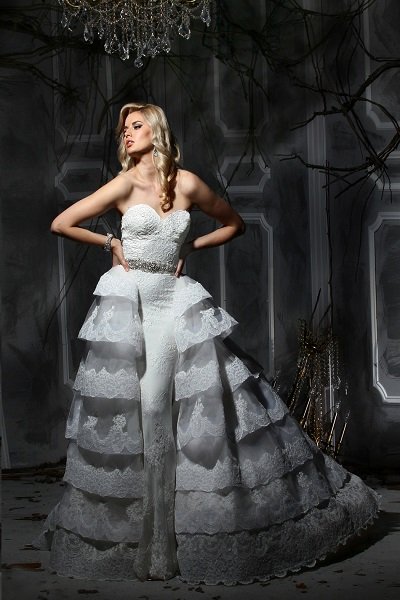 This flamboyant Peter Langer dress offers a real statement for brides who wish to make an impact, regardless of their shape. It has drama, style and is extremely individual – offering the bride a real sense of couture for their special day.
8. Peter Langer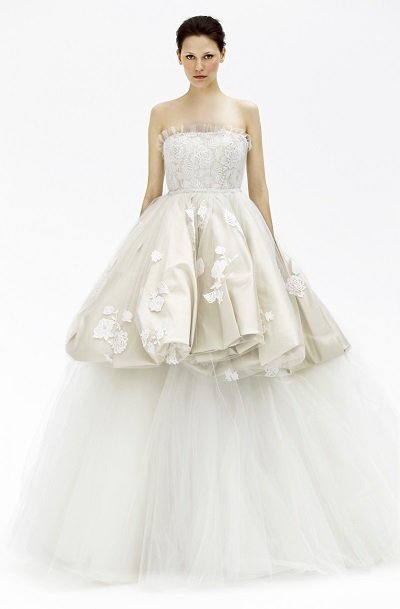 Or a more understated bride might choose the 'barely there' peplum by Patricia Avendano. With a hint of pared-down luxury, this style offers something different with a nod to the peplum style, but has a sense of reserved elegance – for those brides who want individuality without fuss.
9. Patricia Avendano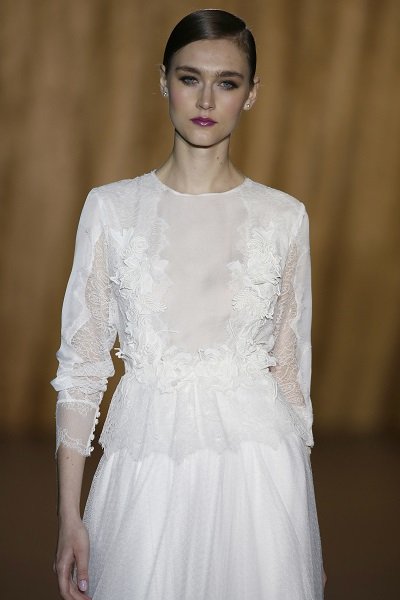 There is a peplum dress to suit all body shapes, the trick to wearing it lies in finding one that flares out at the right area of the body – the skinniest part. It is important to consider which body shape you have and to investigate which peplum style is truly the right one for you – and after you do that, you might just find the dress of your dreams.
10. Yolan Cris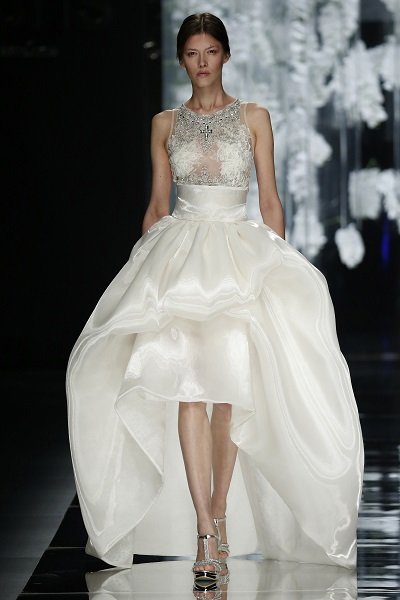 Featured image credit: dhgate