Not interested in a traditional track for your first dance? Maybe one of these top unconventional First Dance songs will hit the right note!
Have you ever been to a wedding where the first dance song made you say 'Did that just happen?'
We've noticed a huge trend in the number of couples who are swapping the traditional romantic wedding song for something more modern, unplugged and personal.
These unconventional wedding songs can take many forms from acoustic chart toppers by couples looking for the 'Live Lounge' feel, or popular Disney classics that are sure to have everyone singing along.
The Wedding Pianist did a little research into the most 'unconventional' first dance songs and some of the choices may surprise you…
Cascada – Every Time We Touch
Sam Smith/Disclosure – Latch (Acoustic)

Oasis – Wonderwall
DJ Sammy – Heaven

Psy – Gangnam Style
Toy Story – You've Got a Friend in Me

The Proclaimers – 500 Miles
Rihannah – We Found Love

Bob Marley – Is This Love
Tangled – I See the Light
Each to their own of course, but some of these would certainly not be quite what you'd expect!
Speaking about the results Benjamin Clarke from The Wedding Pianist said:
"There have been times when someone's request has made me raise an eyebrow, but a first dance is supposed to be personal. If it makes you ask why and there's a story behind it, it's much more interesting and romantic. These days people want their wedding to be totally different. They'll choose a song that represents them as a couple no matter how unconventional it may seem"
Music of course plays a huge role in our relationships, so we tend to remember the songs popular around the time that love first blossoms… for some people that would just so happen to be something along the lines of Gangnam Style!
Young couples in particular are choosing to add a classical twist to modern songs. After hearing some of their favourite performers cross genres in the BBC Live Lounge, brides and grooms-to-be have become inspired to create their own unique sound for their first dance.
"More and more often I'm asked to perform slower versions of modern hits. So many people want the 'Live Lounge' feel and choose up to date songs to put a traditional twist on."
Another surprising trend we noticed was the amount of modern Disney inspired first dance songs. With 'I see the light' from the movie Tangled top on the list for many bride and grooms !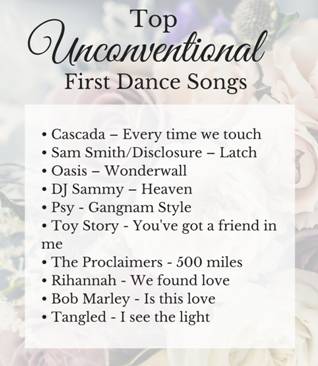 Feature image credit: Bigday-weddings.com