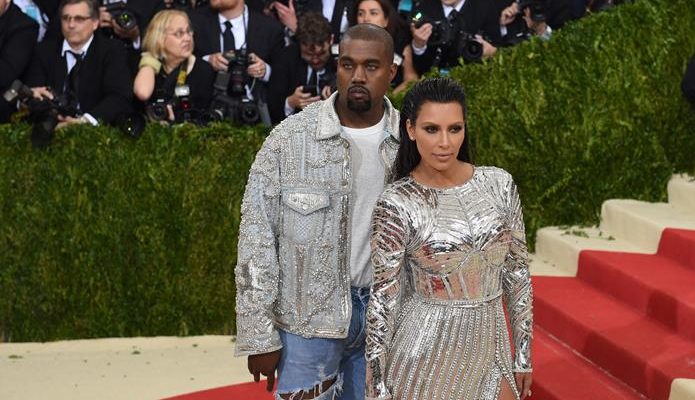 Trends from the Met Gala
It's better than the Oscars and more glam than the BAFTAs… the 2016 Met Gala was last night and you won't believe what the stars turned up in.
Hosted by Vogue, the Met Gala takes place every Spring in New York and it is the event for any fashion-conscious celebrity.
This year's theme, Manus x Machina: Fashion in an Age of Technology, brought creative offerings from all of the A-List who turned to the world's best fashion designers for their gorgeous outfits.
And as always, the trends were fierce with some we may be seeing on the bridal scene in the following months… Take a look at our pick of the very best.
Goth
Taylor Swift continued her 'goth-evolution' at the Met by donning an edgy silver dress combined with a fierce lip and her new bleach-blonde locks. If you haven't kept up-to-date, Swifty is currently going through quite the transformation from America's Sweetheart to a 'Mess-With-Me-If-You-Dare' female and we're loving the transformation. She was one of this year's Met Gala hosts along with Idria Elba, Anna Wintour and Apple Chief Design Officer Jonathan Ive.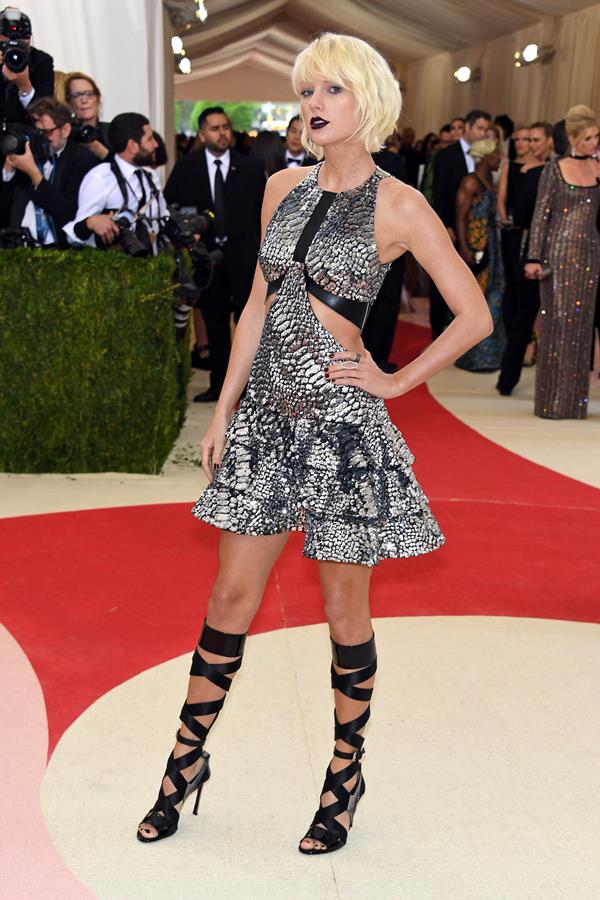 We don't want to say that these celebs took inspiration from Swifty… but her transformation has been hitting headlines for weeks now! Canadian superstar Rachel McAdams went for a bold lip teamed with a glittering Valentino gown decorated by lines from Dante's Divine Comedy, meanwhile Kristen Stewart wore knitted Chanel with her signature punk-rock personality. Poppy Delevingne looked stunning in a metallic and sheer gown pared with deep plum lips and poker straight hair. Finally, Bella Hadid went for the all-black look with a hint of leg on show and matched her beau The Weekend perfectly.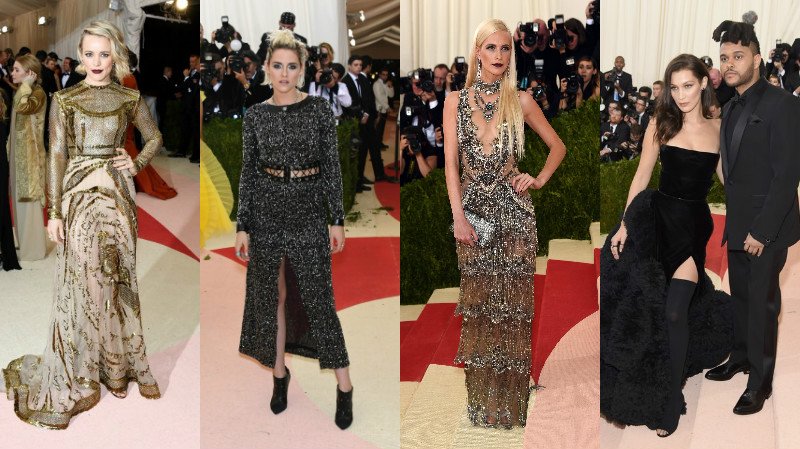 Hardware Shop Chic
With a theme that celebrated machines and technology, it comes as no surprise that some of the stars seemed to pop to the local B&Q for some handy embellishments to their outfits. We kid, but Zayn Malik and Gigi Hadid certainly paved the way for this trend which sees metal, chains and general hardware take over their looks. I mean just LOOK at Zayn's sleeves?!
Other stars who obviously wanted to rock the 'machine chic' trend included none other than Kim K herself who shone in a silver Balmain dress with a plunging slit and Emma Stone, whose white Prada dress would've been very ordinary apart from the chunky metal straps and waist-belt. British model Jourdan Dunn stole some of Kim's thunder in a very similar shimmery dress and Victoria's Secret Angel Alessandra Ambrossio got the memo too because her dress was right on-trend. The one we can't quite work out though is Lady Gaga, who channeled an 80s-vibe with a bit of hardware, a corset and some very high boots. Interesting.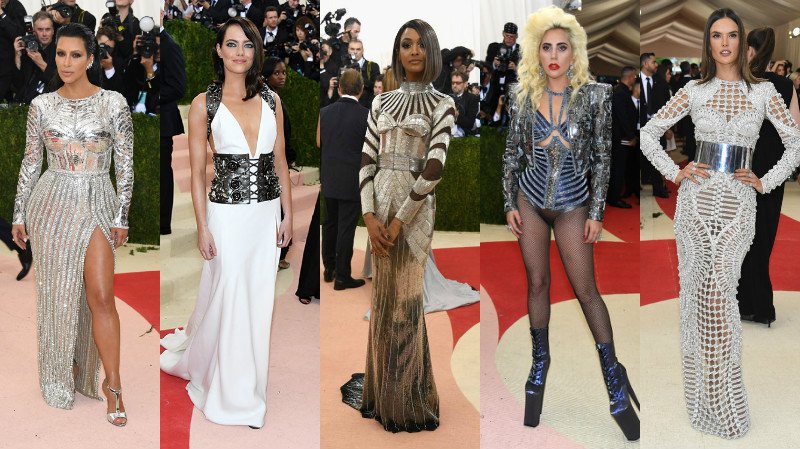 Back to the Future
The stars that didn't pop to the hardware store for their outfit instead looked to the future and none did the futuristic look better than Queen Beyonce. Her name is the word on everyone's lips these days after releasing Lemonade last week and in what could have been interpreted as a pretty important message- she rocked the red carpet solo this year and husband Jay-Z was nowhere to be seen. However the BIGGEST question in our office is- how on earth did she sit down in that latex dress? Other spacey stars included Alexa Chung who wore glittering trousers, reality star Kylie Jenner and Julie Macklowe– who looked like a robot come to life.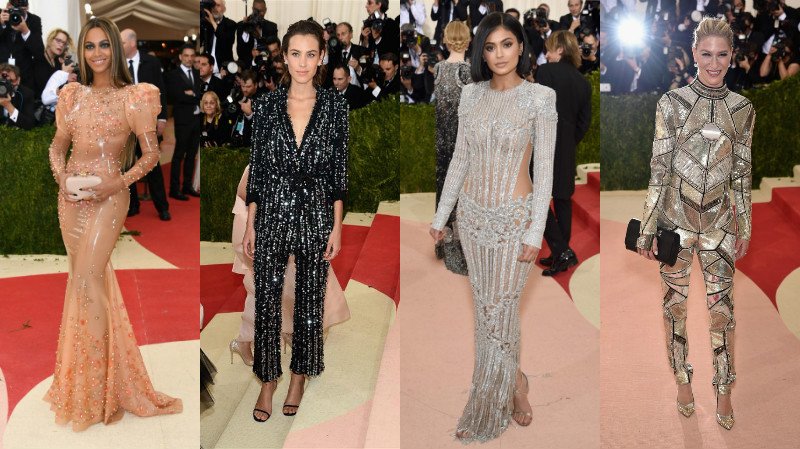 Supermodel Cindy Crawford continued to look as though she hasn't aged a day in twenty years and Nicole Kidman wore the sun and the stars on her dress. Lauren Santo Domingo looked show-stopping in a metallic, fringed number and Naomi Watts highlighted her svelte frame in an on-trend gown embellished with florals.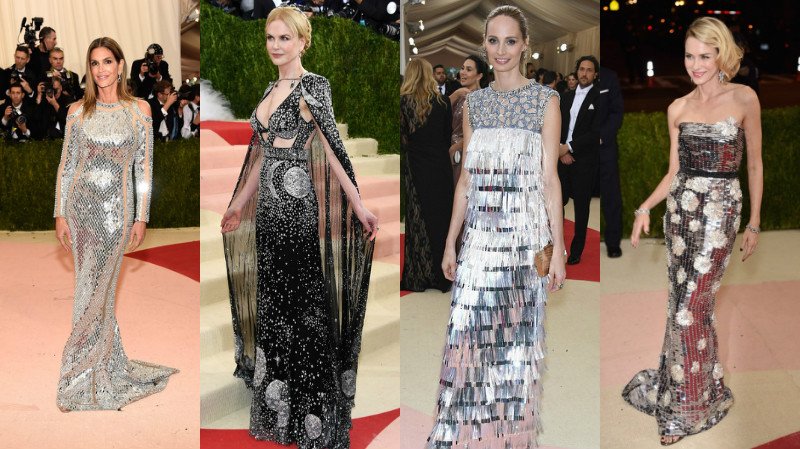 Oscar Statues
We aren't sure if some of the stars got confused which event they were attending, but so many of them arrived looking exactly like Oscars statues! Zendaya debuted a new, modern hairstyle and also glittered in a slinky gold number making her look uncannily like the iconic Academy Award statuette…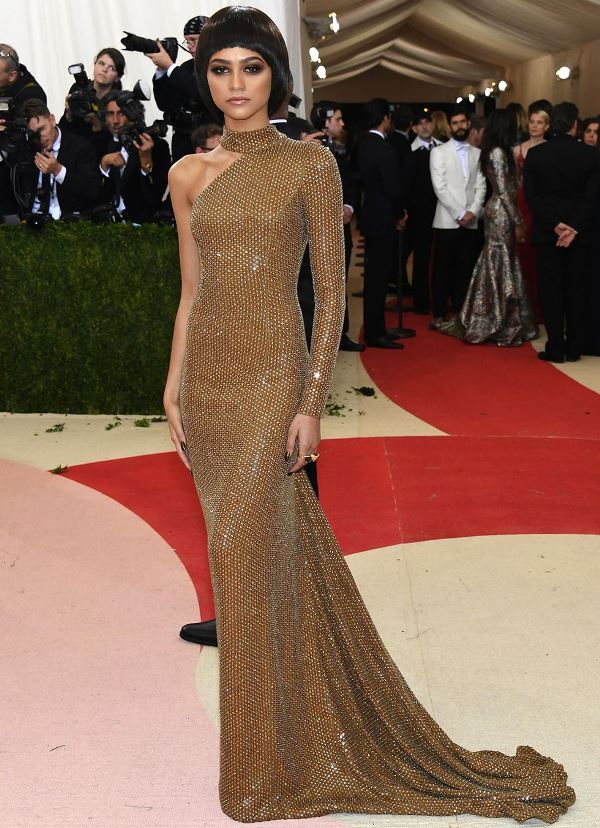 Meanwhile Johnny Depp's wife Amber Heard, Sienna Miller and Rose Bryne all chose slinky gold numbers for the evening making them look posed, regal and utterly glam. Ciara made an impact with new silvery locks and a very revealing dress and Sports Illustrated model Kate Upton revealed her new engagement ring for all to see- alongside a very sparkly, floor-length gown.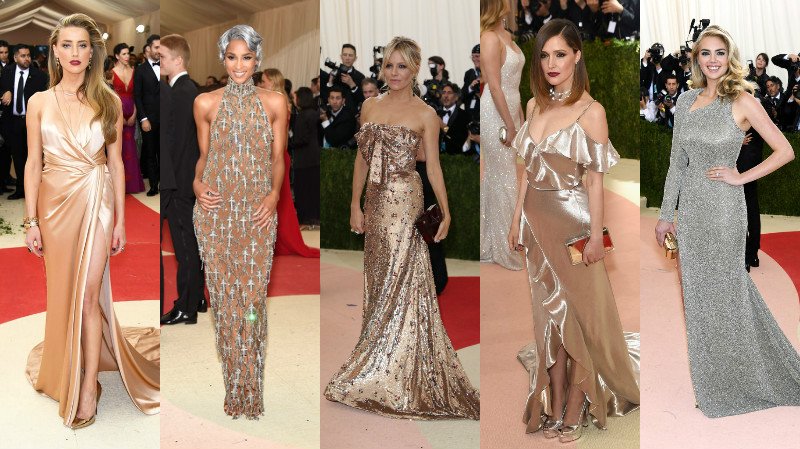 Textured Fabrics
Rita Ora was unmissable in a shimmering dress which replaced traditional fabric with feathers in shades of silver and grey, creating a modern and innovative look we couldn't help but love.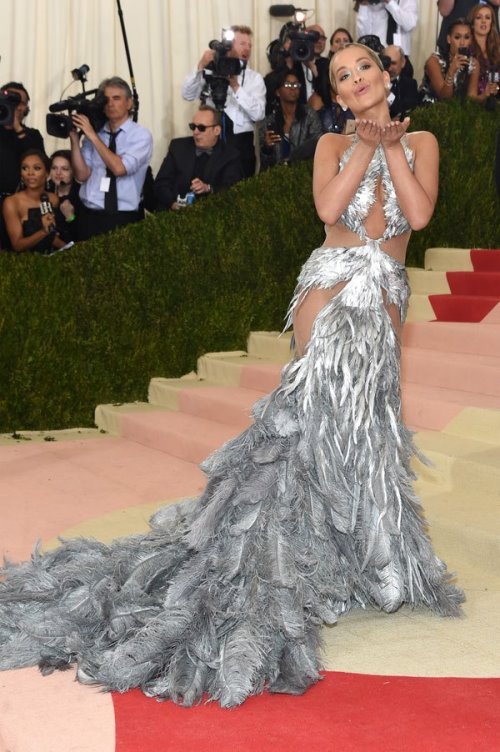 Queen Rania of Jordan also incorporated feathers into her look, as did model Anna Ewars whose feathers were all done in silver. While her famous father Johnny wasn't present, Lily-Rose Depp stole the show in a textured, fitted gown which showcased the 16 year-old's minuscule frame and cemented her as a fashion face to watch in the future.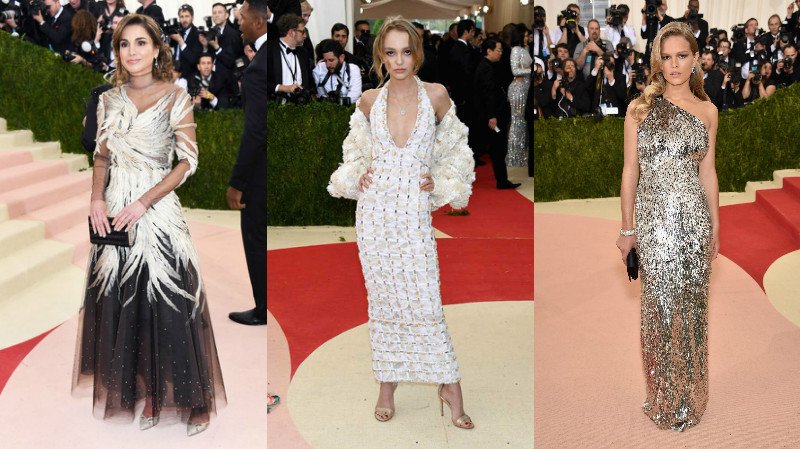 Show-Stopping Trains
Few could forget Rihanna's iconic yellow number from the 2015 Met Gala and its show-stopping train, and obviously some stars wanted to bring their own to this year's event. Zoe Saldana stole the show with her feathered train- a gorgeous accompaniment to any wedding dress we should add- and also managed to win the award for cutest couple after putting on the most romantic display ever with her hubbie.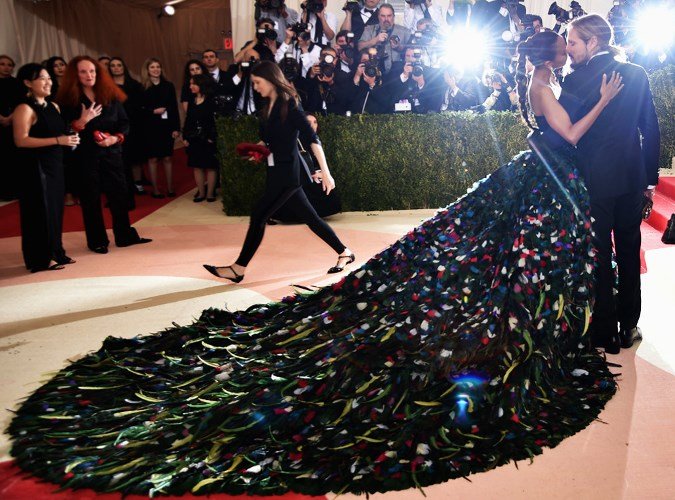 Others who opted to add eye-catching trains to their gowns included quirky pop star Katy Perry whose dramatic look was definitely inspired by the Goth-evolution (see above), British model Agyness Deen and actress Lupita Nyong'o.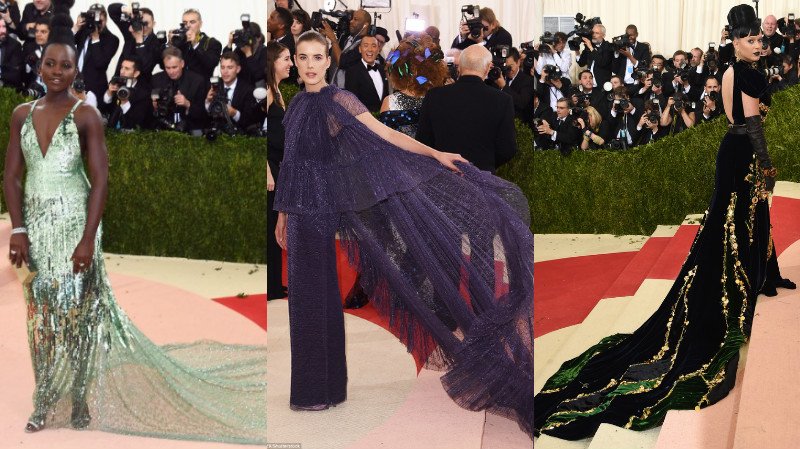 But Zoe Saldana aside, our favourite train had to be from Jennifer Hudson because she looked like she'd walked straight off of the alter to the Met and we LOVE that. Any celeb who dares to embrace the bridal look on the red carpet is a winner for us and with a strapless, structured gown, a tuffed train and stunning chandelier earrings she really looked bridal-picture-perfect!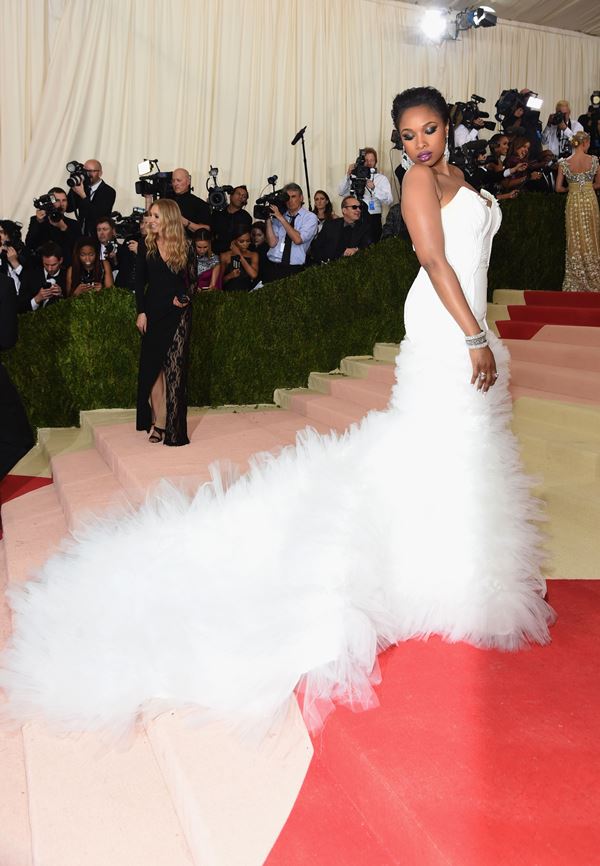 Side Cut-Outs
We have estimated that more than half of the stars at this year's Met Gala went for dresses that feature sexy side cut-outs. It really seemed to be the style of moment and Allison Williams of Girls fame paved the way with her grey, floral ballgown featured a hint of flesh at the side.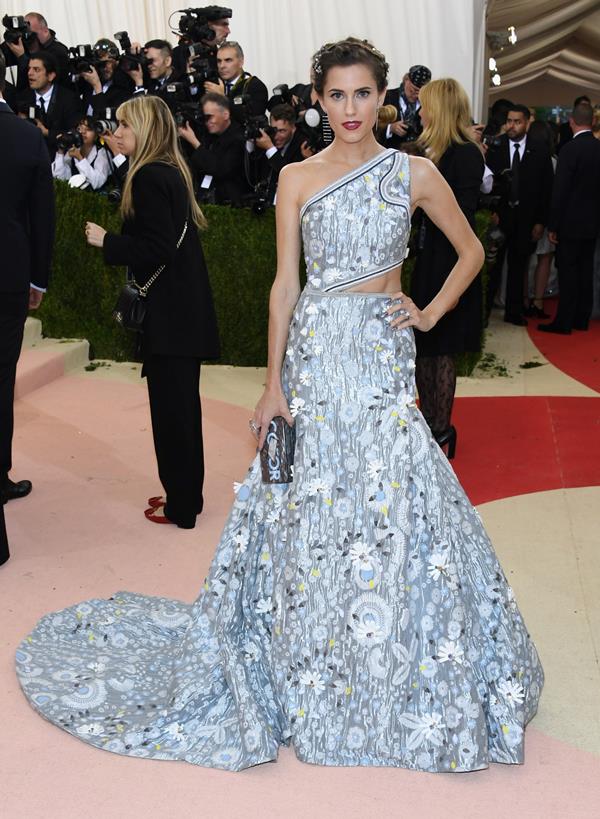 Others who dared to bare included Hailee Steinfeld in an emerald H&M gown, the beautiful Aussie Actress Margot Robbie and star of the next Alice in Wonderland Mia Wasikowska. Supermodels Naomi Campbell and Karlie Kloss even decided to take the trend one step further by not only flashing seriously sexy side cut-outs, but cleavage and toned tums too.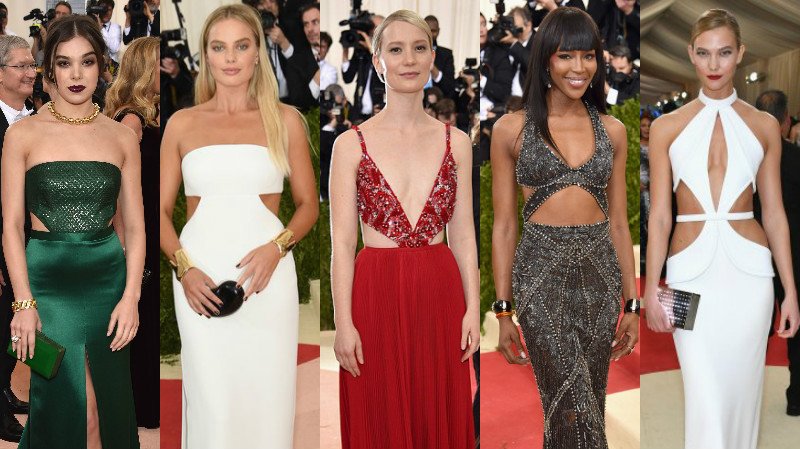 Disney Princesses
Disney is having a moment after announcing a series of 'live-action' remakes of many of their cult cartoon classics. Obviously some of the A-List wanted to show their appreciation by donning Princess-like ballgowns and having their own 'royal moment'. Claire Danes literally did in Zac Posen, and if you'd like to see what we mean by that head to our Facebook page for a glimpse of what happens to Claire's dress when the lights are off. Other stunning ballgowns included Nina Dobrev, who looked like Belle from Beauty and the Beast come to live, and Lorde– who abandoned her usual Goth look for a pretty, tulle, ombre gown.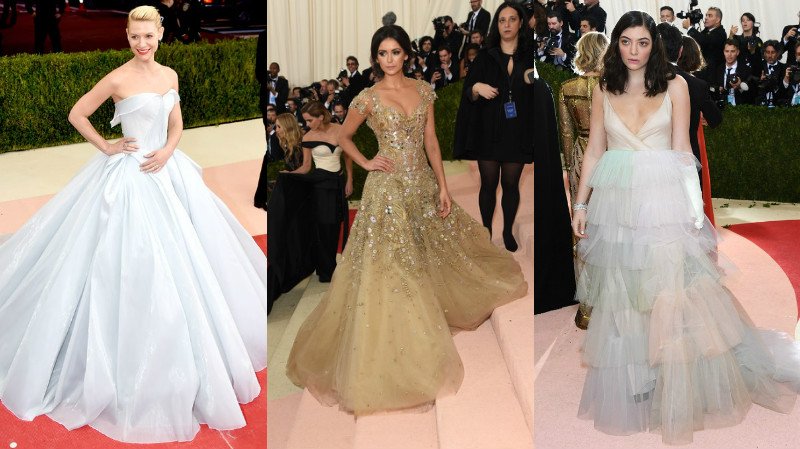 Bridal White
It wouldn't be a big gala event for us if we weren't picked out our fave bridal white looks! Obviously Rosie Huntington-Whiteley is keen to try the colour a bit before she walks down the aisle herself, as her form-fitting one-shoulder dress was utterly gorgeous on the bride-to-be. It isn't the first time in the last week she's been stopped in a wedding-esque dress though…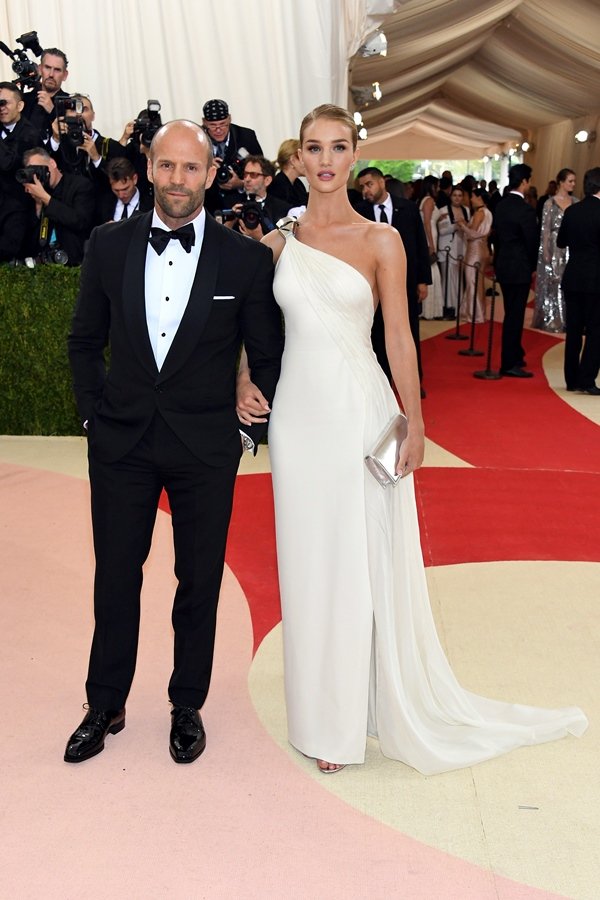 Frieda Pinto wowed in a white dress featuring shimmering silver slates- a great way for brides to think about wearing a white wedding dress with something a little bit unique on it. Saorsie Ronan and Kate Hudson also went for white, but with feathered embellishments and sheer panels, something we're seeing loads of on the bridal catwalks for 2017.
Finally Elle Fanning and Uma Thurman donned dresses in a peachier-shade of white but nonetheless perfect for any big day. Elle went for the plunge in a dramatic V-Neck number, whilst Uma kept things traditional with a small leg slit for added sex appeal.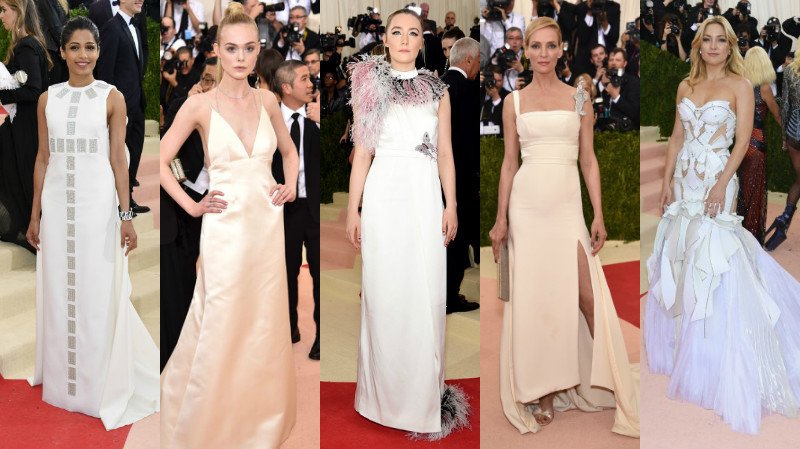 A Hint of Blue
'Something blue' is a sentence every bride eventually comes into contact with before she walks down the aisle, and blue was definitely a colour trend at this year's Met Gala. Kendall Jenner not only donned the colour in her incredibly sexy gown, but also incorporated side cut-outs to hit all the right notes.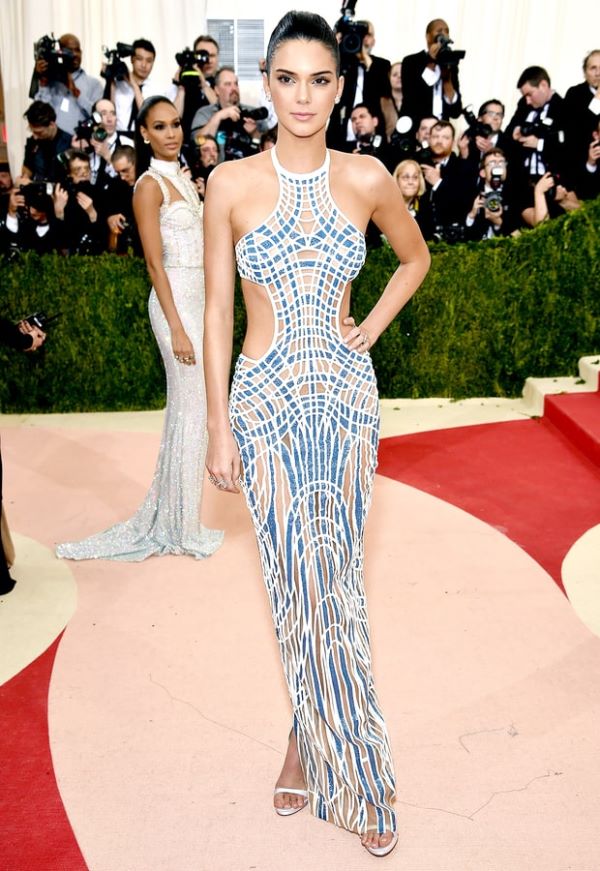 Anna Kendrick looked glam in a low-cut midnight blue dress, as did Katie Holmes whose long locks were a sharp contrast to the bob hairstyle she sported at last year's Met. Other stars to adopt the colour included model Adriana Lima who teamed an edgy top half with a demure bottom half and Jennifer Connelly who rocked some punk boots too (as did Selena Gomez).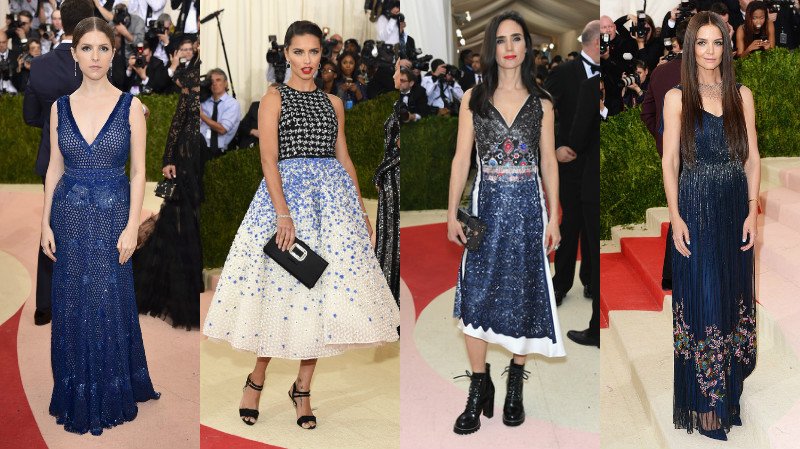 Maternity
You'd be forgiven for not even knowing Blake Lively was pregnant when she turned up in this Grecian strapless gown complete with floral cape. Not only did she look stunning, but her baby bump was carefully tucked away under layers of fabric. This look would be perfect for any expectant brides-to-be and we even love the idea of a soft blush being the wedding dress colour of choice (its also a great gender reveal idea!).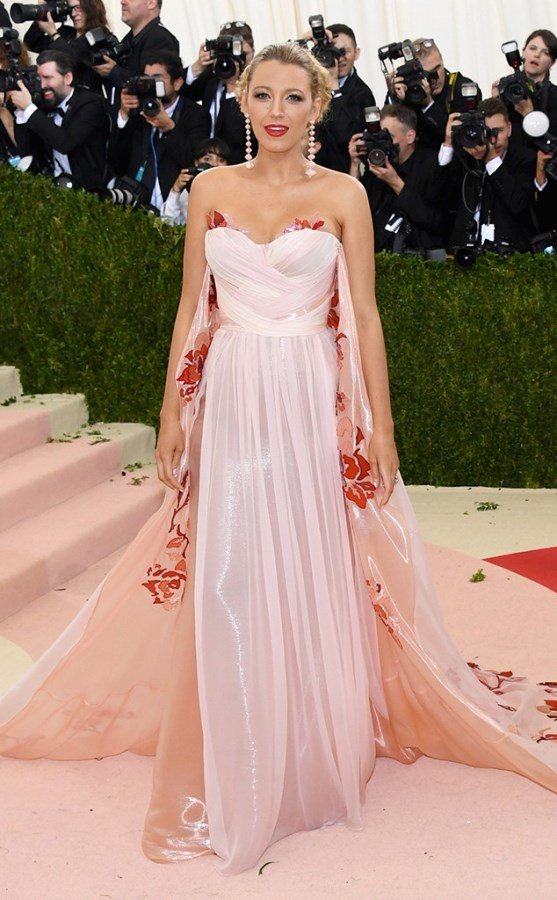 Other mums-to-be on the Met Gala carpet included Emily Blunt whose form-fitting blue dress gave her new addition a starring role and Kerry Washington and Olivia Wilde who 'punked' up their baby bumps in edgy fashion choices. No pregnancy robes at this event!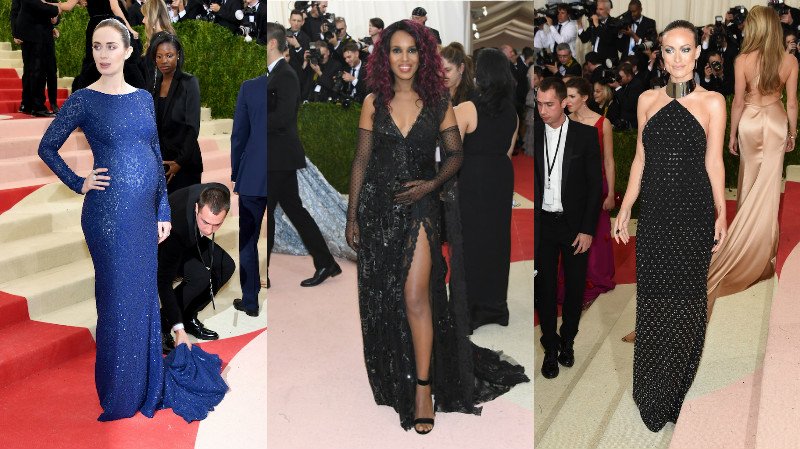 And the trends we WON'T be following…
While so many celebrities manage to hit the nail on the head with their fashion choices at the Met Gala, so many also miss the mark completely. Some of the trends we WON'T be seeing walking up the aisle include Solange's yellow number which we can't even describe and while we admire Irina Shayk's bold colour choice- we really can't get our heads around layers of lace with a completely sheer skirt covered in stars… Meanwhile Sarah Jessica Parker tried to go down the 'bridal white' route but her tulle sleeves remind us of the Victorian times- and not in a good way!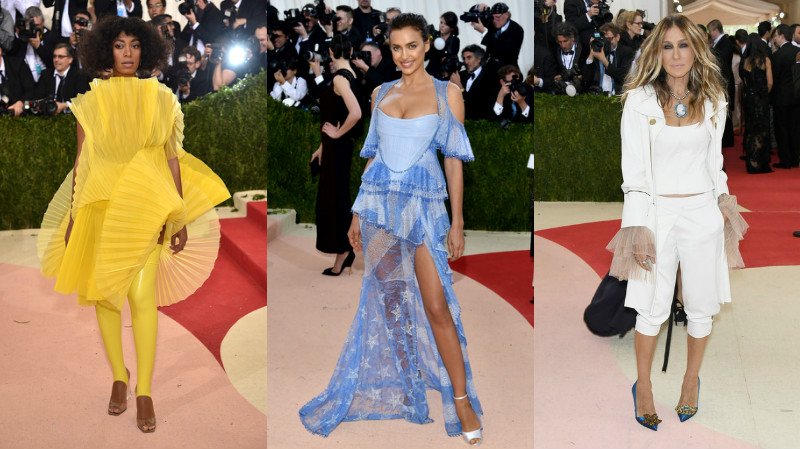 We would also like to ask whoever allowed Madonna to leave the house in a sheer thong dress whether they really thought that was a good look for the 57-year-old icon. We're all for fashion forward thinking but Madge definitely did herself no favours in this unforgettable look!!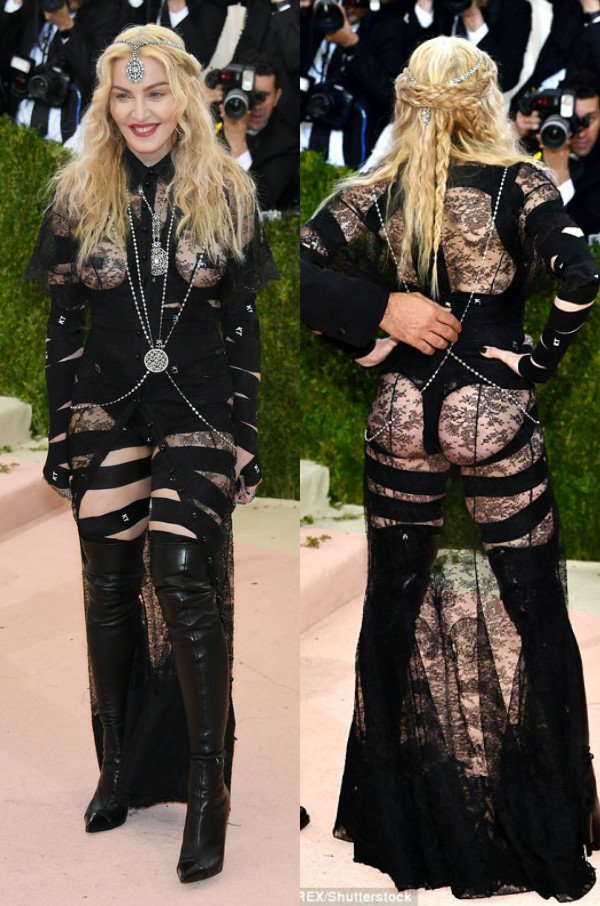 And last, but certainly not least, we must not forget Kanye West, who despite hiding behind his wife in most of his pictures, managed to hit fashion headlines for wearing an embellished silver jacket and ripped jeans, along with ice blue contact lenses. There were a lot of trends at this year's Met Gala (hardware, the future, cut-outs, feathers) but only Kanye headlined the 'Zombie' look.