The video gives an exclusive look into JWOWW's October nuptials and features her Jersey Shore co-stars, baby, and much more.
In 2009, the face of reality television was changed when MTV launched Jersey Shore- a 'fly on the wall' series about eight housemates living it up over the summer on America's Jersey Shore. The wild antics of the cast made the show a worldwide hit and launched numerous spin-off shows, including the popular and still-running Geordie Shore over in the UK.
Leading cast member JWOWW (Jenni Farley) entertained the country with her party girl persona and unpredictable behaviour, joined by her partner in crime Snooki (Nicole Polizzi) but when the show wrapped up in 2012 she retired into motherhood with a man she met during her time on the show- Roger Matthews.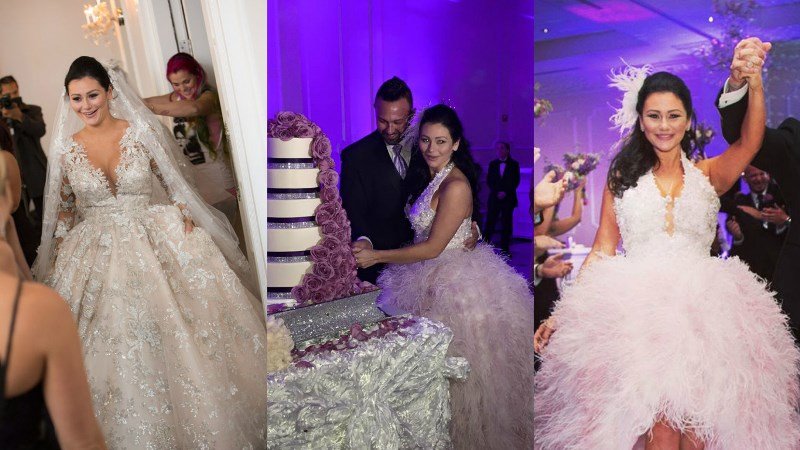 Back in October 2015 it was reported that the pair, who have starred in numerous spin-off series since Jersey Shore, had officially tied the knot in a lavish ceremony in Keyport, New Jersey. The bride wore a custom-made dress designed by Stephen Yearick, which was influenced heavily by the Victorian era at JWOWW's request, and joining her as she walked down the aisle were a jaw-dropping TWENTY bridemaids, including one token fella. Later on JWOWW changed into an on-trend feathered number complete with a heavily-embellished halterneck.
During the big day the couple also revealed they were expecting baby number two to join their adorable one year old Meilani, a surprise which took headlines by storm.
If you've been eagerly awaiting an in-depth glance at this fabulously decadent wedding, then wait no more Jersey Shore fans. But just a warning, its hard not to shed a tear or two!