Find Your Dream Wedding Dress Here!
Browse our gallery of top bridal designers and bridal boutiques to find the perfect wedding gown for you…
With so many options to choose from, it can be hard to know where to begin in the search for your dream dress. You want your wedding dress to capture your sense of style, personality, and the type of bride you are, whilst also being comfortable and making you feel amazing!
Before you go shopping, consider the style of wedding dress that you would like to wear and the look you want to aim for on the big day.
Start to consider main aspects you may want in your dress: do you want a dramatic backless dress or an elegant long-sleeved number? Do envisage yourself in a princess style ball gown or a fitted mermaid style? Whether you're a sophisticated and romantic bride looking for something classic, a bohemian bride looking for a relaxed and whimsical look or a vintage bride who loves all things retro,you're sure to find your perfect wedding gown in our wedding dress finder,that suits both your style and body type.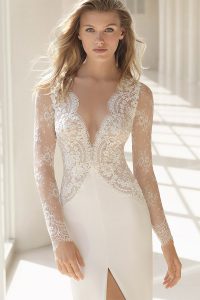 Rosa Clara

Rosa Clará entered the bridal sector almost 20 years ago, opening the firm's first wedding gown shop in Barcelona. It offered innovative designs created from the highest quality fabrics to a growing market niche that didn't identify with the products on sale at the time.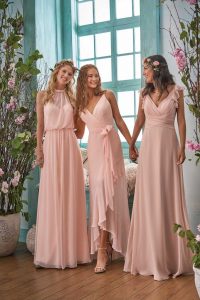 Jasmine

Jasmine Bridal wedding dresses is home to 8 separate designer wedding labels as well as two of our own line. From our renowned Belsoie dress line to our Jade dress line, Jasmine is the go to choice for wedding and special event dresses.