Win a £35,000 Wedding at The Wedding Journal Show Belfast and you will be having your wedding styled by the fabulous team at Elegant Extras NI.
Elegant Extras NI is a wedding and event accessories hire company which is based in Ballycastle and is run by two sisters Emma and Ciara. Established in 2016, the girls still love adding to weddings now as much as they did back then!
They currently offer different elegant extras to help make your big day extra special, which include venue styling, centre-pieces, authentic post boxes and much more – right down to tissues on the seats for your bridal party! They also cater for birthdays, hen parties, christenings, and any other event that needs a special touch!  Their personalised items such as our mirrors, and chalkboards ensure that your items will be unique to you!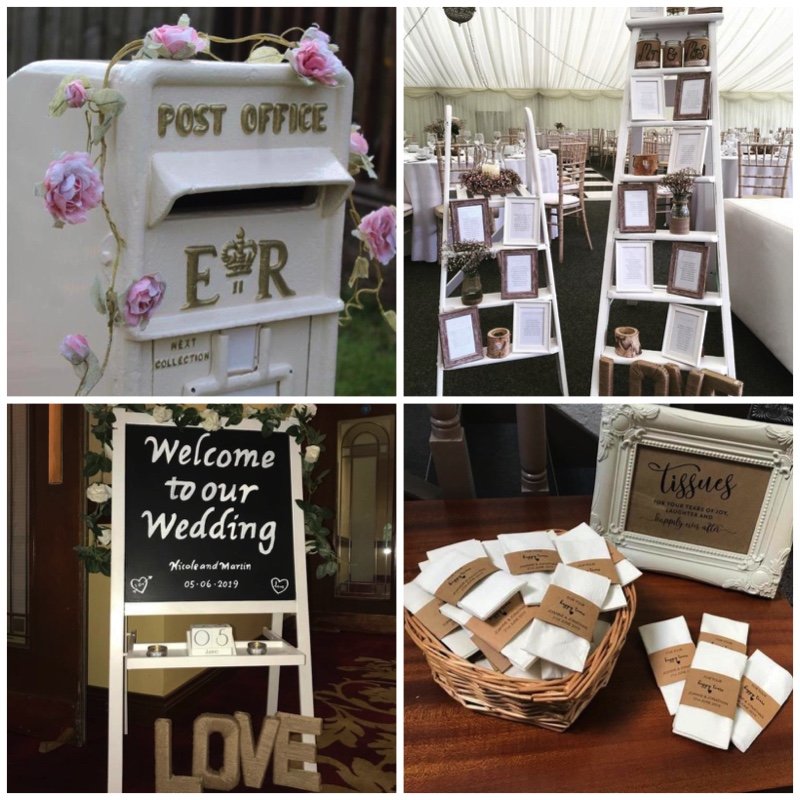 Elegant Extras have a dedicated showroom which means you can come at your own convenience for a consultation with us and have a look through all of their items, and see everything that they have to offer, along with some tea and buns which go down a treat!
They can also deliver and set up your items and also collect them after you are done with them, meaning you have as little stress as possible. 
Emma and Ciara believe that your wedding day is one of the most important and happiest days of your life, and their aim is to make sure that they only add to this and give you the elegant extras which you need to enhance your day!
The full range of all of Elegant Extras products and services can be found on their website www.elegantextrasni.co.uk

The Prize
The £3000 prize includes:
Brides house decorated on wedding morning with Lanterns/Bay Trees; Signage (Brides House); Personalised floral hoop "Mrs … to be"; Balloon Arch
Groom's house decorated on wedding morning with Lanterns/Bay Trees; Signage (Grooms House)
Ceremony decorated with the following – Lanterns for either outside or inside the venue; pew ends; eight-foot white arch for the ceremony; bay trees/Cherry Blossom trees for entrance to venue; two tiered candle holders for each side of entrance to the aisle; chalkboard/mirror with personalised message; happy tears tissues with personalised names and date; vintage bike with flowers of choice; confetti cones; signage; reception room decorated with the following; Cherry Blossom trees/Bay Trees for entrance/cake table etc; chalkboard/mirror personalised; candy cart/candy wheel/candy stall set up in apple crates; centre-pieces of choice; memory ladder decorated; table plan (ladder, mirror, board); lanterns for entrance/end of top table; card collector of choice; small flower wall for backdrop; polaroid camera with 200 polaroids and props; table decorations for beside card collectors; top table decorations; cake table decorations; crate with flip flops or flip flops set on chairs; wishing tree with 100 tags.
All this will come along with – Delivery, set up and collection; consultations beforehand and personalisation of items.
Terms & Conditions
Prize will consist of venue styling up to the value of £3,000
If chosen items total to less then £3,000, the difference will not be credited to paid
If items total to more than £3,000 the difference will not be credited or paid by Elegant Extras NI.
Items must be ordered within 12 months of being winning the prize on 6th October 2019 and at least 6 months prior to the wedding date
Prize is non-transferable or exchangeable and will only apply to the person(s) nominated by The Wedding Journal Show Belfast as the winner
Prize is not to be used in conjunction with any other offers/promotions
In the unfortunate event on a wedding being cancelled, items cannot be refunded/returned or exchanged for cash or alternative items.
Once the order has been made, no changes can be made.
Elegant Extras are unable to cover the following dates: last two weeks in December, New Year's Eve, New Year's Day.
All of Elegant Extras normal terms and conditions will apply to the booking and a copy of these will be provided at time of booking.
…………………………………………………………………………………………………………………………..
To Enter
The Wedding Journal Show Belfast is on at the Titanic Exhibition Centre (TEC Belfast) on Saturday 5th & Sunday 6th October.
To buy tickets and enter to be in with the chance to Win a £35,ooo Wedding click here