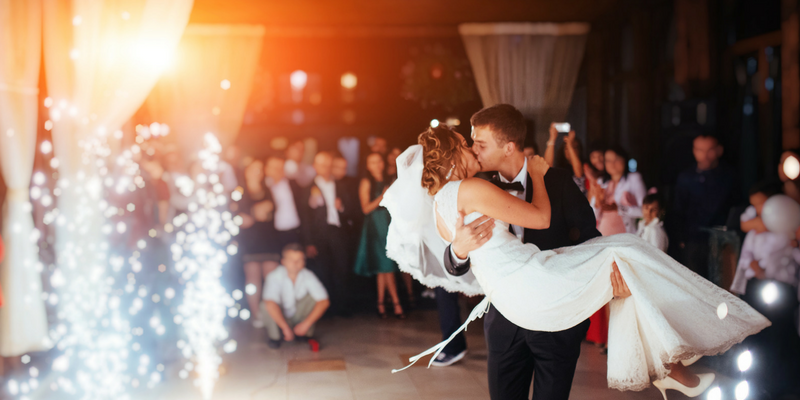 The Essential Guide To Wedding Entertainment
Choosing your entertainment is one of the most important, albeit one of the most fun, aspects of wedding planning.  One thing guests tend to remember most about your wedding is not only how it looked, but also how it made them feel!
From the emotional ceremony where you exchanged your 'I Do's' to the evening fun and all the merriments in-between, there are many ways to further leave a lasting impression on your guests through your wedding entertainment. Whether you want to include budget-friendly games or splurge-worthy surprises, we've got you covered!
Pre-reception entertainment
Adding an element of fun or background music between your ceremony and wedding reception can really help your guests mingle with each other, especially because they could be meeting for the first time. It sets the tone and breaks up the day for guests whilst you are out away having wedding photographs taken! Your pre-reception entertainment will largely depend on the ambience you are hoping to create.  If you are looking for an elegant and refined feel, why not opt for a harpist or pianist; a popular choice to add subtle yet romantic background music that doesn't overpower guests. Alternatively, consider a string quartet or jazz trio, the perfect asset to a summer garden wedding in a country manor house. Or for something a little bit different, consider vintage bands that play retro tunes or even hire a caricaturist to give guests a fun memento in which to remember the day!
Musicians
If there is one way to get the party started at your wedding reception, it's hiring a lively DJ! One of the most popular choices for brides and grooms to-be, you can hire a DJ on their own or often as part of a package with live performance bands. If you opt for a live band, do your research and find a group that suits your personality and style, whether you want a band that performs Jazz, swing, blues, rock, pop, indie or a group that an do a medley of your favourite songs. Other popular options for hiring musicians as part of your wedding band include solo harpists, guitarists, classically trained vocalists, pianists, saxophonists or even gospel choirs!
Surprise Performances
Sometimes the best parts of wedding receptions are what the guests don't see coming, so pull out all the stops and wow your guests with a unique surprise performance.  Think out-of-the-box and hire entertainers that can put on a show-stopping act such as fire-breathers, salsa dancers, flash mobs, singing waiters, belly dancers or acrobats! You could even opt for entertainment that is unique to your heritage such as an Irish dance group.  All eyes will be on you for your first dance, why not start the routine off with a romantic waltz to Michael Bublé before bursting into an energetic routine by Salt 'n' Pepa or Bruno Mars for the ultimate couple's surprise performance!
Games & Activities
No-one wants a complete snooze-fest on their wedding day! Mix it up and add a little bit of fun to entertain guests of all ages. One of the most popular options is hiring a photo booth, and it's easy to see why! Guests can have fun pulling silly faces and posing with props to take home a little photo memento to remember forever. Host a few games in the cocktail hour or go all out and hire a carnival games company for a complete interactive experience. Think outdoor skittles, Jenga, giant snakes and ladders, bull rodeos, and fairground–themed games such as hook-a-duck or tin can alley.
Kids entertainment
Keeping kids entertained is one of the most common bridal dilemmas, as many couples with mini guests often worry that they will be bored during long breaks or drive their parents crazy! However, there are many ways to keep the little ones entertained and laughing for hours on end. If your venue has the space, why not hire a bouncy castle or mini marquee with kid's entertainment such as face-painters, magicians, balloon modellers, mini discos or arts and crafts inside.  Or if your venue is small, create a children's table with washable markers, stickers and board games or opt for a full-scale scavenger hunt to keep them on their toes!
A grand finale
If your venue allows, end the night with a spectacular fireworks display or sparkler exit to truly blow your guests away and create a lasting impression! You can also create a memorable and magical send-off by releasing illuminated paper lanterns into the night sky or organising a confetti-drop in-doors, a romantic finale to what will have been the perfect day.
Other options include…
SPEND:
Casino– Keep the adults entertained for hours with your own casino area!
Carnival rides- Hire a classic carousel for the WOW factor
Circus performers- A great way to add colour and energy to your day
SAVE:
DIY fairground games- Make your own coconut shy or Hoopla rings for garden games
Table games – Why not leave cards on the tables for guests to play amongst themselves
Host a quiz- How well do you know the married couple?
DIY food station – Make your own cocktails or fire pits for toasting marshmallows
For more inspiration, and to find your dream wedding entertainment for your big day, check out our recommended entertainment suppliers at our Wedding Journal Directory.