Finding the perfect venue that suits your budget and personal taste is sometimes easier said than done.
We are spoilt for choice when it comes to the variety of wedding venues in Ireland. WJ takes a look at every possible option our Emerald Isle has to inspire you…
Castles
Your wedding is the one day in your life when you both get to be the centre of attention, so why not make the most of it and feel like a king and queen amidst the backdrop of your own fairytale castle venue. Castle weddings are popular with the rich and famous, however, that does not mean that they are out of your budget.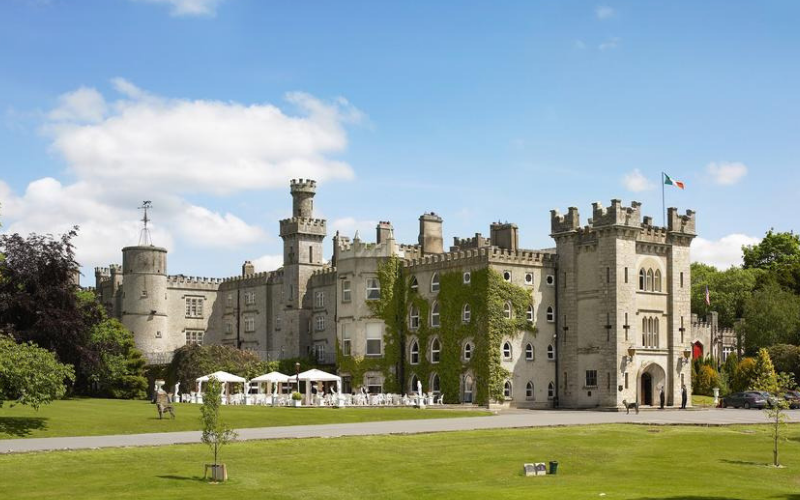 You too can make memories amongst the history and atmospheric décor of your castle venue. Castle venues also tend to work on a one-wedding-a-day policy and are often hidden away in private grounds (another reason for their celebrity appeal!), so you and your guests can bask in the exclusivity that a castle affords.
Another reason they are so popular is for those lasting memories – the photo opportunities are endless! A castle and its grounds are the ultimate backdrop for wedding photographs both inside and out! The opulent interiors indoors could also save you on the cost of elaborate venue styling as you tastefully add your own stamp to what is already there. If celebrating with friends and family in a dramatically romantic venue steeped in history is what you are looking for then a castle is the perfect choice.
Stately Manors
Not far removed the castle venue, a stately home or manor house affords a luxuriously elegant backdrop. Most are set within acres of lush woodland, which offers exclusivity and privacy as well as beautiful grounds for photography or perhaps a drinks reception if weather allows. You may even decide to set up a marquee or tipi in the grounds additionally to the indoor areas available to you (this will differ between properties with some being more restrictive than others).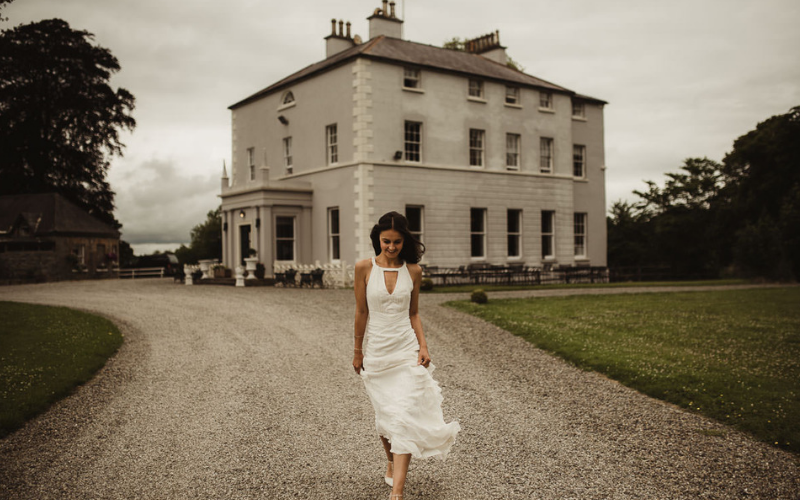 Unlike the castle which may offer a more dramatic interior, these venues tend to be more classical in their styling with a softer colour palette, yet they still have a sentimental history if this appeals to you. Another celebrity favourite, you too can party like an A-lister and 'wow' your guests with the personal service from the dedicated team making sure the venue is your home from home – albeit a much grander version – for the duration of your wedding day – or weekend if you choose to extend the celebrations!
Just be aware that not all of these venues will be catered but their wedding planner will be able to recommend caterers and co-ordinate all of this for you.
Hotels
These venues can be great for taking the stress out of your wedding day, especially if you opt for a large, luxurious hotel that offers a set price package with everything you need accounted for and accommodation to allow all of your guests to stay. Most hotels also have a dedicated wedding planner who will be assigned to you and will be your point of contact throughout your planning process again helping to make everything as easy as possible.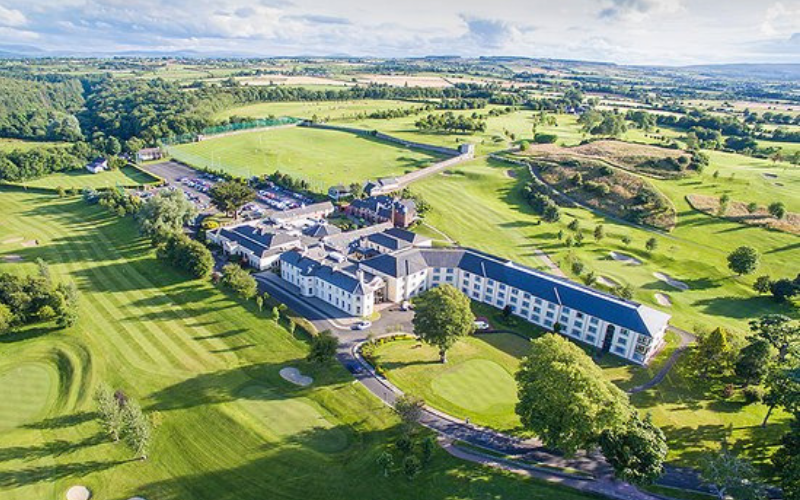 Not all hotels have a 'one wedding per day policy', so be sure to check this out before you commit to anything. You might also want to check to see if there are due to be any necessary renovations in the run up to your wedding day – you don't want to find that part of the hotel is closed off or under scaffolding on the day of your wedding!
As for the packages offered, make sure you know exactly what is and isn't included in order that you can then budget for – or negotiate – any necessary extras. If you have never dined in the hotel, it might be an idea to do so in order than you have some idea of the quality of the food and service prior to booking for your wedding.
Barns & Halls
One of the best things about a barn located on farmland or an estate, or even a village hall is the fact they offer a blank canvas for creative couples. You can create just about any style of wedding, whether rustic and quirky, simple and elegant or fashionably bohemian. You will need to determine if the barn or hall in question is an adequate size for all of your guests, for larger weddings you might be able to tag on a marquee or tipi.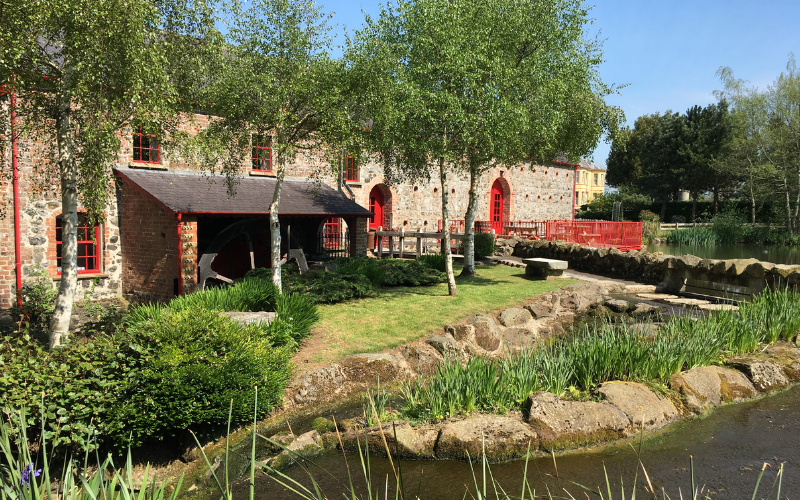 If not a purpose built wedding venue, a barn in particular may not offer basic comforts such as heat and toilets so you would need to factor in the cost of patio heaters and toilets into your budget! However, if you're marrying at a barn or hall that regularly hosts weddings and has been converted in order to do so, it's likely that the owners will have many of the necessary rentals on hand (tables, chairs etc.)
Check with the venue manager to find out what is available for your use and what you'll need to rent in order to meet the needs of you and your guests and your caterer on the day. Finally, if your chosen barn or hall is hard to locate make sure you include clear directions for your guests.
Public Buildings
Do you remember when Carrie in Sex in the City decided that the public library with all of its love letters housed within its walls would be the perfect backdrop for her special day, you too could look to enjoy your reception (and ceremony if licensed) within one of Ireland's public buildings. For example, a museum might be exactly what you are looking for as you celebrate with friends and family amongst the ancient ruins and historic artefacts on display!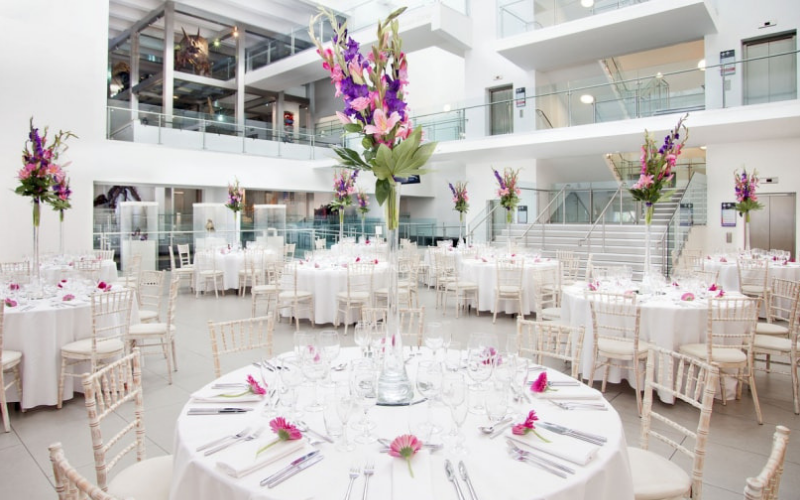 Perhaps you both met at university and would like to use an available building from your time together here or if you had a first date at the theatre this might have significance and offer the ideal wedding venue. Today there seem to be so many options with public buildings so it is definitely worth checking if they host wedding receptions (some may even have a license for your wedding ceremony to take place there too) and then any necessary costs involved.
Pubs & Restaurants
If you want a wedding venue that is laidback, charming and serves amazing, traditional food you could consider a pub venue. Alternatively if you want a more refined feel, but still an intimate affair, why not consider a restaurant. A pub would certainly lend itself to a rustic, bohemian style of wedding, while a restaurant is perfect for a classic, but edgy reception.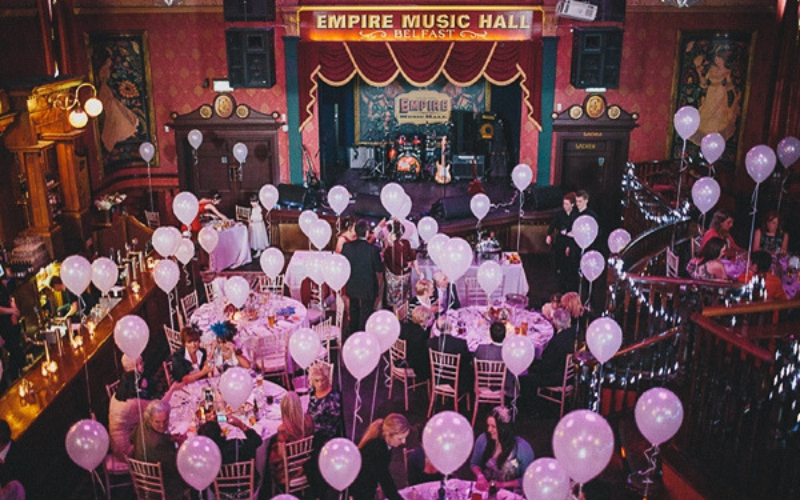 When it comes to decor this will be dictated by the venues own style – it certainly wouldn't afford the blank canvas of the barn or hall – so the interior style of this venue needs to be in keeping with your overall theme. Expect that table settings, table centres and your seating plan may be the only decorative touches you are able to personalise, but it really depends on the venue and what they are prepared to allow.
Your pub or restaurant of choice may have sentimental significance, serve fantastic food or just offer something that little bit different for your wedding. Just check they are willing to host wedding receptions, any time or day restrictions that may be in place and if exclusive use (if preferred) is an option.
Forests & Gardens
If you are dreaming of a romantic woodland wedding reception or being surrounded by lush, floral gardens there are suitable venues available throughout Ireland. It is probably easier to opt for a purpose-built outdoor forest or garden venue rather than have to seek permission for somewhere that will also require a lot of expense – and stress – when it comes to bringing in heat, electricity and water to offer lighting, toilet facilities, catering and entertainment requirements, as well as parking and ease of access for guests as they navigate your outdoor venue.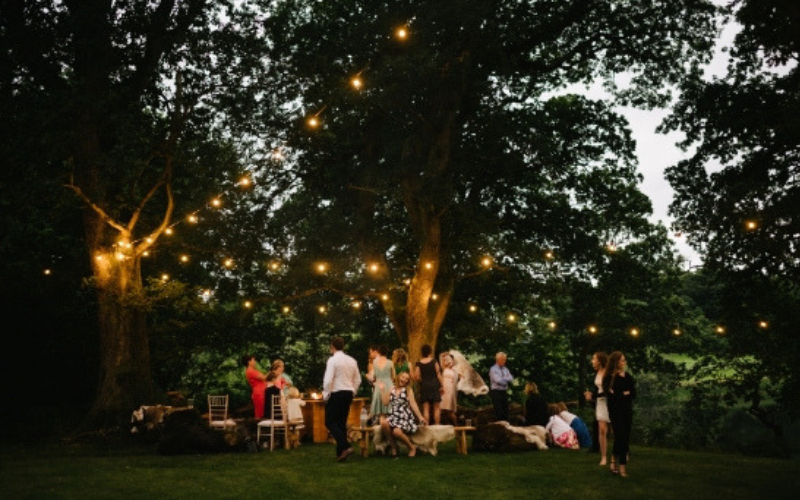 Also think about the use of candle-light – it's certainly not for these locations, in fact it's worth checking if naked flame is allowed in any venue you might choose. Music is another consideration – unless you are miles away from anywhere, but again this is something that will have a time limit at most locations, so if you plan to party all night do ask for cut-off times!
Marquees & Tipis
Give your wedding a cool festival vibe with a tent, tipi or yurt, or keep things classically styled with a beautiful marquee. These offer a great way to turn an area of land into a wedding venue or indeed add extra space and a 'twist' to wow your guests at an existing venue. They provide a beautiful warm atmosphere which supports almost any styling ideas, from formal country garden parties to laid back bohemian rustic themes.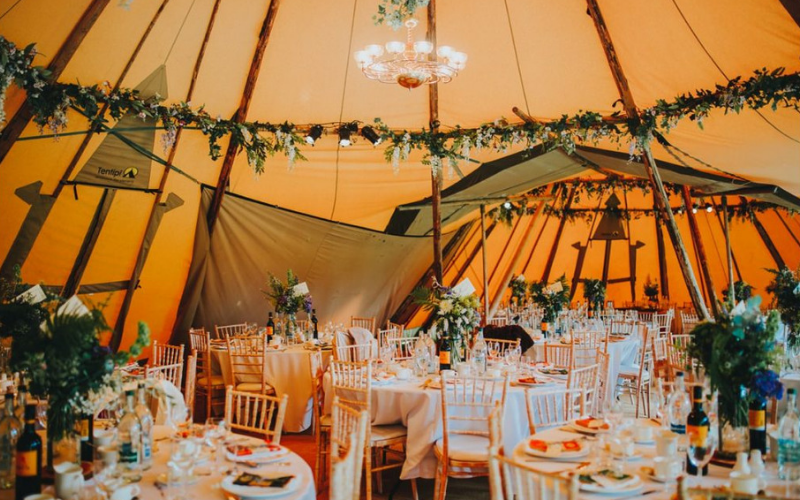 Some customers go all out with luxe-glam styling, while others keep things simple with wildflowers and homemade touches – anything goes! If you are planning to for a tent or marquee, do have a wet weather plan. While they are water tight, you do need to allow for plenty of space for everything to be kept under cover – for example your drinks reception and dance floor. Once you have chosen the style of tent and company to work with, their expert teams will make sure you have considered everything for the perfect wedding reception.
General Points of Consideration
–

If you are all about the food, look at places known for their cuisine. If it's the party that's the top of your list check alcohol and music licences.

–

What season do you plan to marry in? Autumn/Winter or Spring/Summer – remember this may affect how you use your venue.

–

How far you and your guests are prepared to travel, this is especially important if you plan to have the ceremony in one location followed by the reception elsewhere.

–

How many guests you want at your wedding. You don't want to fall for a venue that is too small!

–

Can the venue offer accommodation? It's much more relaxing for everyone if they can stay at the venue or at least nearby.

–

Last but not least, what's the budget for your wedding venue? This may dictate the venue or how you personalise it on the day.
Facebook Comments