Are you in need of some honeymoon inspiration? Wedding Journal looks at the top 10 honeymoon destinations for a luxurious Mediterranean retreat.
The Mediterranean is a rich source of honeymoon inspiration. Yes, this is a well-known honeymoon and tourism hot-spot, however there are still hidden gems to be found across Europe, as well as those well-known destination that are constantly evolving and innovating. With golden sandy beaches, sparkling sea, culture, cuisine and five-star service, let our top ten Med destinations inspire your honeymoon location…
Santorini
Created by a massive volcano eruption in 1650B.C, Santorini is said to be the original home of the mysterious lost city of Atlantis. It is possible to see why, because, with the crystal clear waters and colourful black and red beaches of Santorini, you can imagine yourself to be in a mystical paradise. The blue skies, shining sun and stately whitewashed homes of Santorini will provide wonderland like no other for couples. To relax, let yourself indulge in a good book by the pool, or wander through the sleepy streets of Thirassia for an instant moment of bliss. Prefer being active? why not swim in the beautiful turquoise sea, hike up to Ancient Thera to see Roman ruins, or treat yourself to a shopping spree in one of Santorini's major towns, including Fira and Oia.

Corfu
Let all of your worries melt away at the sight of the lush green landscape of Corfu, which is speckled with beautiful wildflowers, and turn your attention to the pretty pastel coloured houses, the gorgeous beaches and the sunny skies of this unforgettable island. Your senses will be ignited and the smells of olives and citrus, by the feel of the pebbly stone beaches beneath your feet and by the view of the cascading waves of the Ionian Sea. However, there is no need to worry about rainy days, as Corfu is home to fascinating museums and historical sites to suit the needs of any couple.

Crete
Come and explore the diverse landscape of Crete, with soaring mountains, sandy beaches and pleasant palm trees. The beautiful modern yet historical cities show the perfect contrast of old and new. All you need now is something borrowed and something blue! Despite the visible contradictions in architecture in Crete, this island maintains a sense of unity. This can be seen when you enjoy a delicious bite to eat at one of the many stunning restaurants or charming cafes, or when you speak to one of the friendly locals and have a good laugh. Whatever couples are interested in, be it history, shopping, dining or beaches, Crete and its many appealing features, has it all.

Sicily
Picture a tropical island utopia, with gentle waves crashing onto sandy shores and sunshine sparking on a clear blue sea. Add steaming volcanoes, lush rolling hills and interesting ancient ruins, and the rich tastes of fresh seafood, decadent pastas, sweet wines and indulgent desserts. You may now begin to have a picture of the paradise that is Sicily, a place to unwind and fall in love all over again with your spouse as newlyweds. With the contrast between long lazy days by the beach and the exciting and vivid nightlife of the island, you'll never want to go home!

Dubrovnik
Have you ever had a fantasy of a gorgeous seaside fortress of your own, with the sea lapping the old stone walls while you dine in the luxury in the safety of your Baroque palace? Well look no further, as the stunning city of Dubrovnik is the living embodiment of this dream. As part of the Dalmatian Coast, Dubrovnik has it all: travellers from across the globe flock here to experience the rich history preserved in the monuments and buildings; to swim in the stunning crystal clear waters; to bask in the sun on the smooth pebble beaches; and to have a taste of the delicious Mediterranean cuisine. However, there is only so much imagination can provide: the only way to really see what the hype is all about is to visit Dubrovnik for yourself!

Nice
Nice is known as the glamorous jewel of the French Riviera, beckoning beach goers to bathe in its turquoise seas and bask in the heat of the sunshine on one of its many beautiful beaches. But there is more to Nice than just a pebbly waterfront, buildings in soft pastel colours and palm trees swaying in the gentle breeze: baroque churches are hidden in a maze of quirky streets; modern sculptures emerge from the gardens of the Place Masséna; summer jazz concerts take place in the backdrop of ancient ruins; and the candy-coloured domes of the St. Nicolas Russian Orthodox Cathedral tower over you as you explore the wonders of the one-of-a-kind French city. Nice is also known for its exciting and vivid nightlife, perfect for those couples who aren't afraid to party the night away!

Monaco
Monaco is a breathtaking honeymoon destination for couples who are all about the glitz and glamour. It is a perfect place to indulge and treat yourself after all the exhausting work of planning a wedding! Are you enchanted by fairy-tales? Well why not unwind in the luxury of the location where American Sweetheart Grace Kelly married Monaco's prince. Maybe you or your partner have a need for speed? The city of Monaco hosts the exciting Grand Prix every year, which is sure to thrill. Or perhaps you're more into the see-and-be-seen scene?  Visit Monaco to catch a glimpse of your favourite celebrities arriving huge multi-million pound yachts, and be seen in the enchanting day and night life of this impressive city. Honeymooners are also attracted by the gorgeous and glamorous beaches to kick back and relax in the warmth of the sun. For newlyweds who deserve a treat, Monaco is the perfect place for them to live like the rich and famous.

Amalfi Coast
One look at the Amalfi Coast and you may believe that you have found heaven on earth. Located in the Campania region of Italy, this spellbinding honeymoon destination contains sky-high costal cliffs, vibrant vegetation, multi-coloured towns and twinkling turquoise seas that will create a scene to stop even the most seasoned of travellers dead in their tracks. Visit the pastel-painted town of Positano which draws in the rich and famous for its luxurious cliffside resorts and fine dining. Or stay in the alpine town of Ravello, where its ancient villas and breathtaking views will be forever etched in your memory. Or maybe take a trip to the town of Amalfi, the Italy's oldest maritime republic, with its charming locals. Wherever in the Amalfi coast you decide to go, you will be sure to have an unforgettable experience.

Canary Islands
As one of the best affordable honeymoon destinations, the Canary Islands boast beautiful sandy beaches that roll into sparking aquamarine waters. For couples who like adventure, the Canary Islands are a perfect place to swim, dive and surf to your heart's content. Prefer to relax in luxury? Then why not visit one of the stunning resorts in some of the bigger islands, such as Gran Canaria, Tenerife and Lanzarote, where you can enjoy gourmet restaurants, remarkable golf courses and prime beach access. The national parks of the Canary Islands are also worth a visit, with everything from volcano trips to camel rides, you're sure to feel like the cat that got the canary.

Cinque Terre
Cinque Terre is a collection of five gorgeous towns along Northwest Italy's Ligurian Coast, including Monterosso, Manarola, Vernazza, Cornigilia and Riomaggiore. These towns were former fishing villages and the rest of the world has taken notice of their relaxed and laid-back vibe, the tantalising tastes of their olives and wine and their transcendent trails that weave through towns and hug the magnificent coastline. For couples honeymooning in Italy, Cinque Terre is the ideal destination of unwind and relax after visiting the bustling cities of Rome and Venice, and can help you to take a moment to reflect in the company and love of your new spouse.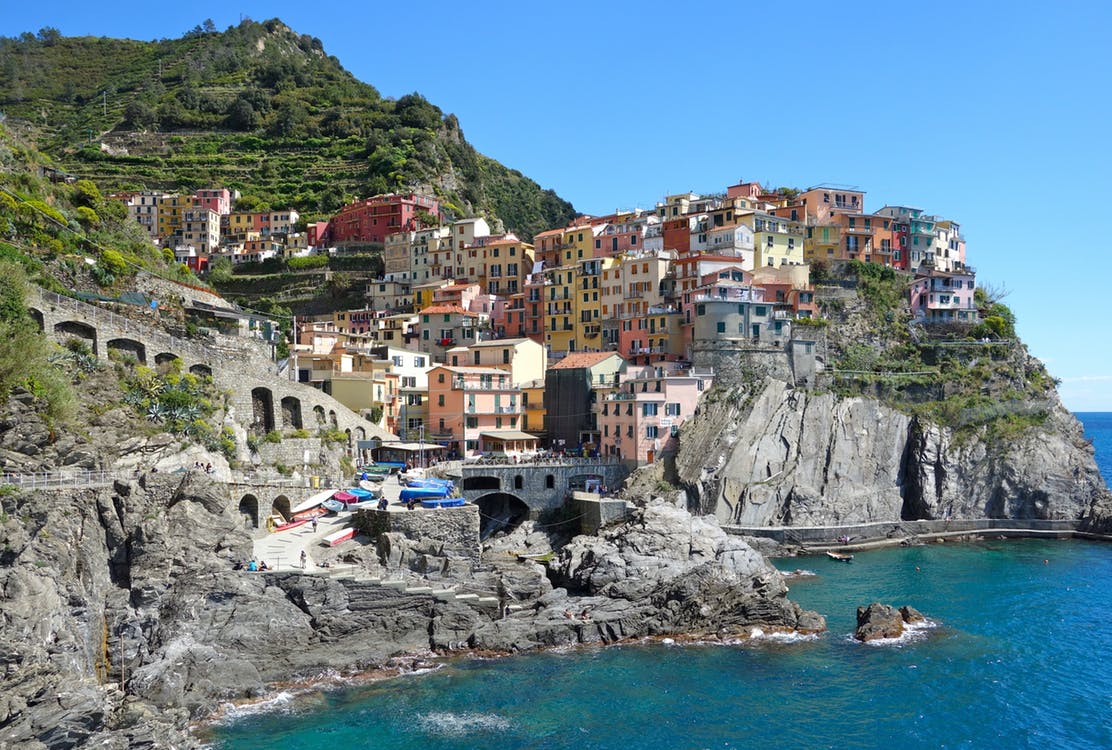 For more honeymoon inspiration, check out our recommended suppliers on our Directory here