Wedding budgets are hard to stick to with costs often spiralling out of control but you'll have no problem with these adorable and cheap D.I.Y wedding favours…
20 Cheap DIY Wedding Favours
Sparkly Champagne Bottles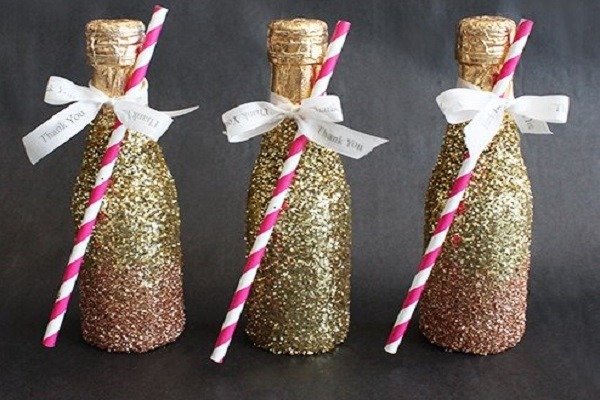 Simply buy the bubbles in bulk at a discount, cover with sprayable glue and roll in glitter! For that extra va va voom, secure a funky straw to the bottle with ribbon. To keep costs down opt for a cheaper alternative to champagne such a Cava or Prosecco.
Here's our favourite tutorial: Gold Glitter Champagne Bottles
Personalised Badges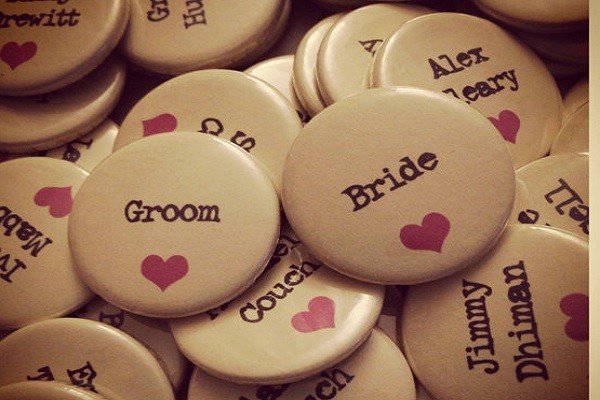 Purchase a job-lot of badge cases off Ebay or Etsy and pop a picture of your guests inside. A caricature drawing of the guest or their nickname is a great talking point to break the ice!
Homemade Chill Jam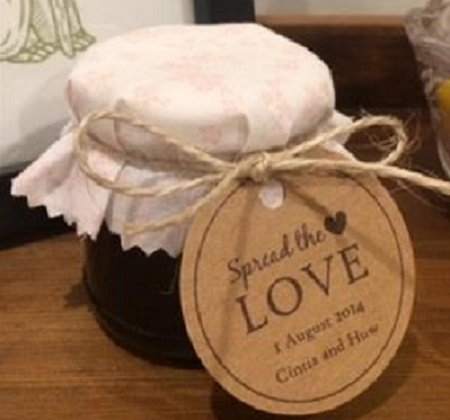 Chilli jam is cheap, easy to make and absolutely delicious! Make a huge batch of this savory spread and bottle into mason jars for your guests to take home and enjoy.
Infused Oil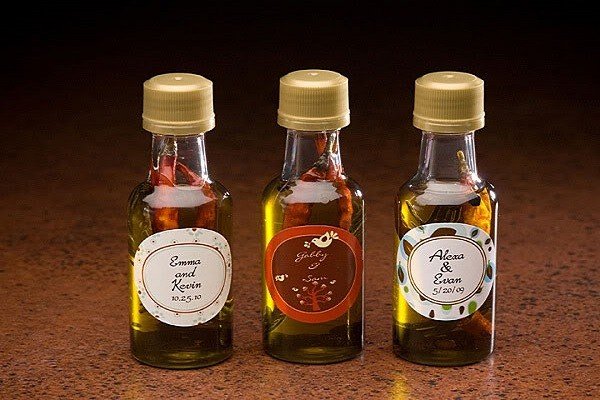 One of the easiest favours to D.I.Y- purchase olive oil in large quantities and decant into cute mini glass bottles. Simply add chillis, lemons, rosemary or any herb that you like and leave to infuse. Bottles with a cork stopper are fab for a rustic wedding.
Naughty Hot Chocolate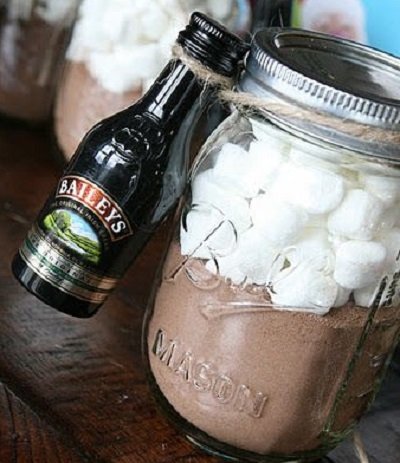 Another simple one for the foodies. Pop the ingredients for a luxury hot chocolate in a mason jar and attach your favourite tipple with some twine. Great warming treat for winter weddings!
Teacup Candles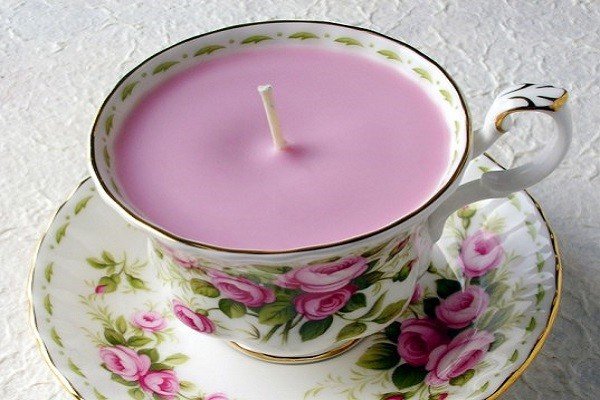 Teacup candles make amazing table decorations and double up as favours too. See if your Granny has any (cheap) tea sets that she'd like to donate or scour charity shops for bargain finds to give your wedding that perfect vintage feel.
Here's our favourite tutorial: teacup candles
Breakfast Box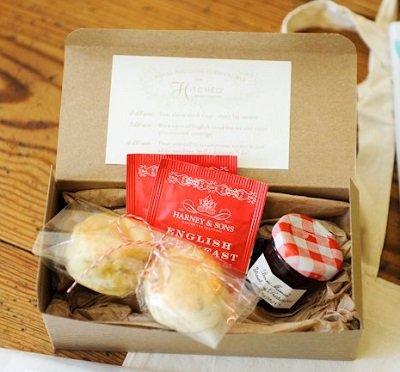 If you have a lot of guests travelling from afar prepare them an adorable breakfast box for the next morning. All you need are a few bags of gourmet tea, a little pot of jam and either scones or a croissant. Bonus points if you make the jam yourself!
Pie in a Jar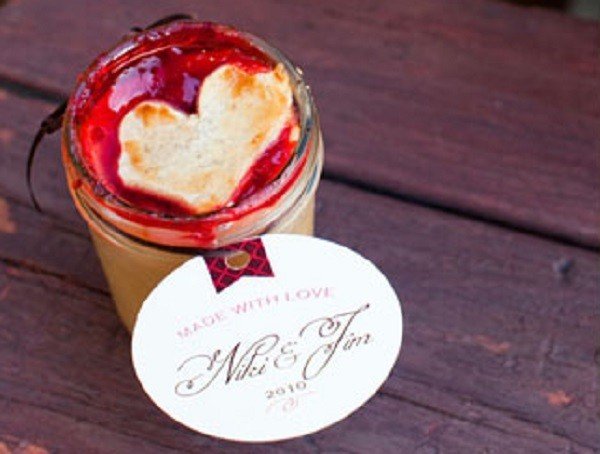 What is more adorable than baking a teeny tiny pie in a jar for your guests to take home? The answer- nothing! Whether it's a savoury or sweet pie you choose, make sure to prepare the pots well in advance and freeze until the big day!
Here's our favourite tutorial: Pie in a jar
Hangover Kit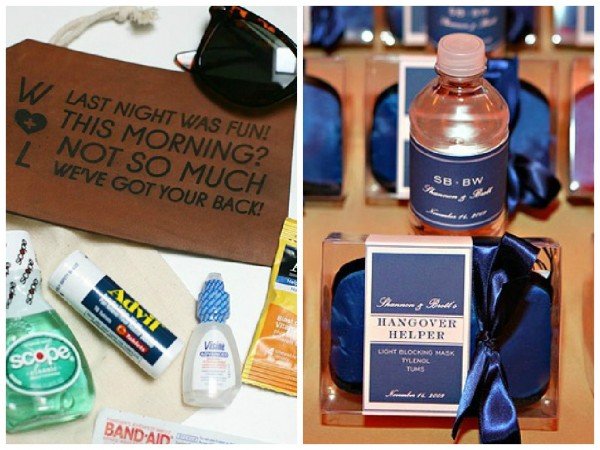 Low cost and very helpful to those guests who may have over indulged. Keep it classy with a personalised water bottle and eye mask or make up a practical kit with anything from paracetamol to Berocca!
Alcohol with personalised label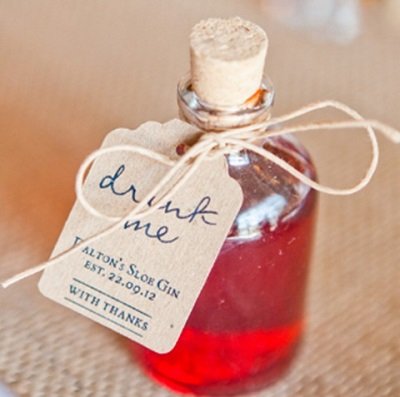 Usually a resounding success with guests, it's hard to find one bottle left on the tables after the wedding is over. Make the label yourself and call it D.I.Y or go the whole hog and brew the alcohol too. Spirits that are easy to make yourself include, sloe gin, limenchello and flavoured vodka. For a winter wedding try a festive eggnog!
Cake Pops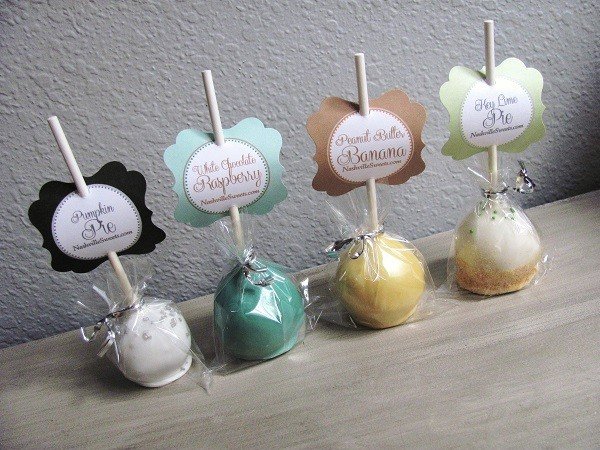 If you're opting to forgo the traditional wedding cake and serve cheese, macaroons, donuts or even pork pies instead, beware of angry guests! Many only come for the cake (and the booze, that is) so for sugars sake let the people have their cake as well!
Cake pop makers can purchased at a reasonable price  from a range of high street retailers and only require a cake mix, pretty straw and some cellophane. Aim to make a few days before the big day to alleviate the wedding eve panic!
Mix CD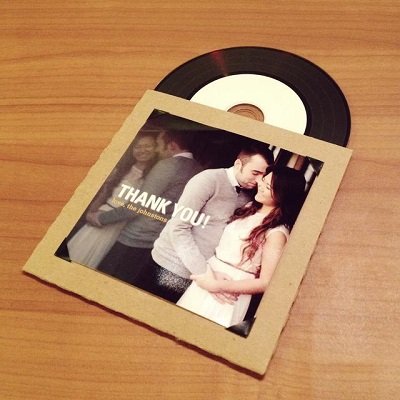 If you and your partner have amazing music taste, gift your guests a sweet reminder of the day to listen to on the journey home. Personalise with songs that mean a lot to you as a couple and decorate the sleeve for extra cuteness.
Take-a-way Boxes of Sweets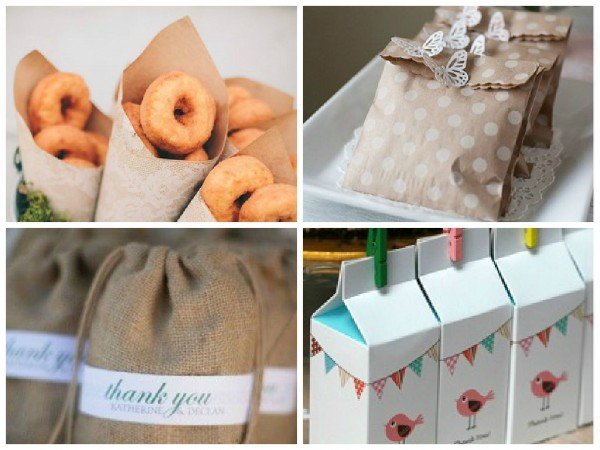 Lots of couples are now offering a sweetie/candy bar at their reception as they're super yummy and cheap to provide.
However, many people can be too full after a huge meal to properly make use of the bar so craft adorable little boxes or bags for the guests to fill and take home with them. If you're a keen sewer, do that extra mile with a pretty drawstring bag.
Homemade beauty products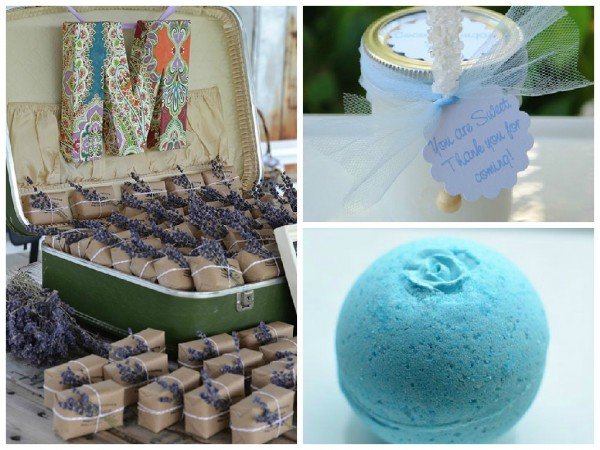 Do you have a family beauty recipe you swear by? If not, but still love the idea there are plenty of homemade recipes for sugar scrubs and soaps online. Tie these beautiful gifts into your wedding themed by making them in the scent of the flowers used in your bouquet.
Coffee Beans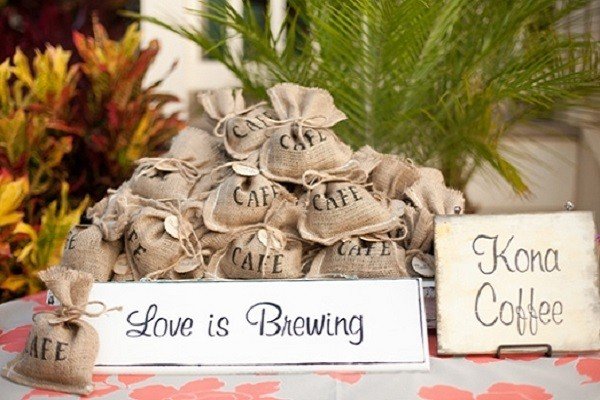 A unique alternative to the edible favour, most people have some kind of coffee machine at home and would welcome a new blend to try. Best suited for couples who had their first date at a coffee shop, buy the beans in bulk and package them any way you like. For an extra special touch include a small card with the story of how you found love over a cup of coffee.
Hot Sauce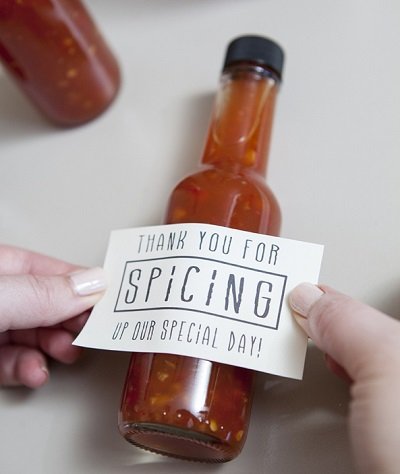 Hot sauce is hot, hot, hot at the moment but rarely given as a wedding favour. If your guests can handle the heat, simply make up a huge batch, bottle it yourself and add a cute label. It can take a bit of time to get your recipe perfect but we guarantee your guests will be talking about it forever.
Here's our favourite tutorial: Hot Sauce Wedding Favours– they even provide a downloadable label template!
Photo Props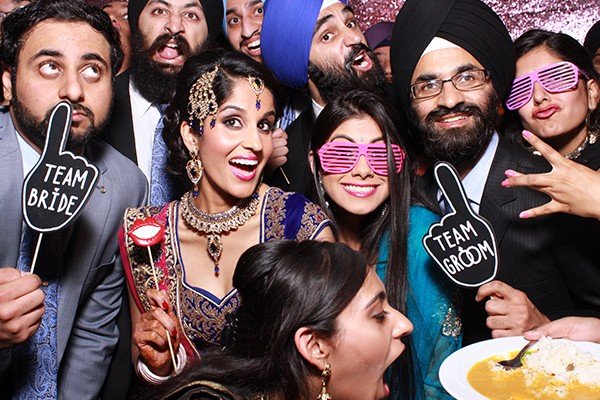 Everybody loves a photobooth but they can be pricey. For a cheaper alternative hand craft photobooth props like moustaches and oversized glasses by cutting out a template found online. Attach the finished creation to wooden sticks and pop one at each place setting as a favour.
This way your guests can enjoy taking silly photos on their phones and upload them to Instagram without any delay!
Wedding Activity Packs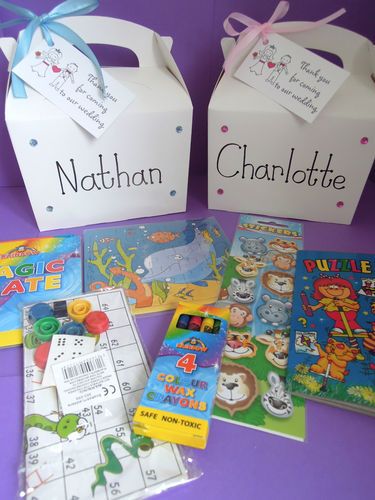 A happy wedding is always helped along by happy children- don't neglect your younger guests and make an affordable activity pack that will keep them entertained all day long. Shop around for bargains and fill a gift bag with a selection of colouring books, pens, games and cheap toys.
Don't forget to include something sweet to keep those little appetites at bay!
Let love grow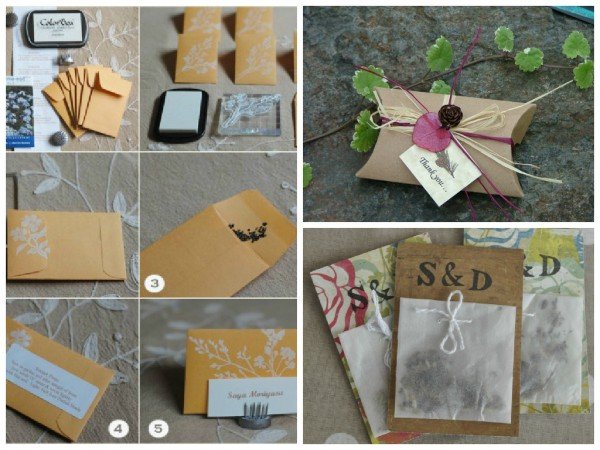 Seed packets are always a winner with guests old and young because who can resist a pretty reminder of your special day? Craft the packets from small envelopes or card and decorate as you wish for an elegant, whimsical gift.
Book of family recipes
If your family are keen cooks and you can't decided on just one edible favour, why not give your guests access to all your recipes? These notebooks will take time to make but all the effort and thought put into them will succeed in making it the ultimate, intimate wedding favour.
If you fancy making the notebooks too, here's our favourite tutorial: Family Recipe Book Favour
Kelly Prizel
If you're getting married or you know someone who is and are in need of Wedding Gift Lists & Gift Registry in Co. Antrim , take a look at our brand-new directory!