Lovers of the free-spirited, bohemian trend are going to be totally smitten with Enzoani Bridals' stunning new collection.
Nestled in the hills of vibrant and sunny California, the Enzoani team travels to the hills of San Fernando Valley for its latest shoot featuring Enzoani's 2019 collection. With talent from Jay Jay Studios paired with the gorgeous Linda Chiriac, we are whisked away to a truly enchanted scene with hidden gems around this residence.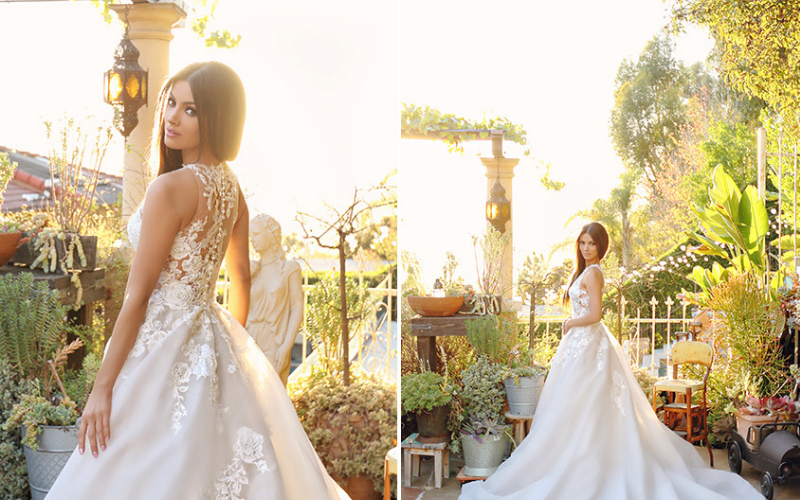 NIKOLA is perfect for the bride who wants the right touch of feminine feel without going over the top. This gown features a gorgeous illusion back with buttons along the back side. We're loving all of its lacy details.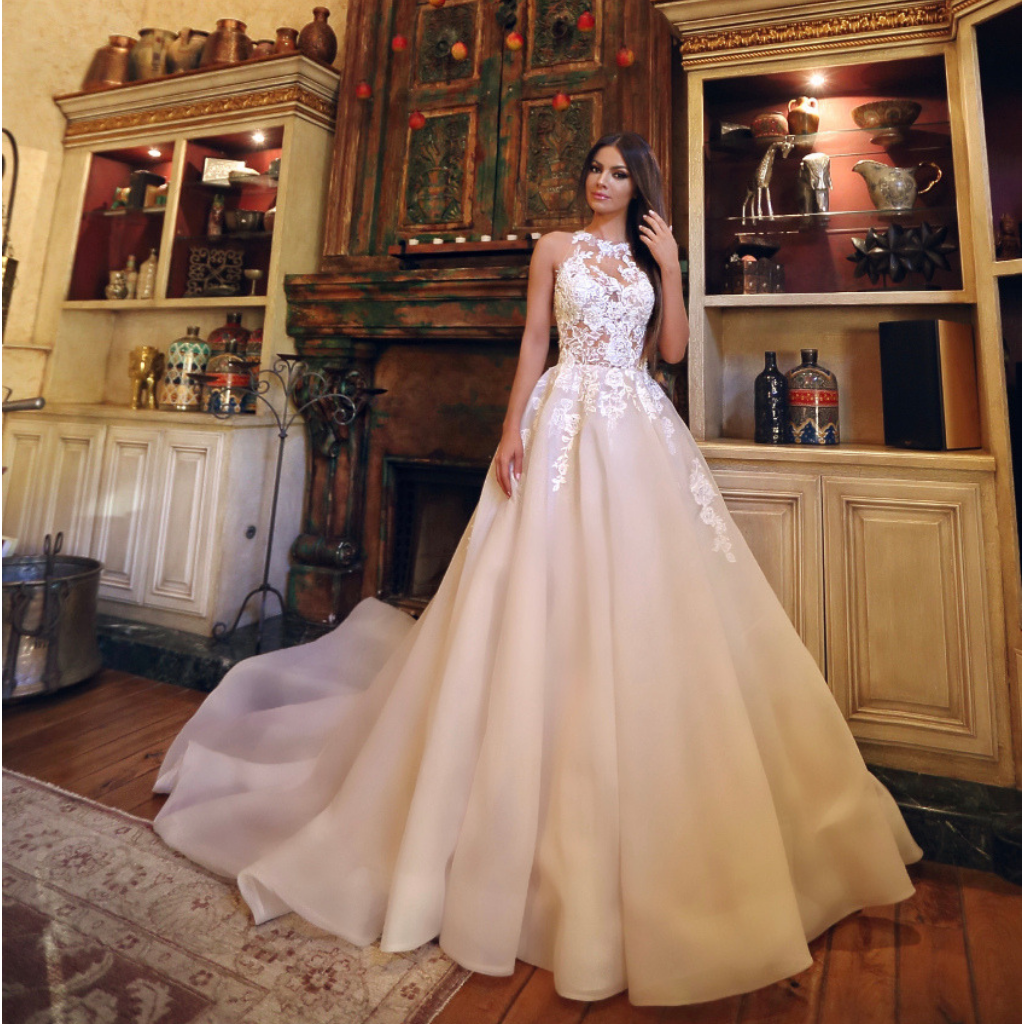 What we love about NIKOLA is her lace and how it is presented. It starts at the collarbone and slowly fades to the skirt around the bodice. This helps to shape the bride's body making it a perfect A-line gown.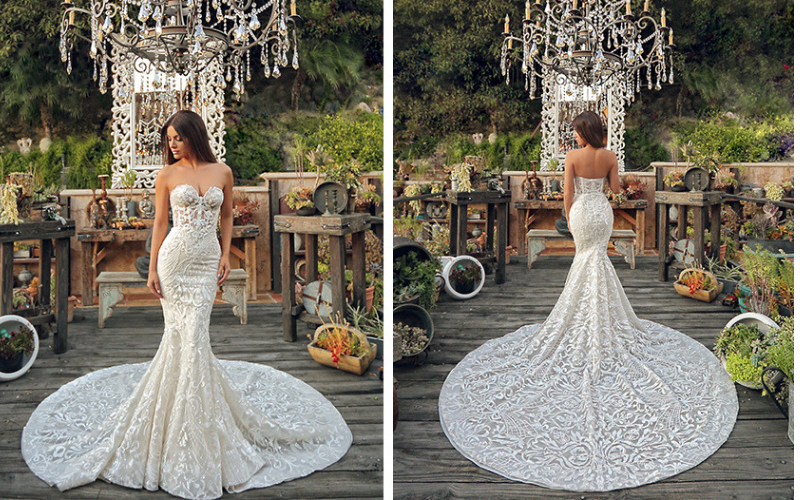 NIKITA first hit our social pages as it graced us with its presence on Cabo's tropical shores. This curve-hugging mermaid gown is sure to be a favourite among brides with its regal lace pattern that gives it a sweet and sophisticated feel as opposed to traditional floral lace.
But, this gown also has more to it than its regal lace pattern — NIKITA is adorned with sequins through its fabric from its sultry bodice to elegant train. It will be sure to catch eyes down the aisle.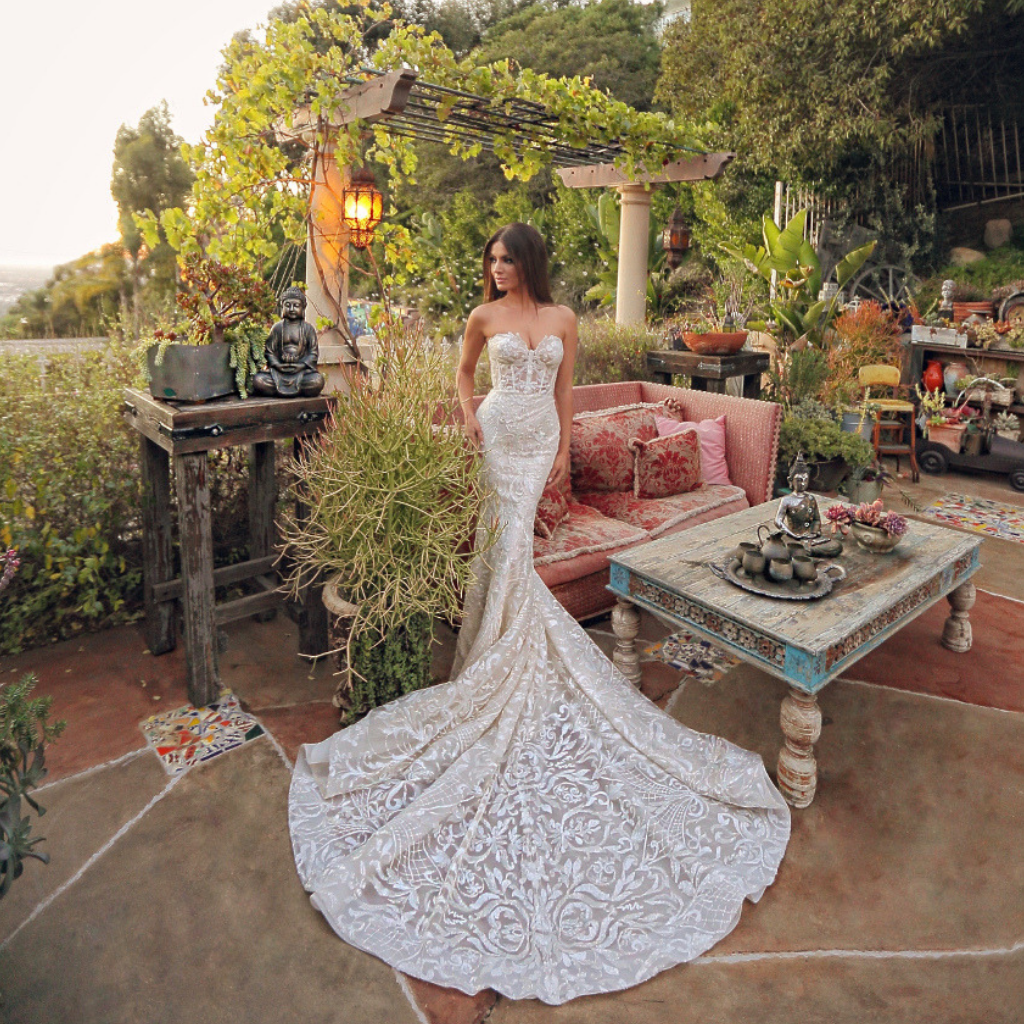 While its silhouette and unique lace pattern are certainly part of NIKITA's appeal, its sweetheart neckline and corset-like bodice also help to shape the bride's figure, making this gown fit like a glove on any bride on her wedding day.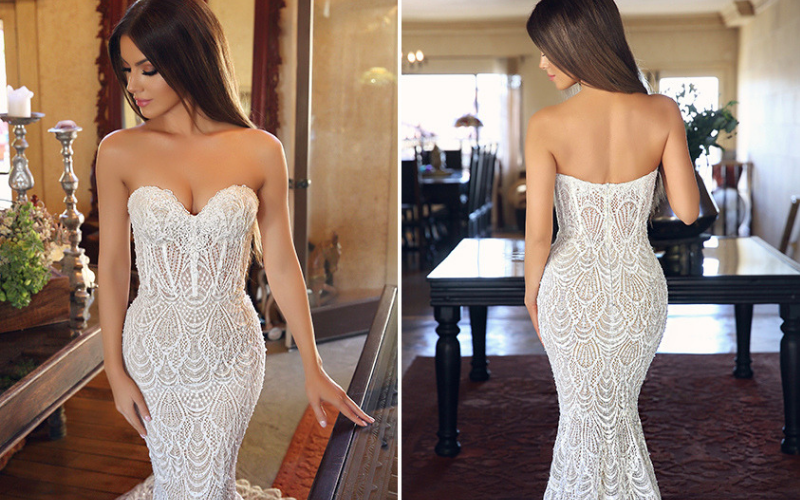 Similar to NIKITA, NEVILLE features a sweetheart neckline and corset-like bodice. Both gowns offer different lace patterns that stray away from traditional floral or Chantilly lace.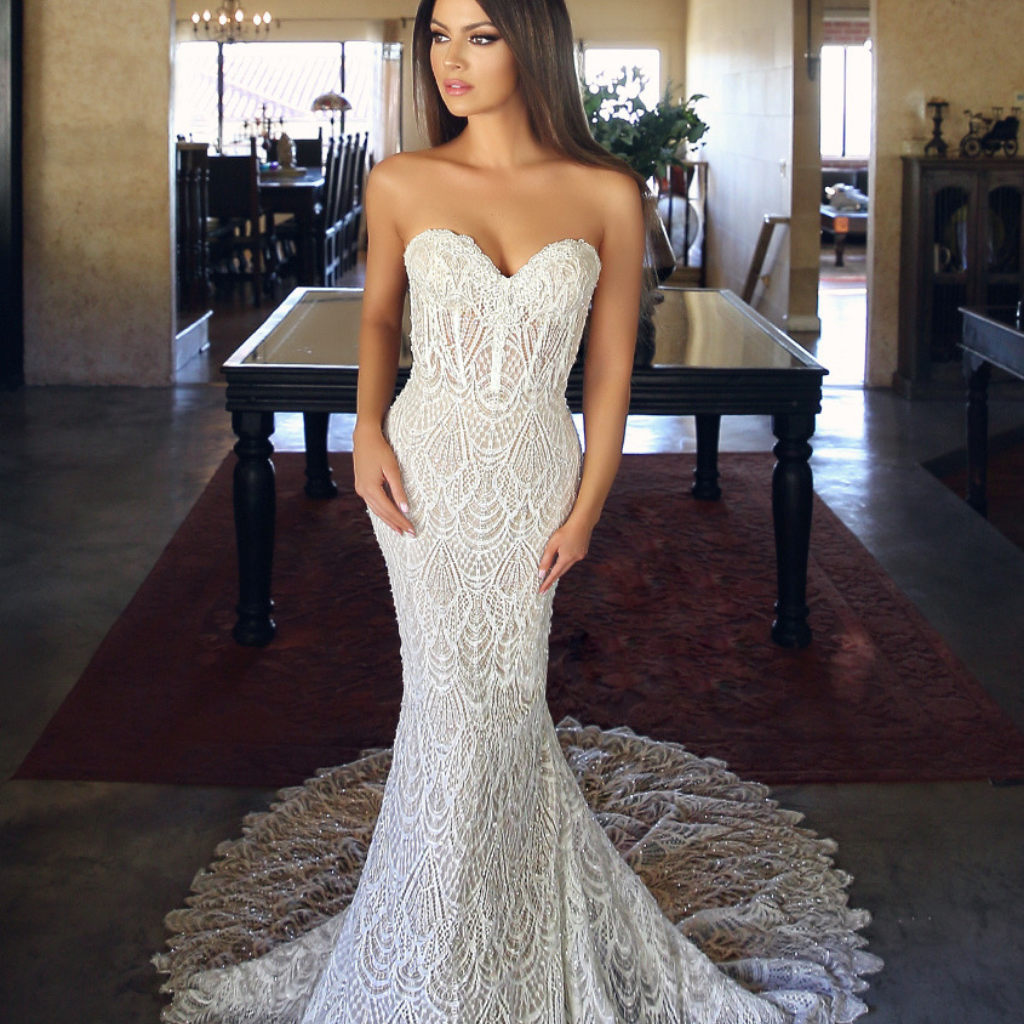 NEVILLE offers gorgeous beaded lace throughout its gown with lace that is said to be similar to peacock feathers or seashells. These qualities truly make NEVILLE a one-of-a-kind gown from Enzoani's signature collection. Perfect for any beach or destination wedding, NEVILLE is light with its humble train that finishes with a scalloped hem.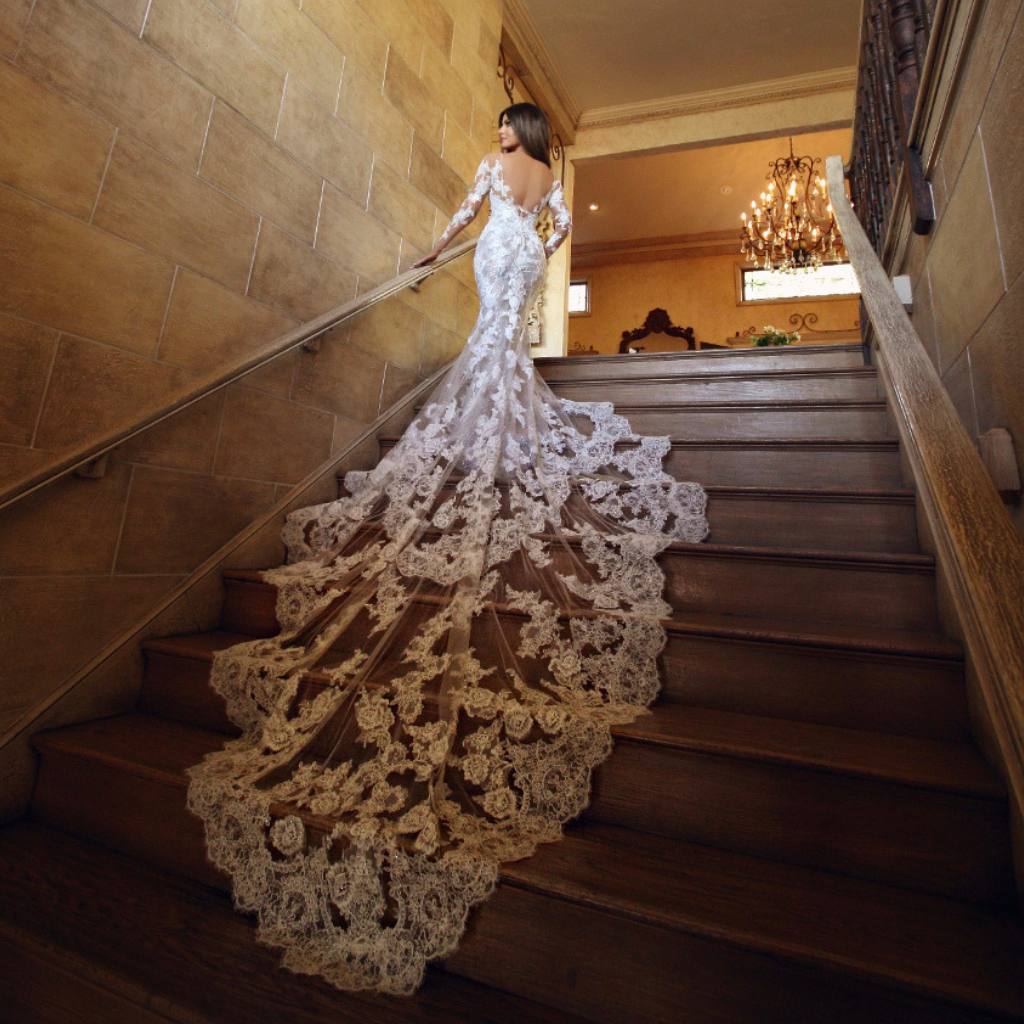 NICOLETTE-B is new to Enzoani's social pages. We love this gown not only for its signature Enzoani two-tiered train, but also because she is a two-in-one gown (outer long sleeve layer over a sleek spaghetti strap mermaid dress)! Talk about versatility.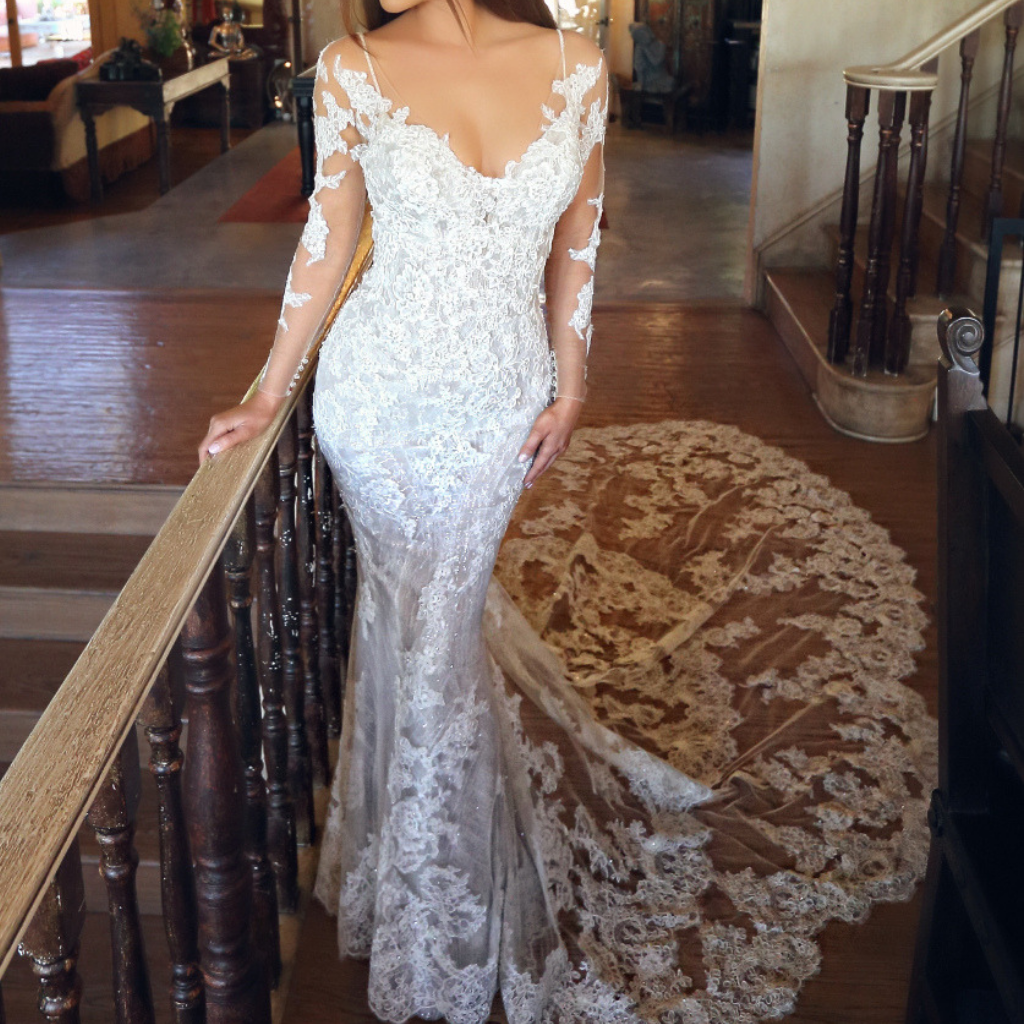 This gorgeous gown is sure to check off many brides' lists with its mermaid silhouette, floral long sleeves, and a deep open back. Be ready to walk down the aisle effortlessly in this gown.
We love drama, but only when it comes to dramatic trains such as this. See NICOLLETE-B's counterpart here under NICOLETTE-A.
---
Dream Team Credits
Photography: Jay Jay Studios
Hair/Make-Up/ Model: Beauty By Linda Chiriac
Stylist: Arsine Edjhuryan