When it comes to booking wedding entertainment, it often comes down to your music choice, do you choose a live band or DJ?
Not all of your guests will be interested in the music played at a disco, and more often than not, guests can often be nervous on the dance floor. But not at a Ceilidh.
Originally the word Ceilidh (kay-lee) descended from the Gaelic word for 'gathering' or 'party'… However, these days when people think of a Ceilidh, they think of a fun filled night of wild dancing, good music and great company!
1 – Everyone Joins In
You and you're guests will be under the watchful eye of the professional caller who'll be with you every step of the way – walking you through the moves before each dance and continuing to call out helpful hints through out the rest of the dances.
The key to a great ceilidh band is to encourage guests onto the floor in a friendly, tongue-in-cheeky and informal way.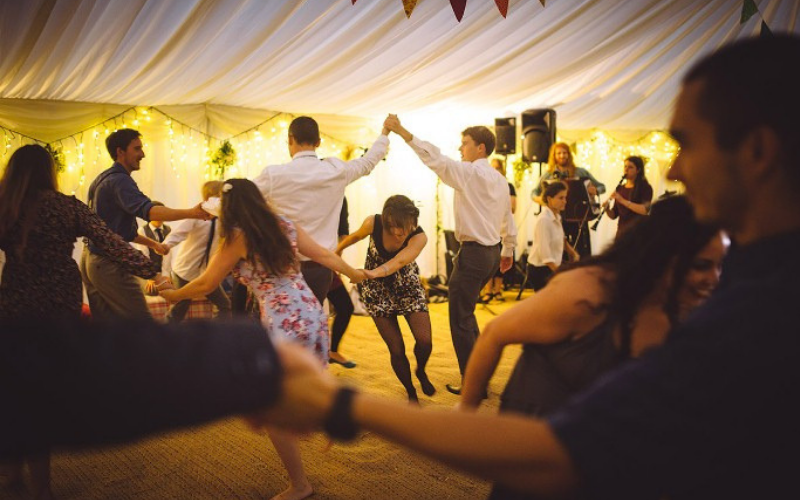 2 – Support Local Talent
There's something so special about a live band, and Ireland hosts some of the world's greatest musicians.
You'll be providing a living wage for passionate people who play simply because it's important to them.
3 – It's Different
If you are looking to surprise your guests with something fun, this is your best bet!
Every dance is different so every dance takes a minute or two to learn. There'll be clapping, singing, laughing and most of all, fun.
Ceilidhs (or ceilis) have been growing in popularity at weddings in particular, as the dances involve everyone – from the young to the not so young.

4 – There's No Competition
Nobody is ever an expert at it, the emphasis is on having fun and being sociable. This is the perfect icebreaker, especially if guests are meeting for the first time!
The worst part about any disco is the awkward (and inevitable) comparisons you make with other people. However everyone dances the same moves in unison during a ceilidh.
5 – Party All Year Long
Best of all, cèilidhs are great for any time of year, they work for all social occasions.
In short, a ceilidh is a hilariously brilliant slice of wedding entertainment as it guarantees laughter and it gets people talking and interacting with guests whom they never would have otherwise.
---
If you're looking to book a ceilidh band then why not get in touch with McStoker Ceili Band, a trusted supplier in our online directory!