Mullers Photo
Whether your wedding venue needs a few minor touches or a major make-over, you can start with these transformation tips…
Any bride-to-be will tell you that she doesn't want her wedding to look like everyone else's. A wedding has to be unique which means stamping your individual style on your venue and transforming it from just a room, into YOUR room.
Lots of lights
Lighting has a huge effect on the look and atmosphere of a room. Create a bewitching and romantic glow by placing hundreds of twinkling tea lights and pillar candles in empty jam jars around the edge of the room and use grand candelabras as table centre pieces. For a more fun and quirky look, hang lots of coloured paper lanterns from the ceiling or drape sheets of fairy lights behind tables and around the dance floor to add some sparkle. A more expensive option is to hire a lighting company to place coloured up-lights around the room, bathing the whole area in a warm glow of pink, amber or a colour of your choice.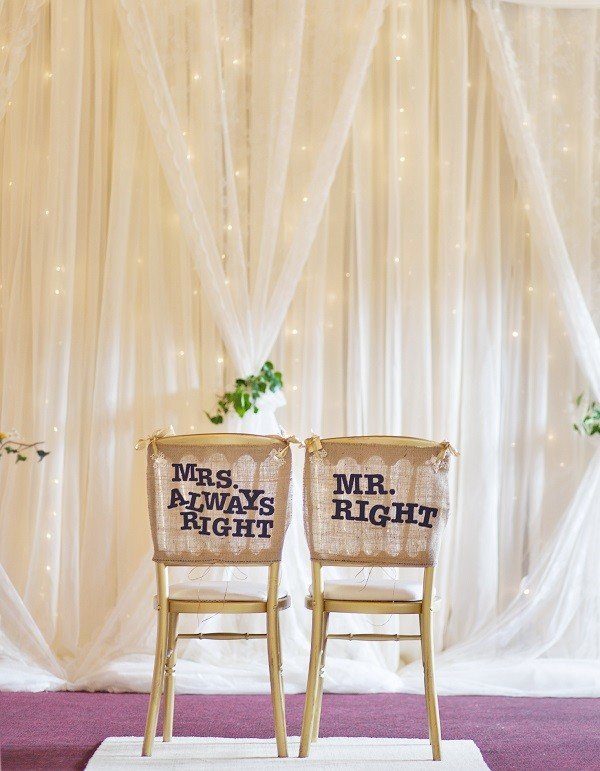 Don't forget the exterior of the building also – guide guests down a candle lit path using candles in glass hurricane lamps, or hang lanterns from surrounding trees to set the scene.
Use draping
Hate how the wallpaper or paint in your reception room clashes with your wedding colours? No problem, use fabric draping to hide it. A room dressing company can hide a multitude of décor sins using free standing drapes and the good news is that they don't require drilling or fixings, and take very little time to put up. Available in a wide range of colours and fabrics, use a colour that matches your theme or opt for white for a clean, classic look.
Coloured linens
A really simple way to transform the look of a room is to swap the standard white linen table clothes for something with a little more style! Table linens come in a range of colours and textures – from glittery gold and metallic silver, to hot pink or plush purple – talk to your room dressing company about the options here. If budget permits, add matching napkins and chair ribbons.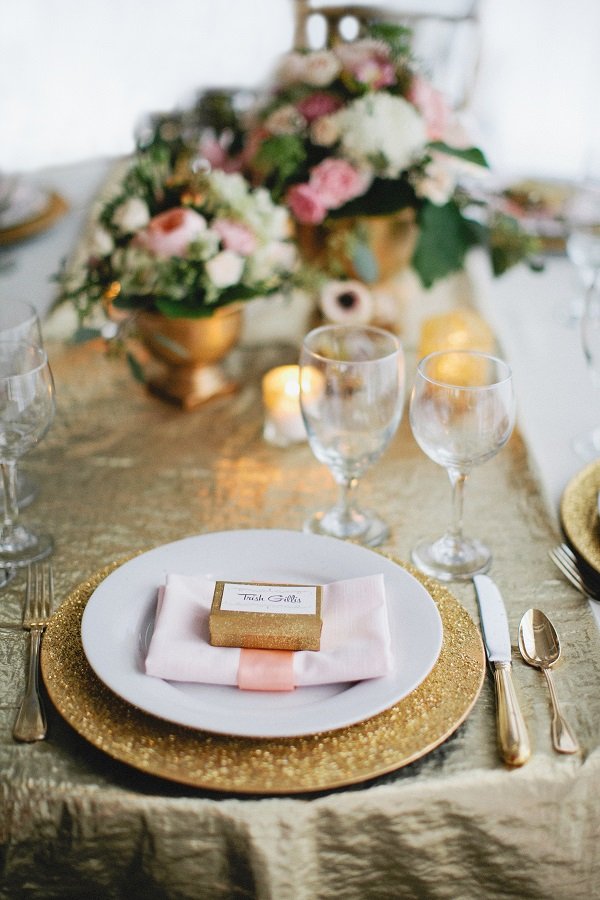 Use Vignettes
A vignette is the term used to describe a small décor display. Taken from the world of interior design, these are becoming popular features at weddings, creating visual focal points in the reception area that reflect the overall wedding theme. These work particularly well for vintage weddings – an old bike with flowers in the basket; a pile of stacked luggage holding flip flops for guests; a bureau dressed with picture frames of family members and a guest book for guests to sign…you get the idea.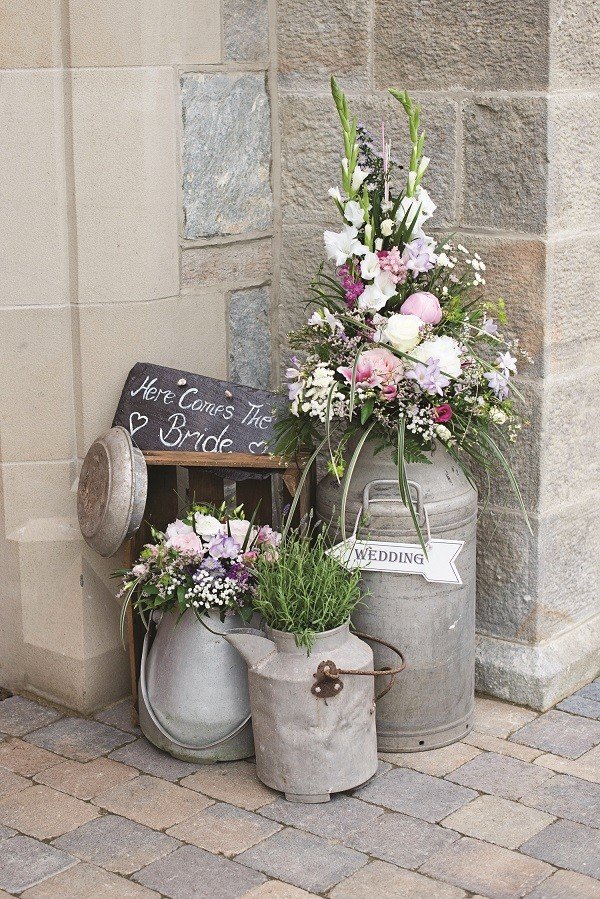 Change the chairs
At worst your venue will have truly horrible, padded, fabric covered chairs, at best it will have invested in the wedding favourite, Chiavari chairs, which are pretty, but nothing new. Go for a more unexpected look by renting brightly coloured vintage chairs or clear ghost chairs – rows and rows of eye-catching seats can completely change the style of a space.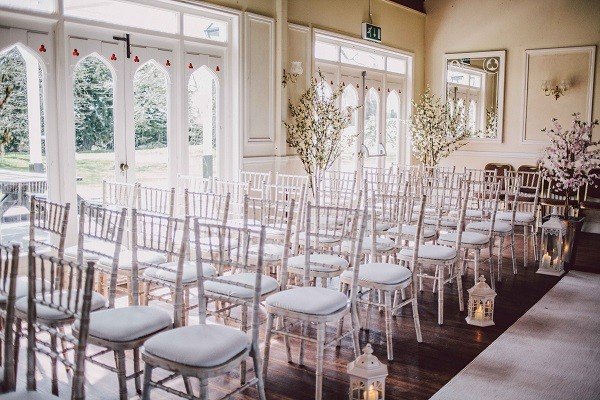 Create a feature wall
Hanging a backdrop creates a great focal point, especially in a room that lacks character. Laser cut paper wall hangings, colourful ribbon hangings or a large panel of fabric embellished with monograms of your initials make a fun focal point and can be used as a picture backdrop later in the evening.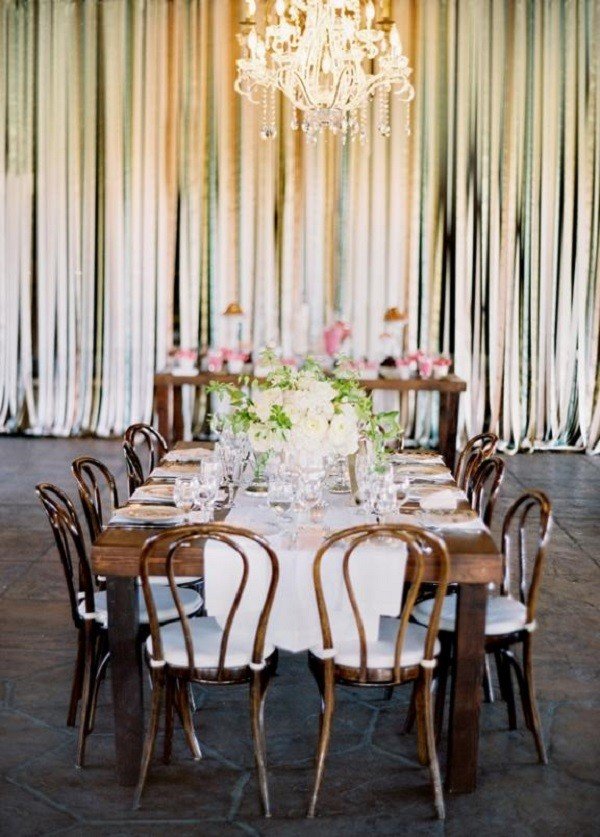 Bring the outdoors in
You may not have a huge wedding flower budget, but a great way to bring the outdoors in is to hire small topiary trees and large potted plants. Much more cost effective than huge floral displays, use topiaries to cover a room's less desirable qualities, such as doorways that you won't be using. Wrap them in tulle and twinkle lights for an enchanted garden feel even indoors.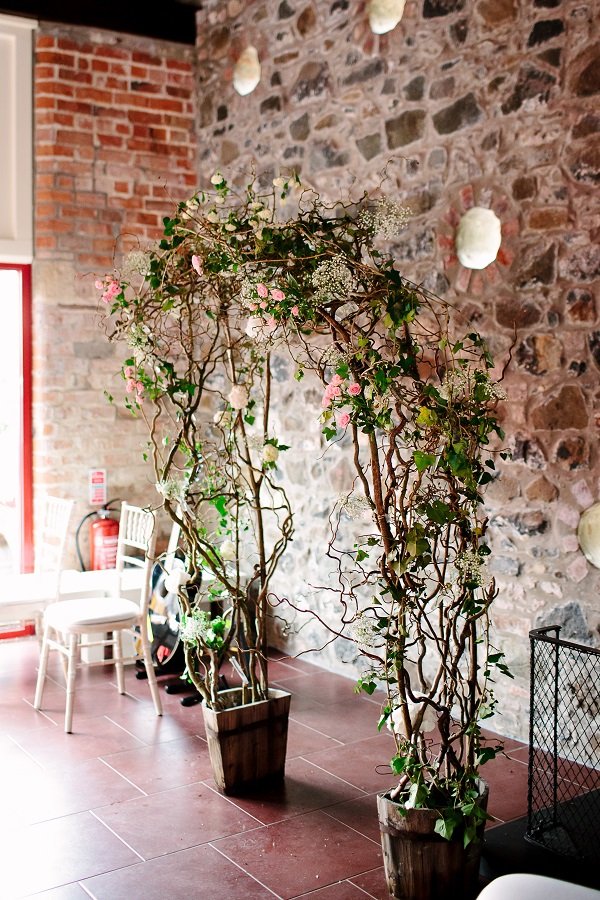 Less is more
There's nothing warm or inviting about a huge empty hall or ballroom with a scattering of tables in the middle. If your venue space is oversized for your needs you can play some clever illusion tricks to make it appear more intimate. Use rectangular or large square tables as they take up more space than round ones. Create lounge areas with a few sofas, chairs, and modular pieces such as ottomans. Position some free-standing arrangements of seasonal branches or rented trees to add texture and create a more intimate dining experience.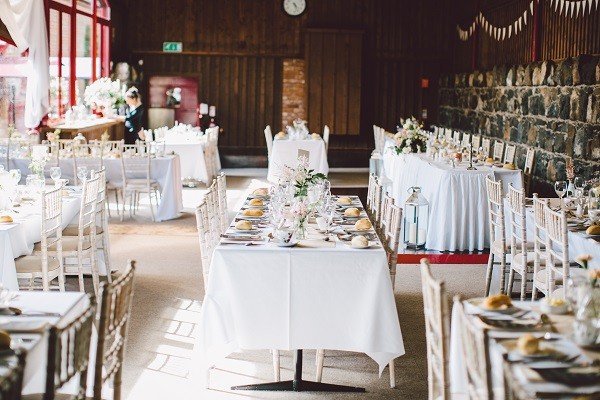 Drop the ceiling
Another common problem, especially with old houses and hotel rooms is that the ceiling is really, really high and as we mentioned above, airy and spacious isn't always a good thing. Rather than try and fill the space with overly tall centre pieces which will just annoy your guests, keep the centre pieces low and drop the ceiling from above. You can do this by creating a canopy effect over tables using fabric, voile or ribbons. Alternatively, hang chandeliers, pom poms, lanterns or other decorative features from the ceiling, dropping them low over the tables.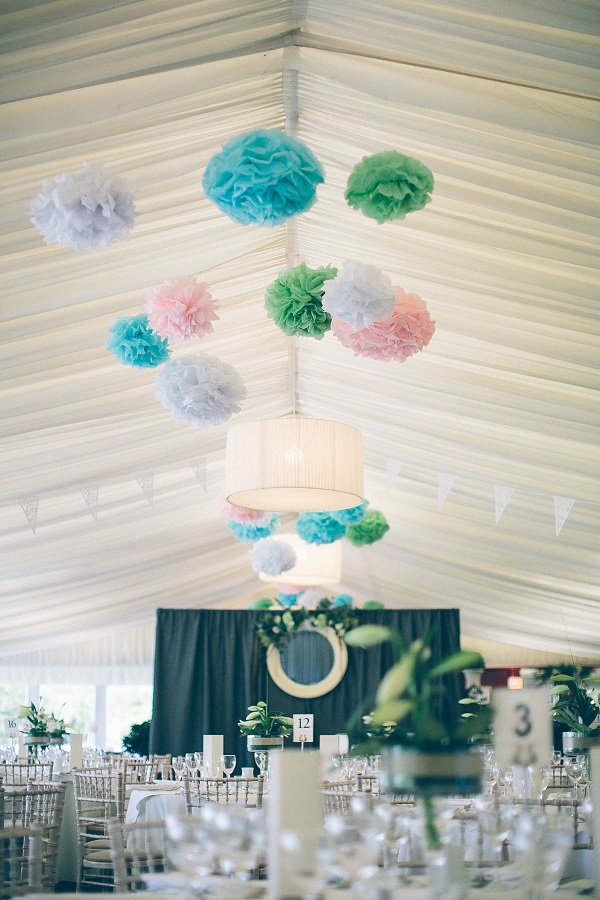 Choosing the perfect venue is one of the most important decisions you'll make for your wedding. But don't worry! The brand-new Wedding Journal Directory of full of the very best Wedding Venues in Co. Clare.