Does the sound of fresh foliage, rustic charm and boho glamour sound like wedding heaven to you? If so- be inspired by this stunning creative shoot at Brekenhill in Ballyclare, Northern Ireland.
Breckenhill provided the perfect canvas for these creative wedding suppliers to showcase their skills in such beautiful surroundings. The talented group of creatives involved in this editorial shoot brought their skills together to create stunning images that prove that there's no reason your wedding can't look as beautiful as the features you see in magazine and online, even in Northern Ireland weather!
Suppliers & Styling: Visionary Veils, Innocent Chaos, S.A.K Designs, This Old Home, Oh So Boho, Kelly McAllister Photography, Ivory and Pearl and Focus Menswear.
Keen to make the most of the natural character of Breckenhill, the images shot by talented Kelly McAllister are styled complimentarily to surroundings with backdrop designs and styling by event-design duo Matt and Steph of This Old Home. Bouquets and head pieces featured are the work of Sharon at Innocent Chaos and compliment creations by Rebekah at Visionary Veils who handmakes bespoke wedding veils.
Stunning model Chloe Henning had looks created by Stacey at S.A.K Designs make-up and Sarah from Oh So Boho hair that suited the beautiful Ivory & Pearl dresses perfectly and stood the test of the Northern Ireland wind and rain!
Despite the sun, snow and clouds in one day, this shoot provides inspiration for local couples who want to do something different and we love the results that have come from this talented group of local creatives coming together!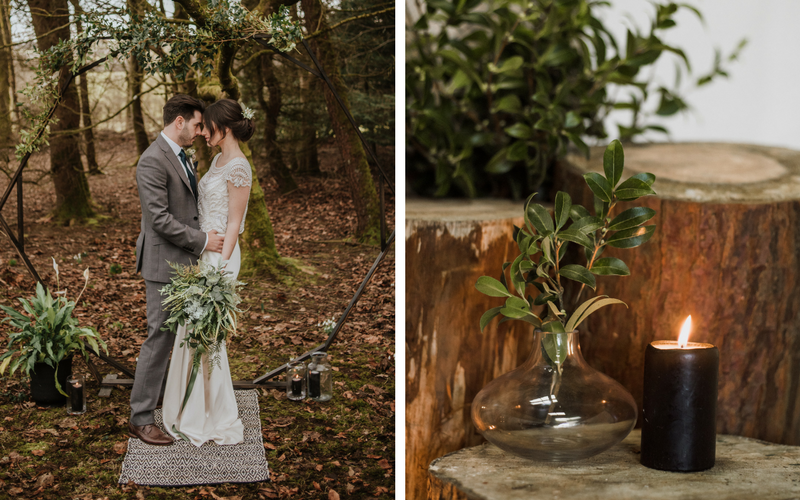 Creative Team
Photography-  Kelly McAllister, www.kellymcallister.co.uk,
Contact: info@kellymcallister.co.uk
Models – Chloe Henning, Nicky Irvine
Venue – Brecken Hill , www.breckenhill.co.uk
Contact: office@breckenhill.co.uk, 02893340311
Headpieces and Bouquets –  Innocent Chaos
Contact: www.innocentchaos.co.uk, info@innocentchaos.co.uk
Wedding Veils-  Visionary Veils
Contact: www.visionaryveils.co.uk, visionaryveils@gmail.com, 07787 733475
Make-Up – S.A.K DESIGNS
Contact: www.sakdesigns.co.uk, 07738090660
Wedding Dresses – Ivory & Pearl Bridal Boutique
Contact: www.ivoryandpearl.com, kate@ivoryandpearl.com, 07828719131
Event Design– This Old Home
Contact: www.thisoldhome.co.uk, thisoldhome@hotmail.co.uk, www.instagram.com/ thisoldhome, 07963343283
Hair – Oh So Boho Hair Design
Contact: https://m.facebook.com/OhSoBohoHair, 07901816019
Menswear – Focus Menswear
Contact: www.focusni.com, 02891 828007
Set Featured Image Credit: Kelly McAllister Photography