If you want are looking for GBBO inspired showstopper wedding cake, than look no further. We've researched the latest alternative ideas, designs and flavours that will have your mouths watering.
There are even some that we think the Groom's will enjoy!
Macaroon Mountain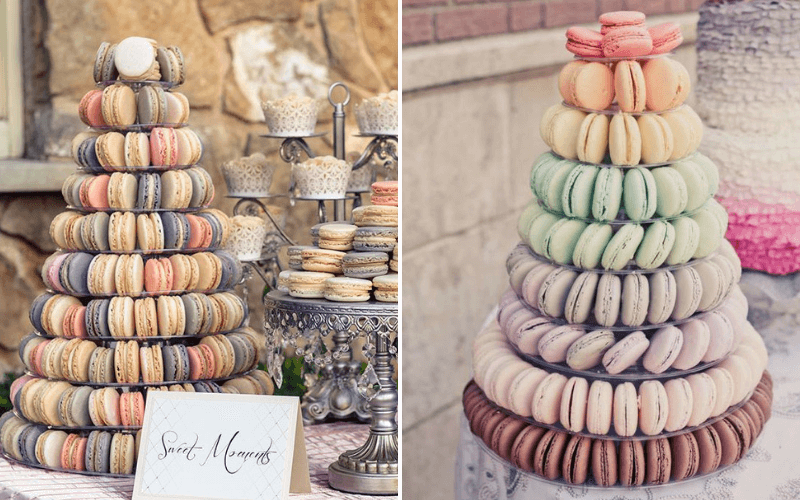 This look is chic and understated, perfect for an alternative bride who loves the taste of France. Channeling Blair Waldorf vibes from Gossip Girl, couples can bake or simply buy their favourite flavours and colours for an even prettier design.
Some of the most popular flavours for weddings are velvet chocolate, crème brulee, and of course champagne.
Cookies and Biscuits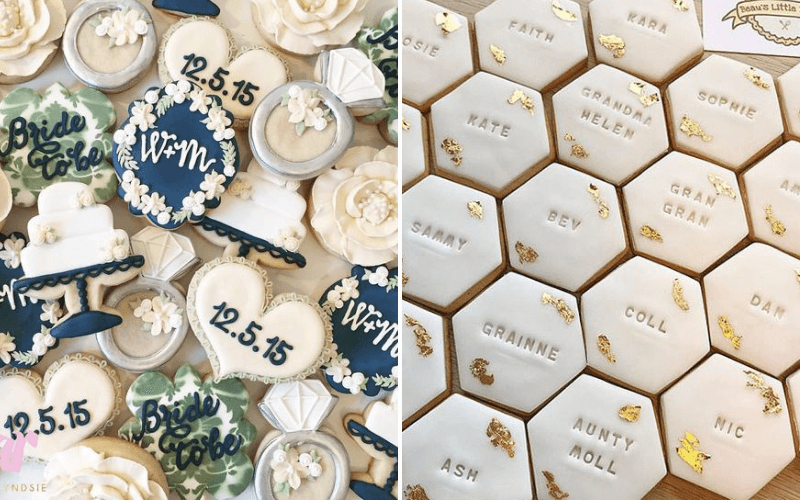 Quite often the wedding cake is traditionally cute after the meal, to be served with tea and coffee. But what else goes down well with tea and coffee, cookies and biscuits of course.
A stack of iced biscuits is an innovative wedding cake alternative and can also double up as wedding favours.
These intricately iced treats will go down storm with your guests.
Cheesecake Wedding Cake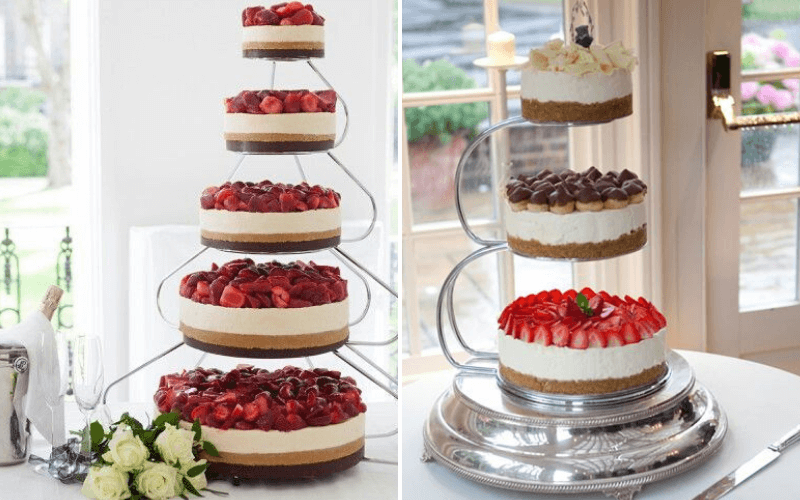 If you are a big fan of cheesecake, there is nothing and no one stopping you from constructing your very own cheesecake wedding cake.
You can mix and match your favourite flavours, simply pop them onto a decorative cake stand and voila!
Pork Pie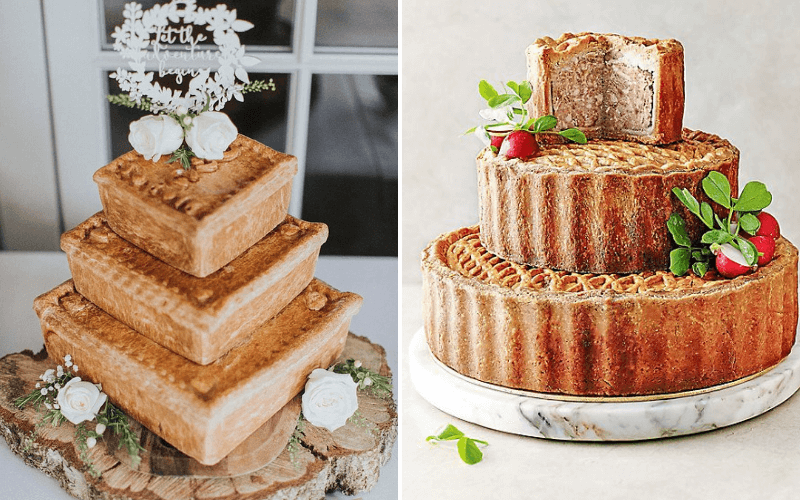 A traditional Victorian delicacy, the humble Pork Pie. This is made from uncured pork meat and a rich hot water crust pastry, sounds delicious!
This can be a heavy 'dessert' so perhaps don't serve this if you are having a 5 course meal before hand.
Cannoli Tower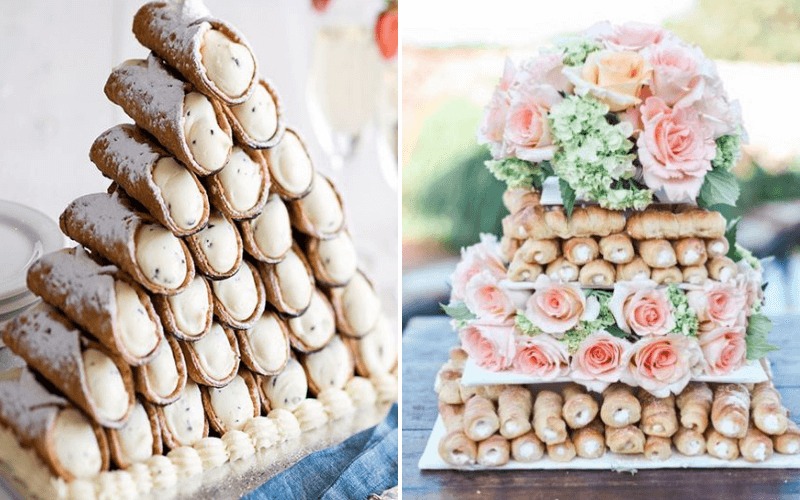 Is there anything more delicious than a fried, crunchy pastry shell filled with your choice of Italian custard or cream, then lightly sprinkled with icing sugar?
We don't think so! These scrumptious little Italian treats should be kept cool, you don't want a runny cannoli. You can stack these classic pastries in a tower on your dessert table for a sophisticated wedding cake alternative.
Pizza Cake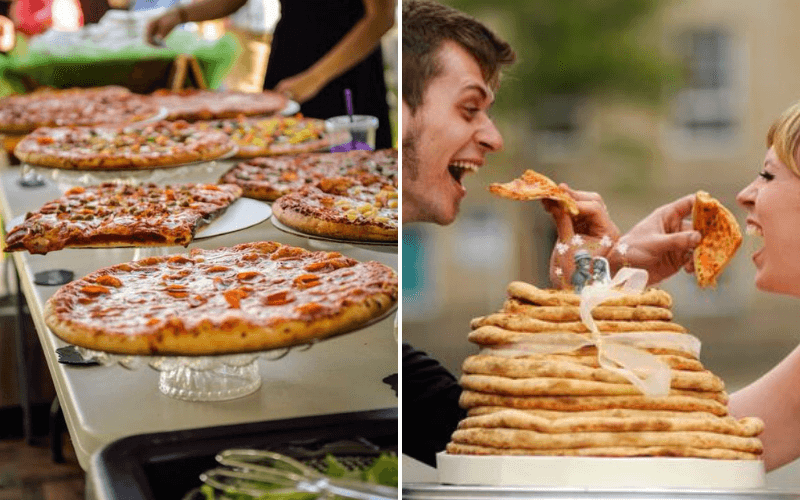 Sticking with an Italian twist, our grooms might be more excited with this one. Why not enjoy a heated dessert, with a pizza cake. You can make each layer a different topping or flavour. The bigger the pizza cake the better!
Pie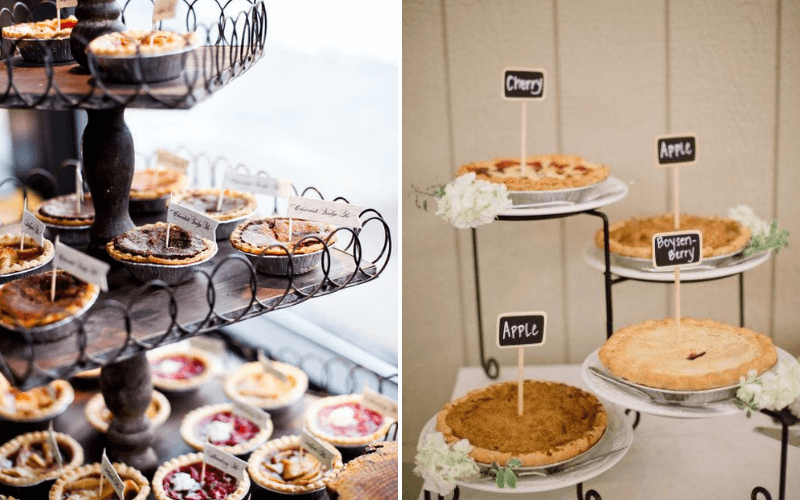 This alternative concept is particularly popular in America atm, especially coming into 'pie season' with Thanksgiving just around the corner.
Each pie can be a different flavour, so you know that every guest will be catered for. Serve your wedding pie with a heaped scoop of ice cream.
Couples can enjoy some time away from wedding planning by baking their desserts together.
Set Featured Image Credit – Fleur Weddings
Facebook Comments