Walk down the aisle and dazzle on the dance floor in stylish bridal footwear from these must-have bridal shoe brands.
Jimmy Choo
Who hasn't dreamed of owning a pair of Jimmy Choo's? And, for many brides, wearing a pair of Jimmy Choo's on their wedding day must! Investing in a beautiful pair of Jimmy Choo's will make your wedding day even more special whether you opt for one of their bridal styles in gold or in silver, satin or lace, with crystals or glitter. Our personal favourite is teaming an emerald green, ruby red or bold blue with a beautiful ivory silk dress to really ensure your shoes are standing out on the day.
Freya 100, £795, Jimmy Choo
Sophia Webster
Are you a 'Wifey for Lifey'? As stated on Sophia Webster's inscription on the sole of her bridal shoes. Thanks to Sophia's gorgeous shoe designs, you won't find it too hard to find the perfect pair of shoes for your big day! Sophia has re-imagined a selection of seven of her signature shoe styles and her iconic speech bubble clutch in a romantic palette of baby pink, ice blue and ivory. There are heel height options as well, so lower heights for those who prefer them, but still all of the style and finesse that Sophia Webster's designs are renowned for. There are also cute designs for younger flower girls as well.

Chiara in Ice, £495, Sophia Webster
Emmy London
Luxury brand Emmy London brand launched in 2004 and has gone from strength to strength ever since. Since it's creation, Emmy London has evolved over the past decade as a recognised luxury lifestyle brand, focusing on bridal and event shoes and accessories that encompass undeniable beauty, bespoke craftsmanship and quintessentially British style. While attention to detail is at the heart of everything the designer represents, it's the hidden diamond on the sole of the shoes that captures the hearts of her fans. In 2016, the brand's flagship boutique opened in Chelsea, London.

Isadora, £725, Emmy London
Charlotte Mills
In 2014, Charlotte Mills launched her luxury footwear brand which is described as romantic yet fun, with fashion forward styling. She believes it is important to create shoes which stand out from the crowd and wanted to create a fresh look for ladies footwear with her unique designs.  Love hearts provided the inspiration for Charlotte's debut season and still play a big part in her current collections along with statement heels, glitter and girly details, these elements have become a signature to the Charlotte Mills Brand. Charlotte has also designed a range of love heart shoe clips, this allows the bride to customize her bridal shoes, to match the colour theme of your special day. Each of Charlotte's bridal shoes are hand finished with a silver sixpence and the leather sole is embossed with the phrase 'Something old, Something new, Something borrowed, Something blue and a silver sixpence in her shoe.'

Chloe in Rose, £260/€310, Charlotte Mills
Freya Rose
The Freya Rose signature is synonymous with luxurious and bejewelled glamour, inspired particularly by the fine jewellery of the Art Deco, Orientalism and French Bohemian eras. Lustrous freshwater pearls, Swarovski crystal and shimmering Mother of Pearl heels are all components key to the brand's core essence. Shoe lines without leather linings give delicate transparency and allows Freya to customise her ethereal designs with a bespoke hand-embroidery service, creating one-off designs for the most discerning bride.
Helena Pearl, £375, Freya Rose
Rainbow Club
One of the original bridal shoe brands, Rainbow Club have been designing, making and colouring handmade satin wedding and occasion shoes since 1986 and is firmly established as the UK's leading and most inspirational producers. Each pair of their shoes are handmade using the finest fabrics and materials, from their exclusive dyeable satins to their super sparkly fine shimmer. They also ensure that their not only look good, but most importantly are comfortable too – and all shoes come beautifully packaged in stunning candy-striped Rainbow Club boxes!
Zarah, £99/€123, Rainbow Club
L.K. Bennett
L.K.Bennett is the British affordable luxury brand, founded by Linda Bennett in London in 1990 with the vision of bringing 'a bit of Bond Street luxury to the High Street'. Renowned for their signature kitten heels favoured by celebrities and stylish women alike, they are one of the most popular women's footwear brands around today. A recent collaboration with Jenny Packham on their footwear has certainly put the brand firmly on the bridal map with a selection of limited edition footwear that we know you will all love!
Felicity Ivory Sandals, £350, LKB x Jenny Packham
Paradox London Pink
This brand offers a high fashion yet comfortable bridal collection with a broad variety of styles to cater for everyone's tastes and budgets. Comfort technology is paramount to them, with comfort pads, memory foam cushioning, and breathable lining at the forefront of their designs. In addition to this, they incorporate dyeable satins into their bridal shoes so all of their customers have the choice of having their shoes dyed if they wish!

Alandra in Blush Satin, £69/€90, Paradox London Pink
No. 1 Jenny Packham at Debenhams
The No. 1 Jenny Packham at Debenhams offers a range of affordable wedding shoes that don't although they don't come with the high end designer price tag, certainly don't compromise on designer style! From metallic glitter stiletto heels to embellished sandals and court shoes, you will be spoilt for choice for yourself and your bridesmaids.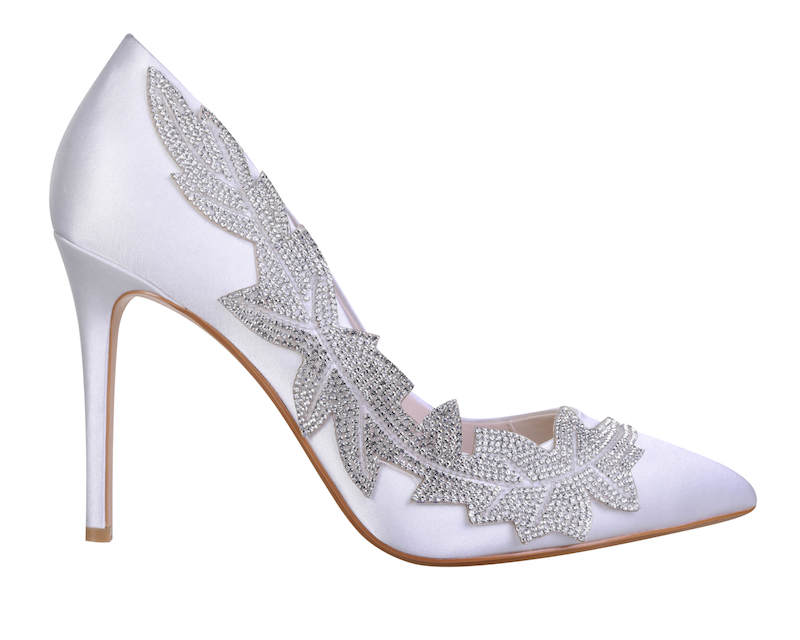 Embellished Court Shoe, £99, No.1 Jenny Packham at Debenhams
Ruby Shoo
'Say I Do with Ruby Shoo' is their slogan, and their for fans of their classic Ruby Shoo shoes and bags, these are available in gorgeous fabrics that shimmer for those special occasions, such as walking down the aisle. With a passion for creating contemporary, quirky, fun, unique shoes and accessories with a hint of vintage, designer Samantha Lines, introduces both archive and modern fabrics into every collection, often adding gorgeous embellishments and accessories.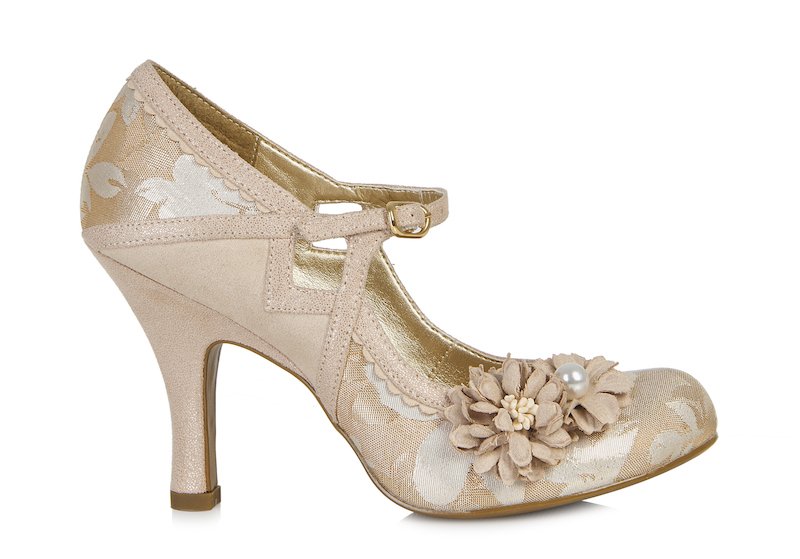 Yasmin in Rose Gold, £60/€69, Ruby Shoo
For further ideas on footwear and other bridal accessories visit the Wedding Journal Online Directory here
Featured Image Credit: Paloma Blanca
Home Page Featured Image Credit: Charlotte Mills