Weddings are not cheap, we know all about it! When it comes to wedding planning the little things add up including the ever important bridesmaid dresses. Outfitting your bridal party can sometimes come with a hefty price tag which leads some brides to that tricky question; who actually pays for the bridesmaid dresses?
The answer isn't as crystal clear as you'd hope! With modern traditions and etiquette becoming a thing of the past some modern brides are opting out of fitting the bill. Instead some brides let their bride tribe pay for their own dresses and bridal accessories (to the horror of most mob's)! It's your wedding so be your own boss on this one, read on to discover your options.
A survey by Oasis revealed that 59% of bridesmaids think the bride should pay for the dress, while 35% thought the bride should at least make a contribution. However that's just one opinion…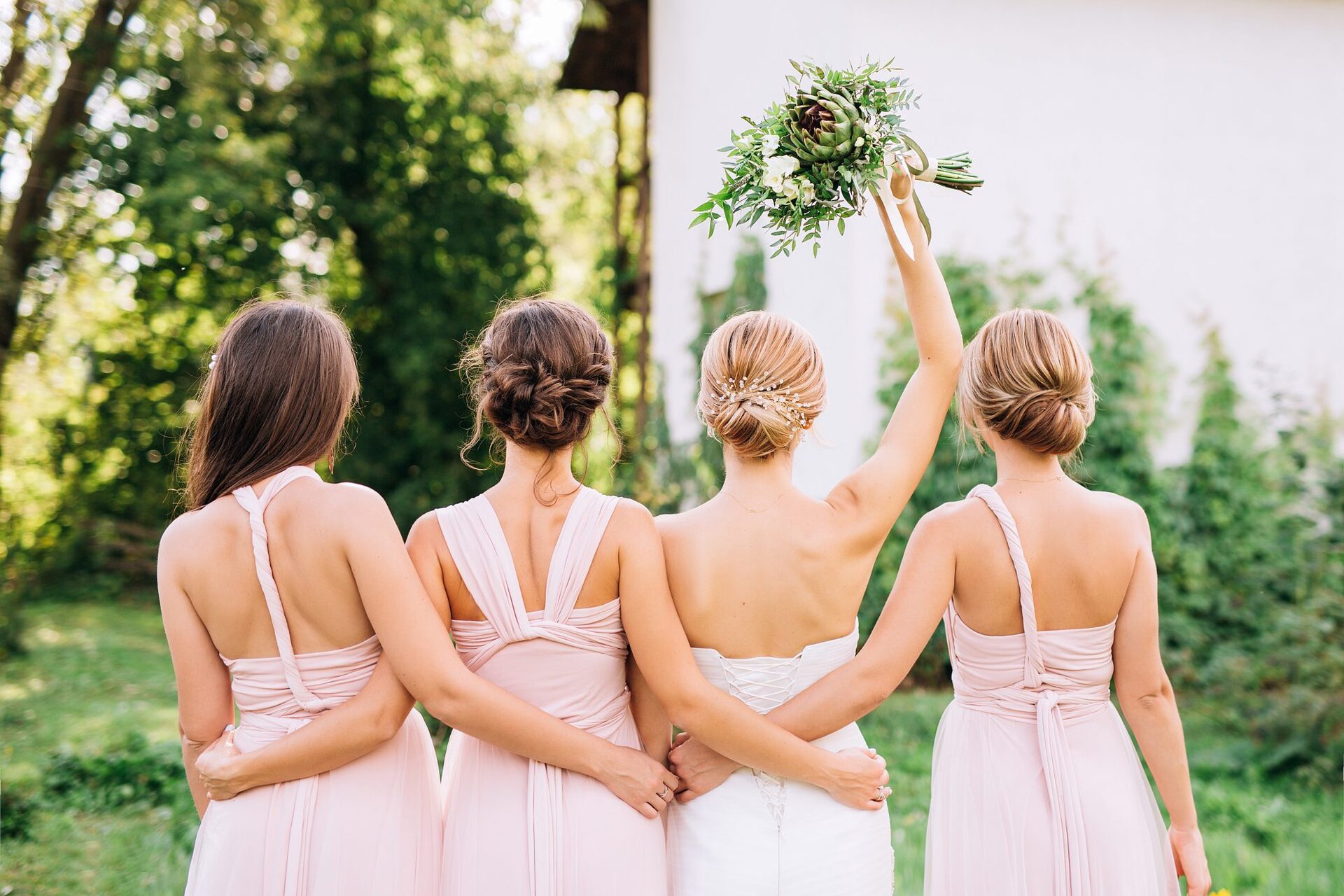 Traditionally, who pays for bridesmaid dresses?
According to age old etiquette, especially in Ireland the bride covers the cost of the bridal party's dresses and accessories. Before panic sets in, just remember you'll most likely be a bridesmaid at some point so we are sure the favour will be returned. Don't forget if you pay for it you can have more say, this might help control any opinionated bridesmaids. You pay and you'll get your way essentially.
Modern day, who buys the bridesmaid dresses?
Usually each bridesmaid is tasked with purchasing her own dress. This goes as far as asking your bridesmaids to fork out for everything from wedding jewelry, bridesmaid shoes and any little extras they require. In recent years brides have taken into account how many bridesmaid they are having in their bridal party. 3-4 bridesmaids or smaller the bride (if willing and able) offers to cover the bridesmaid costs. However 5+ bridesmaids and brides simply can't afford to take on a huge expense like this. If this is the case and you are opting to let your bridesmaids take the hit there are two key points you MUST consider. 1) If they pay they'll have a say… This means yes it is your big day but you might have to loosen the bridezilla reigns and give them some control of what they are wearing. 2) Be mindful of your bridesmaids budgets! Everyone leads different lives so try and avoid pressuring your best friends into paying for something extortionate, be realistic and considerate of the entire bridal party when choosing the dress and accessories.
A nice middle ground is to offer your bridesmaids a voucher or gift card that they can redeem in the dress shop so they get a certain amount off their dress or accessories without you paying for the entire outfit! Occasion wear can be pricey so don't feel judged if you let your bridesmaids take on the cost of their dress.
Tying the knot and looking for ways to help your nearest and dearest pay less? Consider offering aesthetic guidelines and letting each attendant choose their own look, so they have more control over the price. Know that they'll be traveling a lot to attend your various festivities? You can also opt to shop for bridesmaid dresses online instead of together in person at a salon. (It'll cut down on some travel costs.)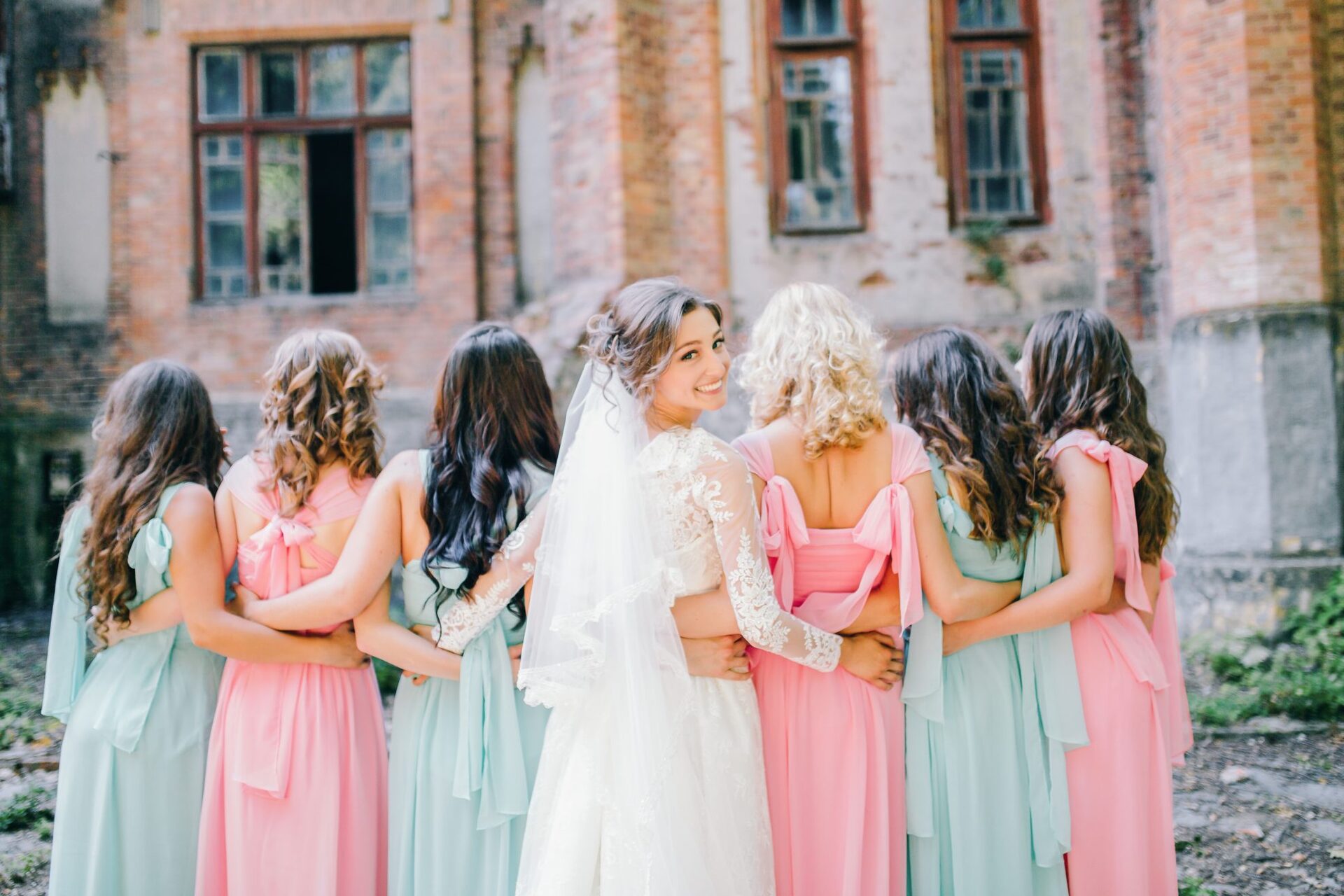 How much should I spend on my bridal party?
So you've decided who is covering the bridal party outfits, now its time to talk about the budget!
A recent survey across the UK found that 80% of brides spend more than £50 per dress – with the majority (44%) of brides spending between £51 and £100. The average total cost of one bridesmaid dress came to £114 working out at £342 for a bridal party of three.
Surprising only 44% of brides take complete control of how their bridesmaids look on their wedding day. 35% of brides simply choose the colour of the dresses, leaving fit, style and accessories to their pals – it's no surprise the mix and match trend is such a big trend at moment.
If you're reading this as a bridesmaid and you're still feeling overwhelmed by the prospect of buying your own dress, be open and honest about your worries. Most brides want to hear your feedback and your opinion; after all they choose you to stand beside them on one of the most important days of their lives. This means you're a big deal – so speak up!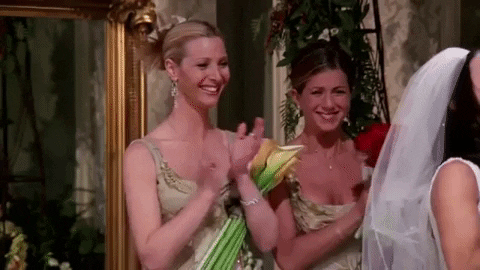 Best places to shop online for bridesmaid dresses
Shopping online bridesmaid is a great option to shop the latest styles, shapes and colours. Online power houses like ASOS have an amazing range of occasion wear and bridesmaid attire.
If ASOS isn't your cup of tea PLT and Misguided is your best bet! If you're a last minute bride their next day delivery options and buy now pay later with 'Klarna' could be a great shout for you and your bride tribe!

Recommended bridesmaid dress suppliers in Ireland & Northern Ireland
When it comes to searching for the perfect bridesmaid dress there are hundreds of suppliers you'll want to consider. That's where our online directory can help narrow your search! Shop the latest bridesmaid trends and bridesmaid collections from the best suppliers.
Check out our recommended go to's for bridesmaid dress in Ireland and Northern Ireland right here.