Wondering where to host your dream day? Here are a few wedding venue options that might inspire you and some top tips you need to bear in mind.
A Grand Affair
Feel like a king and queen amidst the backdrop of your own fairytale castle venue. Castle weddings are popular with the rich and famous, however, that does not mean that they are out of your budget. You too can make memories amongst the history and atmospheric décor of your castle venue. A castle and its grounds are the ultimate backdrop for wedding photographs both inside and out! The opulent interiors indoors could also save you on the cost of elaborate venue styling as you tastefully add your own stamp to what is already there.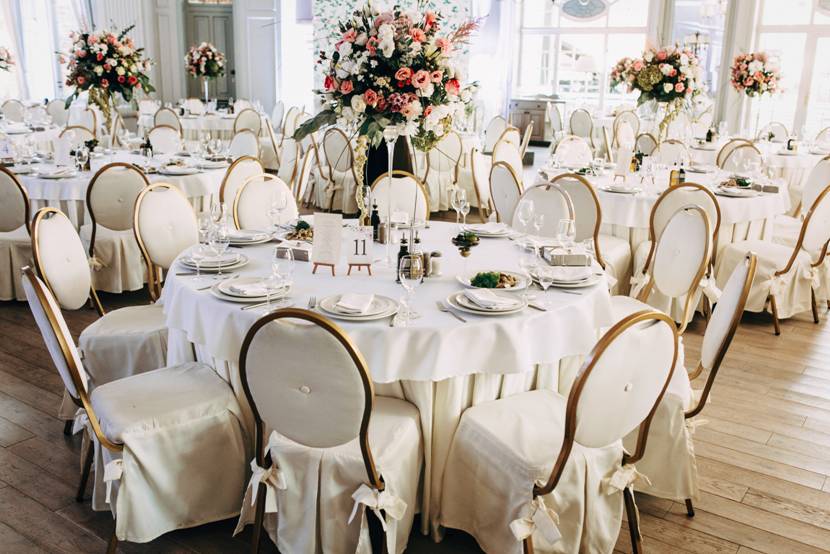 Not far removed the castle venue, a stately home or manor house affords a luxuriously elegant backdrop. Most are set within acres of lush woodland, which offers exclusivity and privacy as well as beautiful grounds for photography. Unlike the castle which may offer a more dramatic interior, these venues tend to be more classical in their styling with a softer colour palette, yet they still have a sentimental history if this appeals to you.
Just be aware that not all of these venues will be catered but their wedding planner will be able to recommend caterers and co-ordinate all of this for you.
Keeping It Real
Hotel venues continue to be the most popular choice for Irish brides. Booking a hotel wedding venue can be great for taking the stress out of your wedding day, especially if you opt for a large, luxurious hotel that offers a set price package with everything you need accounted for and accommodation to allow all of your guests to stay. Most hotels also have a dedicated wedding planner who will be assigned to you and will be your point of contact throughout your planning process again helping to make everything as easy as possible.
Simply Beautiful
In the quest for a more unique wedding venue, barns and halls have also grown in popularity over the last few years. One of the best things about a barn located on farmland or an estate, or a village hall is the fact they offer a blank canvas for creative couples. You can create just about any style of wedding, whether rustic and quirky, simple and elegant or fashionably bohemian. If not a purpose built wedding venue, a barn in particular may not offer basic comforts such as heat and toilets so you would need to factor in the cost of patio heaters and toilets into your budget!

Go Public
Do you remember when Carrie in Sex in the City decided that the public library with all of its love letters housed within its walls would be the perfect backdrop for her special day, you too could look to enjoy your reception (and ceremony if licensed) within one of Ireland's public buildings. For example, a museum might be exactly what you are looking for as you celebrate with friends and family amongst the ancient ruins and historic artefacts on display! Perhaps you both met at university and would like to use an available building from your time together here or if you had a first date at the theatre this might have significance and offer the ideal wedding venue. Today there seem to be so many options with public buildings so it is definitely worth checking if they host wedding receptions, some may even have a license for your wedding ceremony to take place there too!
Pubs & Restaurants
If you want a wedding venue that is laid back, charming and serves amazing, traditional food you could consider a pub venue. Alternatively if you want a more refined feel, but still an intimate affair then why not consider a restaurant. A pub would certainly lend itself to a rustic, bohemian style of wedding, while a restaurant is perfect for a classic, but edgy reception. Your pub or restaurant of choice may have sentimental significance, serve fantastic food or just offer something that little bit different for your wedding.

The Great Outdoors
If you are dreaming of a romantic woodland wedding reception or being surrounded by lush, floral gardens there are suitable venues available throughout Ireland. It is probably easier to opt for a purpose-built outdoor forest or garden venue rather than have to seek permission for somewhere that will also require a lot of expense – and stress – when it comes to bringing in heat, electricity and water to offer lighting, toilet facilities, catering and entertainment requirements, as well as parking and ease of access for guests as they navigate your outdoor venue.
When outdoors you can give your wedding a cool festival vibe with a tent, tipi or yurt. These offer a great way to turn an area of land into a wedding venue. If you are planning to for a tent or marquee, do have a wet weather plan. While they are water tight, you do need to allow for plenty of space for everything to be kept under cover – for example your drinks reception and dance floor. Once you have chosen the style of tent and company to work with, their expert teams will make sure you have considered everything for the perfect day!