The concept of marriage is a major part of most cultures and religions, both throughout our history and into the modern age…
Each culture brings its own fantastic and unique ways of celebrated the union of two people, from fine clothes to elaborate dances to exotic dishes. But the one thing you'll find at nearly all weddings, no matter where in the world you are, is music. Music bridges beliefs and generations, drawing everybody within its reach into the celebration. Author Joe Hoten of Bands for Hire shares some of the key points of a few different traditional weddings, and what music you need to bring them to life.
Celtic Weddings
Anyone of Scottish, Irish or Welsh heritage who's thinking of tying the knot might like to do so at a Celtic-themed ceremony (the phrase 'tying the knot' actually stems from the literal Celtic tradition of binding the couple's hands together to symbolise eternal unity!). Many ancient traditions, in fact, have been adopted over the years from the Celtic culture by many others, such as the exchange of rings. The circle is a powerful symbol of eternity for Celtic folk – wedding guests at a Celtic wedding will often be situated in a circle, rather than in rows.
When it comes to the music, Scotland, Ireland and Wales each have a rich history of folk music, with many characteristic instruments, such as the bagpipes, the boran, the fiddle and the tin whistle, being featured. You might like to consider acoustic bands, folk bands and Ceilidh bands to fill your wedding guests with Celtic spirit as they sing along to 'Scarborough Faire'.

Jewish Weddings
When two people of the Jewish faith marry, it's the cause of much joy for all the family. The ceremony itself includes many sacred rights, from the signing of the religious ketubah document to the smashing of the glass. Once your guests have cried 'Mazel Tov', however, it's time to turn your focus to the main event: the Jewish wedding reception!
A Klezmer band will generally be well acquainted with all the requisite traditional Jewish folk tunes, but increasingly popular choices for Jewish weddings include soul bands, swing bands, jazz bands and even rock covers bands – they'll still get everyone doing the Horah! It's not uncommon to find multilingual bands who can sing popular songs in Yiddish and Hebrew, and you'll generally find that even the larger bands are more than happy to alter their line ups depending on the size of your ceremony – by adding or taking away a brass section, for example.
Indian Weddings
When it comes to marriage, nobody knows how to throw a party like the Indian people! A typical Indian wedding lasts on average for three days: on the first day, a priest will perform the ganesh pooja ceremony, usually at home with the couple; on the second day, the bride's family and friends will join her in the mehndi ceremony, applying intricate henna patterns to her hands and feet; and, on the third day, the main ceremony is held. It's on this day that guests will be treated to music, dancing, a glorious feast and the groom's procession, or baraat, wherein the groom arrives on a white horse and guests dance around him to the beat of the dhol drum.
Music-wise, bhangra and other traditional Indian folk styles will be preferred, as there are a number of traditional wedding dances that your guests will be looking forward to. Traditional Indian instruments, such as the tempura, tabla and sitar, will also help add to the atmosphere. However, Bollywood bands, covers bands and jazz bands can also provide your guests with highly danceable rhythms, and, with plenty of notice, can put their own twist on popular Indian hits such as 'Babul Ki Duaayein Leti Ja' and 'Joote Dedo Paise Lelo'. Alternatively, DJs specialising in bhangra, Bollywood and other Indian music styles are also available for weddings.

Italian Weddings
There is a large Catholic population in Italy, so chances are that even a secular ceremony will have features usually associated with this most traditional branch of Christianity. Indeed, much of the ceremony itself with be scored only with Catholic hymns, many of which are in Latin, such as the liturgical 'Agnus Dei' – but all that changes once you arrive at the reception!
Amid the cheers of 'salute' and 'cent'anni' and the serving of confetti (the coated almond kind, not the paper kind), there'll be fantastic Italian-style music and dancing, including the money dance, the 'Cella Luna' and the Tarentella. Acoustic bands featuring guitarists, accordions and mandolins, a harpist and flautist duo or a soprano singer accompanied by an organist can play your guest in when cocktail hour strikes, then later during dinner you can take things up a notch with a string ensemble or jazz trio. Then, as the evening draws in, get people dancing with a neapolitan band, swing band fronted by a true crooner or wedding DJ who knows how to parte italiano!
South American Weddings
Music is a huge part of the Latin culture, as is dancing! Expect a vibrant ceremony, full of smiles, bright colours and flowers. Similarly to the Italian culture, there is a strong Catholic influence on Spain and other Latin countries, but it's expressed in different ways. For example, one tradition, known as Las Arras, see the couple each taking on half of 13 gold coins to represent Jesus and his apostles, as well as the groom's promise to provide for the bride and their future family.
To provide you with a Latin-infused wedding music fiesta, you might like to consider hiring a spanish guitarist or flamenco guitarist to play for you during dinner – either would have an extensive repertoire of traditional Latin folk songs, plus modern songs in the traditional style. Later on, you'll need to hire something along the lines of a salsa band or Cuban Rumba band to bring the famous Latin rhythms out. You may also like to hire a guitar-wielding Mariachi band to follow the happy couple as they leave for the reception!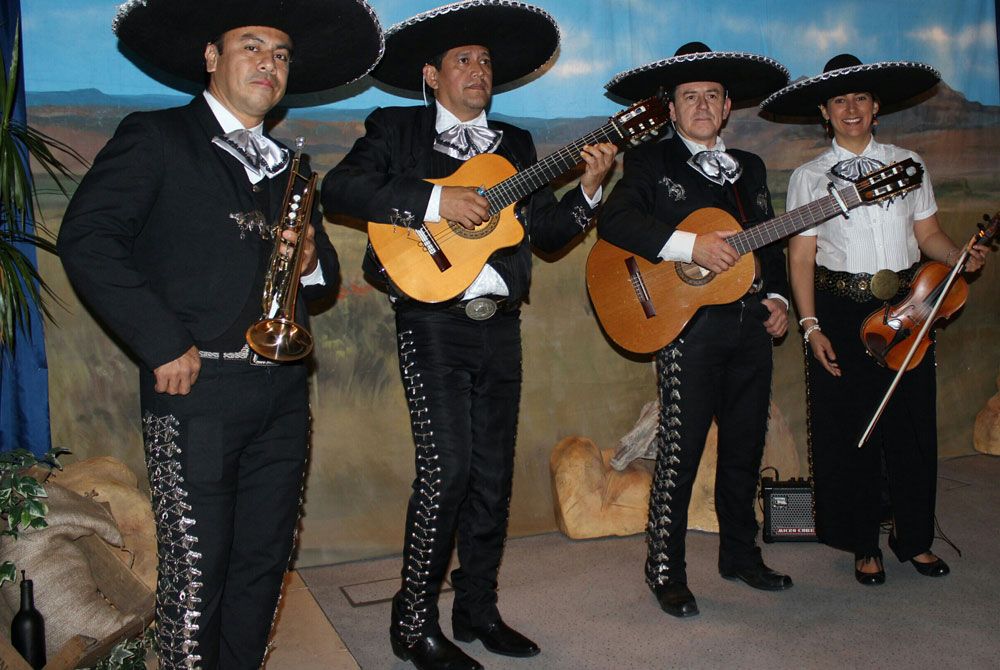 Humanist or Secular Weddings
Non-religious ceremonies can be just as enriching for all in attendance as spiritual weddings – plus, you can have them anywhere you like – indoors, outdoors, at a hired venue or in your very own home! Each humanist wedding is unique to the couple getting married – you need a celebrant to officiate, perhaps an exchange of rings and vows, and maybe some poems or music – it's entirely up to you.
Since you can choose the music, there really is no limit to what sort of act you hire. As long as the main theme of the music is love and life, you could go for a smart and sophisticated string quartet or jazz trio, a wedding DJ specialising in 80s cheese, or even a rock covers band. As long as everyone you've invited has a good time as they celebrate your love, the world's your oyster.
Are you looking for the perfect wedding band? Bands for Hire are a live music agency offering a wide range of live wedding bands – acoustic acts, string quartets, jazz bands and more – across the UK.
Facebook Comments