Are you currently planning your honeymoon? With so many beautiful locations and exclusive resorts across the world, choosing a honeymoon can be a daunting task, particularly when it's supposed to be the most memorable trip of your life!
However, there's one destination that springs to everyone's mind when honeymoon planning commences- The Maldives. These stunning islands in the Indian Ocean have been a hugely popular honeymoon destination for decades, but what is all the fuss about we hear you ask?!
Here, we look into why the Maldives has become one of the most sough-after honeymoon destinations and everything you need to know about this little slice of paradise. Here are our top five reasons why this stunning tropical country has become a hot-topic in the world of honeymoons…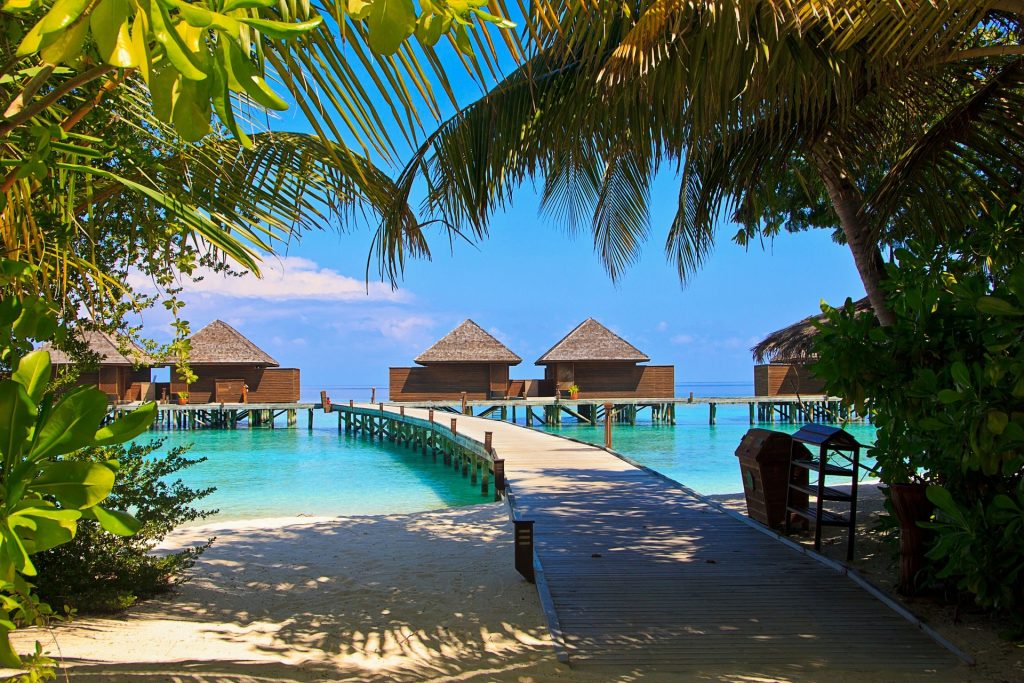 Made up of 26 ring-shaped atolls with hundreds of coral islands in the Indian Ocean, the Maldives is a haven for anyone whose idea of paradise is crystal clear waters, white sandy palm-fringed beaches and sunshine.  Unwind after the stresses of wedding planning in this tropical oasis- think beachside sunbathing, cocktail in hand and dining barefoot on the beach whilst watching the sunset across the vast blue sea.
The resorts in the Maldives are second to none, and many are known to be some of the most luxurious accommodation providers in the world. The Maldives is synonymous with their over-water bungalows, and you will find these in almost every resort! With open access to the ocean in your own private villa, you can avail of panoramic views across the ocean, and in many cases you will even have your own private pool, sun lounging terrace and Jacuzzi! If you're on a budget – not to worry you can still find out what true luxury means by staying in an exclusive beach villa.
Although the Maldives is a popular place for honeymooners and tourists alike, you can still experience pure seclusion, peace and tranquillity on one of the 1000's of islands. Only about 200 of the 1,200 islands are inhabited, making Maldives a honeymooner's heaven and guaranteed relaxation. You can truly escape the stresses of everyday life in this tropical paradise, and is a great place for a digital detox too! Without the hustle-bustle of distracting tourists, here you can truly enjoy not just the flawless beauty of nature but also each other's undisturbed company. So why not escape reality and enjoy the intimate and romantic getaway you deserve.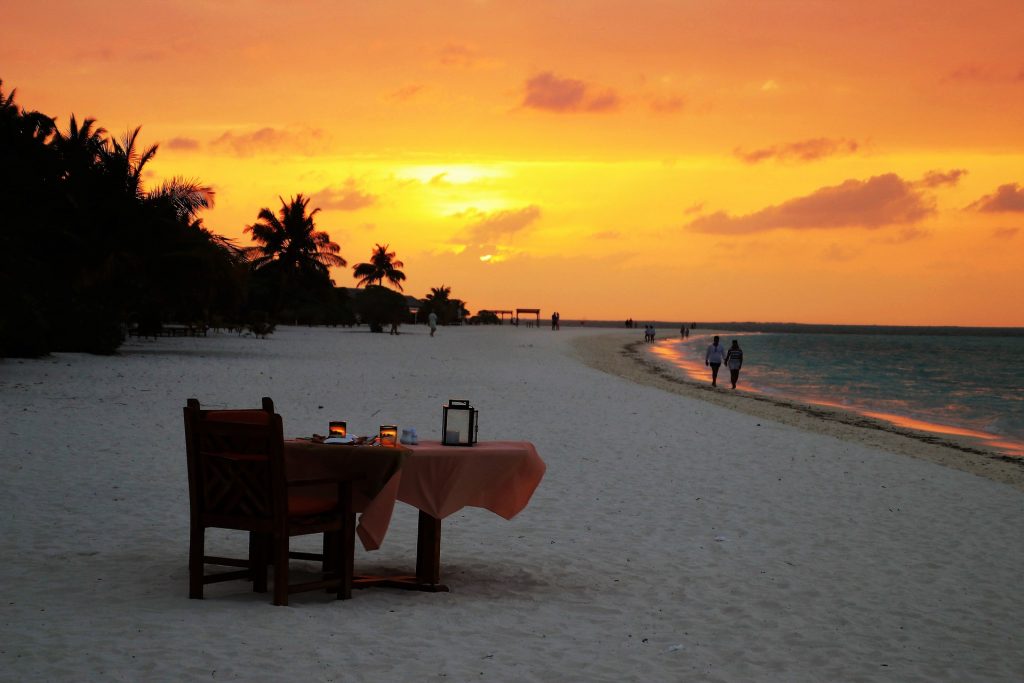 What better way to enter married life than to retreat to the paradise islands in the Maldives. Everything in these resorts is geared towards romance, ensuring you have the most memorable honeymoon possible. Think of a deserted island beach at sunset, strewn with candles and flowers whilst dining and sipping on champagne under a blanket of stars – just one example of the private romantic dinner packages that many resorts offer.
The Maldives is a world-renowned scuba diving destination, and there's no better place to try it as a novice – the waters are warm, crystal clear and abundantly full of colour and life. A new shared experience such as scuba diving, to explore the rich marine life will create lasting memories together, whilst the possibility of a new hobby to share emerges! Other worldly experiences in the Maldives include dolphin watching and relaxing in world-class spas. Spellbinding treatments for couples in stunning surroundings with the sound of the ocean in the background will delight the senses and bring together mind, body and soul.
Frequently Asked Questions | FAQ's
What is the best time of year to go?
The Maldives is one of the most stunning tropical countries in the globe, and you can visit at any time of year to experience its natural beauty and revel in fantastic temperatures that are rarely below 30°C. However, with the Maldives having a tropical climate, the nation experiences both a wet and dry season which is worth considering.
The dry season in the Maldives is from December to April, with little rain, low humidity and ideal temperatures. The wet season is from May till November where weather features more strong winds and rain; however this does dry up quite quickly! The off-peak season may be a good option for you and your partner, if you are looking to save money or to get a cheaper deal.
How much will it cost?
This very much depends on what type of holiday you are looking for, and your maximum budget. Honeymoon packages on average start from £1,400/€1,600 per person including flights and accommodation. There are a huge variety of options and standards in the Maldives, from budget back-packing accommodation through to world-class luxury, so it's important to discuss with your travel agent your budget and needs.
The majority of Maldivian resorts and honeymoon packages offer an all-inclusive basis. This may mean a higher price upon booking, but if you opt for a self-catering or half-board holiday the prices in the Maldives of food and drink can really rack prices up. We recommend an all-inclusive break to enjoy your honeymoon wallet-free, without worrying about a hotel bill at the end of your stay, meaning the only extra costs would be souvenirs if you desired.
What are the must see places?
In the Maldives, there really are seas that glow like stars! As if this destination wasn't dreamy enough, you can find 'glowing beaches' at Vaadhoo Island and Mudhdoo Island thanks to organisms called Phytoplankton that emit a blue glow, meaning it glistens in the night. According to locals, this periodically happens only on a full moon- we reckon it's definitely worth checking out for a romantic stroll!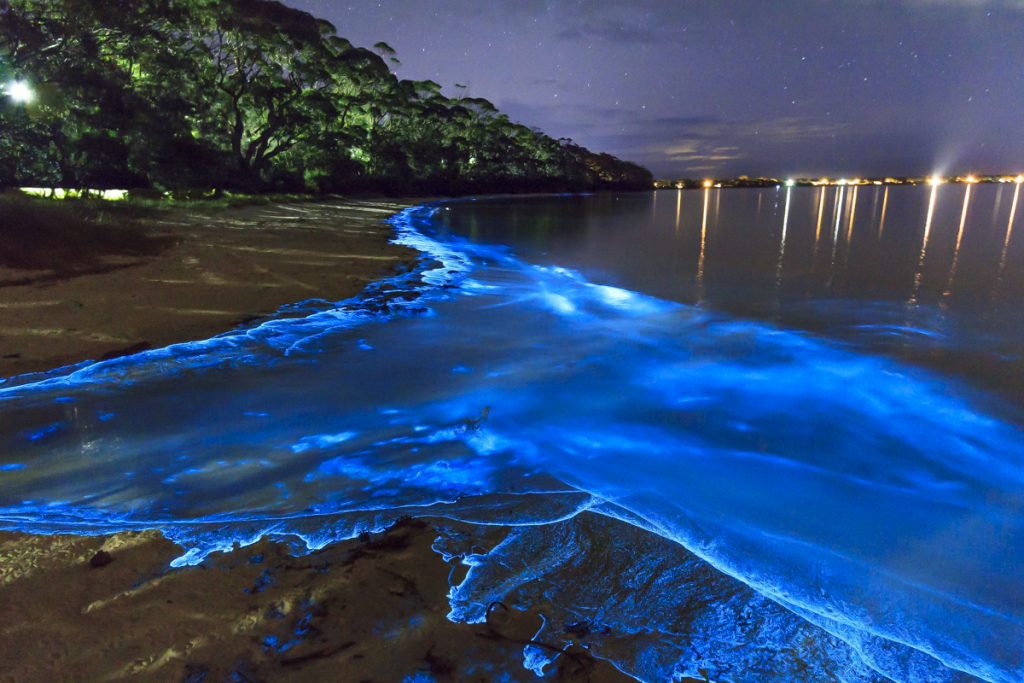 If you're after a relaxing island retreat, the idyllic Veligandu Island, which is only 20 minutes by sea plane from Male, is definitely worth a visit! Alternatively, if you are an adventure bunny, check out Banana Reef in North Male Atoll which has an incredible variety of sea life including sea turtles, manta rays, dolphin and clownfish that can be found gliding amongst the bright coral whilst snorkelling or diving.
What are the must-do activities?  
Diving: Regardless of how much experience you have, snorkelling or diving in the Maldivian islands is an unforgettable experience. The calm, crystal blue and azure waters make the visibility ideal for those looking to explore the underwater world. Every island has something unique, so why not island hop to ensure you get to experience the rich marine life. Look out for manta rays, reef sharks, barracuda, turtles and tropical fish.
Surfing: The Maldives offer some of the best waves in the world with big chances of barrels and long fun waves. It's the perfect destination for intermediate and advanced surfers.
Island Hopping: If you stay at a private island in the Maldives, make sure to book an excursion to visit the nearby communities to really experience the heritage, culture and way of life in the Maldives.