With the Beverly Hills Formula Range, you will be able confidently flash that dazzling million dollar smile on your special day.
Give your teeth the ultimate treatment with the Beverly Hills Formula Professional White Range to achieve dazzling pearly whites for your wedding day!
This scientifically tested, professional oral care can be achieved in three steps according to the professionals behind the product. The ingredients, including pearl powder, will care for your teeth and whiten them. Here's how…

The Toothpaste
The Black Pearl Whitening Toothpaste, an excellent stain remover and fantastic anti-cavity protector. The Activated Charcoal formula eliminates bacteria that causes bad breath all while not harming enamel. The Pink Pearl Sensitive Toothpaste works the same way only it is a safe and efficient stain remover for more sensitive gums and protects enamel. The other product, Precious Pearl Enamel Remineralisation Serum, forms a protective layer and helps make teeth appear smoother and brighter.
These toothpastes are perfect for the run up to the wedding, as they'll have you not only photo ready, but hugging, talking and kissing ready too!

The Mouthwash
The Fresh Pearl Mouthwash is the next step to achieving that dazzling million dollar smile on your special day! It combats bad breath, neutralises bacteria and protects against acid attacks. Using this mouthwash regularly and especially on the run up to the wedding, will fight plague, the cause of tooth decay and bad breath.

Pearl Whitening Kit
Even after the big day is over, you will want to keep those pearly whites shining! This long-lasting whitening kit gives great results from the comfort of your home, either by using the pen for touch up service or the whitening strips.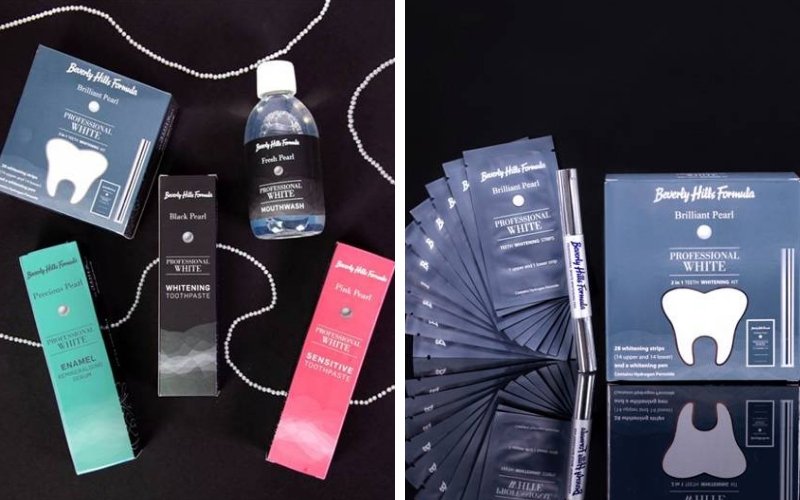 Whatever you choose to use on the run up to your wedding, Beverly Hills Formula Professional White Range is guaranteed to keep your teeth bright, white and your smile dazzling!
Beverly Hills Formula is available in Boots Ireland and pharmacies nationwide. For more information contact: beverlyhillsformula.com