Afternoon Tea is a fantastic way to spend time with the girls; catching up, laughing and indulging on exquisite treats.
Ever since it was popularised in the 1840's, Afternoon Tea has remained a firm favourite and sought after pass time. And here in Ireland, there's no shortage of locations to enjoy an afternoon of high tea! Here are fifteen places to enjoy a spot of Afternoon Tea in Ireland, whether for a hen party or treating the Mother of the Bride/Groom.

Ballygally Castle, Co. Antrim
The seventeenth Ballygally Castle sits looking over Ballygally Bay and sits beside Carnfunnock Country Park. It is the starting point for the Causeway Coastal Route and is a stone's throw away from film locations used in the HBO's Game of Thrones. Fans of the show will love the Game of Thrones Afternoon Tea, an independently operated treat for those looking for a taste of Westeros. Some of the named treats include a Dothraki Trifle, Lannister Egg Rolls and Hodor's Pulled Pork Brioche.
Cost: £24 per person and reservations are recommended.
Castle Leslie Estate, Co. Monaghan
Come to the thousand acre estate of Castle Leslie and catch a glimpse gorgeous woodlands and lakes surrounding the late 1600's castle, where old style hospitality remains. Enjoy a walk round the idyllic grounds before or after the delicious indulgence. Settle down in The Blue Room to enjoy an Afternoon Tea experience not to be missed. Enjoy treats such as Roasted Pear and Salted Caramel Chocolate Mousse and Lime and Lemon Tarlets with Soft Meringue. Enjoy a walk round the idyllic grounds before or after.
Cost: €25 per person or an extra €14 or €19 for a glass of Prosecco or Champagne.
Waterford Castle Hotel, Co. Waterford
Beside the oldest city in Ireland sits the ancestral home of the Fitzgerald family, now turned Waterford Castle Hotel. Enjoy a spot of Afternoon Tea in either the Fitzgerald, Leinster or Conservatory rooms, with the landscaped gardens as a backdrop. Guests can relax by the open fires and even play a game of chess or draughts if they wish. Some of the delicious treats part of the Afternoon Tea include a Rich Brandy Fruit Cake, Crushed Avacado Sandwich and Chocolate Hazlenut Gateaux.
Cost: €35 per person or an extra €17 for a sharing bottle of Brachetto d'Acqui.
Cahernane House Hotel, Co. Kerry
On the edge of Killarney National Park, the first national park in Ireland, sits the four star Cahernane House Hotel, five minutes from the town centre of Killarney. The four-star hotel is romantically set behind a tunnel of greenery, making it an oasis of tranquility. Enjoy royal treatment in the Drawing Room, and feast on delights such as Crab and Chive Tarlets, Golden Raisin Scones and a Chocolate and Mango cone.
Cost: €28.50 per person or €34.50 for a Prosecco Afternoon Tea.
Titanic Belfast, Co. Antrim
Opened in 2012, the Titanic Belfast is a monument of the RMS Titanic on the site of the former Harland and Wholff shipyard. Those who choose to enjoy Afternoon Tea here, choose to step back in time and enjoy five star service in the Titanic Suite and dine beside the replica staircase from the ship and film phenomenon. Enjoy treats such as Strawberry Cream Cheesecake, Cinnamon Fruit Scone or the Titanic Clanger – you need to try it to find out!
Cost: £27.50 per person or £33 or £36 for a glass of Prosecco or Champagne or cocktail and £12.50 per child.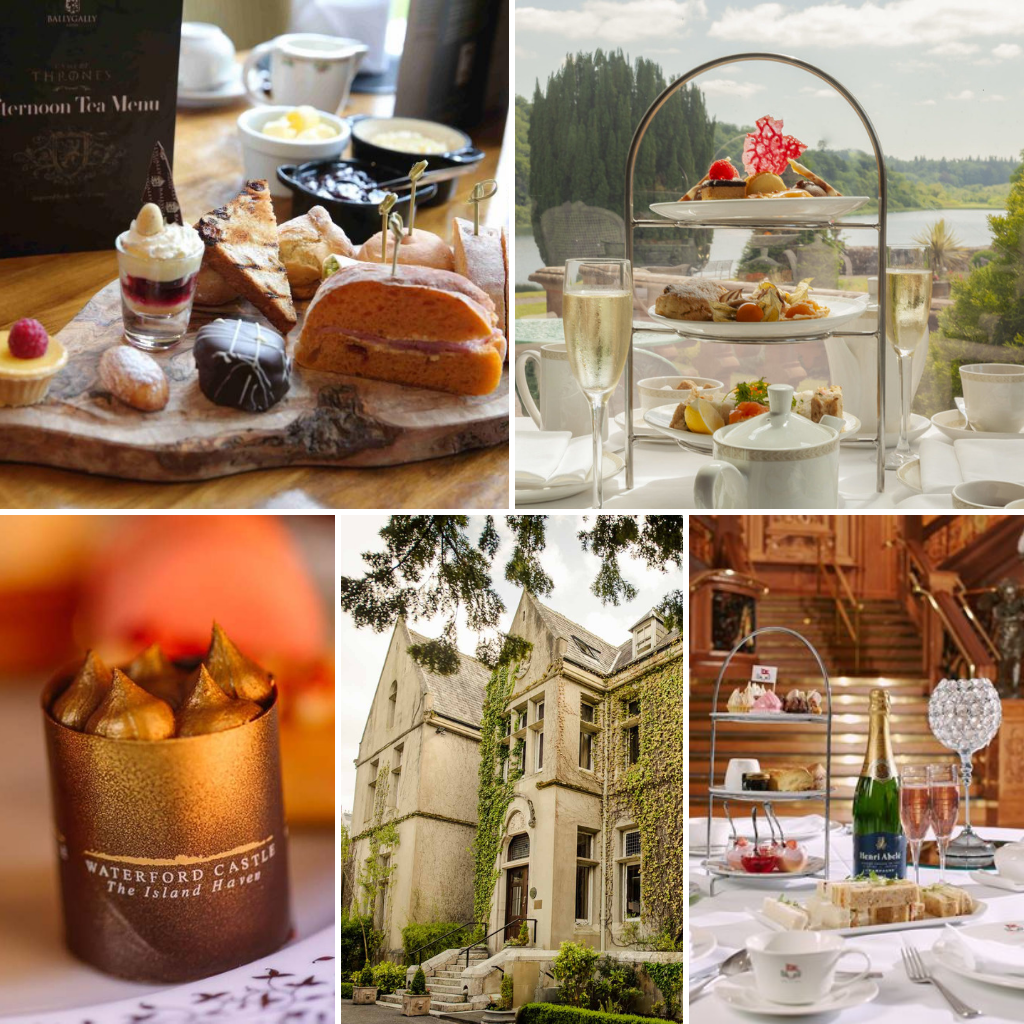 Farnham Estate Spa and Golf Resort, Co. Cavan
Come to the outskirts of Cavan Town to the 1,300 acre estate of Farnham, surrounded by ancient forests, lakes and meadows, for a country charm mixed with contemporary experience. Enter the original period Music or Gold room and enjoy a sumptuous Afternoon Tea. With vegan and vegetarian menus available, there's something for everyone. Treats include, a Duck Leg Confit Canapé and Banana Bread with Lemon Curd.
Cost: €26 per person or €36 or €45 for a glass of Prosecco or Champagne. Reservations are recommended.
The Savoy Hotel, Co. Limerick 
At the heart of Limerick city, the five star hotel is at the gateway of the Wild Atlantic Way, home to some of Ireland's most scenic landscapes. Afternoon Tea is served in The Library, an appealing room filled with book lined walls and plush furnishings, and as it's perfect for small gatherings, the atmosphere is charming. Enjoy treats such as Smoked Salmon on Soda Bread, French Pastries and Cinnamon Cake.
Cost: €28 per person or €35, €45 or €49 for a glass of Prosecco or Champagne.
Tinakilly Country House, Co. Wicklow
Forty-five minutes from Dublin, the fourteen acres of Tinakilly Country House overlooks the rugged Irish Sea, sitting steeped in history and surrounded by mature gardens. Delicate sandwiches  and all things homemade await those wishing to indulge in a delectable Irish Afternoon Tea.
Cost: €22 per person or €54 for High Tea for two.
Vintage Tea Tours, Co. Dublin
For an Afternoon Tea experience like no other, try out Vintage Tea Tours. Board the old fashioned double-decker bus at the Irish Emigration Museum and enjoy seeing Dublin in a new light. The route passes landmarks such as Phoenix Park, St. Stephen's Green and the Guinness Brewery. Relax, eat and enjoy the funky 1950's jazz music playing in the background!
Cost: €47.50 per adult and €25 per child.
Dromoland Castle Hotel, Co. Clare
Walk in the shadows of Ireland's ancestors at Dromoland Castle Hotel, where the last king of Ireland's heritage lies. The building has stood since the sixteenth century and the hotel endeavours to treat every guest as royalty. The Mrs White's Afternoon Tea, named after a long term staff member, is a fun and indulgent experience enshrouded by five star treatment and features Dromoland's Signature Fruit Cake.
Cost: €29 per person or €44 for Champagne Afternoon Tea and €18 per child. Reservations are recommended.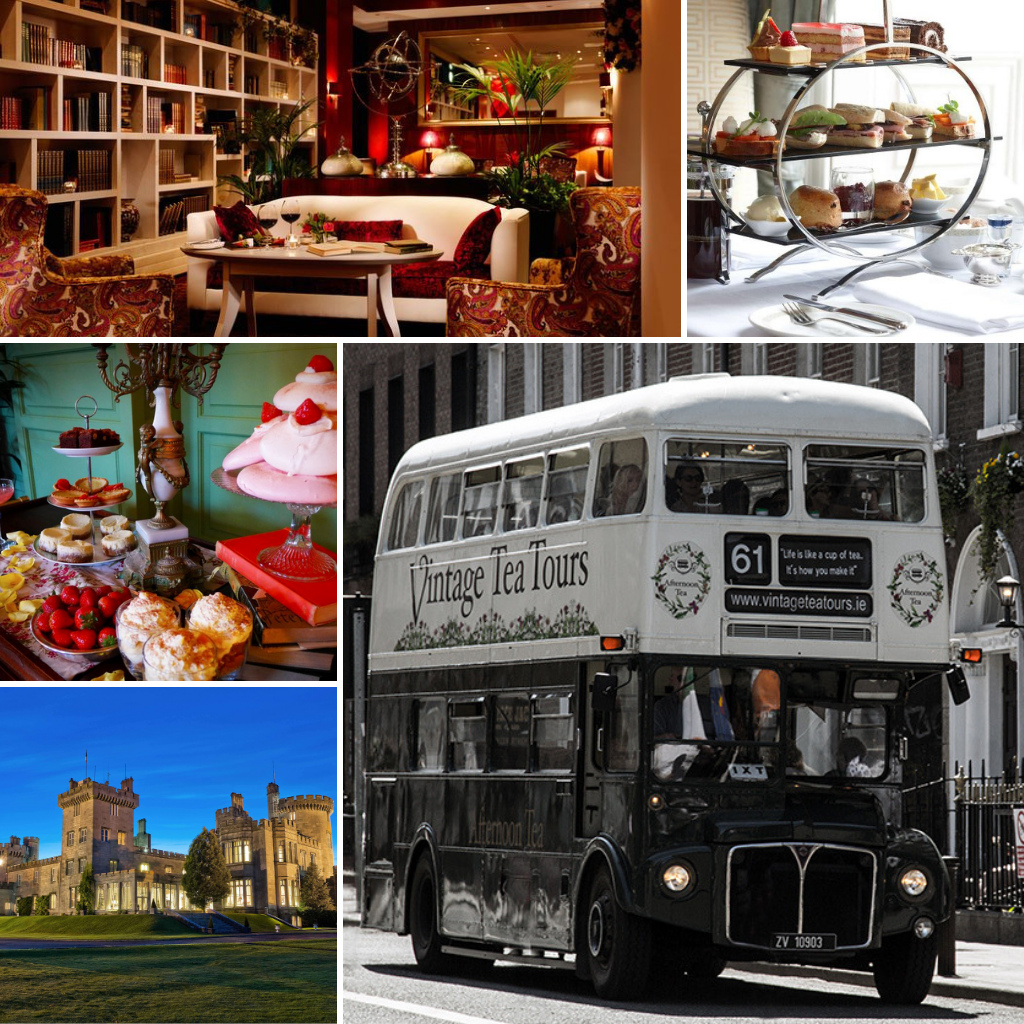 Castlemartyr Spa and Golf Resort, Co. Cork
Twenty minutes from the city centre of Cork, Castlemartyr Resort is 220 acres of rich history, with a thirteenth century village nestled beside. The Manor House itself is from the eighteenth century and guests enjoy stepping back in time. The Lady Fitzgerald Afternoon Tea offers a Downton Abbery era experience, with vintage styles in the Bell Tower Restaurant. With this Afternoon Tea, guests can enjoy a Sweet Start before delving into savoury delights.
Cost: €68 for two or €84 the Sparkling Afternoon Tea, and a children's menu is available. Reservations are recommended.
Lough Erne Resort, Co. Fermanagh
Sitting on the gateway to North West Ireland, Lough Erne Resort sits on the 600 acre peninsula among the Fermanagh Lakelands. Served in Belleek Pottery China, the Afternoon Tea can be enjoyed by watching the views of the Faldo Golf Course and Castle Hume Lough. The delights come with elements of surprises from the kitchen and guests can enjoy treats like Ham Hock Fritters or Raspberry, Vanilla and White Chocolate Éclair.
Cost: £25 per person or £33 for Sparkling, £35 for G and Tea or £39 for Champagne.
Everglades Hotel, Co. Londonderry
Five minutes for the city centre of Londonderry, Everglades Hotel sits looking over the River Foyle and the hills of Donegal. Londonderry was named the UK City of Culture in 2013 and the hotel doesn't shy away from the Irish's love for tea! Guests can enjoy treats like Orange and Chocolate Scones, Banana Bread and an array of brews!
Cost: £22 per person or £32 for the Sparkling Afternoon Tea.
The K Club, Co. Kildare
For a country escape, visit Kildare's K Club, thirty minutes from Dublin. The beautiful grounds of the five star resort is filled with country charm and history. For the much sought after Afternoon Tea, guests are taken to the Chinese Drawing Room where they can enjoy the finest teas and coffees with their finger sandwiches, pastries and scones.
Cost: €42.50 per person or €57 with a glass of Champagne. Reservations are recommended.
Ashford Castle, Co. Mayo
When guests enter the 800 year old castle, they are immediately treated like royalty. The former home of the Guinness family sits on 350 acres of woodland and lakes and its interiors are filled with fine fabrics, period furniture and unique features. In the Connaught Room, the original tea set of Lord and Lady Ardilaun from 1896 sits proudly displayed. Some the treats guests can enjoy are Lemon Scones and Chocolate Tortes.
Cost: €55 per person and glasses of Champagne can be added.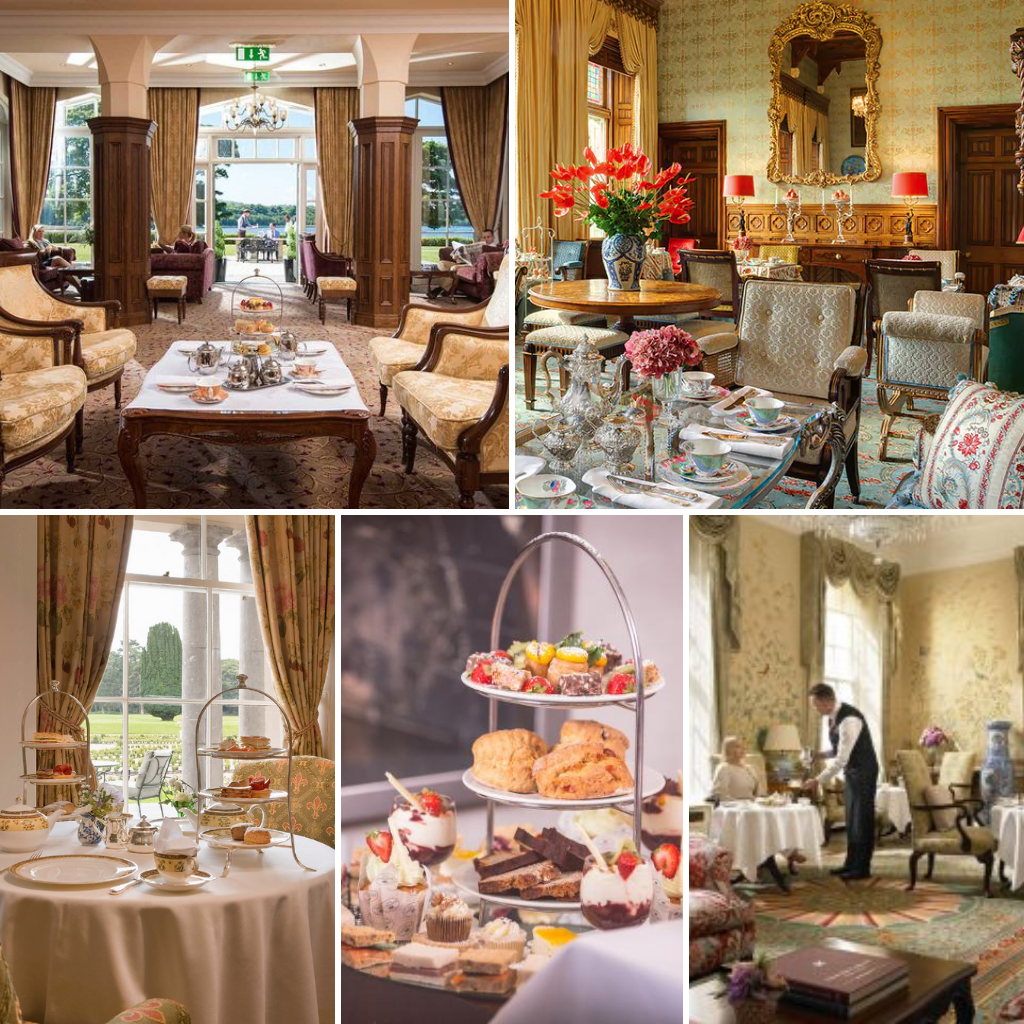 Set Featured Image: Ashley Slater Photography