World of Wedmin
New York Bridal 2016 Trends
New York Bridal Fashion Week 2016 is now over and what a fashion week it was! This year the catwalk was all about daring, innovative styles and giving traditional romantic classics a modern twist. Particular attention was paid to the bust area this season with designers favouring a confident plunging neckline or a slightly more modest illusion bodice. Check out the top trends which will be hitting bridal shops near you soon!
Feathers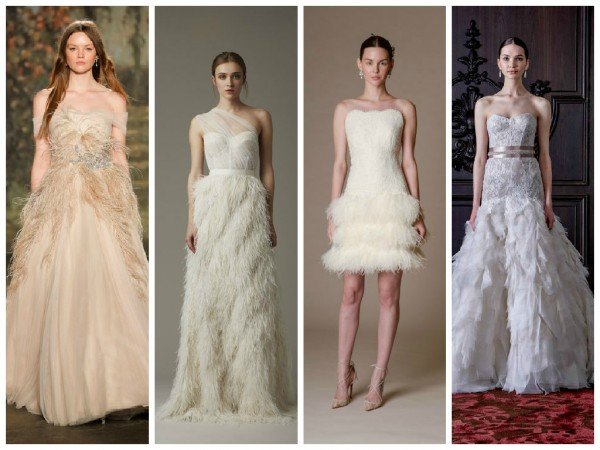 Romance was a huge theme on the runway this year with the help of whimsical feathers! Key designers like Jenny Packham and Marchesa unveiled feathered pieces in their collection for volumious layers. Jenny Packham's use of feathers was striking and almost fairy-tale like whereas Marchesa seemed to be emulating a more 1920's flapper look. We adore the feathered skirt on Monique Lhuillier's fit and flare, it contrasts perfectly with the metallic belt for the contemporary bride.
Trouser Suit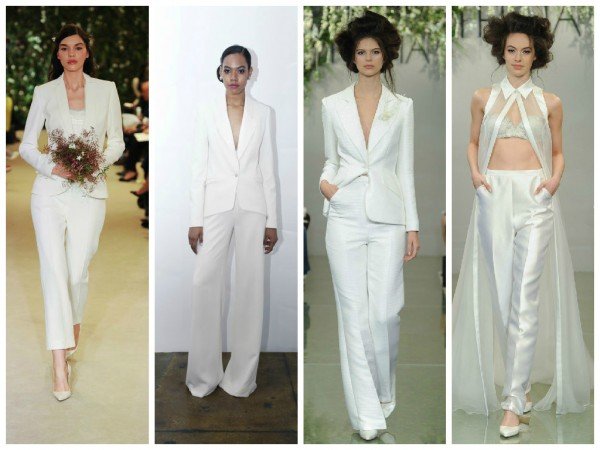 Trousers are here to stay! Although still a controversial wedding outfit, trouser suits were seen all over the catwalks in New York and how chic do they look?  For the non-traditional bride 2016 is all about structured suits with effortlessly tailored trousers in crisp-white. Many designers like Pamella Roland and Theia opted for a high waist with a boot-cut style leg.
Tulle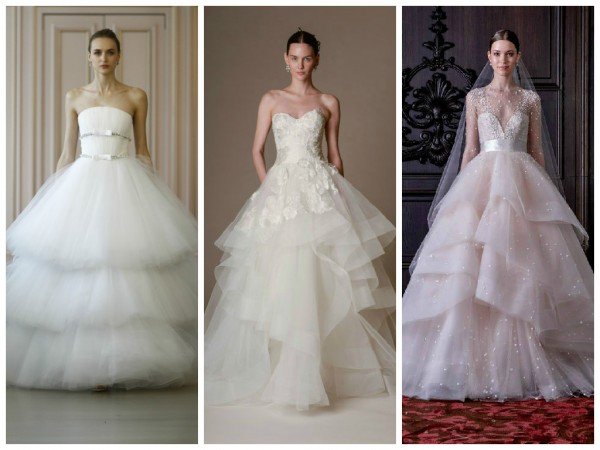 Tulle has made a huge comeback this year and we can see why! Influenced by the Live Action Cinderella, many designers seem to be acknowledging the trend by incorporating a classic princess dress into their collection. Tulle is the perfect fabric to accentuate a full princess skirt as it's light and easy to move around in, plus it looks amazing!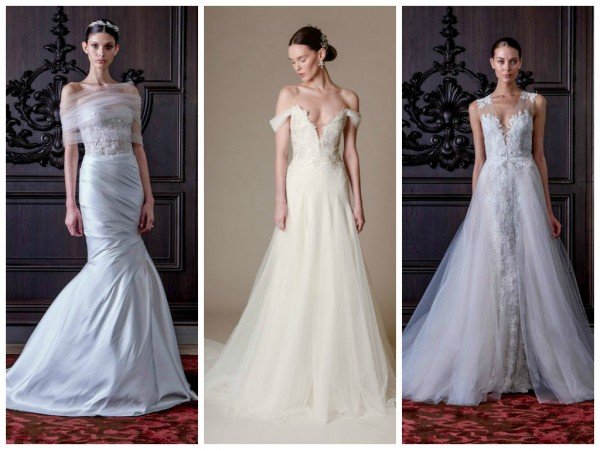 Such a versatile material, tulle is creeping onto the catwalk in a multitude of ways. The tulle overlay on the Monique Lhuillier creation adds volume like a princess skirt but keeps the slender a-line skirt visible for a slimming effect. Many bespoke designs have a detachable over skirt to take the modern bride from day to night.  Watch out for tulle cover ups, straps and overlays in 2016 for that extra touch of glam!
Plunging Neckline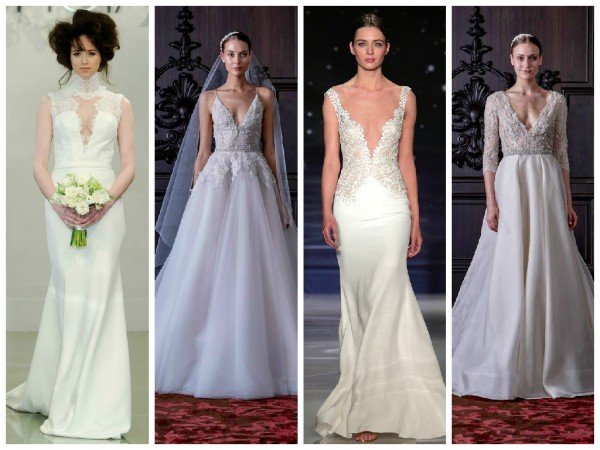 Step aside high necklines, in 2016 everyone is taking the plunge! Plunging necklines were the most consistent trend on the catwalk this year with almost every designer working them into their collection. Although daring, many designers balanced out the deep v-neck with straps and sleeves to create a slender plunge for a look that's more fairy tale than seductress.
Illusion Neckline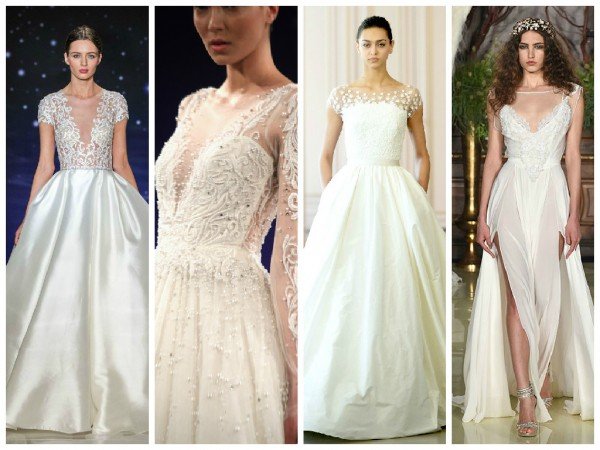 If you're not quite convinced by the plunging neckline many designers opted to include an illusion bodice. An illusion neckline is a sheer piece of netting that covers an area of the body with material but looks naked from far away. This look is perfect for the bride who wants to appear sultry whilst keeping her dignity intact. The scalloping on the Lela Rose adds extra modesty for a commanding yet demure princess look.
Butterflies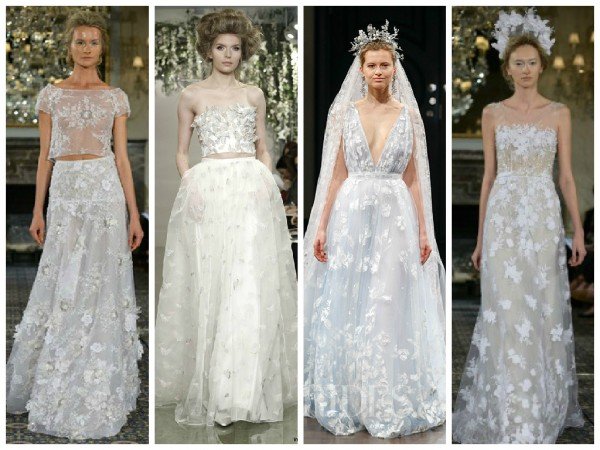 3D detailing was everywhere this year, adding another striking element to these couture wedding gowns. Many designers chose to forgo the traditional flower detailing and added butterflies for a more playful look. The butterflies perfectly compliment the hues of blue that were appearing all over the runway.
For yet another season, two piece gowns presided among many of the greats with Mira Zwillinger and Theia choosing to merge both the butterfly and crop top trends. The butterflies add a romanticism to the outfits, softening the harsh cut of the crop top and combining some of the hottest trends on the runway for an edgy style.
Lingerie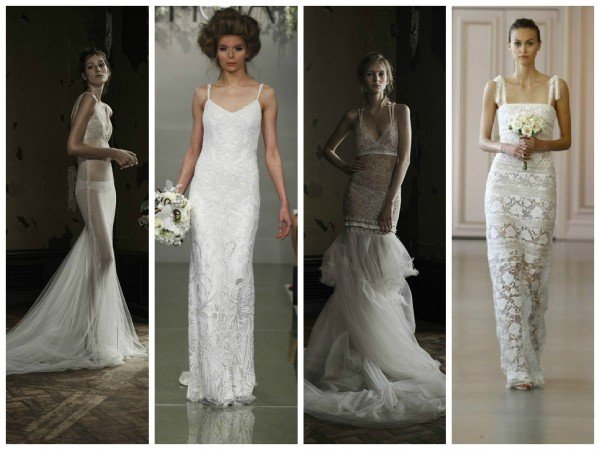 Some of the biggest names including Vera Wang and Oscar De La Renta were showcasing lingerie inspired wedding gowns this season. Sheath cut with soft materials and extremely revealing our, eyes were drawn to these collections for their utter charisma . There's something so enticing about simple designs made from the most exquisite lace and tulle.