With so many different lengths and finishes, the options for your wedding veil are endless, but the experts are here to help you find the perfect one.
Set Your Budget
Firstly, decide what you are willing to spend on your wedding veil and this will help you to narrow down your options. Veils can be more expensive than you might think and just like dresses do range in price depending on their finish.
Consider Your Hairstyle
Yes, your perfect veil will depend on how you plan to wear you hair on the day. If it is to be up or down, if hair accessories are to be worn, all of these details will help you to choose the veil style that suits your overall look.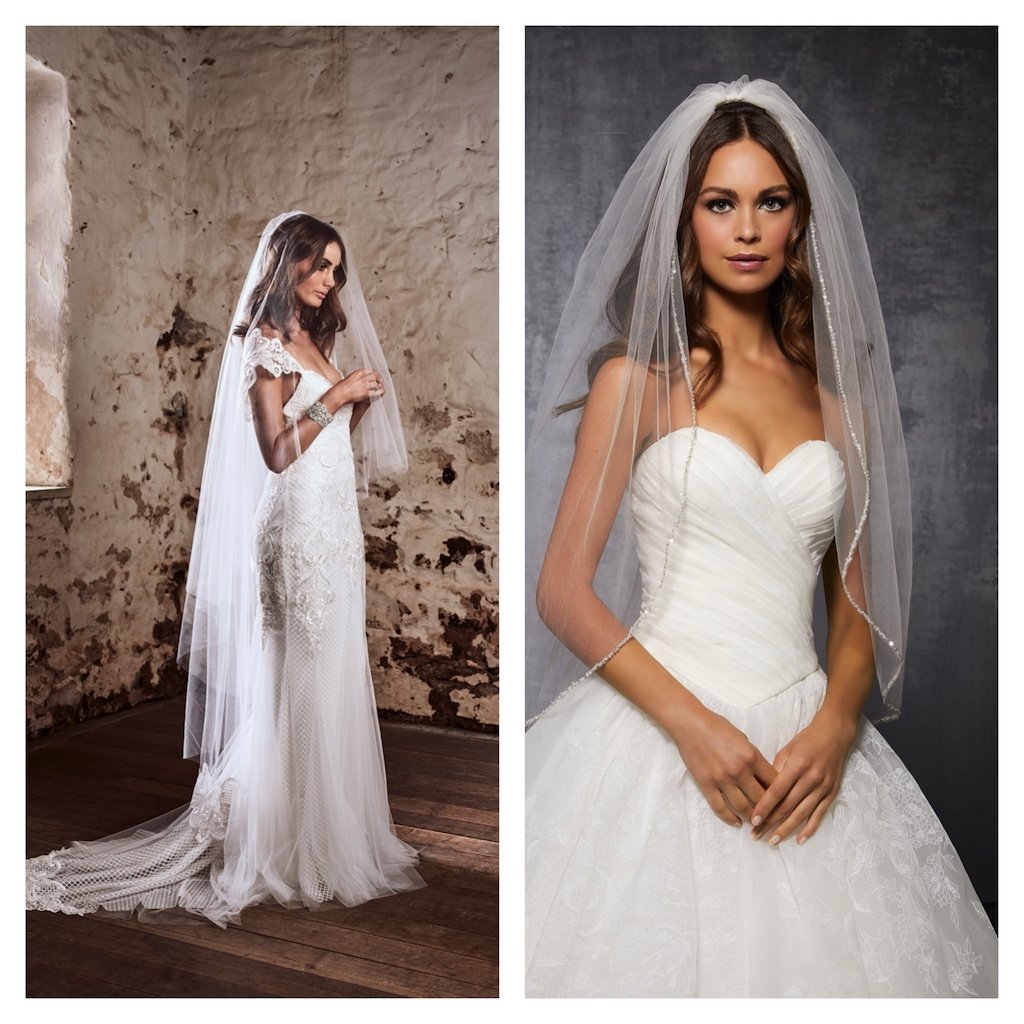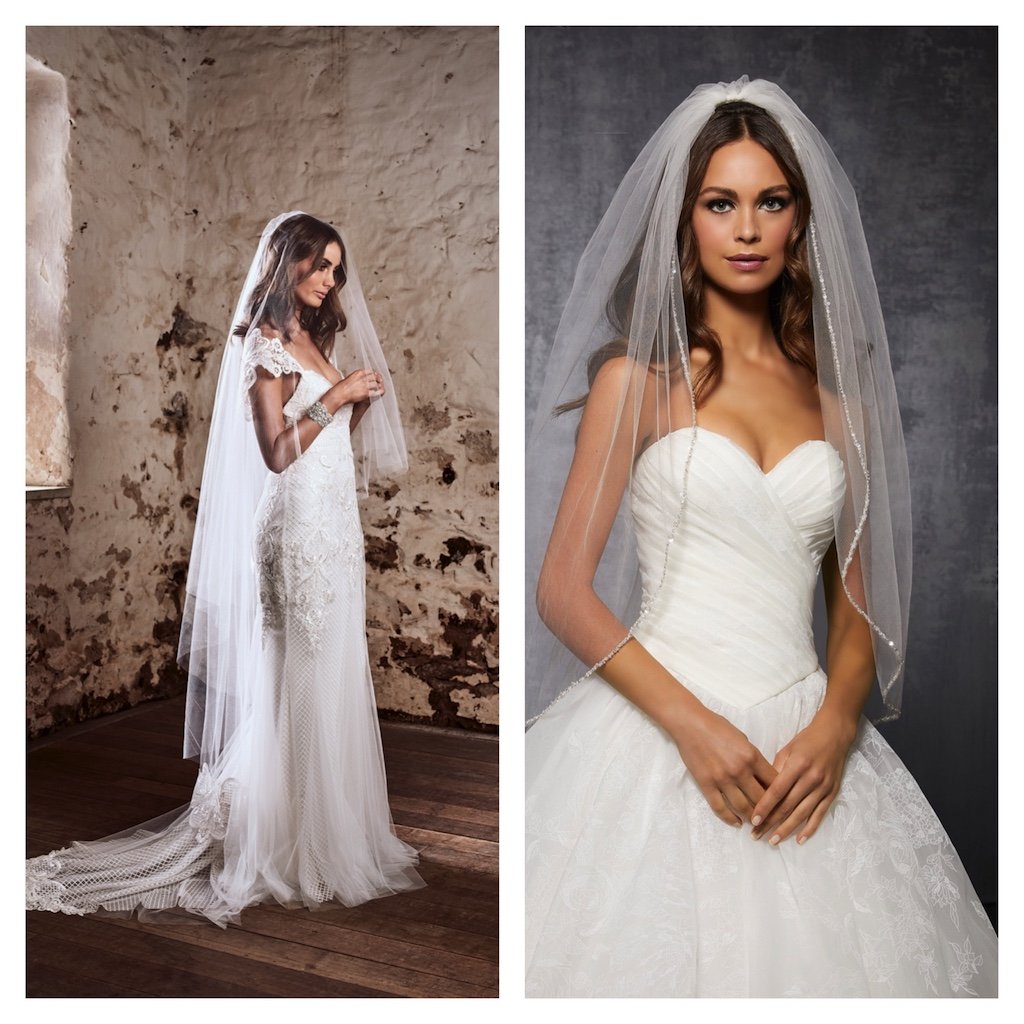 Experiment With Different Styles
When you go to pick your veil, having all of the knowledge from the first two points, try on various different styles within your budget and to suit your hairstyle so that you can see exactly how they would work and decide which one best suits the vision you have for your finished wedding day look. As Jill Wilde from Wilde by Design comments, 'Angel cut or waterfall veils fall fabulously over the face and shoulder and are ideal if want to cover your shoulders but don't want to wear a wrap or a shrug. These work best if your hair is off your face.'
Would like to wear your wedding veil over your face? This answer has an immediate impact on the style of veil according to Rebecca McCann Williams, Visionary Veils. 'If the answer is yes the veil is worn over the face until the bride reaches the top of the aisle. It is always helpful to try on a wedding veil with a blusher worn over the face to see how you feel with when your face is covered,' advises Rebecca, who adds, 'This year two classical elements stayed strong on the bridal runways; drama and glamour. The designers showcased long dramatic flowing wedding veils and veils with embroidery, lace, beading and texture.'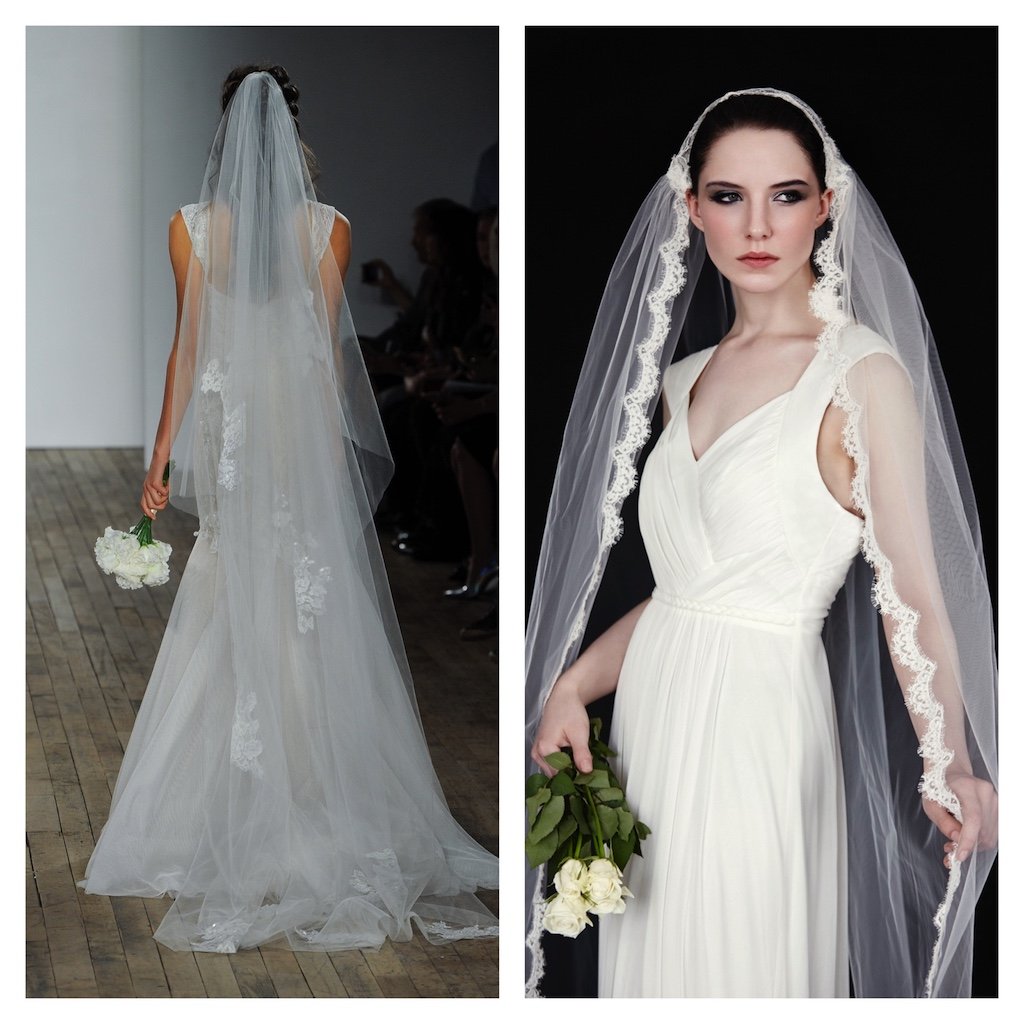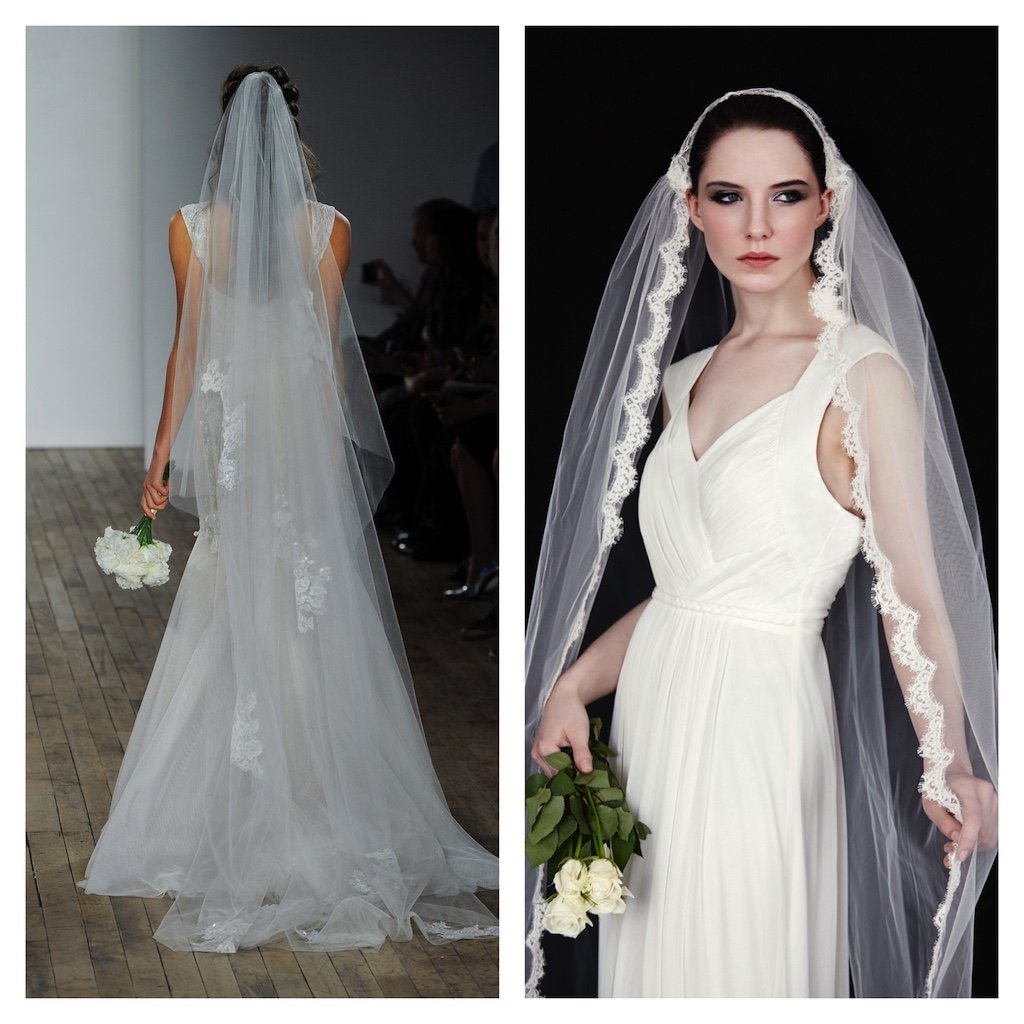 Don't Forget The Dress
Once you have chosen your fabulous gown you can start the fun process of looking for all your bridal accessories,' says Rebecca. 'You will now have an idea of the style of your wedding dress; classical, romantic, or bohemian and it will influence all your bridal accessories. Your choice of wedding dress will help shape the style of veil you might choose.'
For Jill, 'The veil should also complement your wedding dress and never compete with it. You want to have a cohesive look rather than a mish-mash of different styles. For heavily embellished dresses the trim on your veil that falls over your dress should be more discrete. If you want dramatic detail on your veil you should keep this to the end which flows after the dress. Also, the shorter the dress the shorter the veil, if you choose a tea length dress then your veil should not be longer than fingertip to ensure the shape of the dress is not swamped.' Jill also advises if your dress has a wide skirt try to choose a wider veil so that it will cover the width of the skirt rather than fall just shy of the edges.'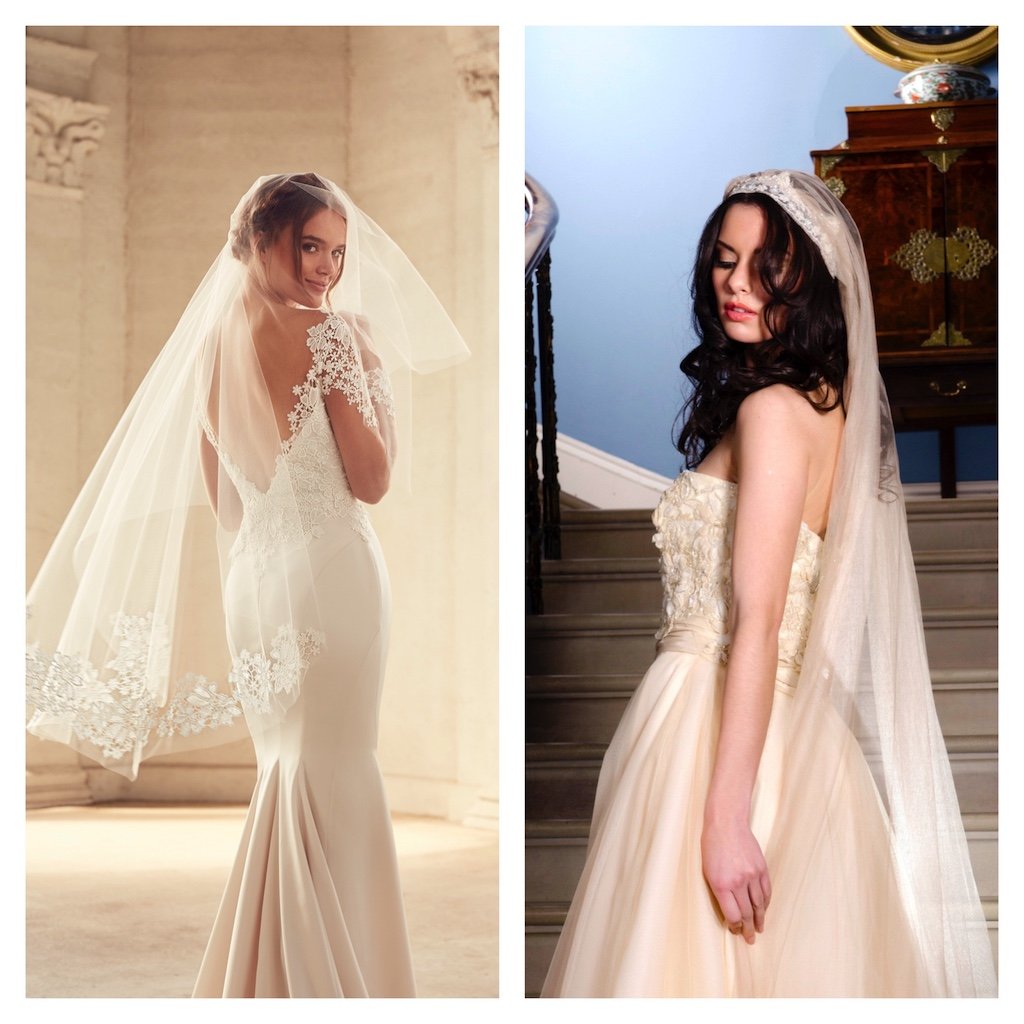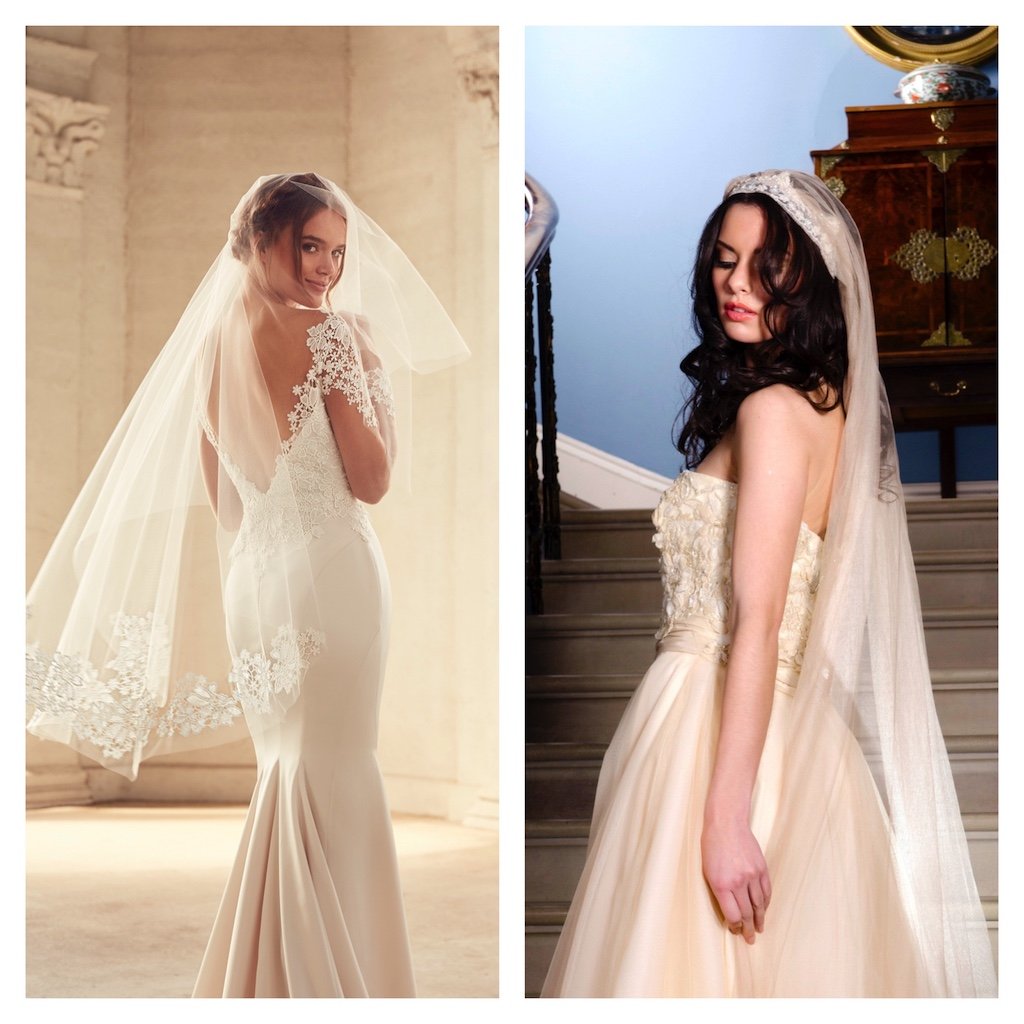 Complementary Colours
'Many wedding dresses are now two-toned with a white/ivory tulle over a coloured satin or tulle. In this case a single layered veil with white or ivory tulle will not match. You will need to use the base colour in your veil as to well as the ivory/white to get a complete colour match,' adds Jill.
'Choosing a veil that works with a coloured wedding dress can be tricky,' adds Rececca. 'Gowns of blush pinks and underlays of champagne and gold  have remained popular with wedding dress designers and this year pastel blues and even vivid lilacs have made an appearance on the catwalk bridal collections. The client needs to decide what the overall impact will be when choosing a coloured veil. 
'If the wedding dress is a block colour of fabric then a wedding veil in a complementary shade of pink, gold and even black can create a stunning effect. 
'If the wedding gown has an underlay of a darker shade to accent the lace design or the colour is only introduced on the under skirt most clients would use a neutral veil colour of ivory or white. This allows the colour to shine through the veil keeping the effect of the colour subtle and ethereal.
'We have a huge range of colour options and also provide swatches for the client to consider but we would always advise choosing a lighter shade from the colour options available. Once a veil is gathered onto a comb the chosen shade becomes darker and less translucent. Over the years we have created black, pink, grey, silver, gold, pink. poppy red and champagne wedding veils – although ivory still remains the most popular veil colour.'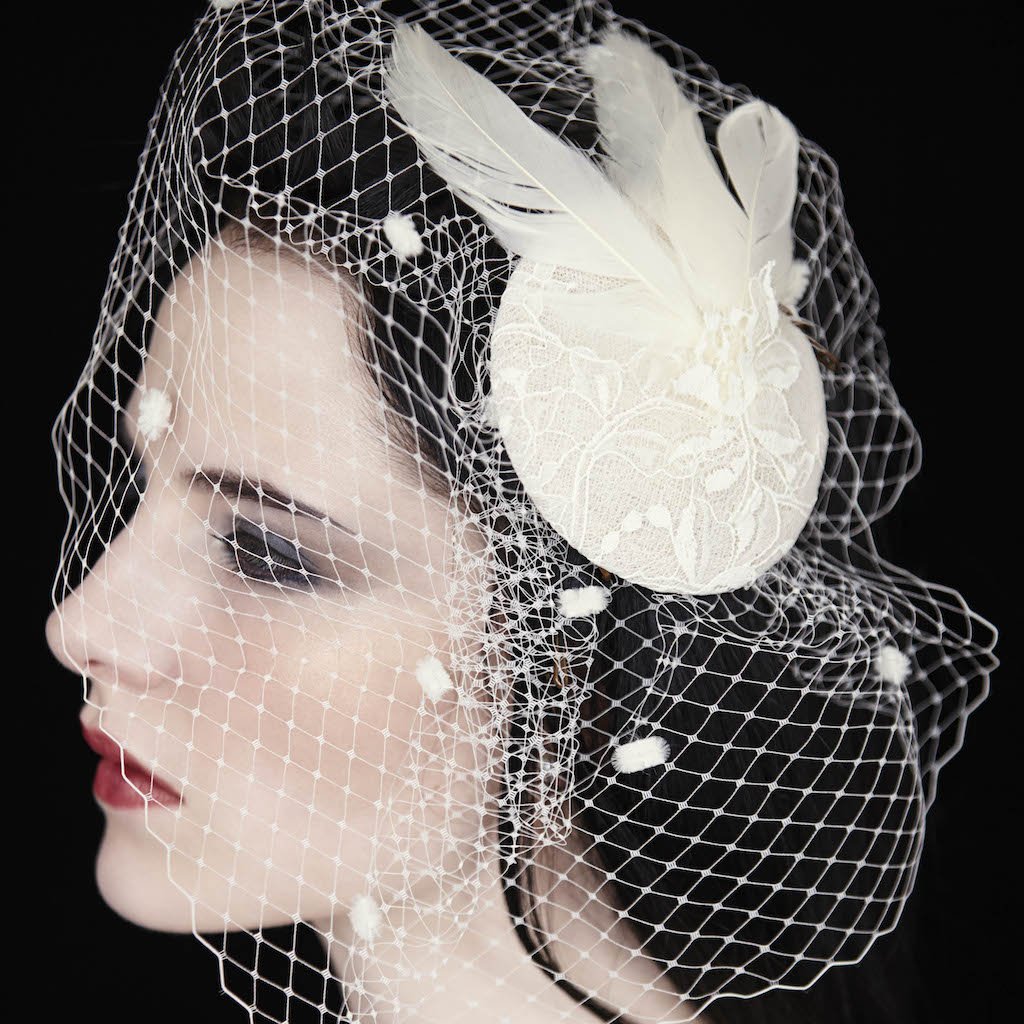 And Finally…
As Rebecca reminds us, 'The most important thing to remember when choosing your wedding veil is that you want to feel comfortable. As a bride you should never feel you must choose a certain style just because it is what you think you should wear! On your wedding day you want to feel at your best and confident and that should be representative of your taste and personality.'
Featured Image: Courtesy of Visionary Veils. Photography by Johnny Donovan