Get the perfect dreamy glow and fake it on your wedding day with celebrity favourite, Bellamianta Luxury Tan.
Bellamianta Luxury Tanning has fast become one of Ireland's best-selling and favourite tanning brands. Their revolutionary self-tanning products are all formulated with natural extracts making them the ultimate Vegan and Organic skin treatment for all skin types! 
Whether you are a regular tanner, or faux glow newbie, they have the perfect recipe of products and tanning tips for a fuss-free veil of bronze on your special day, and the suitcase essential to keeping the golden hue fresh straight through your honeymoon. 
Fail To Prepare, Prepare To Fail!
Preparation is key to obtaining a seamless long-lasting glow. Before every application make sure to exfoliate and moisturise on the days prior to applying your tan, but not the day of application. It is also essential to finish all waxing and shaving 24 hours before you begin in order to maximise the longevity of your fake tan. 
In order to give yourself the best canvas for any tan application, start the exfoliating process using Bellamianta's Triple Action Glycolic Scrub and Exfoliating Mitt. Work the product liberally into dry skin in circular motions, covering all areas. Enhanced with a combination of rich oils, Avocado & cleansing Sunflower Oil, Triple Action Glycolic Scrub softens the skin and gently exfoliates with a mixture of AHA's, Glycolic and Lactic Acid, leaving your skin smooth and fresh. Leave the product for 5 minutes to allow the natural acids and enzymes to work, and a little longer on drier areas. Using the Bellamianta Exfoliating Mitt, gently rub the Triple Action Glycolic Scrub into the skin before rinsing with water.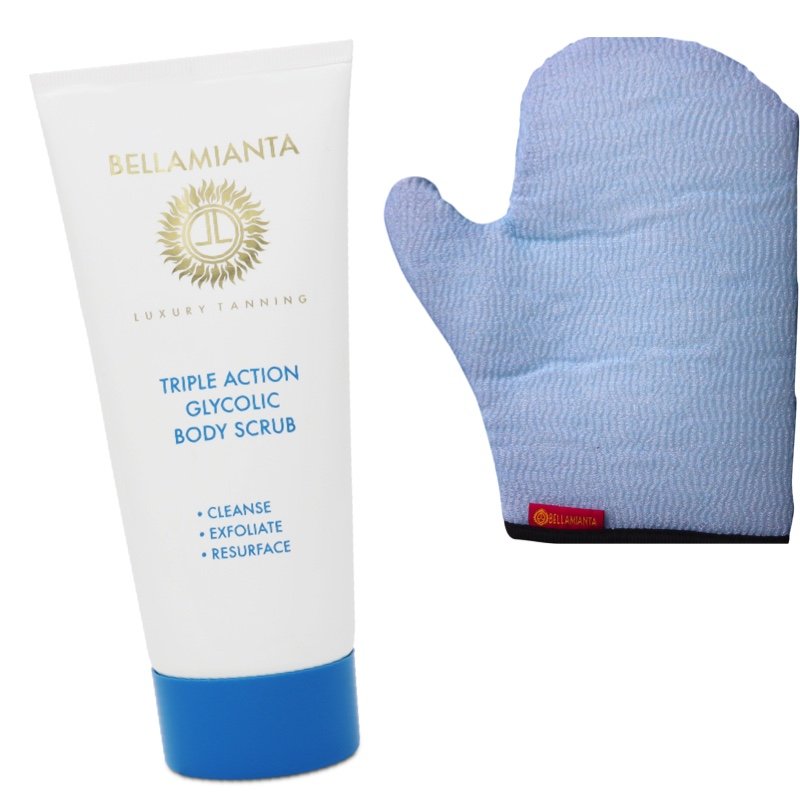 It's Time To Glow
Ensuring the skin has been free from product for 24 hours, it's time for your Bellamianta Tan application. Be it a professional Bellamianta Spray Tan, which is available in two golden hues in a salon of your choice, or an at-home application, Bellamianta Luxury Tan have an array of products available to suit everyone. 
When it comes to brides, the most popular product is Bellamianta's Crystal Clear Rapid Self-Tanning Clear Mousse. The first of its kind on the Irish market, Crystal Clear is as hydrating as water and as light as air; consider it a drink for your skin, whilst at the same time, delivering a radiant, olive glow. This tanning hero foams up on the skin so you can lather it on with the Bellamianta tanning mitt and feel where the product is going, making it effortless to apply. Crystal Clear also employs Bellamianta's odour neutralising technology to ensure your glow is free from that biscuity, fake tan smell, replaced by the brands signature Bergamot scent.
This product absorbs into the skin, drying within a staggering 60 seconds, meaning there's no time wasted after your application. What's more, it's transfer resistant from the moment it goes on. With no guide colour, there's no risk of tanning stains on clothes, or more importantly your wedding dress! Over the next two to six hours+ a golden olive glow will develop, lasting up to seven days. The longer you leave the tan to develop, the deeper the shade will be. Thanks to its ultra-smart hydration system, Crystal Clear is one of the first tans on the market that guarantees an effortless and even wearing off process.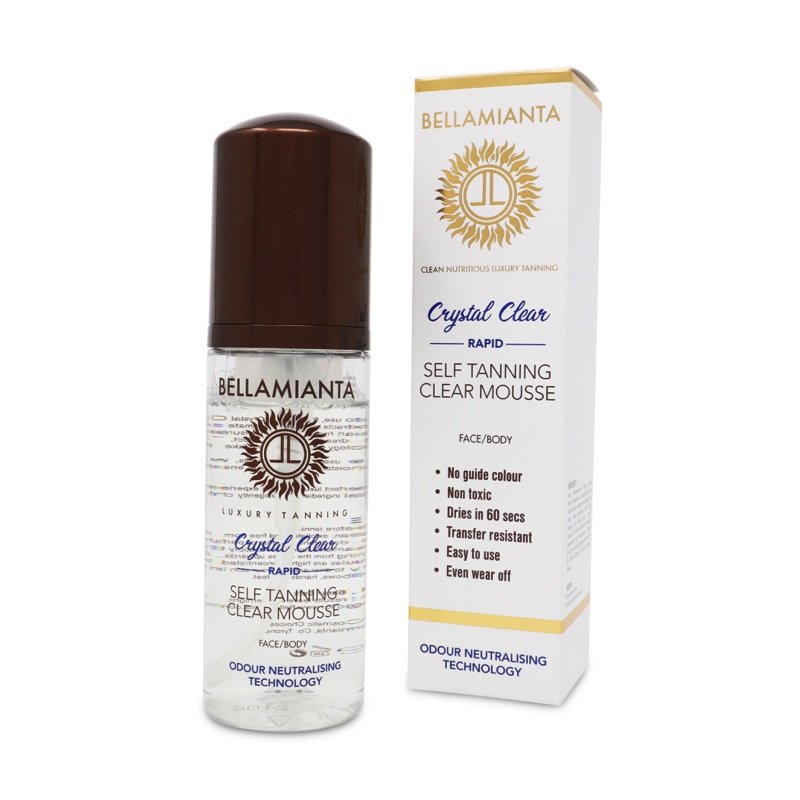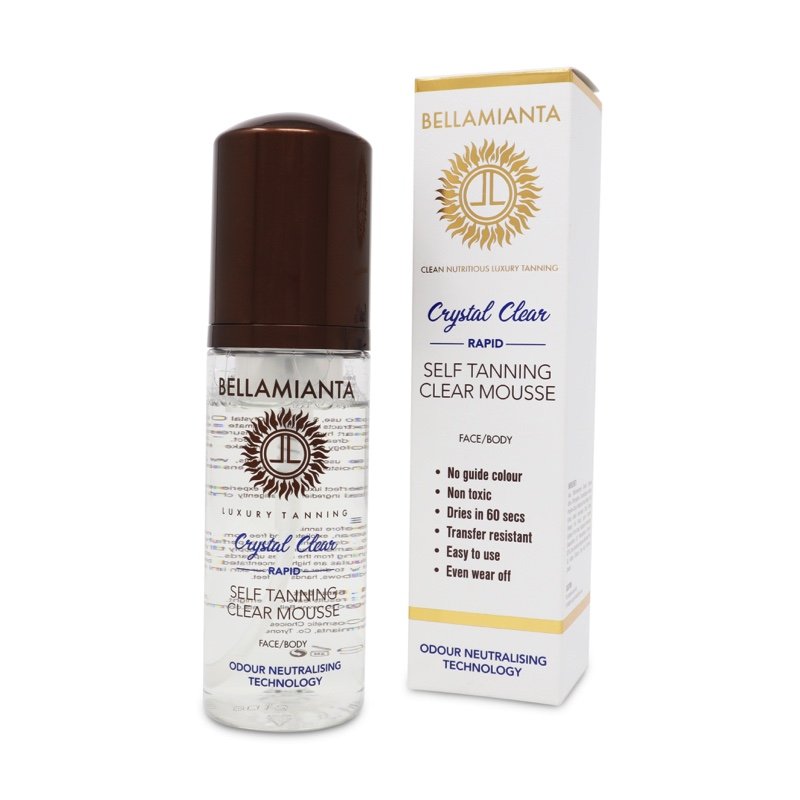 On The Day
On the big day, give your skin a seamless appearance with Bellamianta's new Flawless Filter Body Make Up to smooth imperfections, pores, stretch marks, blemishes and even out skin tone. Designed to bronze and gloss your skin giving you a HD Finish with a gorgeous iridescent glow making it the perfect body make-up for every occasion.
When it comes to adding a dash of shimmer, Bellamianta's Skin Perfecting Illuminating Bronzing Powder will add subtle coverage to the skin, while the ultra-fine golden flecked light reflecting particles leave you with a diffused radiance. Swipe down the leg or swoosh across the chest and arms to bring your tan to life.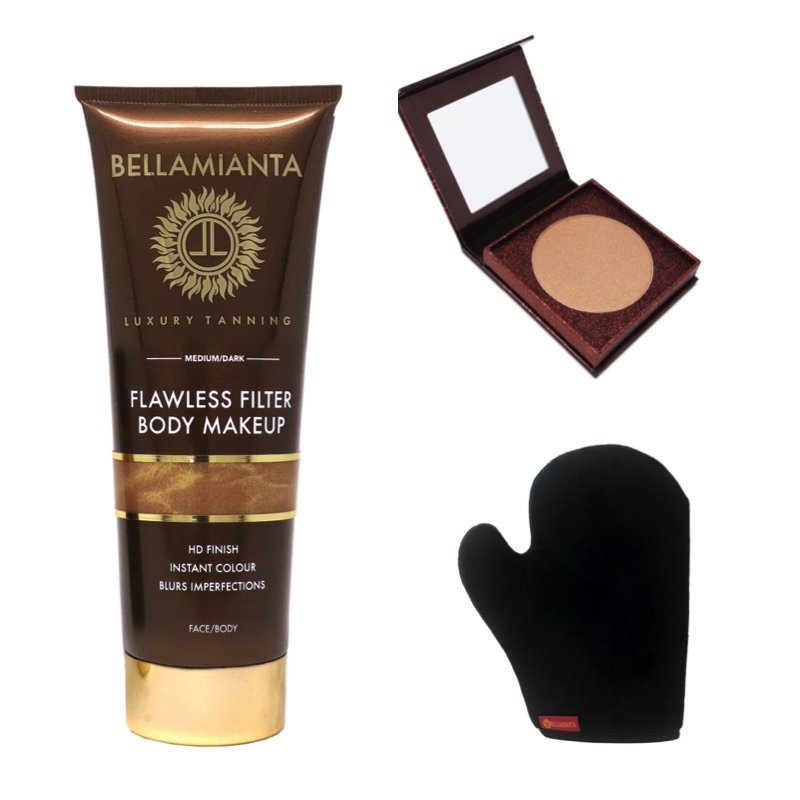 Honeymoon Tan
To keep your tan topped up while relaxing on your honeymoon, make sure to pack the Bellamianta's Self Tanning Gradual Moisturiser. Infused with skin-loving shea butter, aloe vera and Vitamin A, C and E, as well as natural exfoliators that guarantee an even wear-off. It's a hard-working hydrator in its own right. The Self Tanning Gradual Moisturiser soothes and restores skin elasticity while containing anti-ageing, firming and toning properties. The winning formula is kind to sensitive skin and ensures an easy task when it comes to drier areas such as elbows and knees.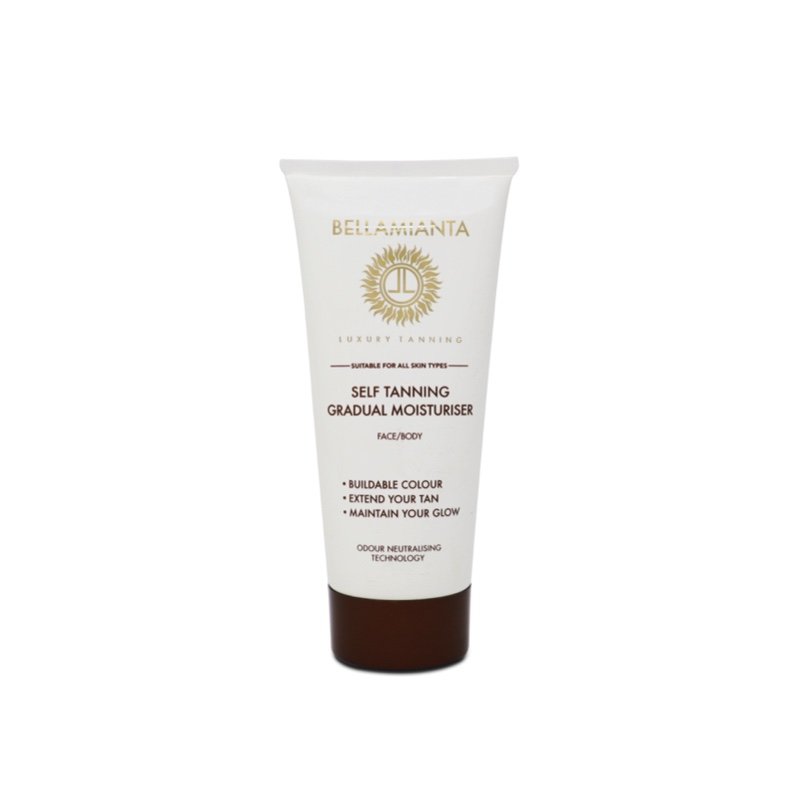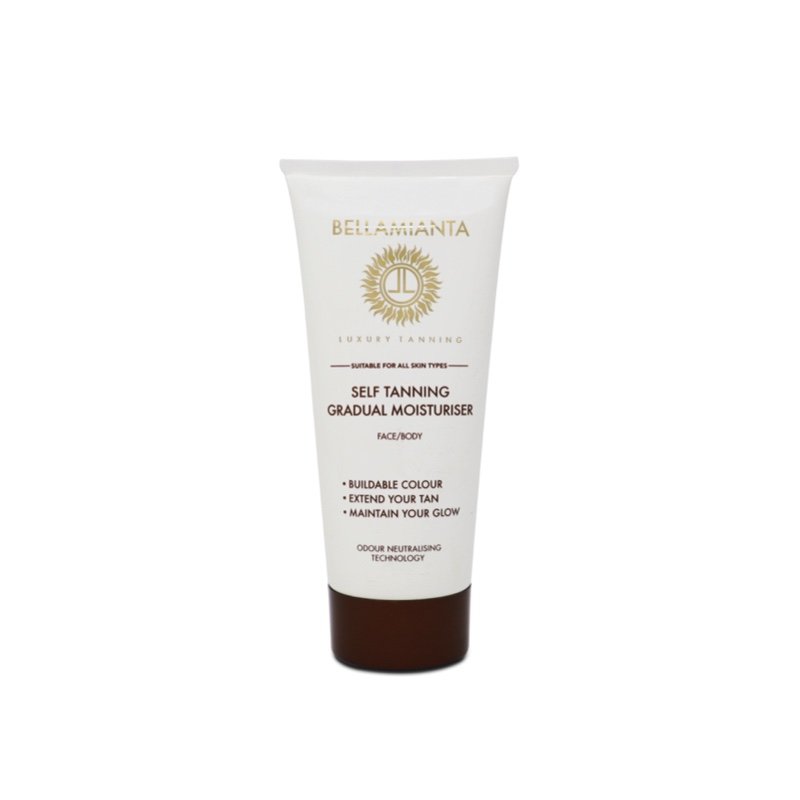 ……………………………………………………………..
For further beauty tips and inspiration,  make sure you head along to The Wedding Journal Show Belfast on Sat 5th & Sun 6th Oct – get your tickets here!