We know how important it is for brides wanting to look their best on their wedding day, especially when it comes to their teeth.
And for those all-important wedding photographs, you will no doubt want your smile to dazzle. That's why we have spoken to the fabulous team at Blackrock Dental in Dublin to share how you can achieve a glowing grin on your wedding day!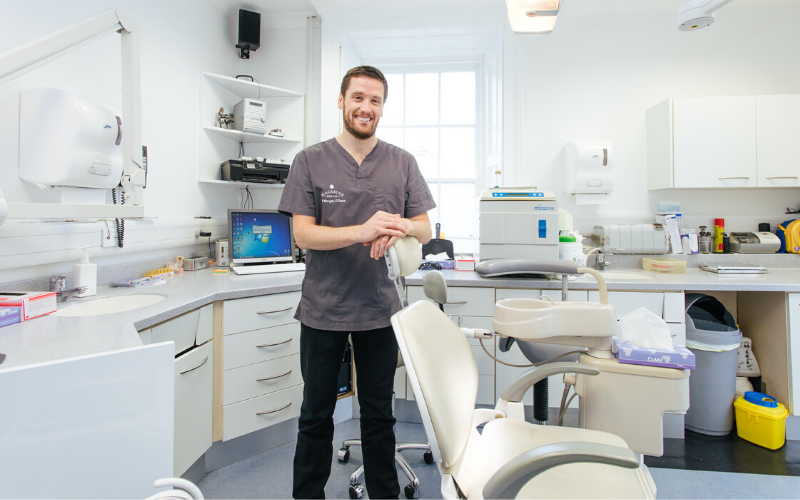 Dr Morgan O'Gara of Blackrock Dental
DIY Remedies
Schedule a Professional Clean: Superficial staining from food and drinks such as tea, coffee or red win can often be removed with a professional clean. The best treatment you can get is by a professional, so a book an appointment. The dentist will go through all your options and examine the health of your teeth.
Choose Teeth-Friendly Snacks: Eating crunchy fruits and vegetables such as carrots, apples and celery will stimulate the production of salvia, which in turn helps to wash away any plaque. Raw fruits and vegetables are a natural abrasive that can help to keep teeth clean. Coffee, tea, soda and red wine are all very acidic, which make your tooth enamel softer and more susceptible to staining. Berries and food with bright artificial colouring are also known to stain over time. Consume them in moderation and brush your teeth as soon as possible after consuming them, even if that means keeping a toothbrush and toothpaste at work.
Make Your Lipstick Your Friend: Choose a shade that works with your skin tone. Shades like cherry red, wine, berry, plum or rosy pink are your best bets. Blue and pink-based undertones will help hide yellow stains in your teeth and it's best to stay away from something too dark or too red.
Professional Help
Teeth Whitening: It's best to see a professional if you want to achieve the best results for your big day. However, don't leave it too close to the date of your wedding. The whitening process generally takes at least two weeks, depending on your desired results, so it's important not to try to cram it in!
Veneers: If you're concerned with aesthetics of your teeth, more so than just the colour, you may want to consider porcelain veneers. They are thin porcelain facings for your teeth that can rejuvenate your entire smile.
Orthodontics: In the case of teeth crowding, the best solution is orthodontic treatment. With options such as Invisalign, gone are the days of having bulky, unsightly metal braces. Allow at least one year prior to the big day.
The team at Blackrock Dental 
For expert advice, complimentary smile assessments and special offers, why not visit Dublin based Blackrock Dental's stand at the Wedding Journal Show Dublin on Saturday 11th and Sunday 12th January? Meet Dr Morgan O'Gara and the team who will be there on hand to advise on the range of treatments that are available at their clinic such as Invisalign, tooth whitening, cosmetic bonding, ceramic veneers and much more – discover the options for you!
Complimentary smile assessments.
Invisalign – see what is possible for you with our on-site digital scanner. Instant digital proposal of your final result using Invisalign's Clincheck software. Normal price of €250.
Make sure to come and say hello to pick up your complimentary goodie bag
Exclusive show offers:
€300 off Invisalign treatment
Spot prizes to include – complimentary tooth whitening, complimentary check-up and clean.
For more information, visit  blackrockdental.ie and don't forget to give them a like on social media by searching  'Blackrock Dental' on Facebook and @dr_morgan_ogara on Instagram.