We've seen the brand new 
Jesús Peiró 2016 bridal collection at Barcelona Bridal Week and it was fabulous!
Barcelona Bridal Week has returned for its' 25th year to showcase 2016 trends from some of the hottest bridal designers including Jesús Peiró. At the forefront of bridal fashion in Spain, Jesús Peiró has become famed for crafting elegant and sophisticated gowns for the modern bride.
This year the design house has named their collection Nanda Devi after a mountain that is found between Nepal and India. Translated, Nanda Devi means Bliss-Giving Goddess and there is definitely a theme of divinity running through the season.
Snow Queen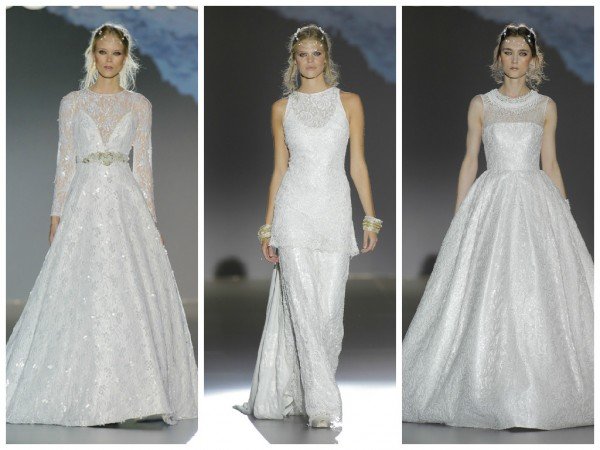 Snow Queen is a key look weaving its way through this collection highlighting the textures and colours of winter. Lots of delicate sparkle and crystal embroidery create a subtle icy shimmer to structured styles when the sequins are elegantly interlaced throughout the materials. Plunging and illusion necklines have been frequently spotted on the catwalk this year and they are great for adding an understated splash of glitter.
Metallics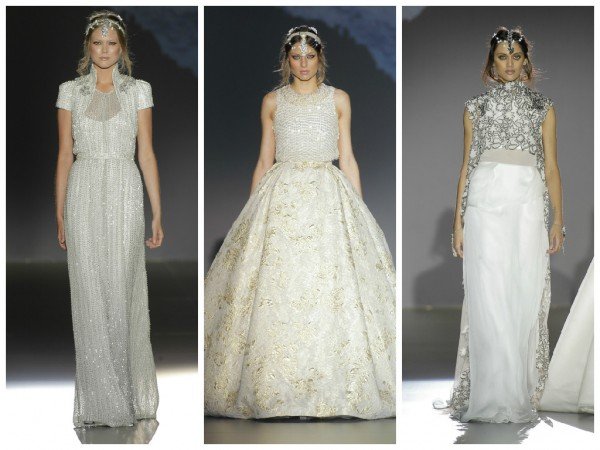 Metallics are huge in the wedding industry at the moment from dresses right through to decorations. Continuing with the Snow Queen theme, silver is dramatic addition to many of Jesús Peiró's creations. Metallic dresses require little accessorising and perfectly complement paler skin tones. A splash of gold adds a warmer tone to the dress especially when the gold is intertwined through intricate embroidery!
Goddess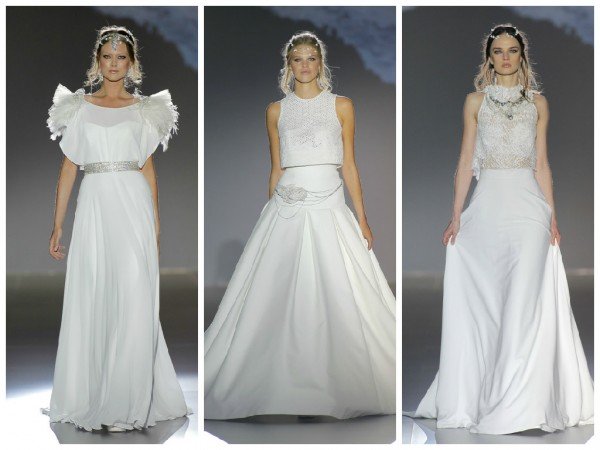 Jesús Peiró's 2016 collection offers a dramatic take on goddess inspired dresses with lots of flowing skirts in exquisite fabrics such as crepe and chiffon. Bringing the trend into 2016 Jesús Peiró uses crop tops with less exposed flesh for the effortless chic layered look.
Feathers are also making a come back as a fun addition to any dress. Jesús Peiró plays around with different textures so that,
'the collection becomes a conversation between fabrics.'
Ethereal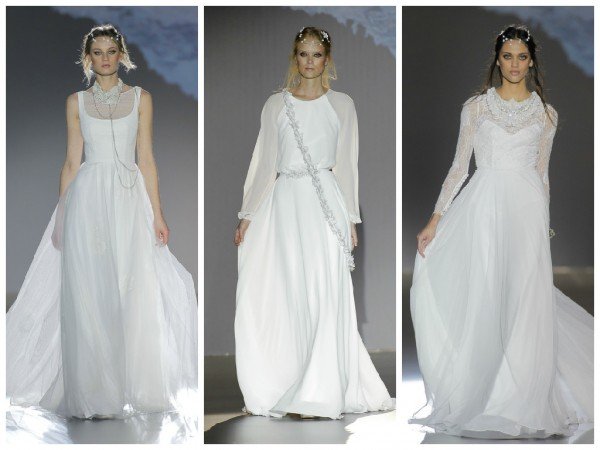 This year we've seen an influx of softer fabrics with more delicate cuts and 2016 is set to be all about ethereal flowing gowns. In the coming months we'll see designers using softer fabrics like tulle and chiffon to create flowing, romantic silhouettes. Jesús Peiró combines empire line skirts with high necklines for the more sophisticated bride.