Kick-off your first night of marital bliss in style in some of Ireland's most luxurious and breathtaking honeymoon hotel suites.
After the hustle and bustle of your wedding day, you'll want to relax after the busy day you've had. Here we have selected some of the most stunning honeymoon suites north and south of the border has on offer.
Ashford Castle Reagan Presidential Suite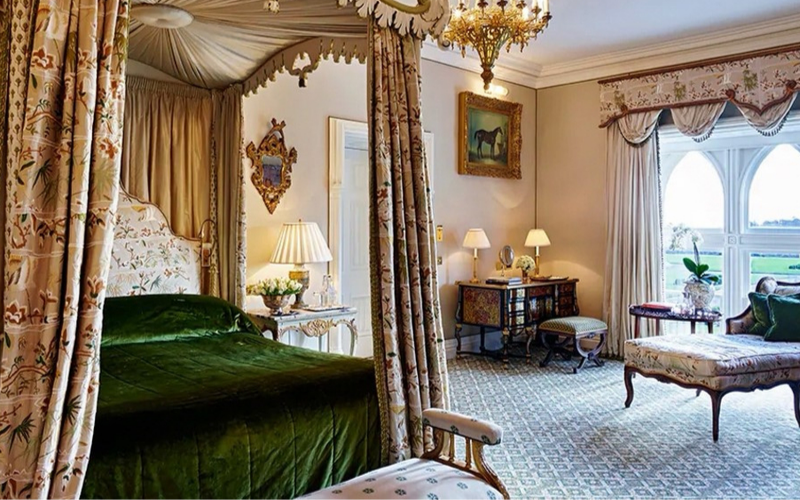 The Reagan Presidential Suite at Ashford Castle is located in the oldest wing of the castle, boasting an original fireplace, a stunning antique George III style four-poster bed, original portrait art, individually sourced antiques and spectacular floor to ceiling views of Lough Corrib. This split level suite offers two bathrooms and can be combined with two adjacent rooms – the Kennedy Suite and Corrib Lake View Room – to complete a private three-bedroom wing of the castle.
Castle Leslie Mauve Master Room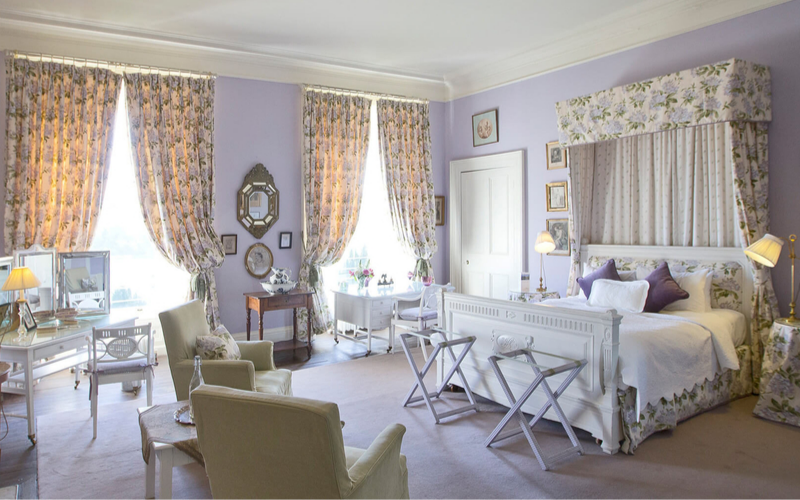 The stunning Mauve Room at Castle Leslie Estate in Co. Monaghan is a romantic dream. Start your honeymoon off in style in this gorgeous room, which has views of surrounding meadows and lush countryside. With decadent white furnishings and relaxing lilac colour scheme, the room and its adjoining dressing room came to be known as The Royal Suite, having provided sweet slumber and other delights to numerous royalty over the years.
READ MORE: Luxury Honeymoons That You Didn't Realise You Could Afford 
The Culloden Estate and Spa Palace Suite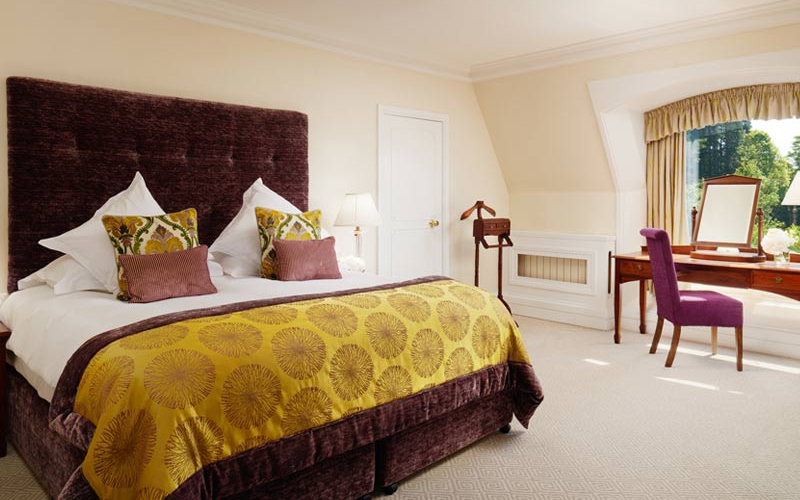 This wonderful Palace Suite at Culloden Estate and Spa in Co. Down enjoys a luxurious feel. Located in the garden wing of the hotel, offering dual aspect breathtaking views of the manicured gardens and Belfast Lough. Beautifully designed using subtle purple, greens, and gold, accented with touches of marble, luxurious carpets, velvets, and soft furnishings, complete with bespoke artwork. In addition to the suite's large bedroom, there is the option to interconnect with a luxury Executive Room for the requirements of a two-bedroom suite.
Merrion Hotel Junior Suite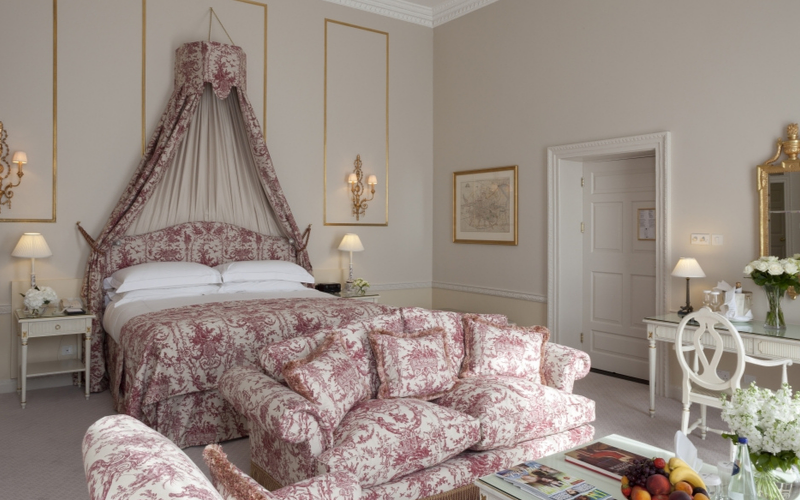 Located mainly on the first floor of the Georgian Main House, the Junior Suites at Merrion Hotel, Dublin overlook Government buildings and hotel's classical gardens. With rooms designed using Irish fabrics and period-style furniture sympathetic to the architecture and interiors of the original 18th-century townhouse, each Junior Suite is furnished with a king-size bed (6ft 6"), a separate sitting area with a sofa and two comfortable armchairs, a coffee table with a selection of lifestyle magazines, and fitted wardrobes.
Grand Central Hotel City View Suite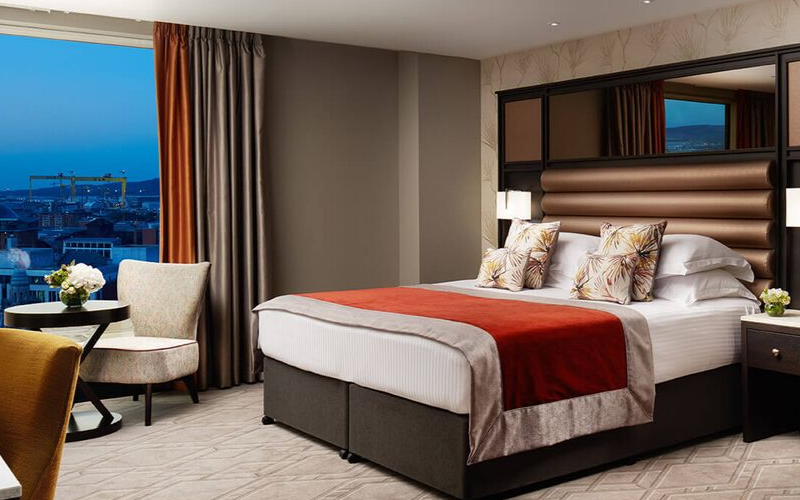 Consisting of the Adelaide, Alfred, Amelia, Chichester, Brunswick, and Clarence suites, the City View Suite at Belfast's Grand Central Hotel are open planned suites named after historic Belfast streets. Boasting super king-size Cloud Beds, dressing rooms, deluxe bathrooms featuring freestanding bathtubs and walk-in showers, and spacious living and dining areas, there's simply no better way to wake up the day after your wedding.
READ MORE: Planning The Perfect Honeymoon
Galgorm Spa & Golf Resort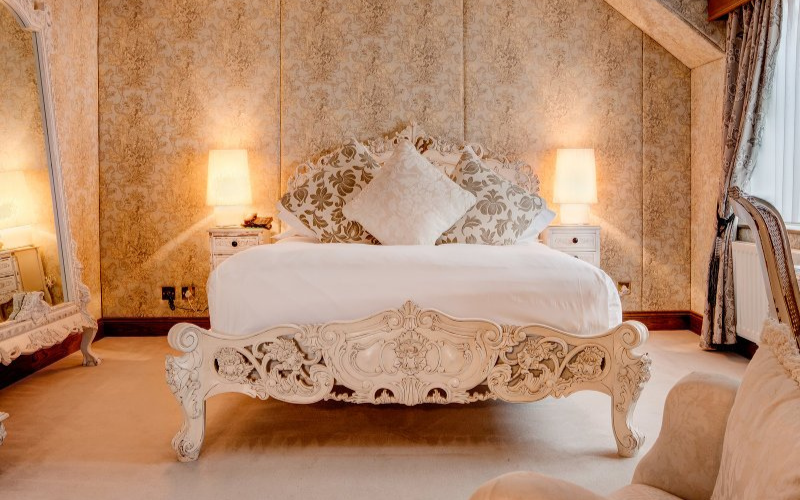 Galgorm Spa & Gold Resort in Co. Antrim is home to stunning suites, namely Suite 1857. From its enviable corner location within the original manor house, Suite 1857 offers unrivalled views of the cascading waters of the River Maine complete with Juliet balcony. The Suite has a truly romantic design with a muted palette of brocade wall coverings, antique lighting, French baroque furniture and solid oak floors & roof beams. A traditional freestanding bath with claw feet and separate shower complete this unique space.
Lough Eske Castle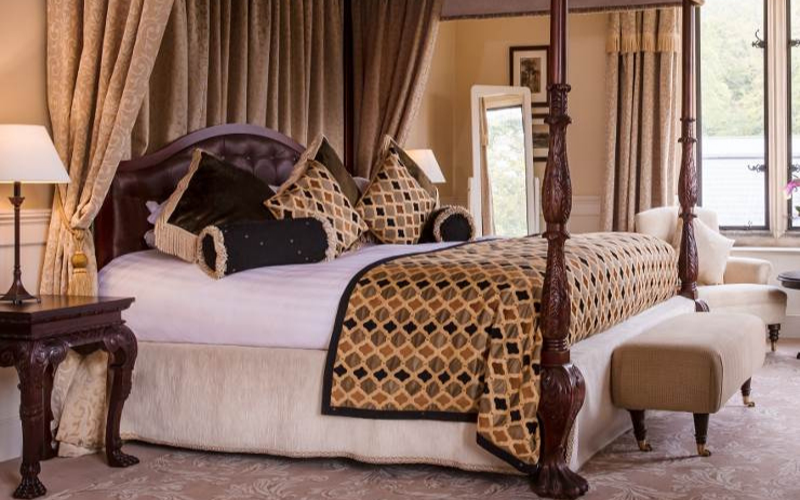 The Sir Basil Brooke Suite at Lough Eske Castle, Co. Donegal, is situated in the original 18th-century wing of the castle and is named after one of the castle's earliest custodians, Sir Basil Brooke from 1621. Facing out towards the front of the castle entrance, this suite will make you feel extra special. Spread across 110 sq m/1184 sq ft and comprising of one en-suite bedroom with a four-poster bed and a spacious separate living room with dining table by the tall bay window.
Featured Image Credit: Castlemartyr Resort Hotel