Ian Watters married Catriona Mills in the best Great British Bake Off wedding ever.
Former contestant on the Great British Bake Off, Ian Watters ended his short time on British television in 2014 after what will forever be known as 'bin gate'. Ian had prepared the baked dessert for the judging but it was accidentally left out of the freezer by fellow contestant Diana Beard and subsequently melted. In his frustration Ian threw the ice cream dessert in the bin, leaving the judges nothing to score and he was promptly voted off the show.
Friday August 9th Ian tied the knot with fiance Catriona Mills in what is possibly the best wedding we've ever seen. Starting with the cake…
The Wedding Cake
Is there a better wedding cake for @iain_watters?! #GBBOWedding#MrandMrsWatterspic.twitter.com/zC828Iyrhz

— Martha Collison (@marthacollison) September 9, 2016
He actually had baked alaska as his wedding cake. We love a star who can poke fun at themselves!
That wedding menu
Stylish, elegant and sounds absolutely delish! Our mouth is watering at Duba Tsebhi. And, yes we did zoom in.
The bride's dress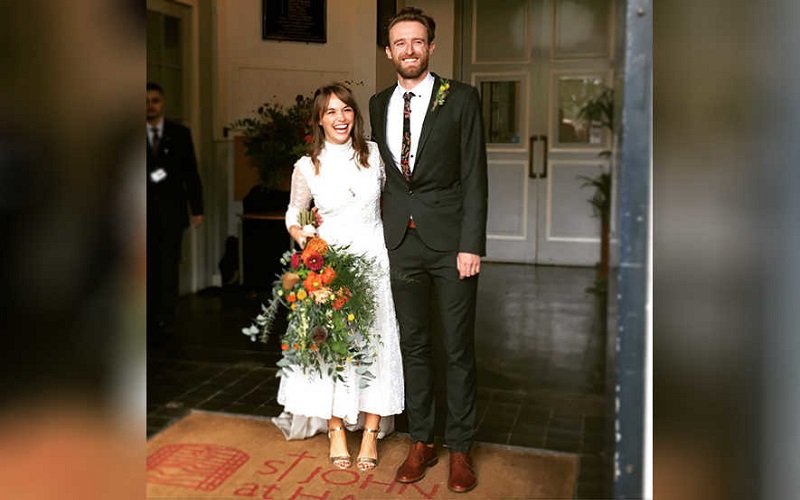 A vintage lace, tea length gown with a high neckline. Could this dress be any more stunning? The groom looks pretty dapper too!
It was a two piece wedding dress!
We are loving this artistic insta snap titled 'Mrs self portrait'.
These adorable confetti cones
It was a Great British Bake Off reunion
And everyone looks like they're having a whale of a time!
This cake table
So much cake…..
And who served it
These flowers
We are drooling at these whimsical hand tied bouquets!
And it looks as if the bride arranged them herself
Surely not?
This dance floor scene
Confetti and giant balloons. Be still our beating hearts.
Their to die for honeymoon
Most romantic honeymoon destination ever?
If you're getting married and are looking for a high quality, local Wedding Cakes & Sweets in Co. Limerick , take a look at our brand-new directory!