Who doesn't love a cheeky rom-com and romantic love story? Well today is National Proposal Day…hooray!
To celebrate, here's a roundup of our favourite engagement stories that made us smile, sigh… and reach for a tissue or two.
Tash & Andrew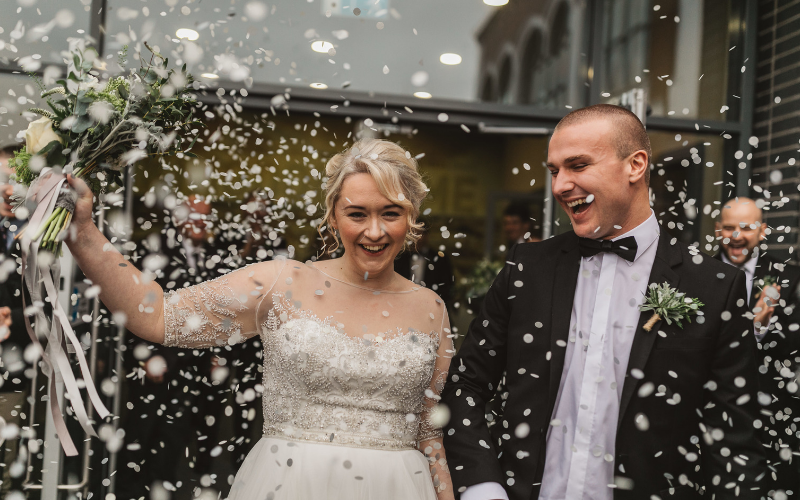 On August 7th 2017 Tash was returning from a humanitarian trip to Cambodia. 'Andrew picked me up from Dublin airport, we had already planned a four-day trip to follow the Wild Atlantic Way route, so off to Cork we ventured. Due to travelling home I had missed my birthday and so the day was filled with lots of little gifts and surprises along the way, but no suspicions were raised on my part.
We reached Mizen Head, the most southern point in Ireland and then headed to a beautiful beach called Barley Cove. Andrew produced more gifts including a McNutt of Donegal blanket and a picnic hamper filled with all favourite food and drink. He was determined to find the perfect location and in the end, choose a sand dune giving us a beautiful panoramic view of the beach, we settled down for what I thought was our birthday picnic.
As we enjoyed the beautiful sunshine Andrew went to get his camera out of the bag, but instead gave me the biggest surprise of my life by getting down on one knee with a ring, and asking me to marry him.
'I was in shock, so he had to ask a few times, we then realised we had an audience as the whole beach turned and applauded. It truly was a special moment that I will never forget.'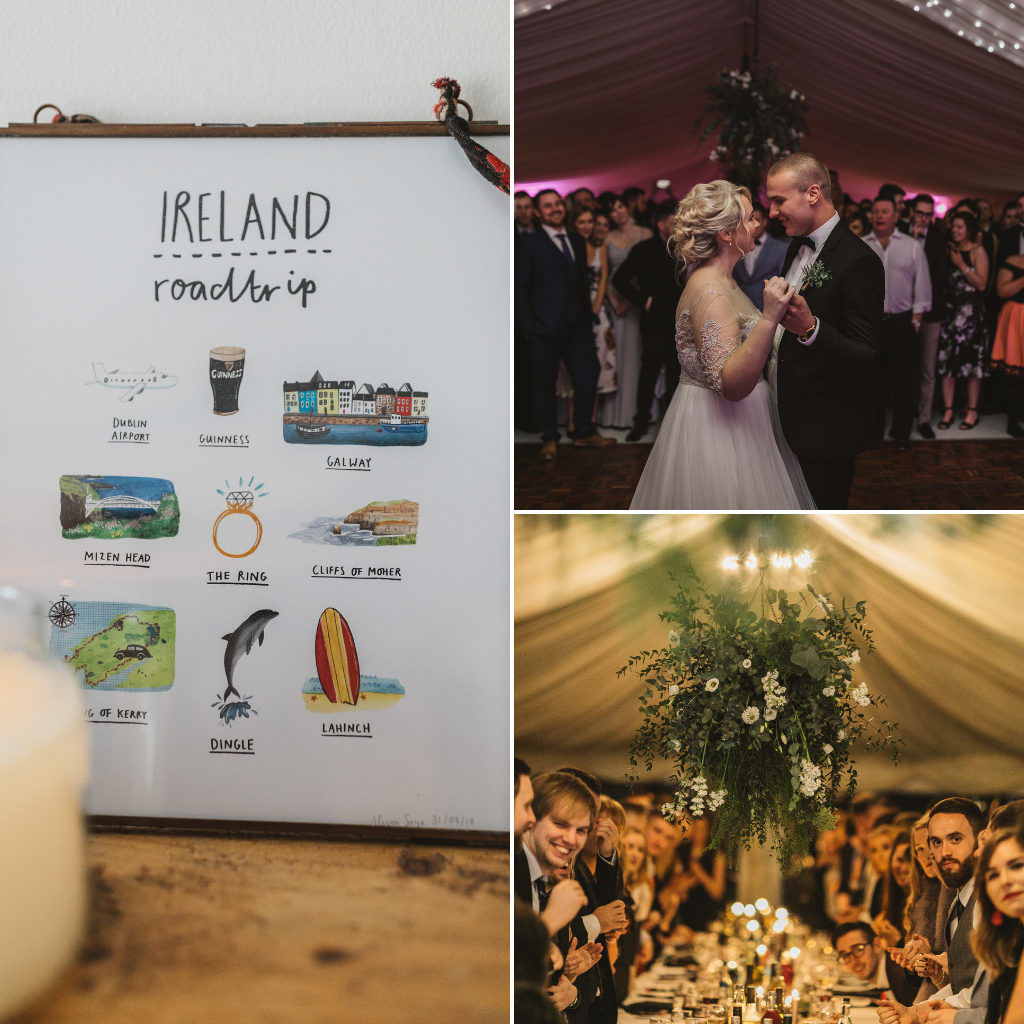 Andrew sealed the deal with one final gift, a commissioned illustration from a local artist called Alison Soye, a collection of mini sketches from each stop on their road trip of Ireland, with a ring painted in the centre. How thoughtful is Andrew, and what an awesome way to remember such a special holiday.
Nicola and Robbie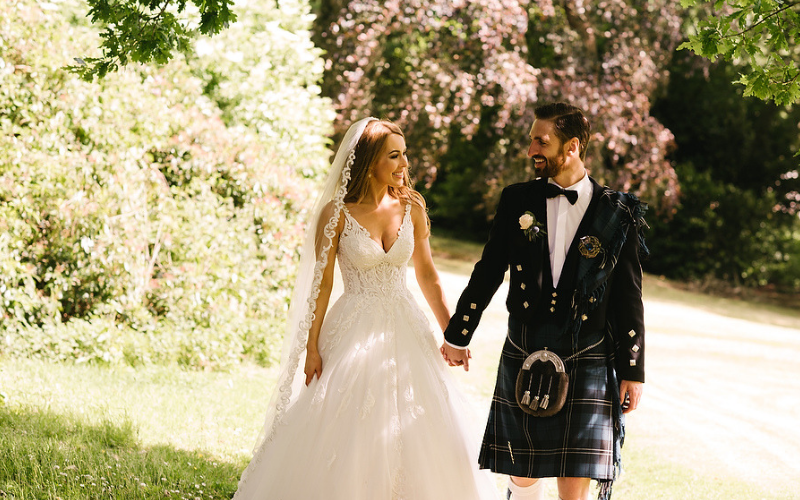 Nicola shares how Robbie organised the most perfect proposal, she stills excited and emotional when she thinks about it. 'So Robbie and I visited our favourite restaurant in Belfast, Zen one evening. Robbie insisted we should leave our new teacup Yorkshire Terrier, Lola, with his parents for the night, so she wouldn't be alone all evening; little did I know she was actually a key key part of his plan.
Throughout dinner, Robbie was continually checking his phone and watch, I presumed he wanted to race home to catch the end of the football. He eventually excused himself and nipped to the bathroom, I thought he was trying to check the score or something.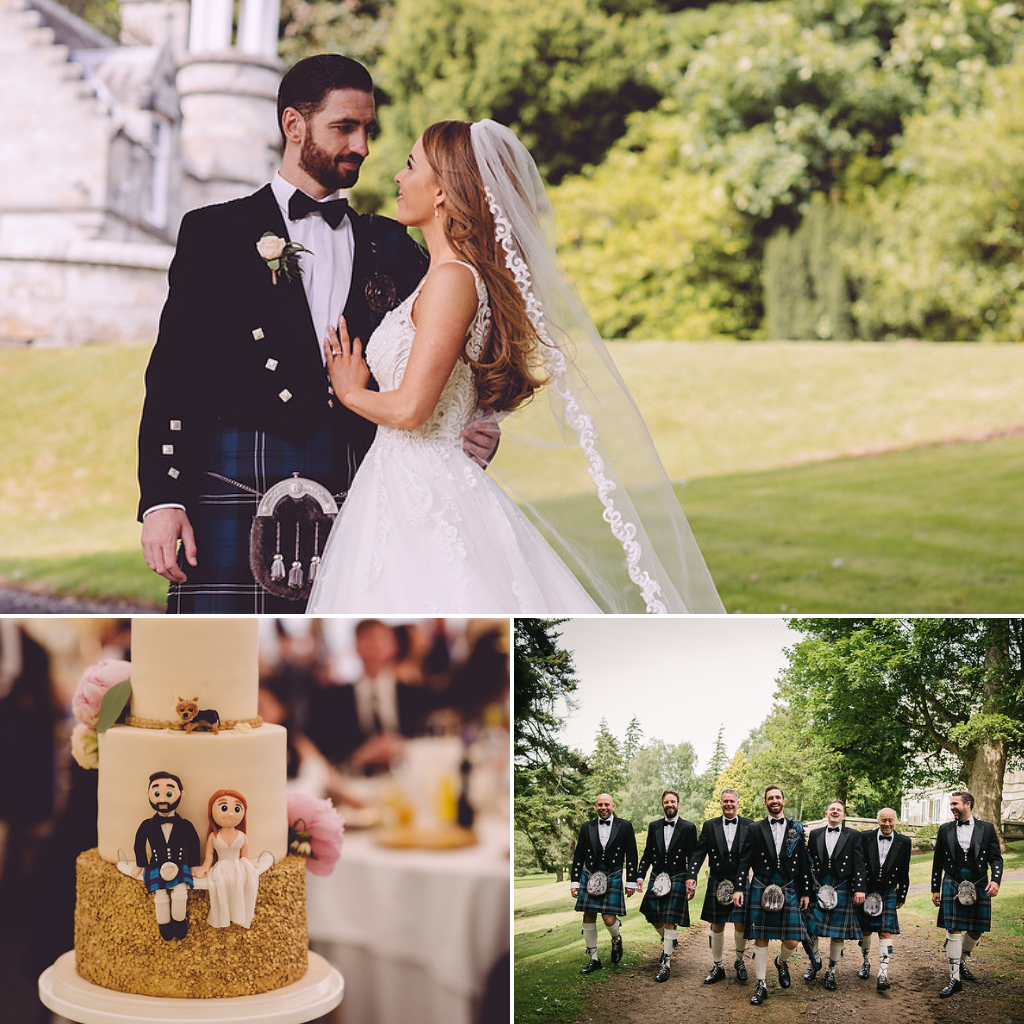 A few minutes later he returned with a piper in full Scottish Highland dress playing Caledonia on the bagpipes, carrying our little puppy in his arms. Lola was wearing a tag on her collar with the words 'will you marry me?' engraved on it, she was also wearing the cutest tartan outfit and backpack with my new ring tucked inside.
'Who could possibly say no to both of their faces, I had to shout a thousands times yes!'
Fair play to Robbie, he knows the way to Nicola's heart…good food and a puppy!
Fiona and Sáad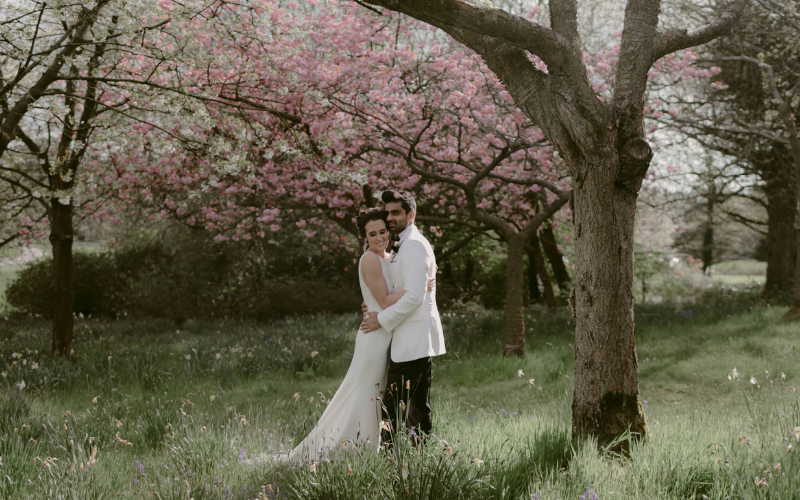 Saad had originally planned to propose to Fiona on a romantic trip to Copenhagen, but after collecting the ring he had picked out for her, he couldn't wait! 'I called the same restaurant where we had our first date and requested to sit on the same table. To make the evening special, I bought her a bottle of her favourite champagne and a single red rose.
'I had bought a single blue rose for Fiona when we first started dating, so I knew she would love it.'
It was a cold winter's night, and it took Saad's power of persuasion and charm to encourage Fiona to head out into Greenwich for the evening. 'I was definitely more interested in a night in with my slippers on, than facing the wind and potential rain, but he was persistant,' shares Fiona. 'We walked through a small park outside our apartment building, waited for the park to empty, then he got down on one knee and asked to marry me, it was perfect. I was so excited I couldn't feel the cold anymore.'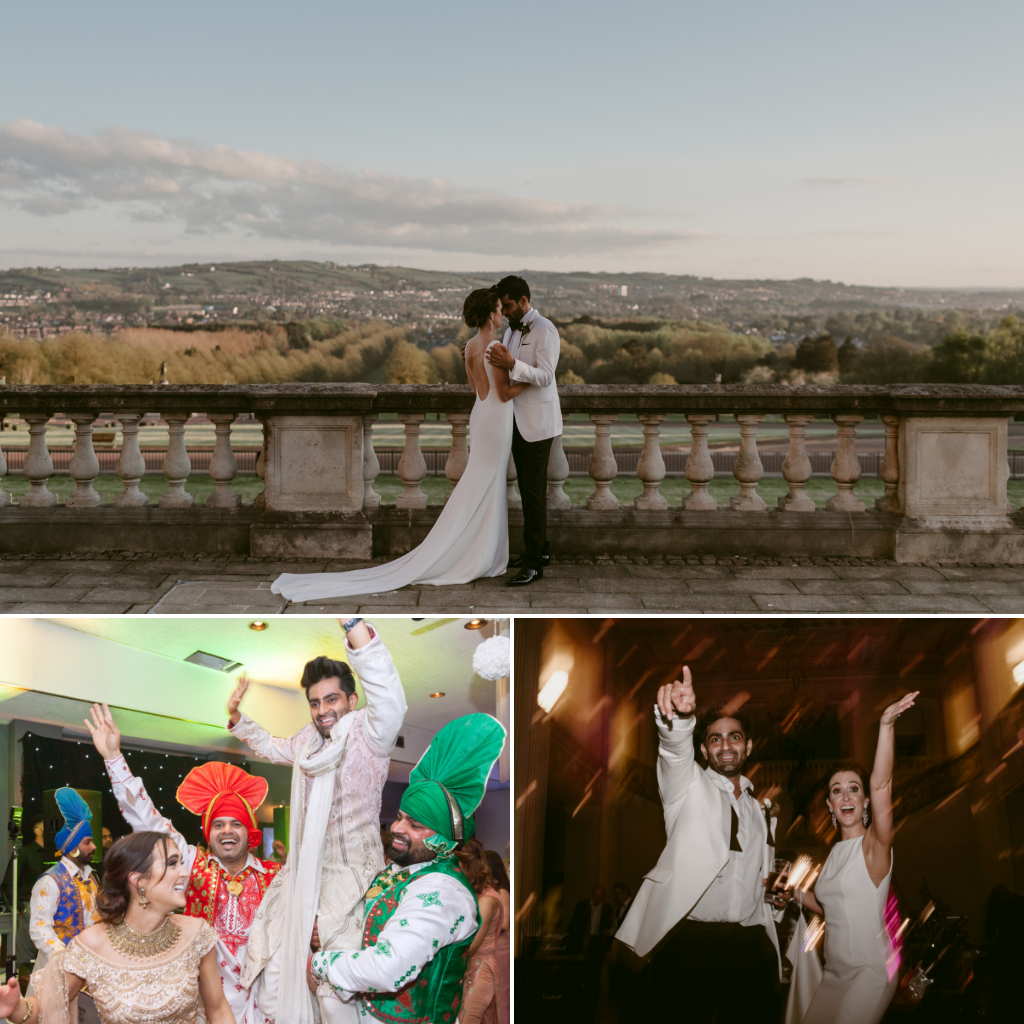 Does anyone else get major Notting Hill vibes from this adorable pair, well done Saad!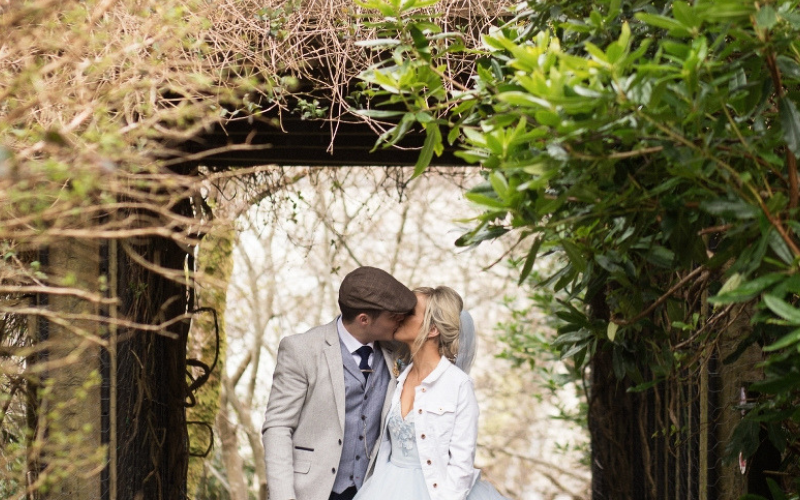 Shane and Edel planned a romantic weekend away to London. Edel is known for being a Harry Potter superfan, so a visit to the Harry Potter Studios was definitely on the cards! As they neared the end of the tour, Shane suggested they should ask some one to take a picture of the couple in front of the iconic Hogwarts Express train on Platform 9 and ¾.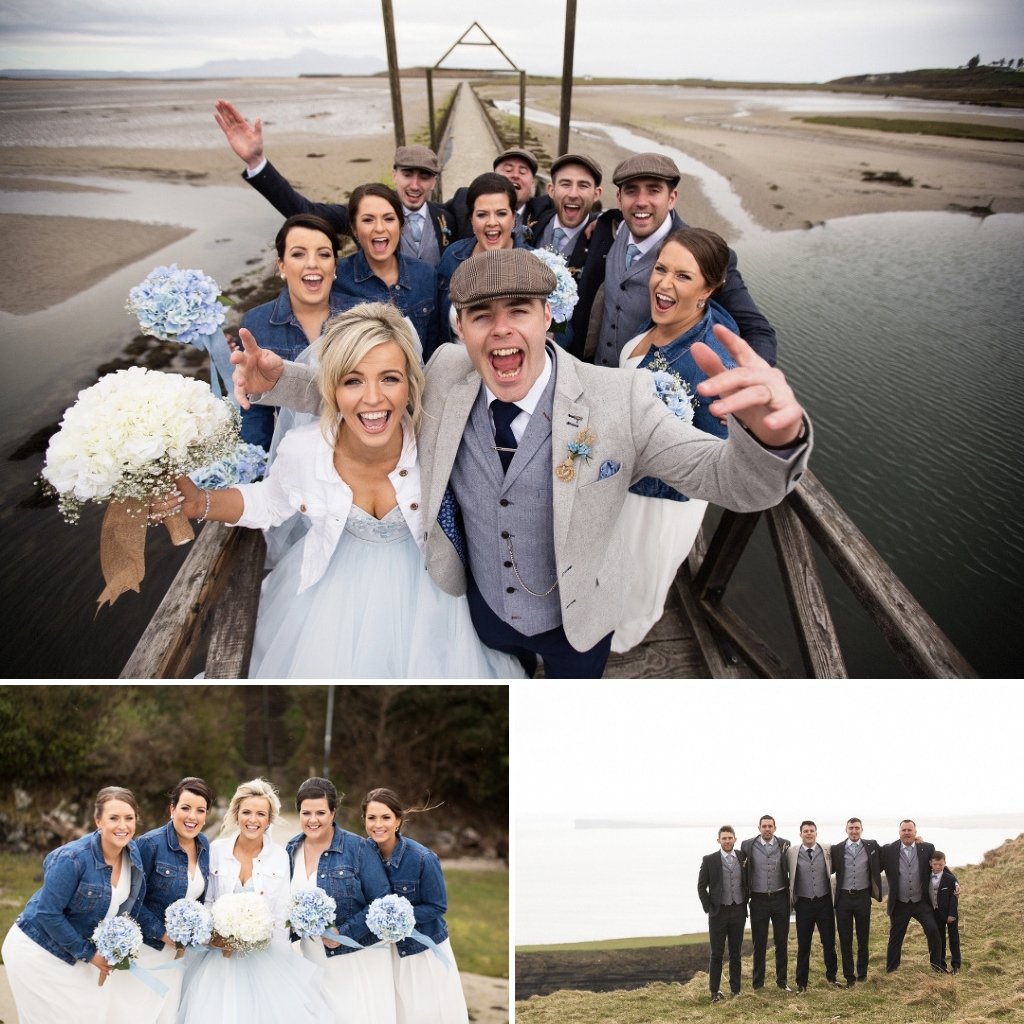 Shane had secretly asked a passerby to film what was about to unfold; as they posed for a picture, Shane knelt down and produced another recognisable prop, a novelty handmade Mirror of Erised engagement ring box. When Edel pressed a button on the side, their picture appeared and a ring was revealed, alongside a message…
'I show not your face but your heart's desire. Marry me Edel!'
Through tears and laughter Edel grabbed her new fiancé for the biggest kiss and cuddle, surrounded by applause from other Harry Potter fans. Turns out Shane was paying attention to all this Harry Potter stuff over the years, we love it!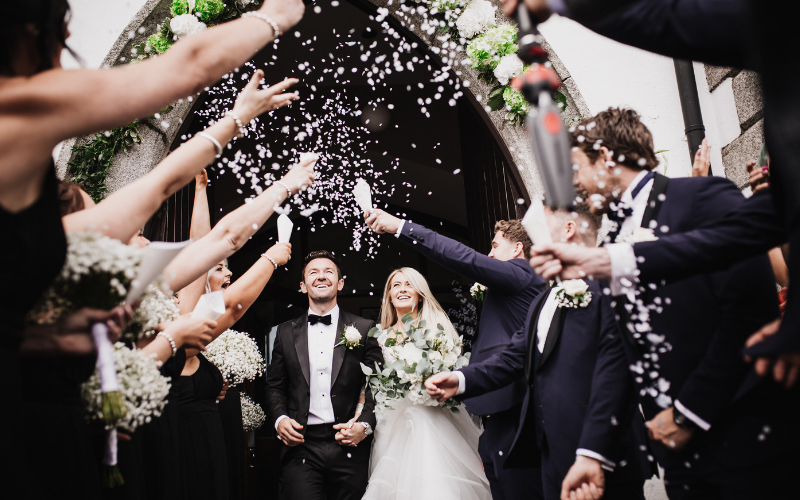 Susie has always claimed that Greg is a hopeless romantic. They were travelling the Mediterranean on a cruise when Greg plucked up the courage to propose. Suzie shares how it all unfolded, 'We had a busy day exploring, so nipped back to our cabin to freshen up before dinner.
'Greg suggested we have a drink on the balcony and watch the sun set on the water.'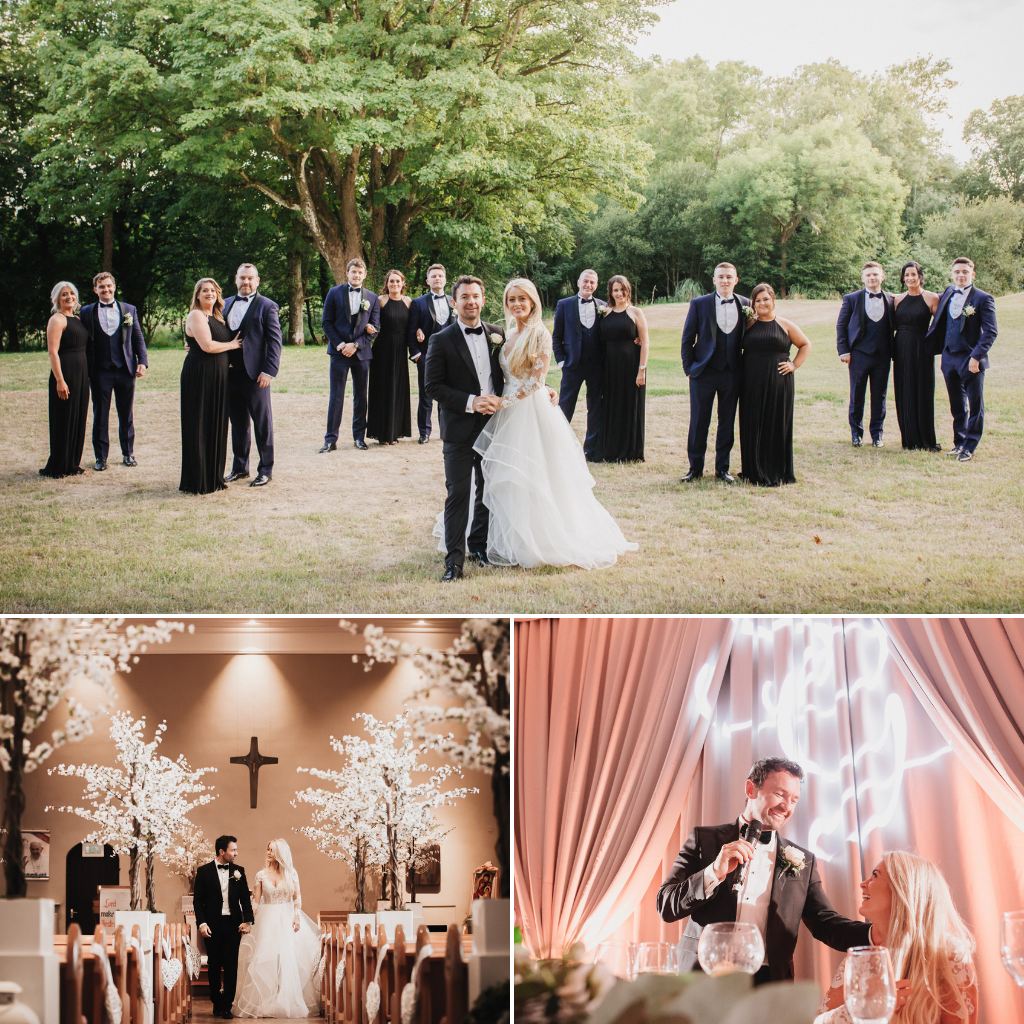 It was a glorious evening, with a warm summer breeze, as were reminiscing on the fun day we shared, Greg asked me to close my eyes as he had bought me a surprise. When I opened them, there he was down on one knee, it was such a surprise. His timing was perfect, the sun was setting as we sailed out of Venice, it was all incredibly romantic.'
A round of applause please for Greg, that was amazing!
So there you have it – five gorgeous couples with five beautiful proposals, then five stunning weddings…thanks so much for sharing them with us!