Dubbed the 'prettiest bride in China,' a bride tries to save man's life on her wedding day by performing CPR
Bride Guo Yuanyuan was posing for wedding photos with her fiancé Xiao Liu on the beach in Dalian, China when she heard a man had been pulled out of the sea.
25-year-old Guo who is a cardiac nurse, jumped off a three foot ledge and ran to be at the victim's side. Kneeling in the wet sand in her blue wedding dress, she began performing CPR and mouth-to-mouth resuscitation in an effort to save the unconscious man's life. Guo seemed oblivious to the fact that she had ruined her wedding dress and spolit her hair and makeup in the process.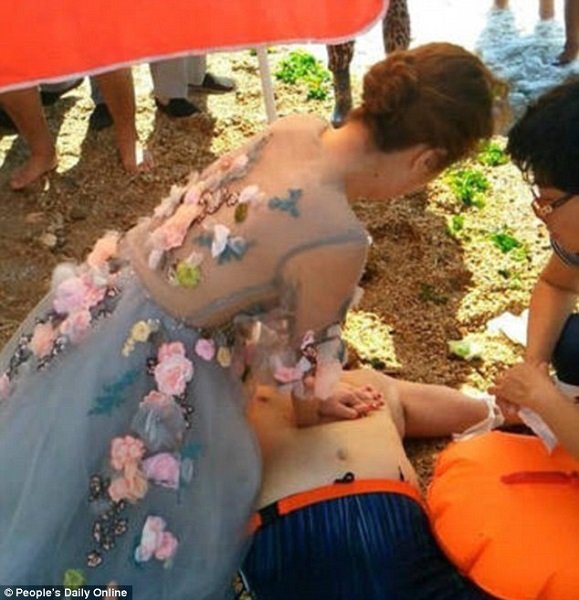 Onlookers applauded the young bride's determination, at one point the man was seen to be spluttering water and it looked as if he was recovering. Sadly despite Guo's best efforts, after 20 minutes it became apparent that the man had died. An ambulance arrived and paramedics found that nothing more could be done for the victim, who had apparently suffered a heart attack while swimming.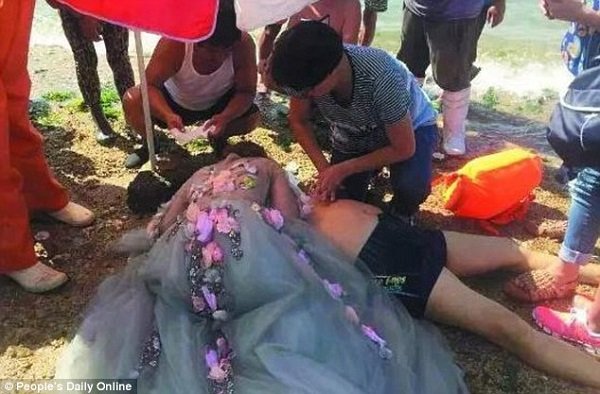 Guo's proud fiancé commented that Guo ran faster that he did when she heard what had happened and said:
She enjoys helping people normally and that's what I like about her."
Guo added:
At that time, I only remember that I was a nurse. My career's responsibilities are higher than that of a bride."
Images of the bride attempting to save the man's life spread quickly across Chinese social media and Guo has been dubbed the 'prettiest bride in China'.
Featured image credit: People's Daily Online, dailymail.co.uk