Chic was the order of the day for bridesmaid Rihanna when she stood up beside best friend in destination wedding.
This weekend Rihanna swapped her usual sexy style for an elegant bridesmaid dress to attend her best friend and assistant; Jennifer Morales' wedding. The risqué star was pictured wearing a full length fit and flare creation with a diamante belt in lilac. The bridesmaid dress by an unspecified designer showcases two of 2015's hottest trends; tulle and backless.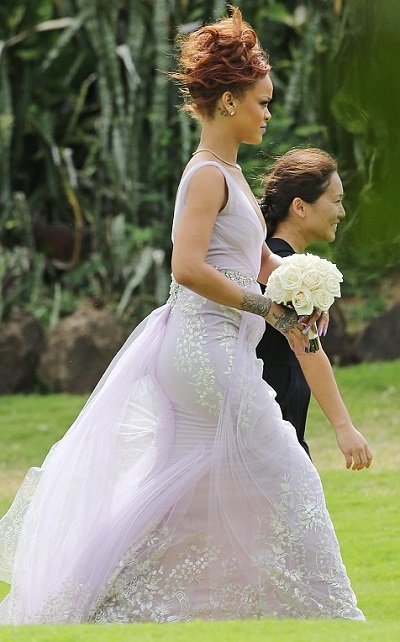 With her hair piled elegantly on top of her head and carrying a bouquet of classic white roses the star looked stunningly demure and is the image of sophistication.  Although less edgy than her usual fashion choices, the backless, lilac gown hugs Rihanna's figure showing off her fabulous curves and displaying the curve of her back. The intricate white flower detail adds to the romance of the outfit.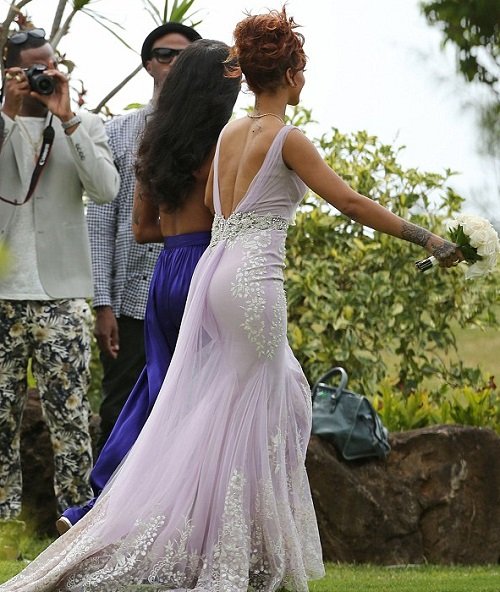 The Bridesmaids
The popular bride appears to have chosen Rihanna as one of 11 bridesmaids and 5 flower girls! The flower girls looked like mini brides in adorable, matching white dresses whereas the 11 bridesmaids wore mismatched gowns in different styles and shades of purple. This is the perfect solution for a large bridal party as everyone gets to wear something they love and the bride and groom get some visually spectacular wedding photos!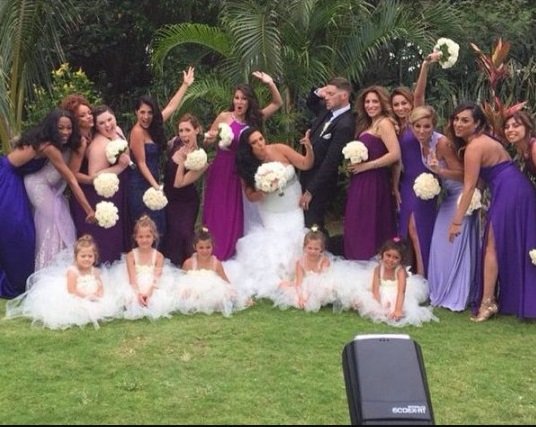 The Bride
The bride who was not to be outdone by her array of beautiful bridesmaids, smouldered in a formfitting mermaid style dress with a ruffled skirt and silver sash! The wedding was held on a beach in Honolulu in the exquisite location of Hawaii and occurred on 420 day; a festival that observes the smoking of cannabis at 4.20pm on April 20th as it appears 4/20 in the American calendar year. The laid back beach affair therefore earned the hashtag #davis420wedding.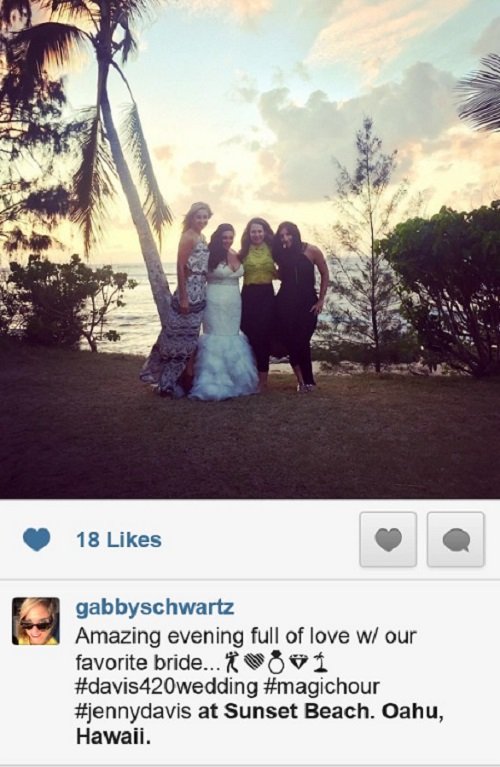 Social Media
Updating her Instagram page, with a photo montage of the happy couple, Rihanna gushed; 'I'm so happy and proud to see my big sis @jennnrosales and my big bro @the_aa become one today.' The star went on to describe her own thoughts on marriage; 'A wedding is a celebration of a marriage!!!…Celebrate the marriage we've been lucky enough to witness grown and evolve for all these years!!!'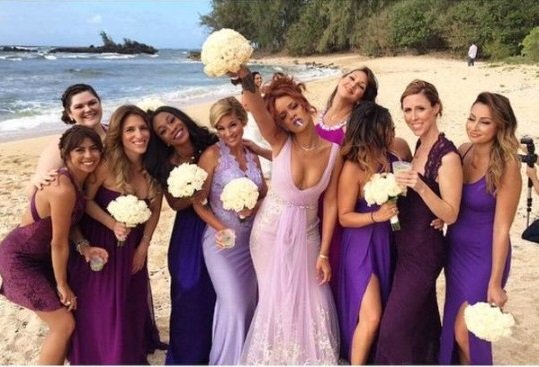 The 'Disturbia' singer also encourages the Bride to take her new husband's surname, telling her to pull it together and rounding it off with the hashtag #CheersToTheDavis!
Looks like it was a fabulous day for everyone involved and here at Wedding Journal Online we can't get enough of Rihanna's elegant new look! Let us know your thoughts on our Twitter page @WeddingJournal