Older sister to Poppy and Cara, pregnant Chloe Delevingne weds best man from first marriage.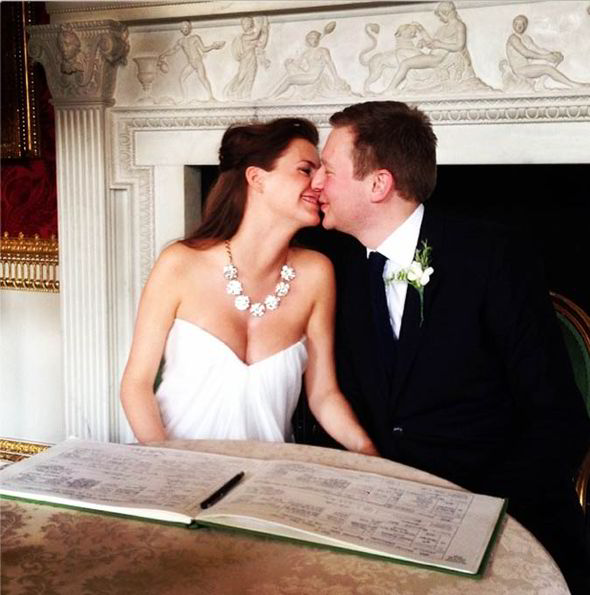 It sounds more like the plot of an Eastender's episode than a high society wedding but this weekend Chloe Delevingne, big sister of models Cara and Poppy, tied the knot with Edward Grant; who was the best man at her first wedding back in 2007.
Em, awkward.
Bride, Chloe who is also pregnant with her and Edward's first child (the plot thickens), draped her baby bump in a loose fitting strapless white wedding dress. She accessorised her look with a statement diamond necklace and wore a cream fur lined coat to brave the cold for photos.
Model sisters Cara and Poppy were both bridesmaids at the romantic Mayfair wedding ceremony at Spencer House. 21 year-old Cara ditched her traditional rough and ready style in favour of a chic black dress and mink cover-up. Poppy, meanwhile, wowed in a long navy gown and Chanel boucle jacket.
This is Chloe's second wedding, as the brunette Delevingne sister was previously married to nightclub owner Louis Bucwkorth in 2007. However, their union lasted just 17 months.
Afterwards, Chloe began a relationship with property developer Grant, who was not only Buckworth's best friend, but also lived with the couple for a while after being best man at their wedding.
Featured image- Flame Fly Net
It can be tough to find the ideal location for your reception, not to mention, arrange the caterers. But don't worry. Take a look at our new directory which lists the best Wedding Receptions & Catering in Waterford.