A photo featuring a bridal party being chased by the deadly White Walkers has gone viral, after a couple recreated a Game of Thrones scene for wedding pics
When Game of Thrones fans Mairead and Johnny Hill tied the knot, they felt that a photo recreating a scene from their favourite television series would be a quirky way to mark the occasion.
County Down bride Mairead and her husband Jonny who hails from Bolton chose Tollymore Forest, Down, as the venue for their photo shoot. Game of Thrones fans will recognise Tollymore Forest from the first episode in Season 1, during which a member of the Night's Watch rides through the snow filled forest and makes the gruesome discovery of the dismembered Wilding bodies.
Mairead and Johnny sought the help of Belfast-based wedding photographer Andrew McKenna who snapped the bridal party running for their lives through Tollymore, champagne in hand. Andrew later photoshopped in images of the dangerous White Walkers.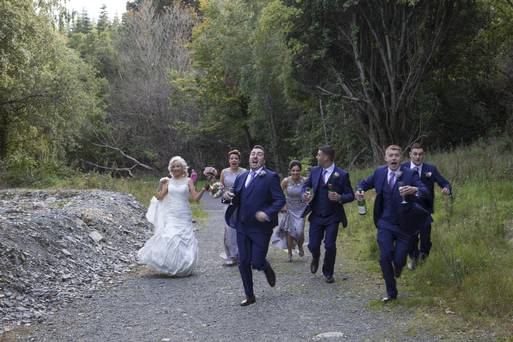 Mairead told the Belfast Telegraph:
"We wanted something a more relaxed because none of us are keen on getting photos taken. And because of where the wedding was set, obviously a lot of the Game of Thrones is filmed there And a lot of the people that were attending are big fans like myself and Jonny, so we decided to do something a wee bit different.

I came across it [photoshopping] in America and we thought we'll just give it a go and see what it looked like."
Jonny added:
"When we were doing the Game of Thrones one there were some people hiking, and a few of them were watching us and looking at us running with the champagne in our hands. They were confused as they were going camping and we were just running around."
Featured photo credit: Andrew McKenna, Belfast Telegraph